I'm putting this post in the "Europe" section because the Canary Islands belong to Spain but geographically speaking it's actually off the west coast of North Africa (which gives it it's almost perfect weather).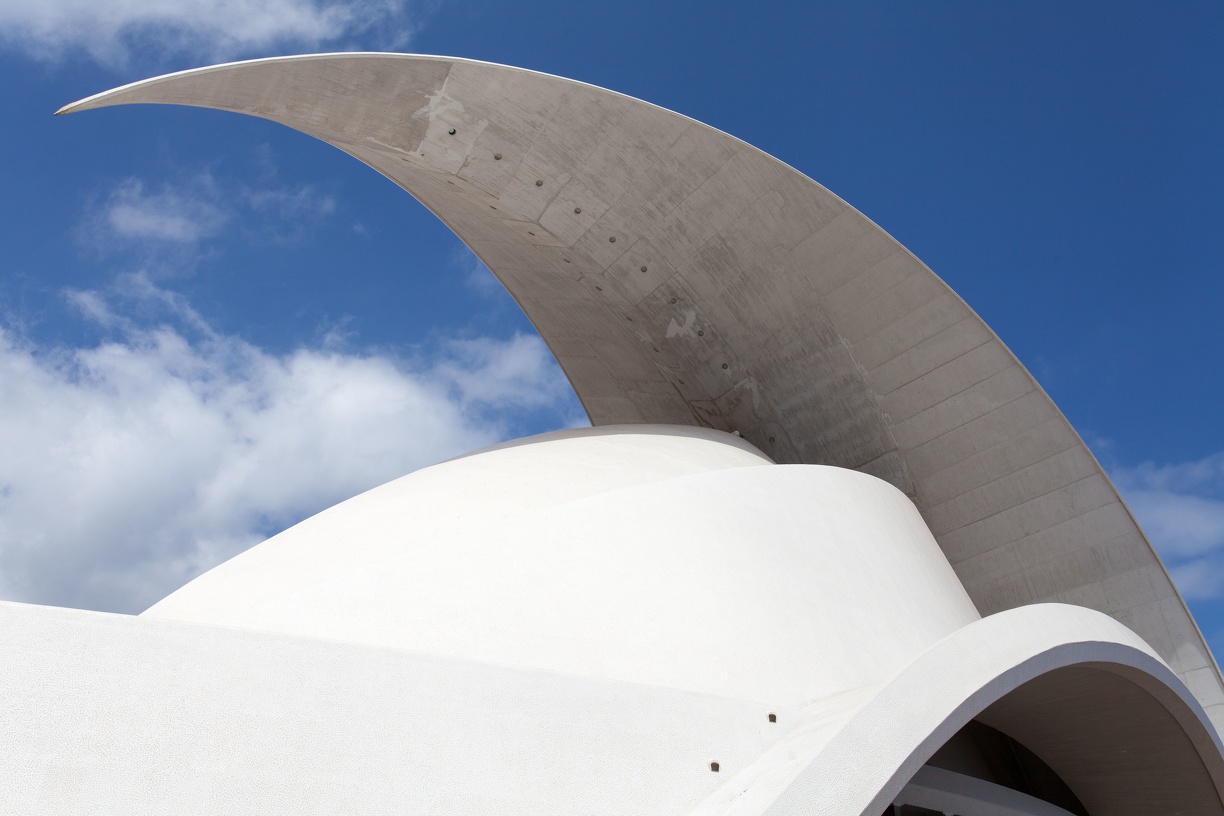 Tenerife is a very touristic place and you could certainly spend your entire vacation on the beach, and many people do, but if you'll bear with me you'll see that there's actually a lot to see and do on the island.
The historic cities are worth seeing and there's quite a lot of hiking to do if you want to see the island on foot. Given the fact that it's an island with warm weather, Tenerife obviously has plenty of water-related activities to offer, such as whale-watching tours, aqua-parks, scuba diving or surf lessons. But there are also some more unusual activities to do and we'll get to that later.
Santa Cruz
Santa Cruz is the capital of Tenerife and the biggest city on the island. There are some interesting architectural sights here like for example the Mercado de Nuestra Senora de Africa, which is a beautiful open market (so if you want to try some local food or drinks this is a good place to start).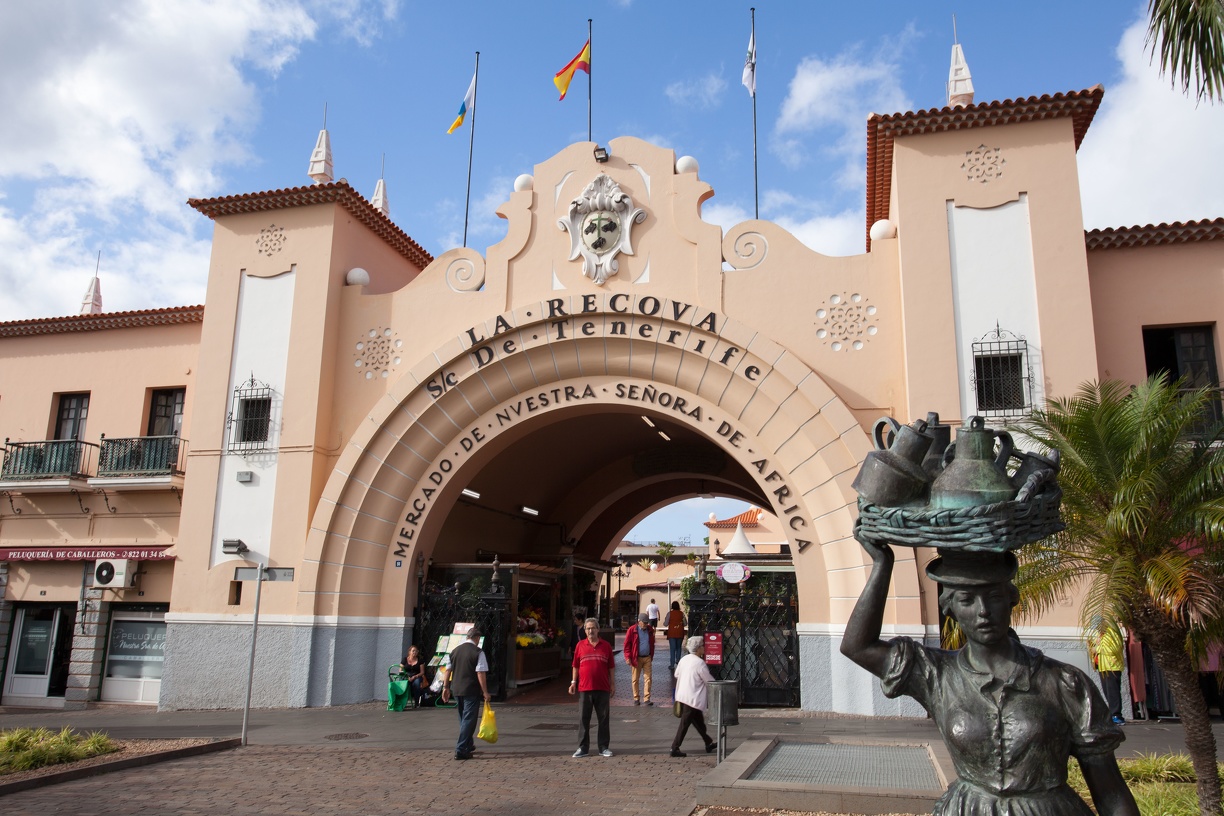 Bananas are one of the main products of Tenerife so here you'll find banana liquor and banana wine on top of the many regular wines that are produced here. Honey rum is another local specialty.
As for food you might want to try some Gofio which is a local type of flour, used in a lot of different dishes.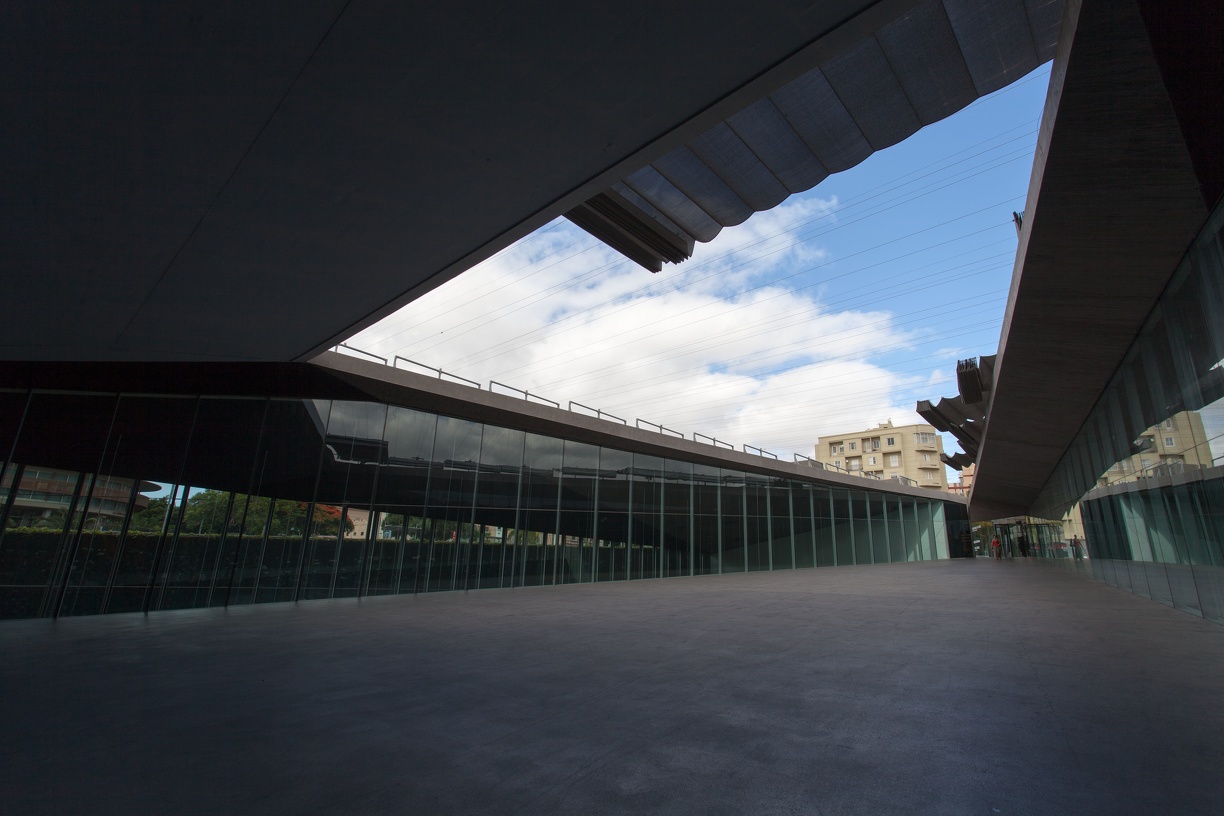 Another nice, but much more modern, building is the Tenerife Espacio de las Artes which houses a contemporary museum and a library.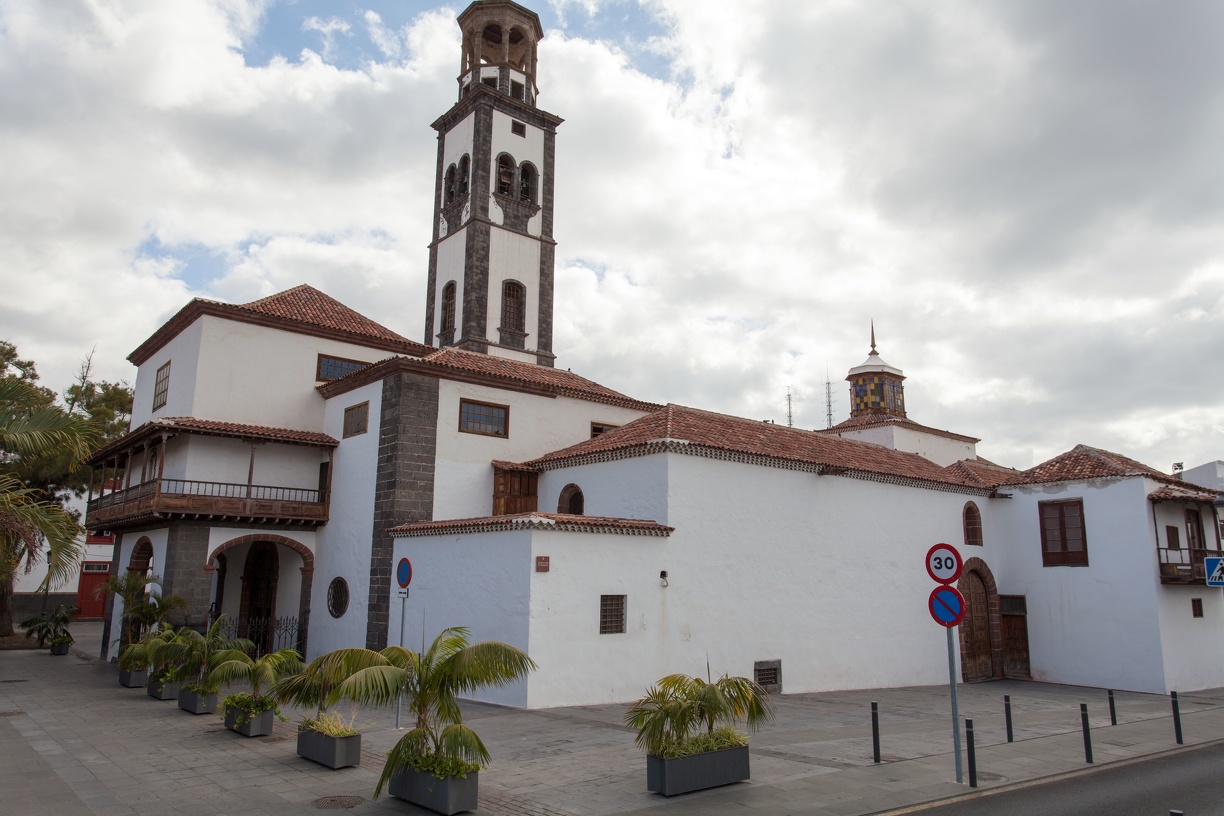 Tenerife has its fair share of churches, this one being the Iglesia de Nuestra Senora de la Conception. When I visited the celebration of the Corpus Christi was underway and salt carpets were being made in many cities (we'll see more of them in the La Orotava section).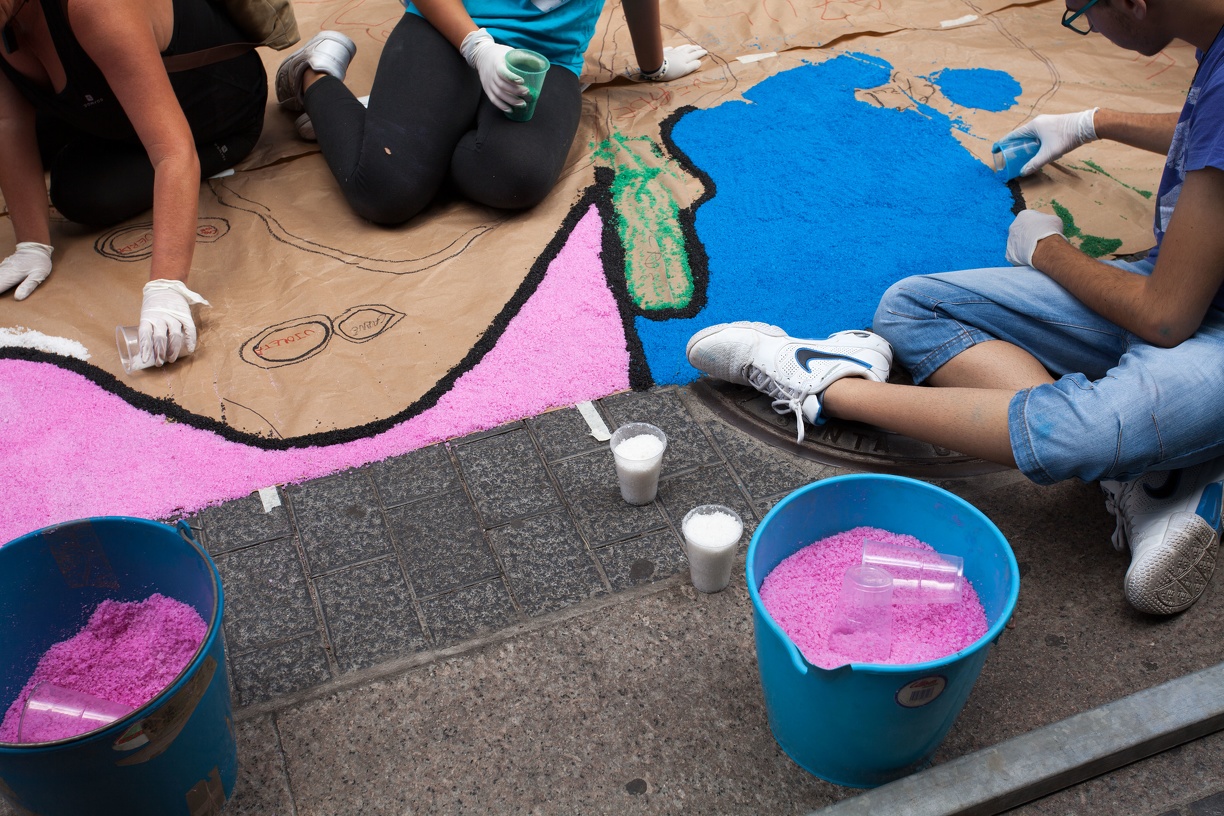 If you're interested in museums you can try the Museo de la Naturaleza y el Hombre but one issue I had with most of the museums here is that the descriptions are usually only in Spanish.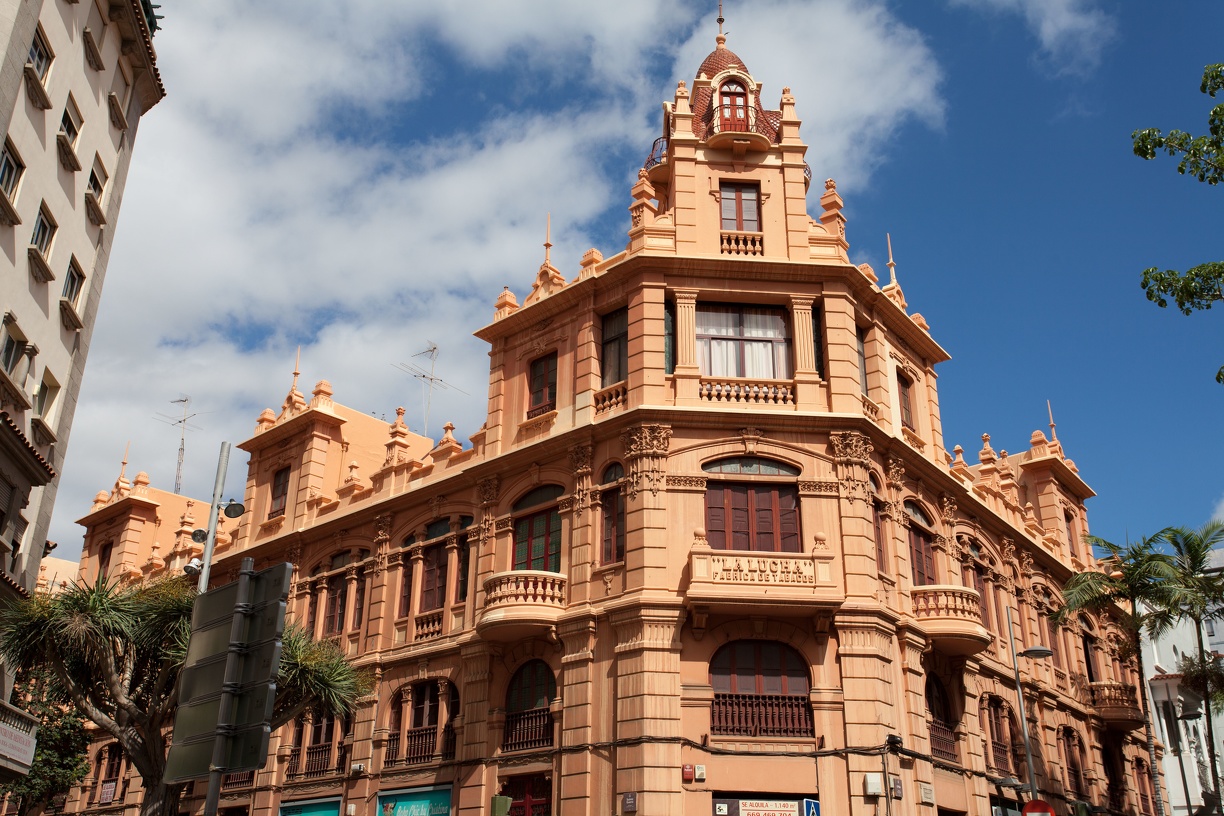 If you're looking for a bit of calm and green then I enjoyed the Parque Garcia Sanabria. The plants are beautiful and there's also quite a few sculptures in the park.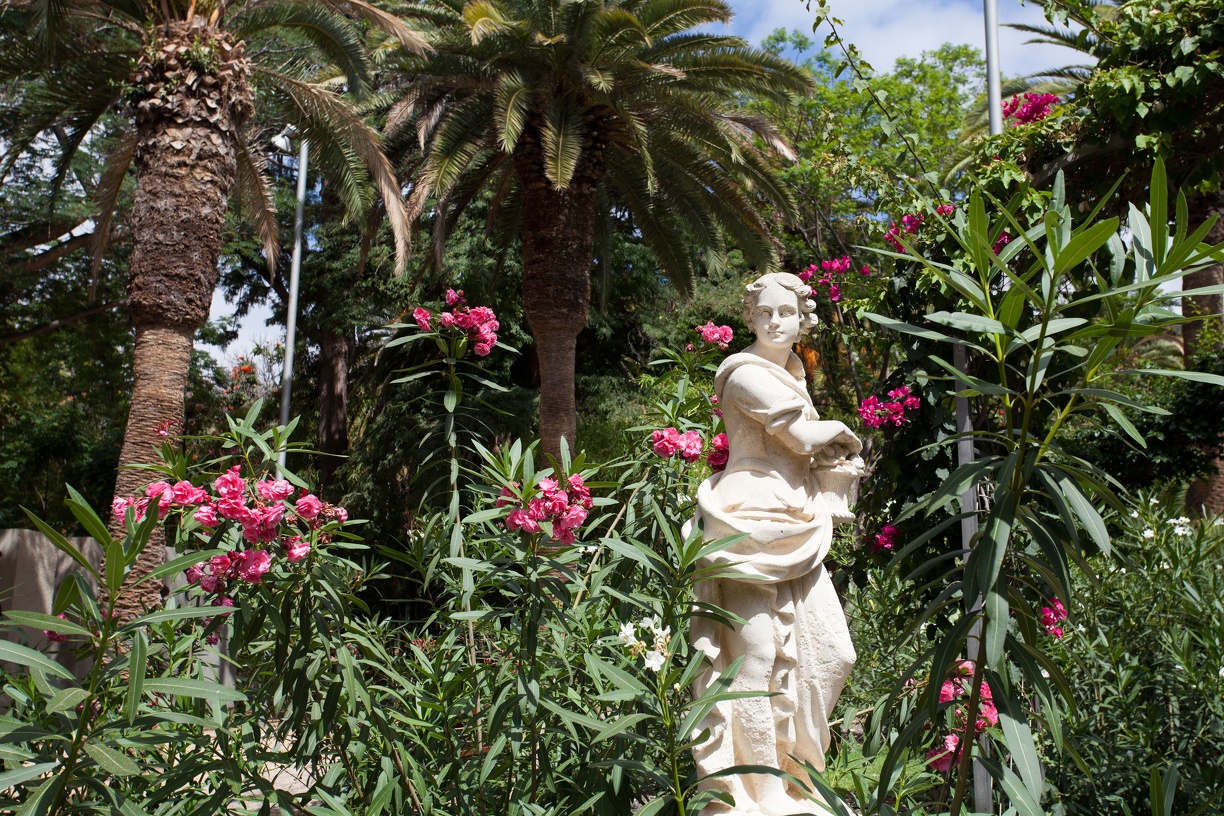 On the same note I highly recommend the Palmetum, one of Tenerife's many botanical gardens.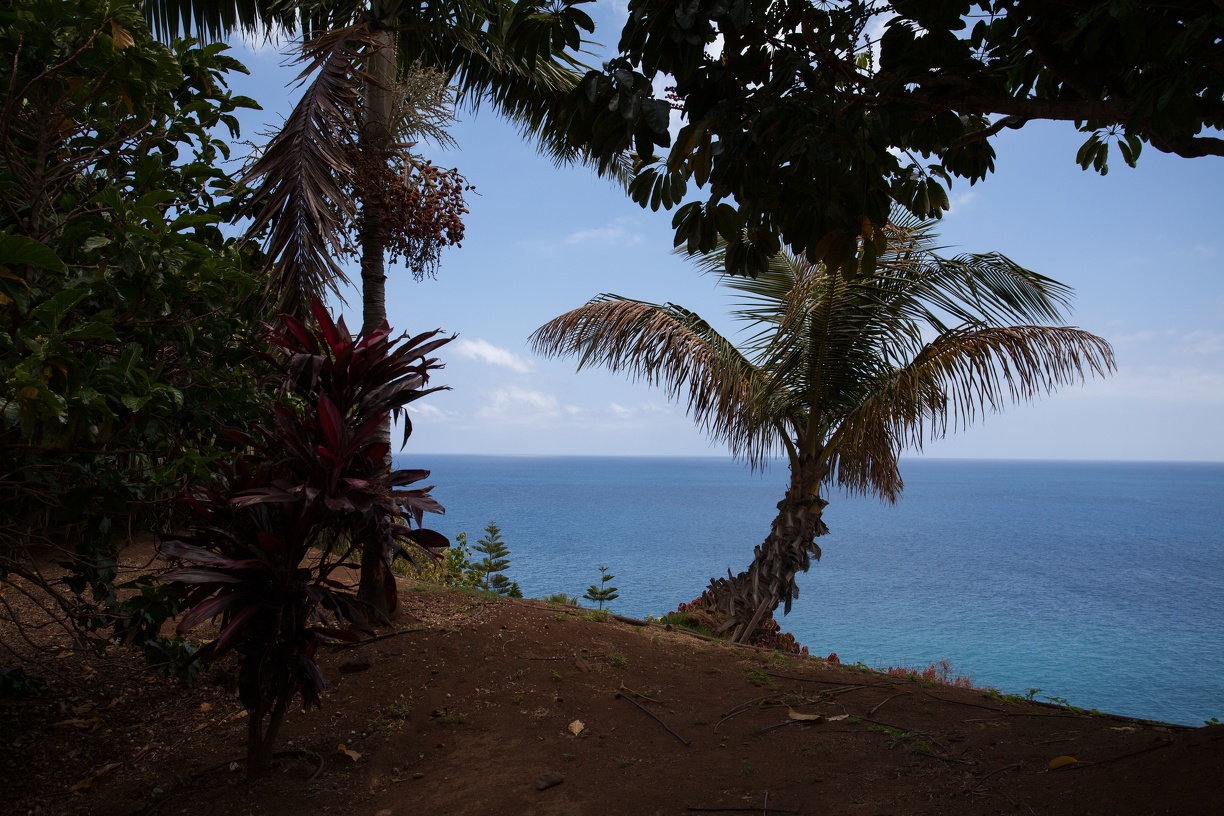 You will of course see a large number of palm trees but also fig trees, baobab, banana trees, mangroves and many others.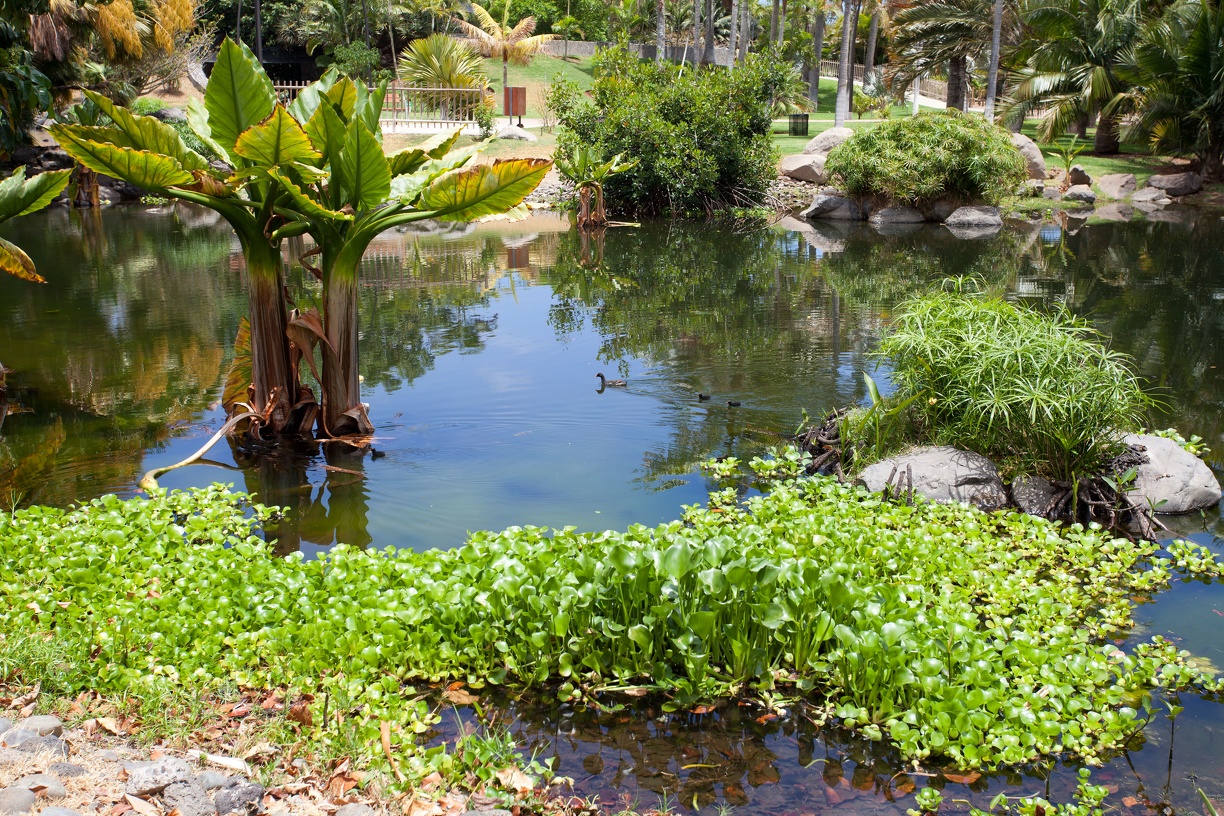 You wouldn't know it by looking at it but the Palmetum is actually built on a former trash heap. They even had to dig holes to allow the gases to escape.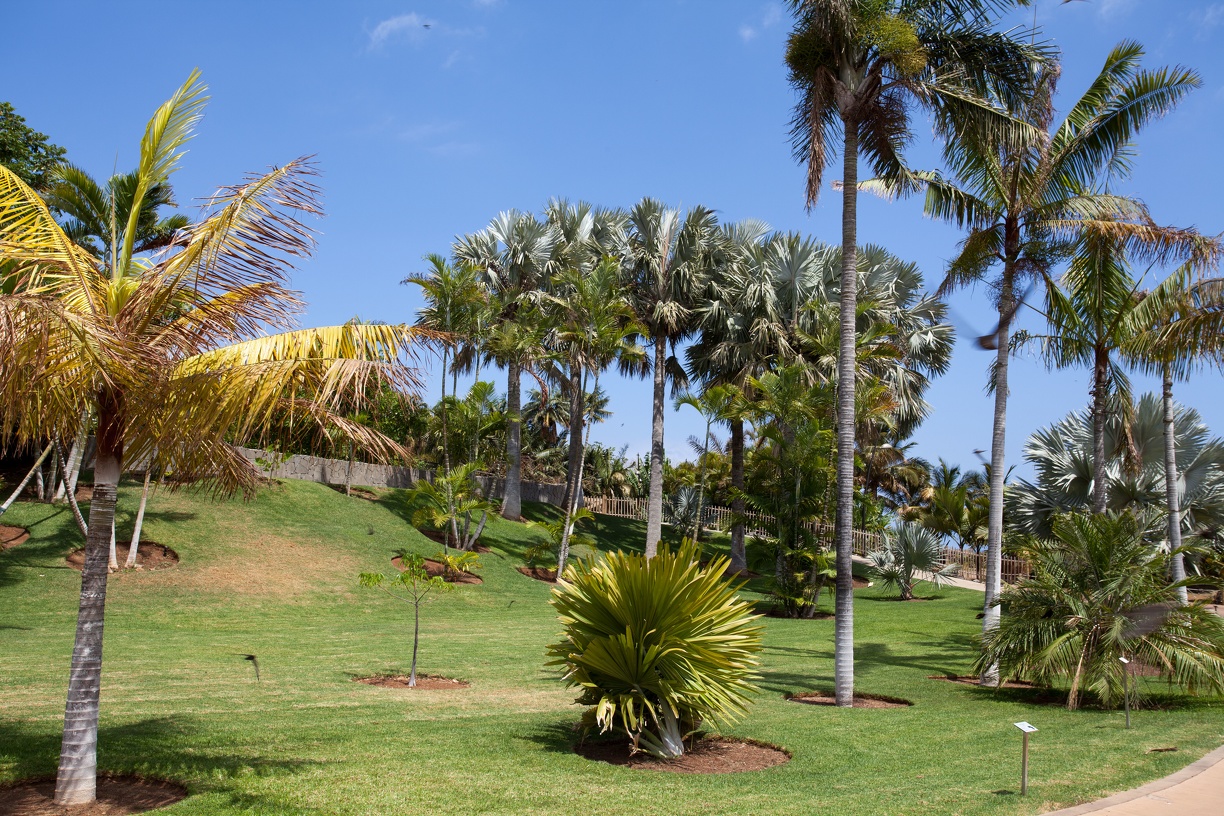 Right next door you'll find the Auditorio de Tenerife and the Castillo de San Juan Bautista.
By the way, don't expect any big medieval-style castles in Tenerife. There are only little forts like this one.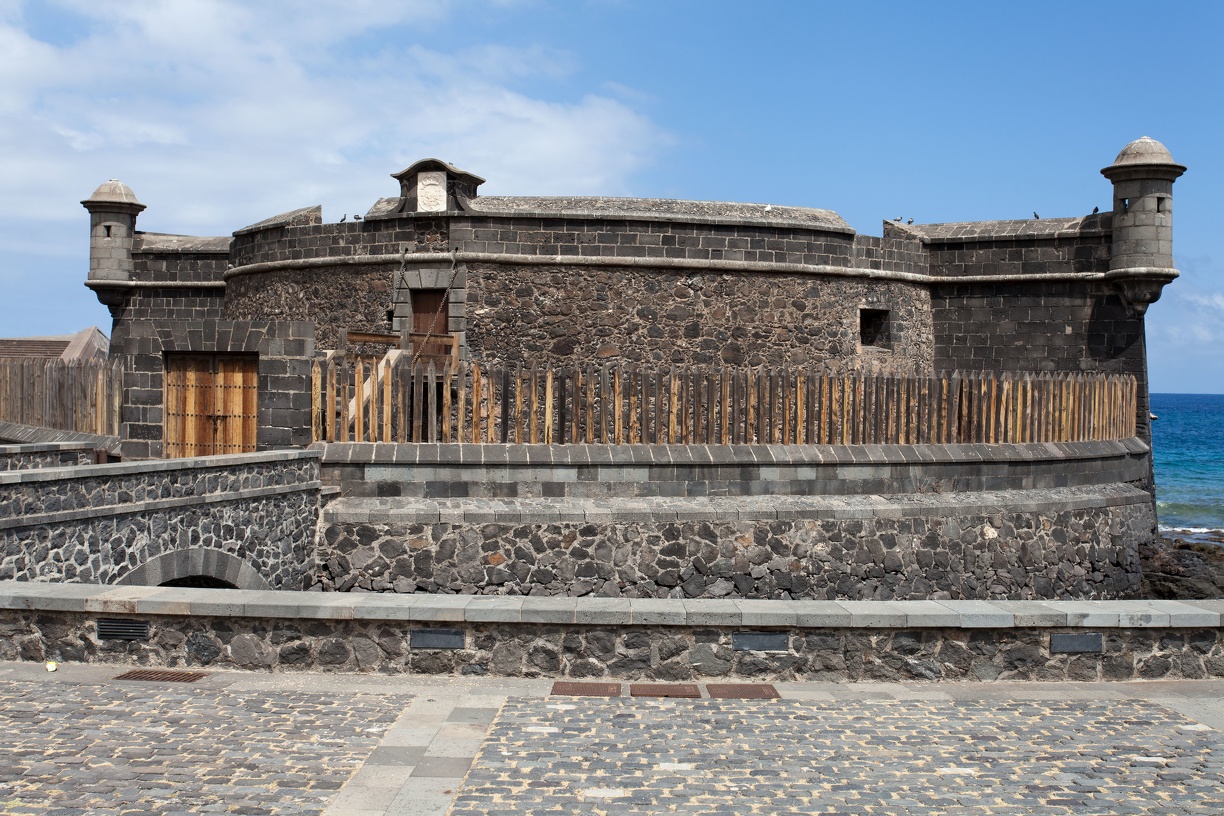 La Laguna
La Laguna is the former capital and its historical center is a UNESCO World Heritage site. It is also the home of the University of La Laguna, the oldest in the Canary Islands.
The historic center is a pedestrian area so you can easily wander around and the houses here have a distinct style that gives this neighborhood a particular atmosphere.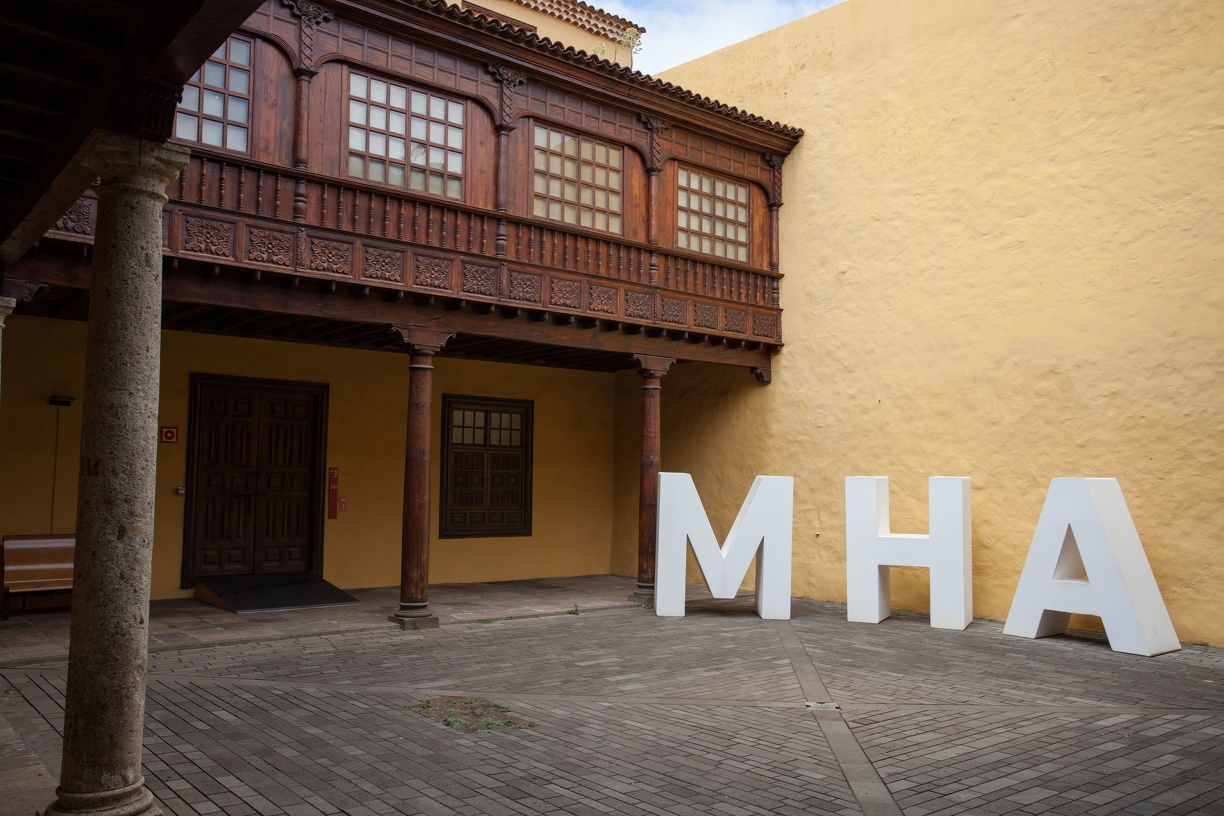 The Museo de Historia y Antropología is located in an old house with a beautiful architecture which makes it worth checking out. However, as I mentioned earlier, all descriptions are in Spanish which is a bit disappointing.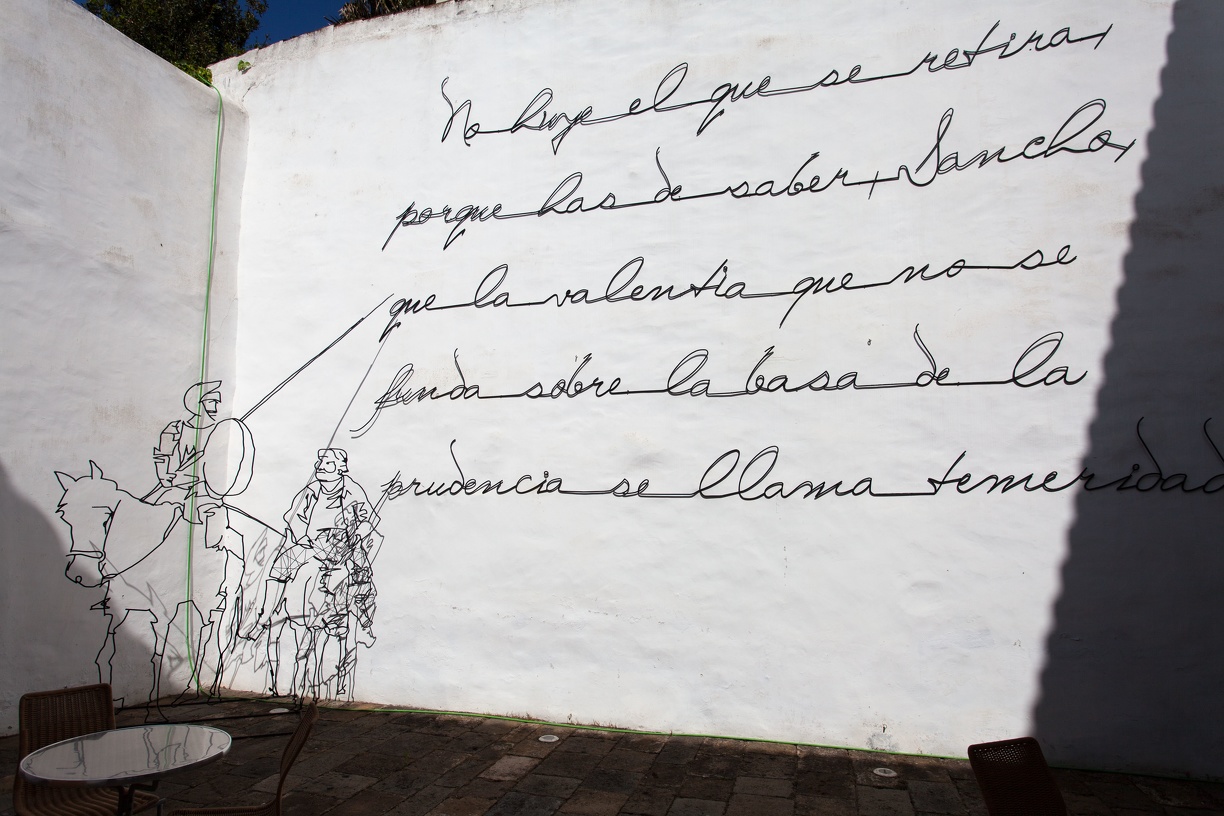 You will also come across some religious buildings, including the Cathedral of La Laguna: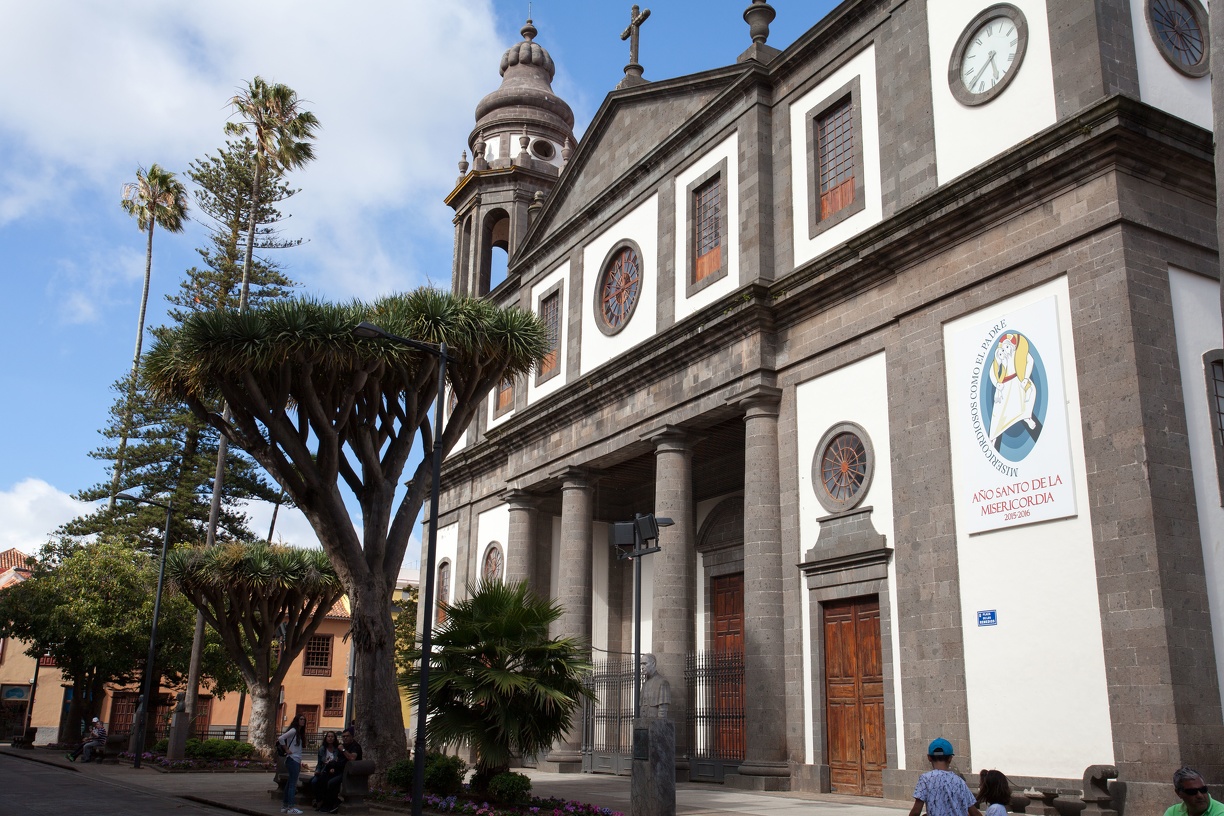 La Orotava
La Orotava is another historical city in the north, personally I found the architecture even more beautiful than La Laguna but it's of course a matter of taste.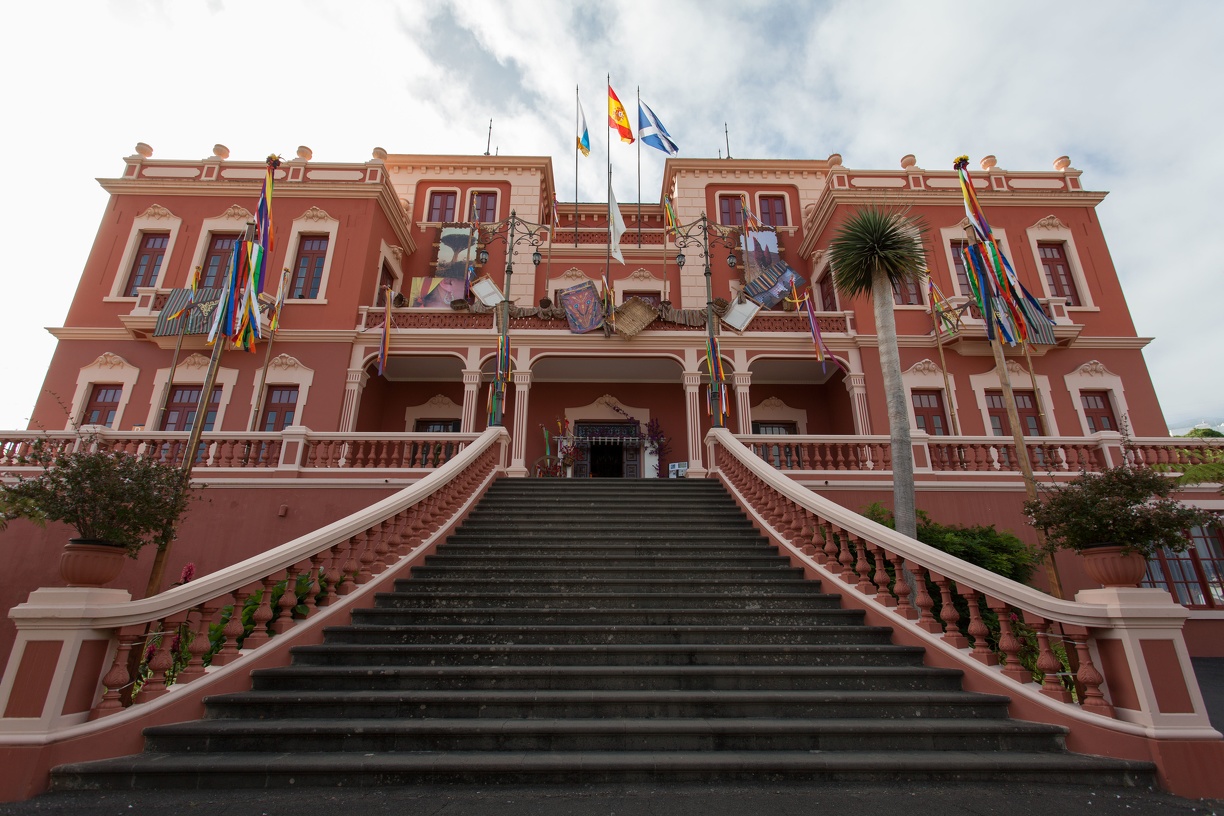 The city is more mountainous and more "organic" than the rectangular city blocks of La Laguna's historical center, which I found more enjoyable.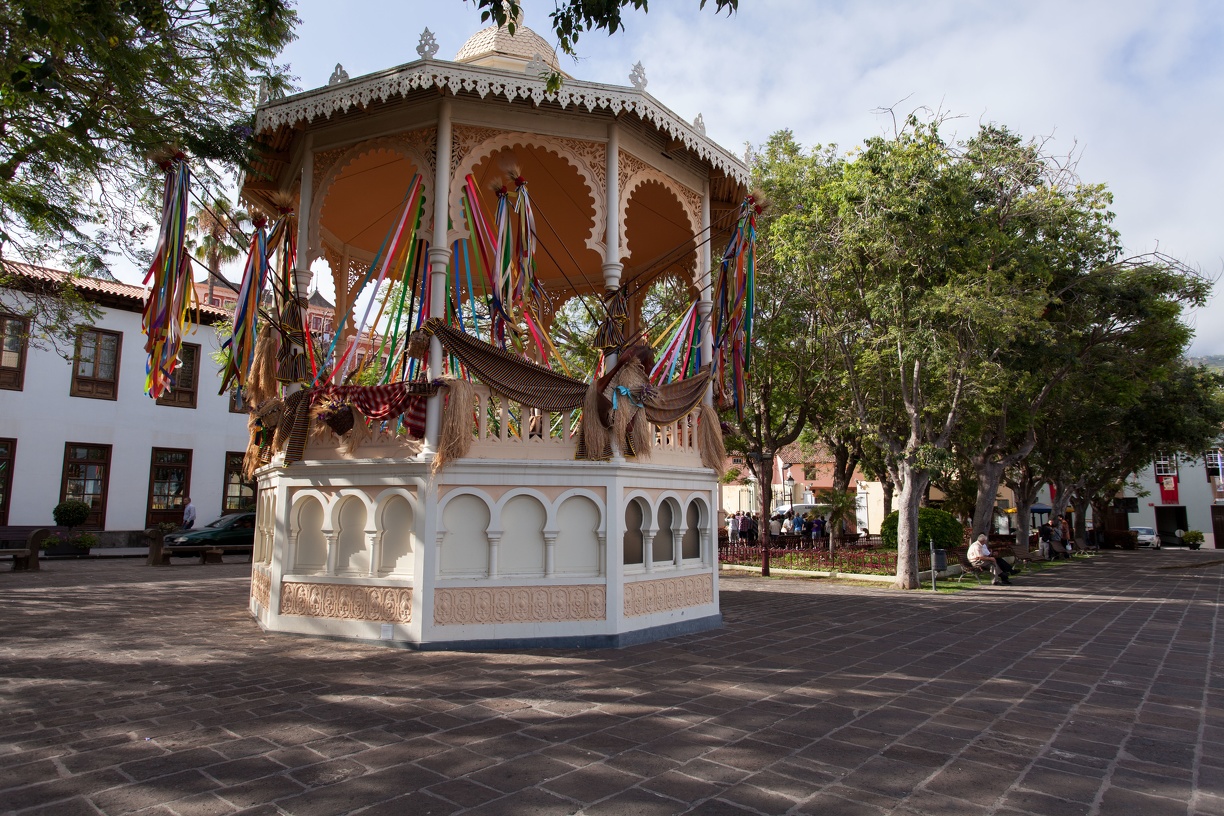 There's a botanical garden, very small but it's free and in the middle of the city so it's worth a detour.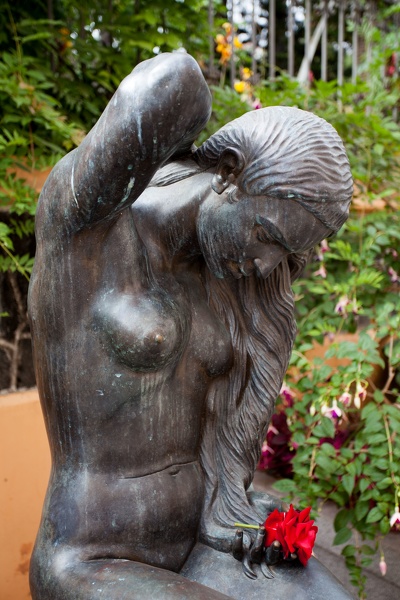 Here too the celebrations of Corpus Christi were underway, the salt carpet was not yet complete but it was already quite impressive.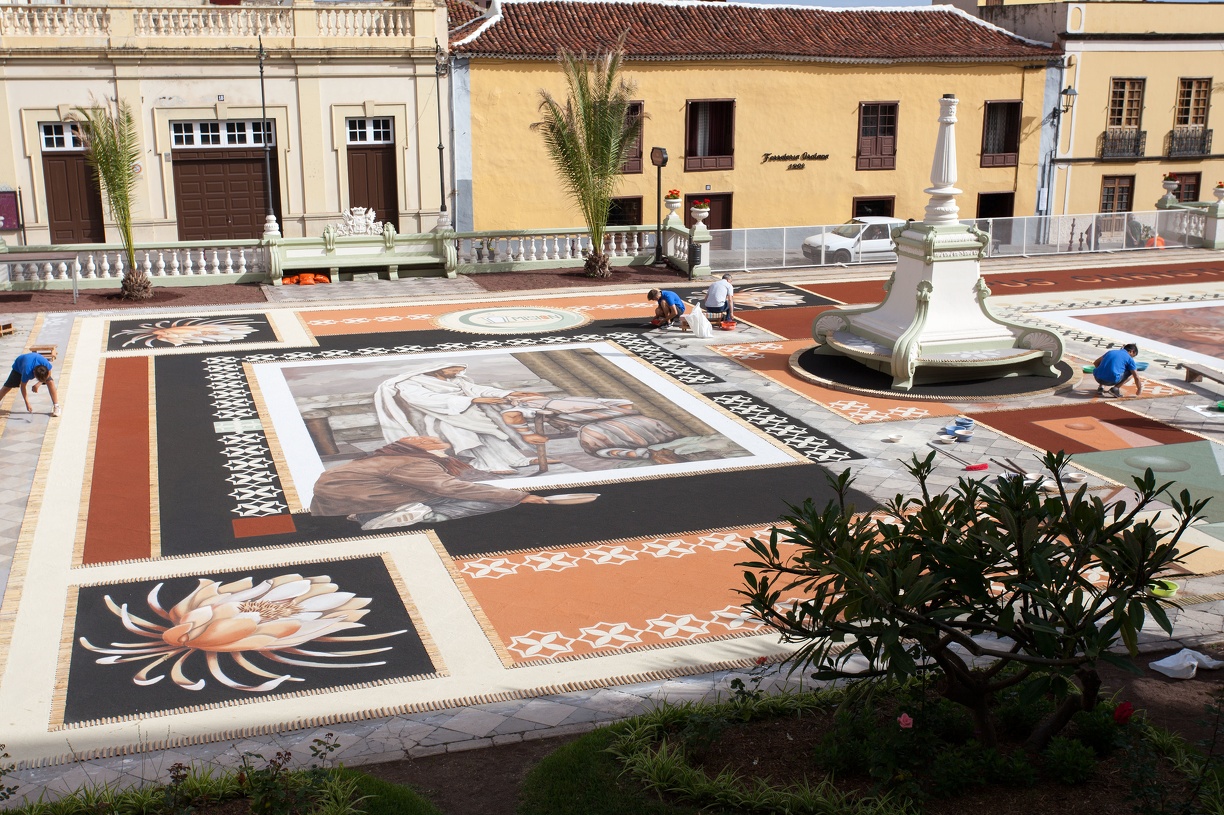 If you like the local architecture then you should check out the Casa del los Balcones. My audioguide didn't work but the house itself was still worth seeing.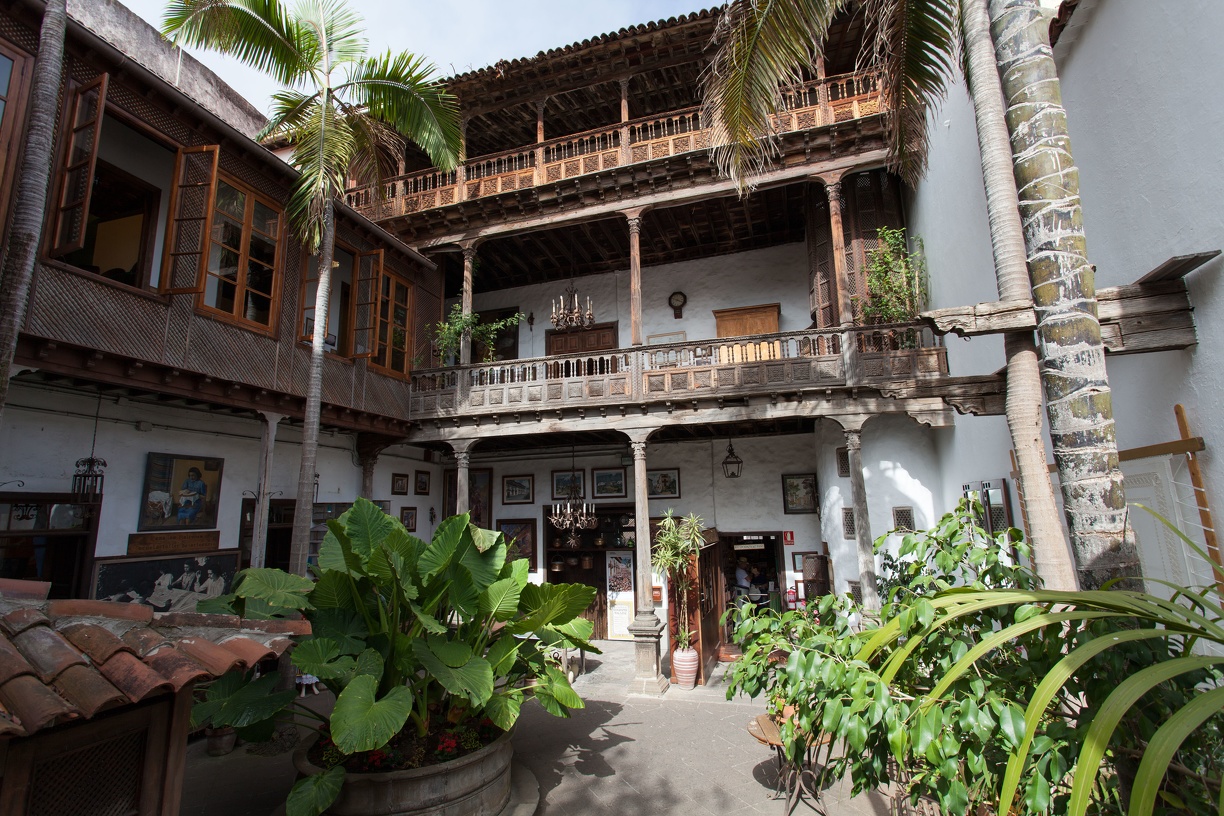 Puerto de la Cruz
Not far from La Orotava, Puerto de la Cruz is much bigger and used to be the main tourist city before the construction of the new ones in the South.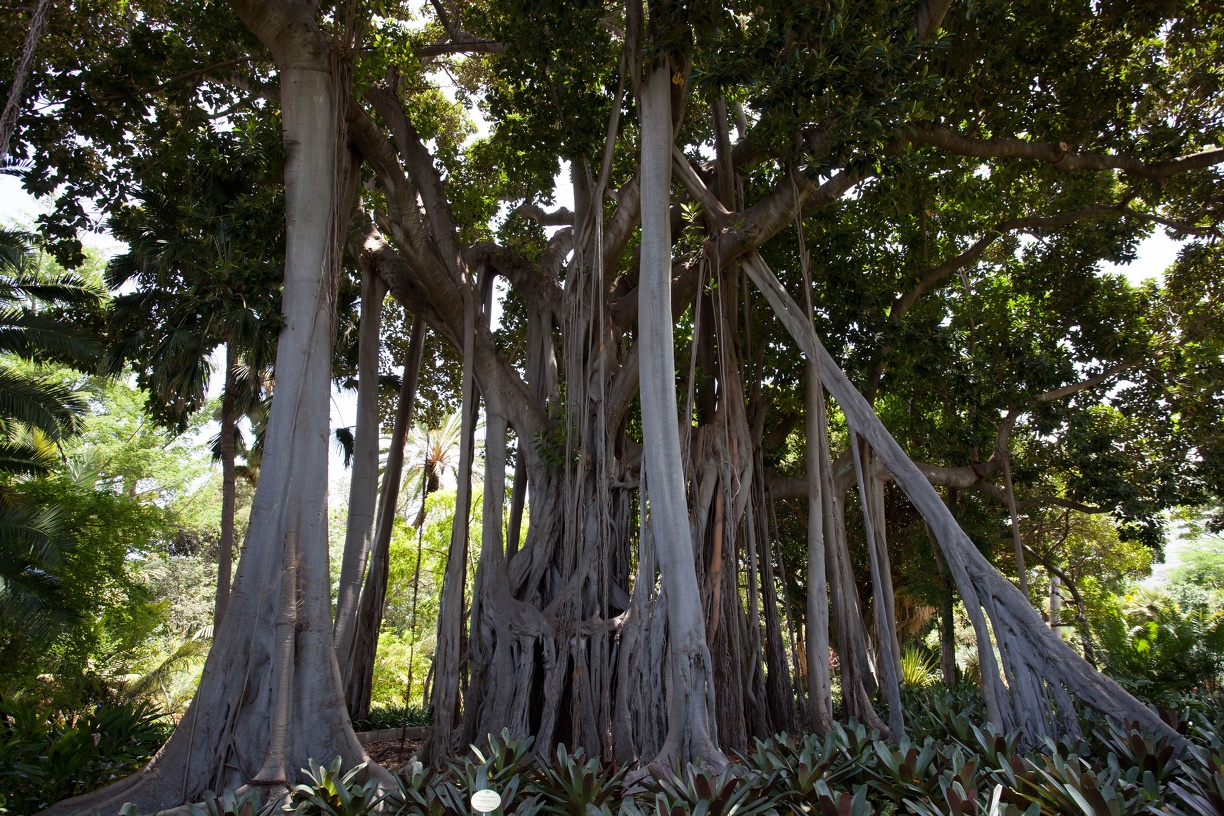 Puerto de la Cruz also has a botanical garden, much larger than La Orotava and with a nice diverse collection.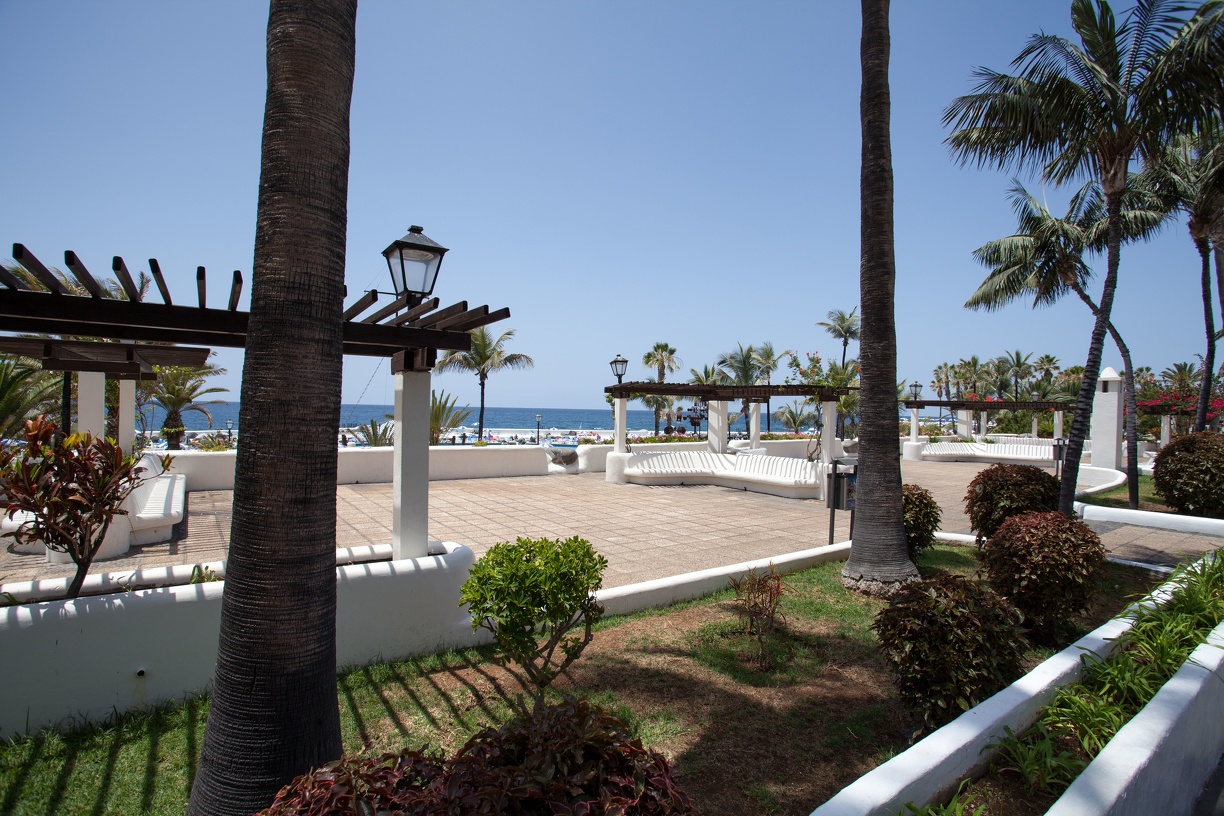 Lago Martianez is an interesting complex of swimming pools built along the sea, these pools are filled with salt water but still look like regular pools.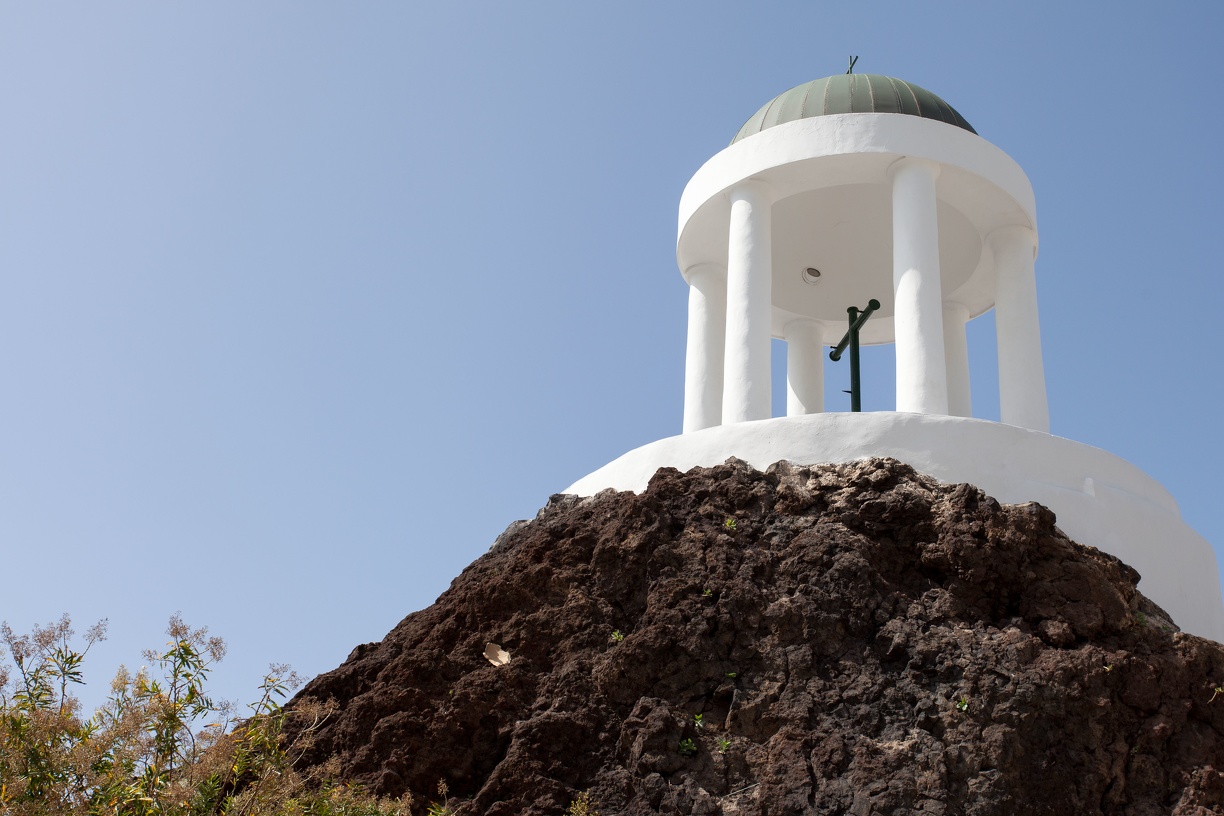 The seaside is quite touristic so you'll find plenty of restaurants and shops but for more traditional restaurants you'll have to look in other parts of city.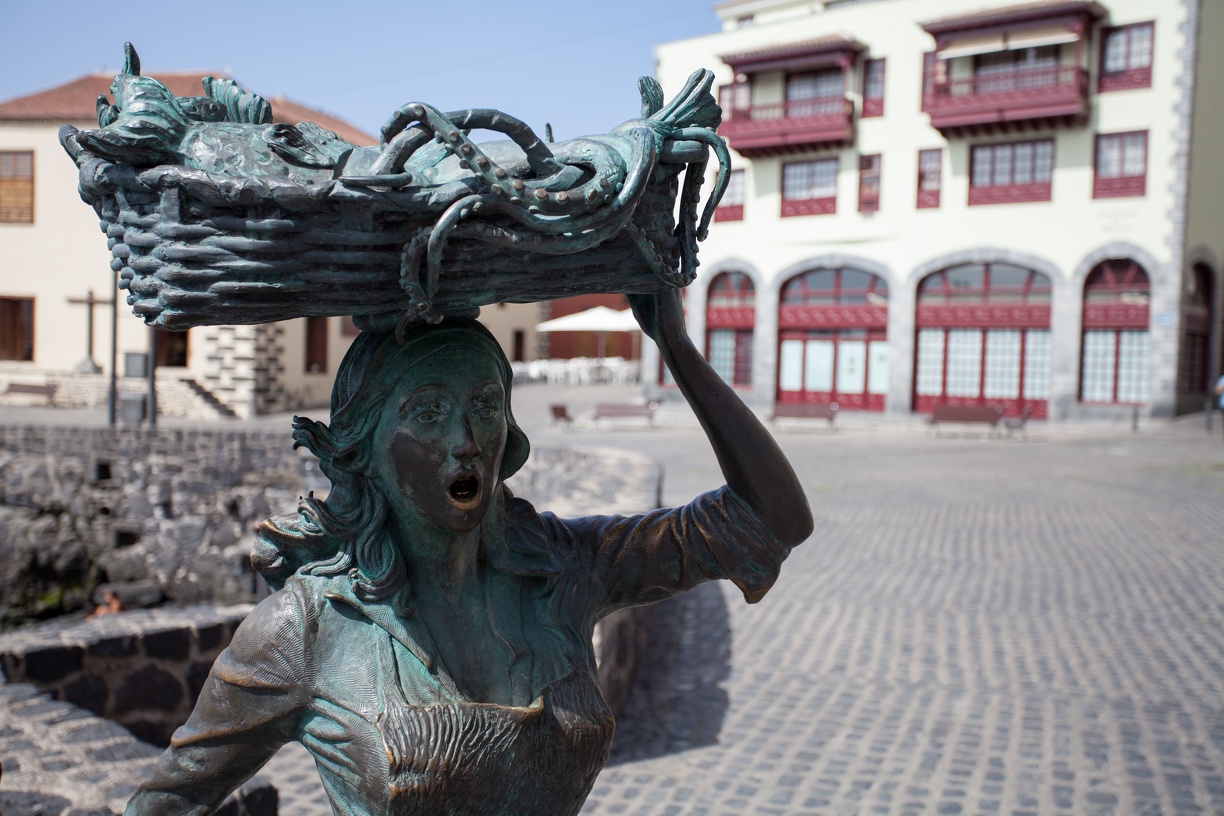 On June 23 the locals celebrate the Fiesta de San Juan where they gather on the beach and build fires with their friends and family.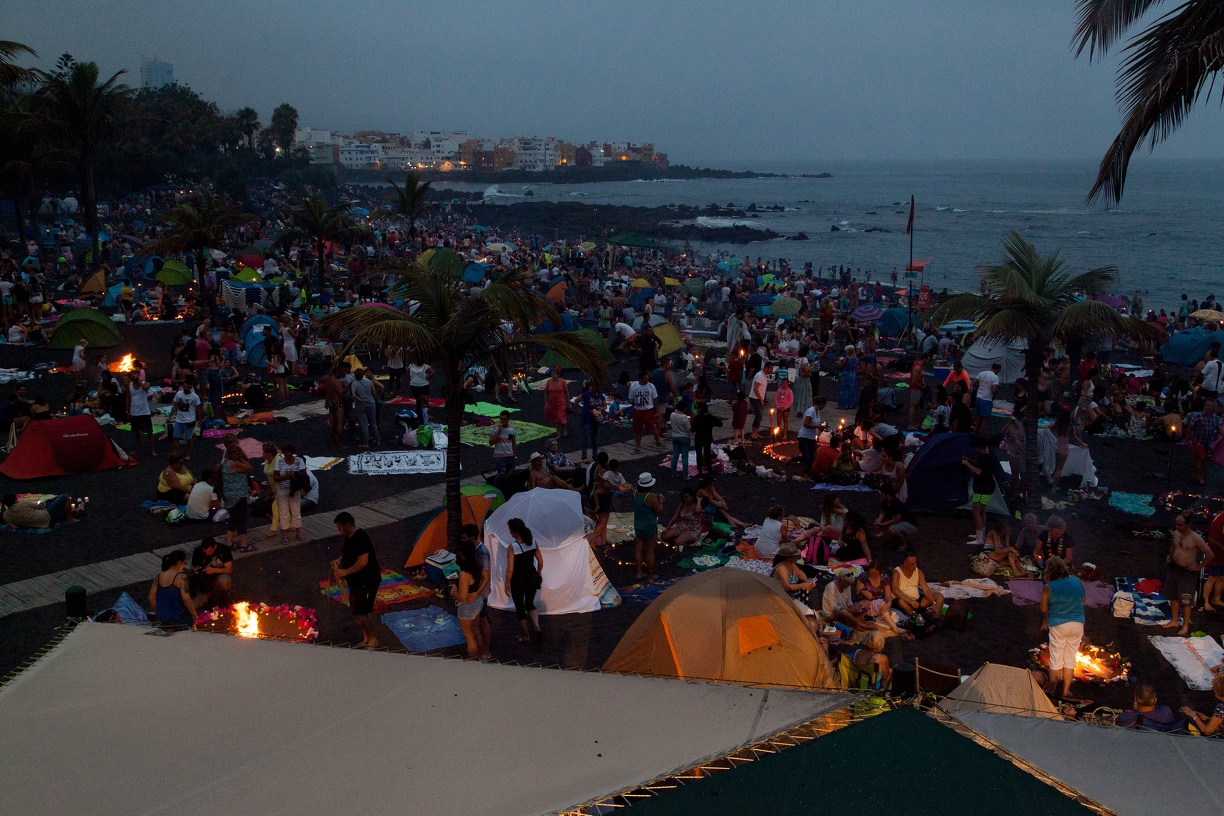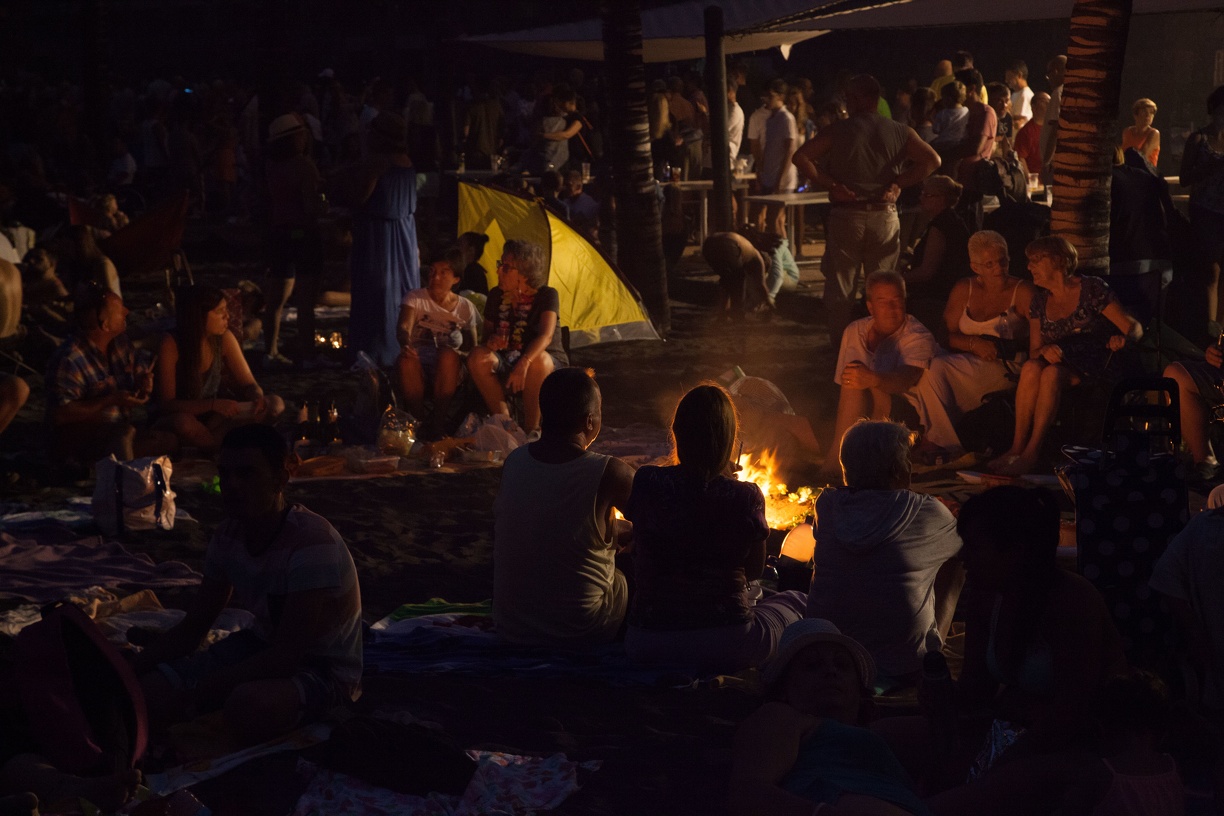 There are of course historical reasons for that, as explained in the link above, but today it just seems like another reason to party (they are Spanish after all).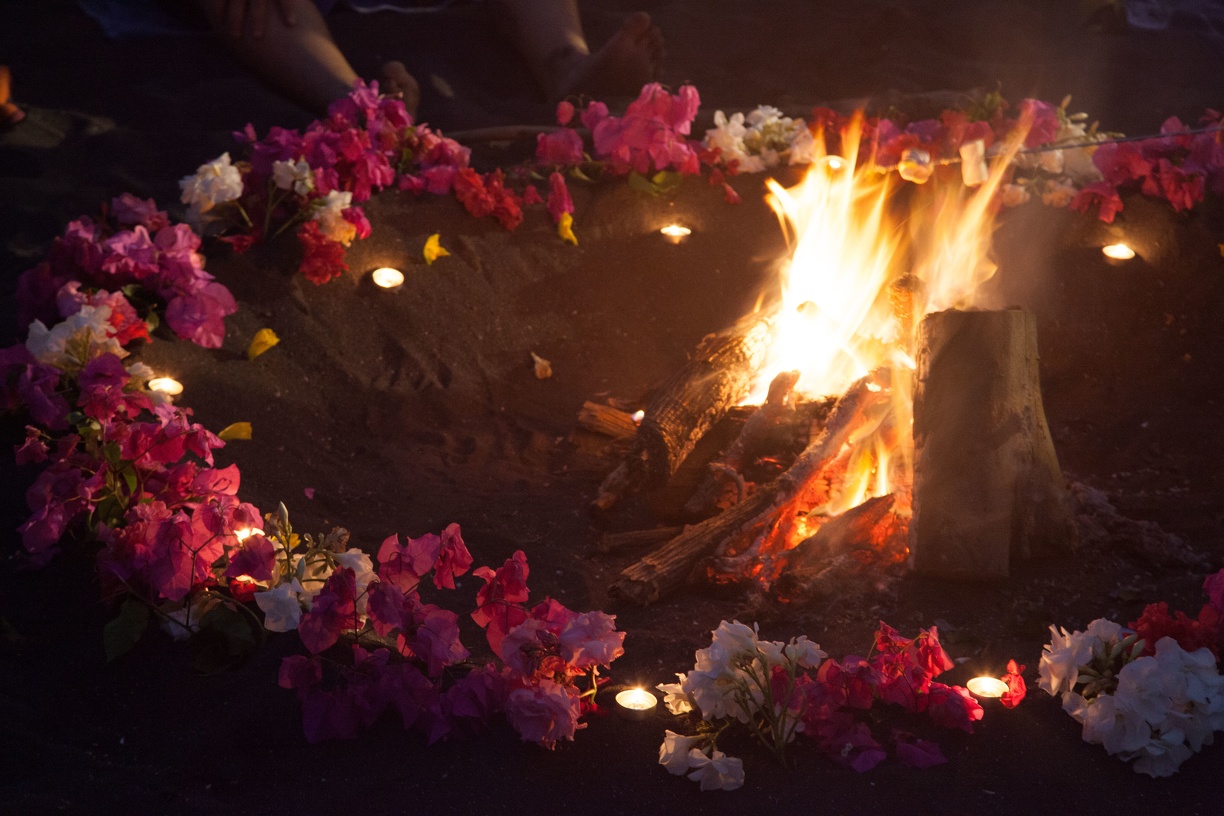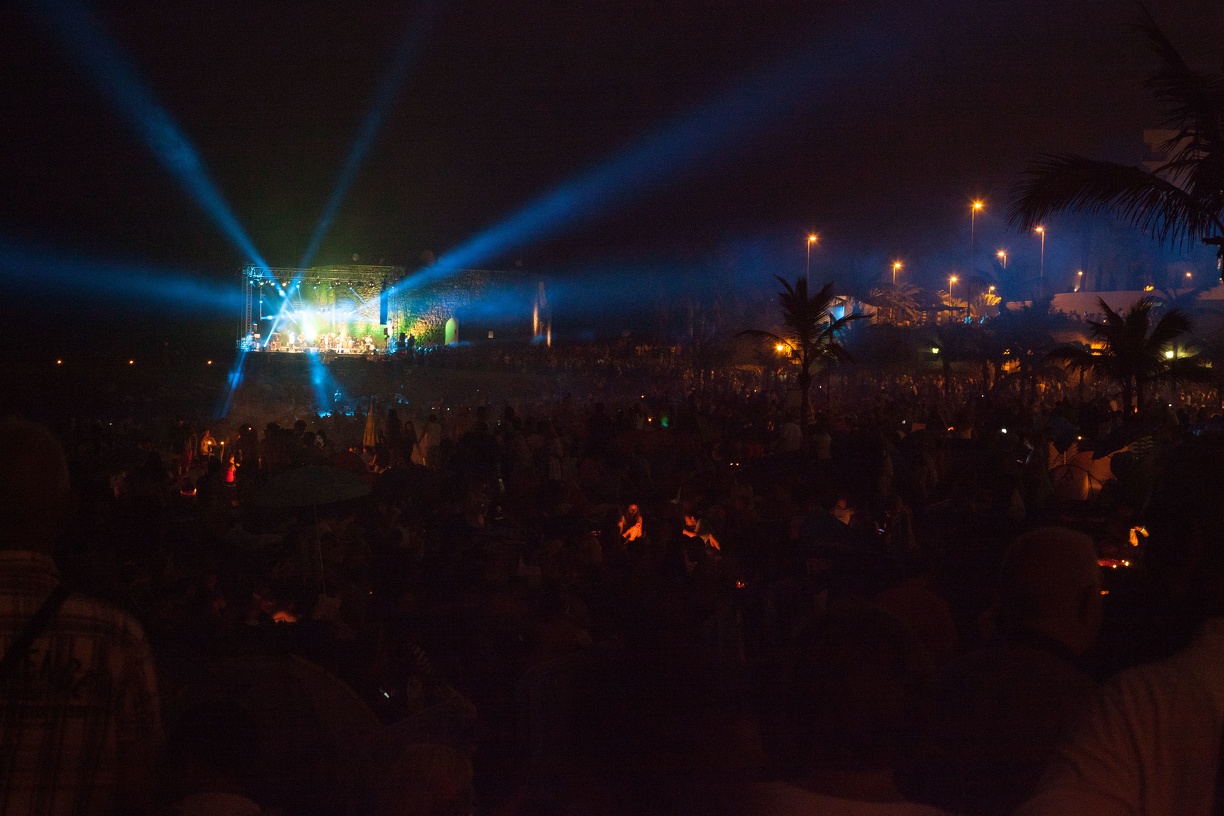 Garachico
Garachico is a small town on the north of the island so there's not so much to see except the Piscinas Naturales: swimming pools that were created when lava reached the sea during a volcanic eruption that destroyed parts of the city.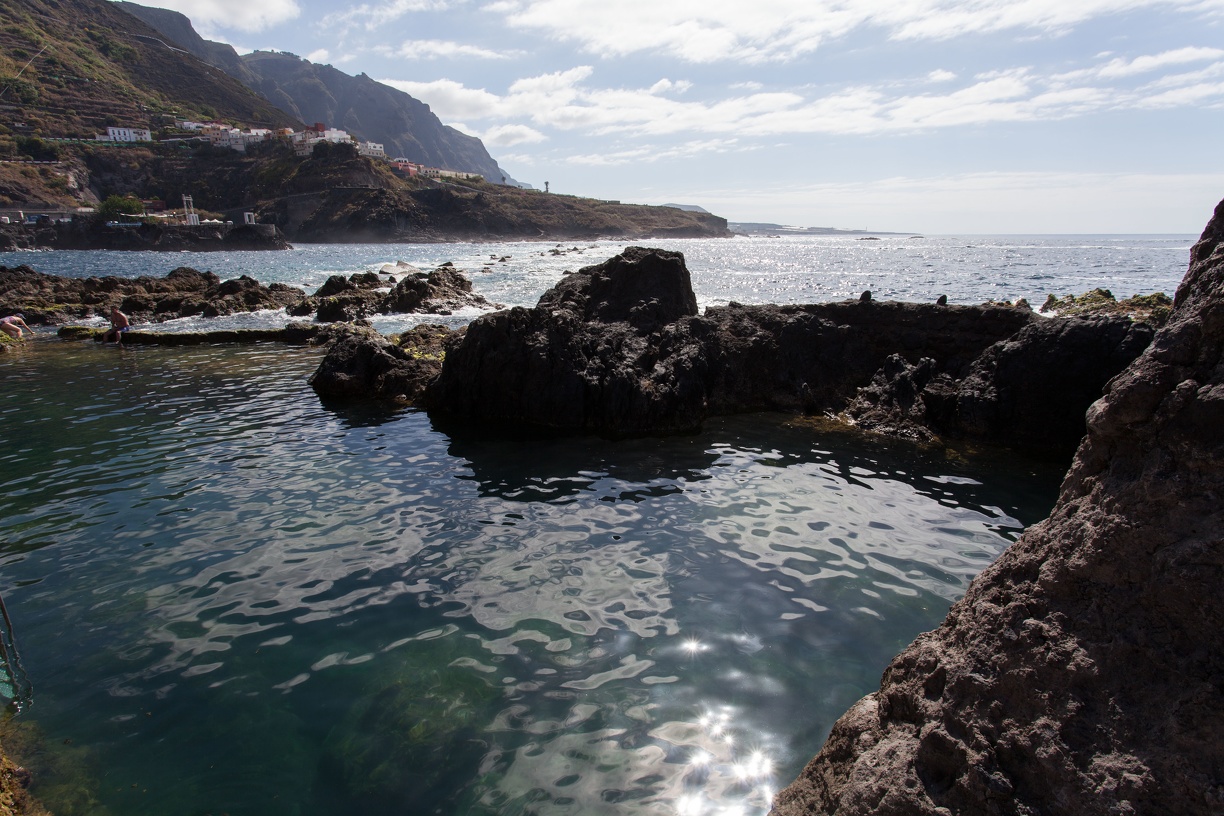 The lava flows can still be seen on the slopes of the mountain: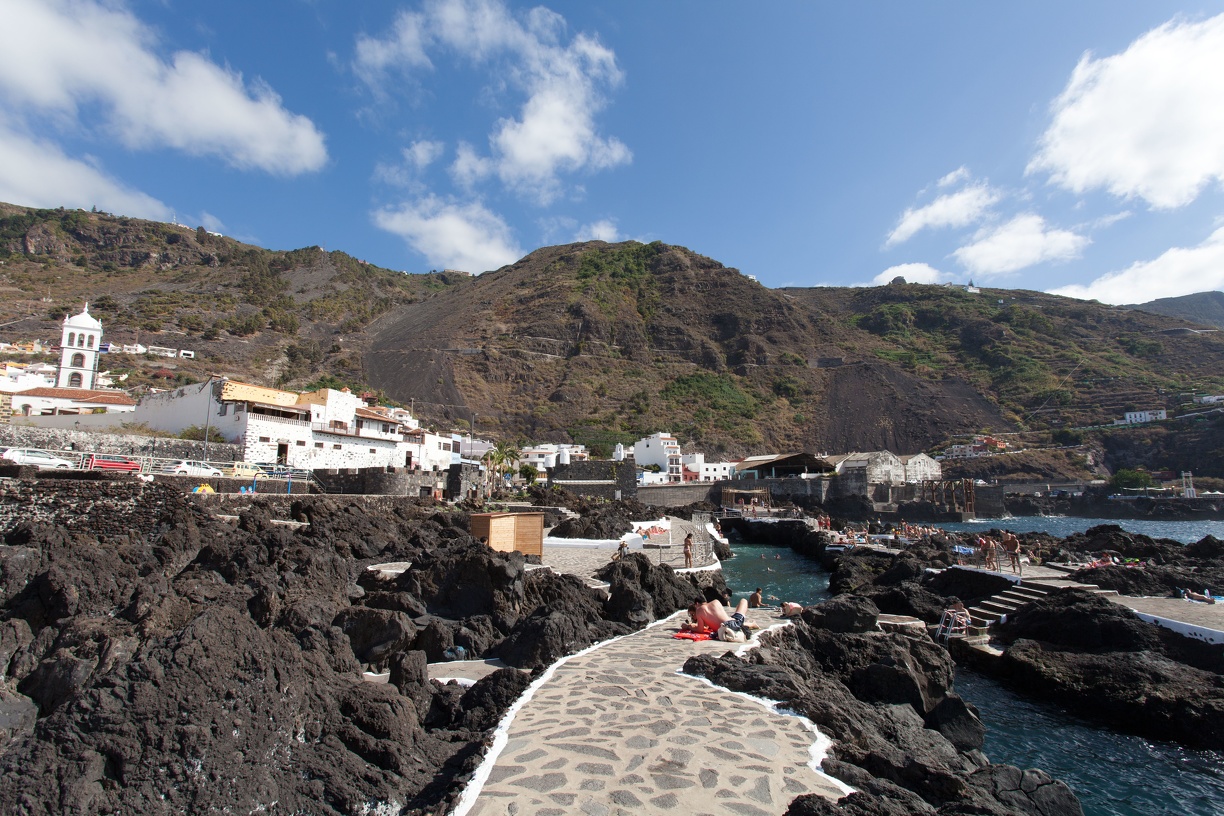 Pyramids of Güímar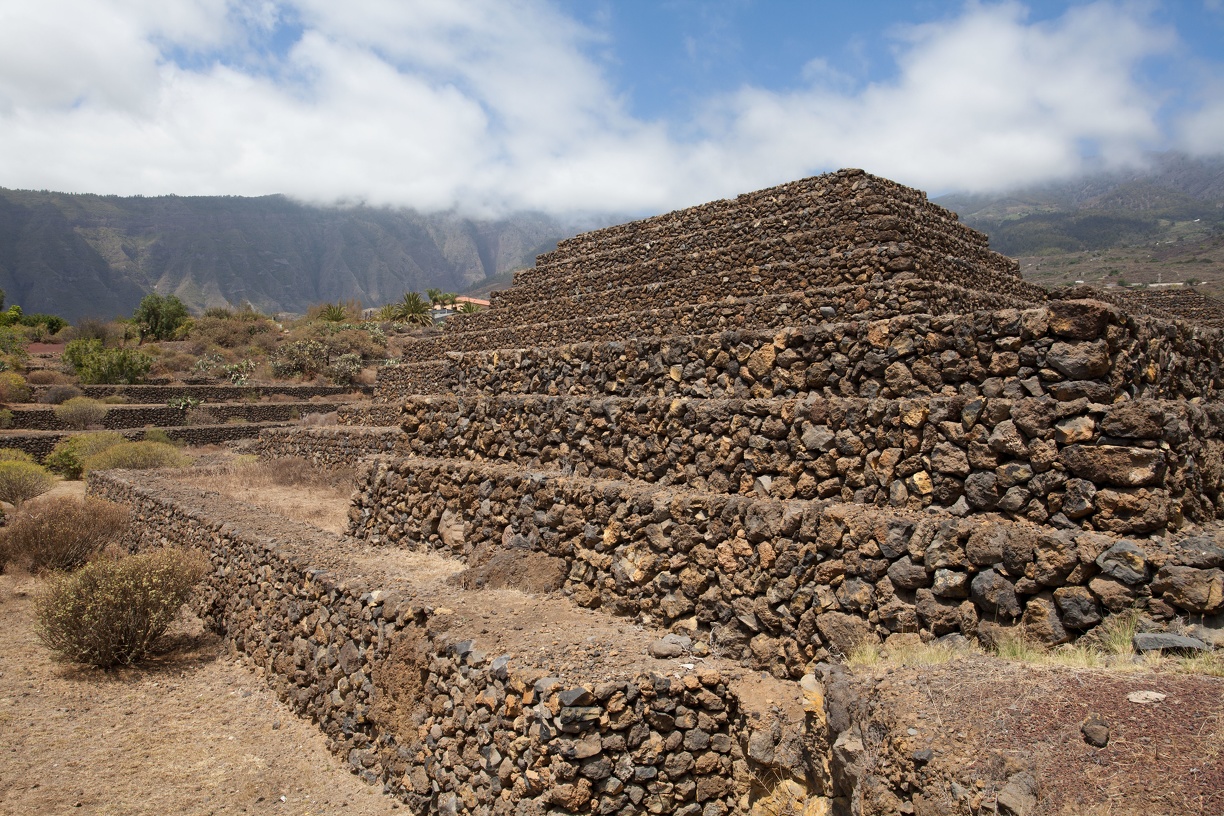 Yes there are pyramids in Tenerife but they don't look much like Egyptian pyramids. Actually this might be a good time to mention that, due to its location, Tenerife was used during the colonization of the Americas. This can be seen in the old architecture, which shows some similarities to Central American designs. Before being Spanish, the island was inhabited by the Guanches who were descendants of the Berber.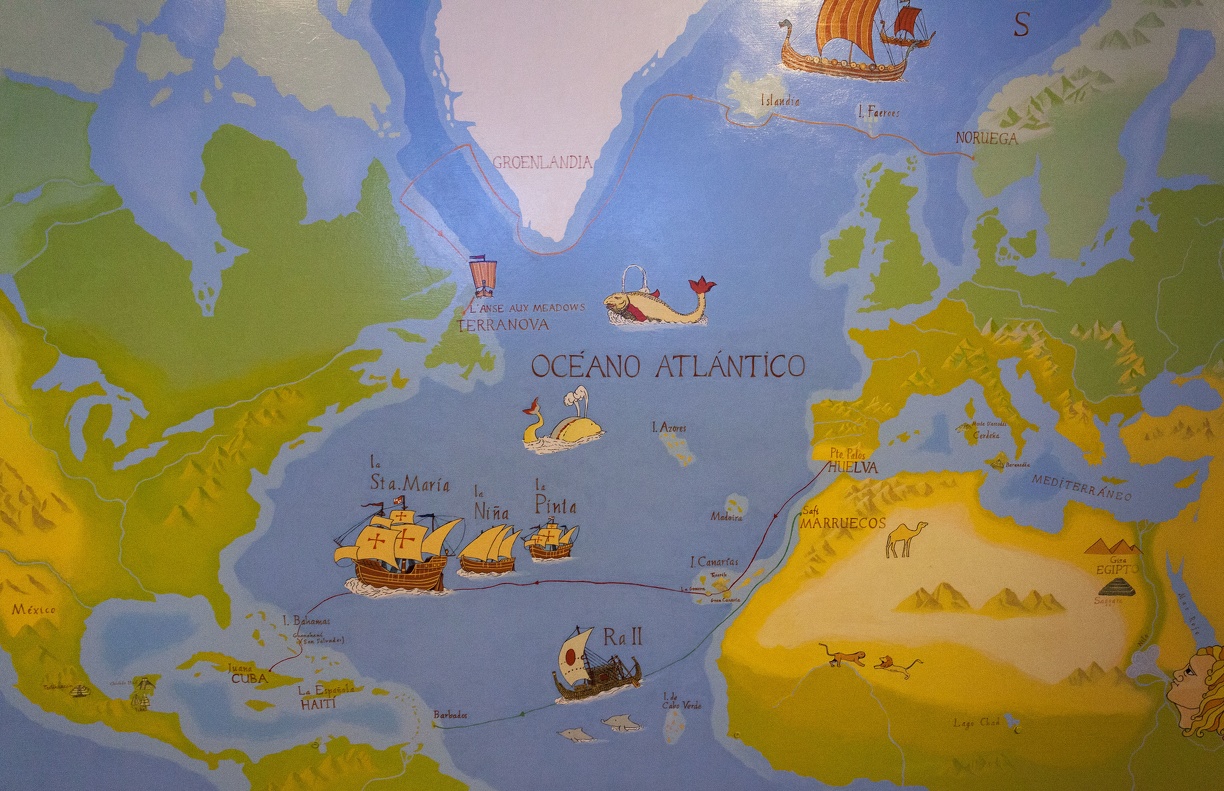 Teide National Park
You can't miss El Teide, it's right in the middle of the island and at 3.718m it's the highest peak in Spain.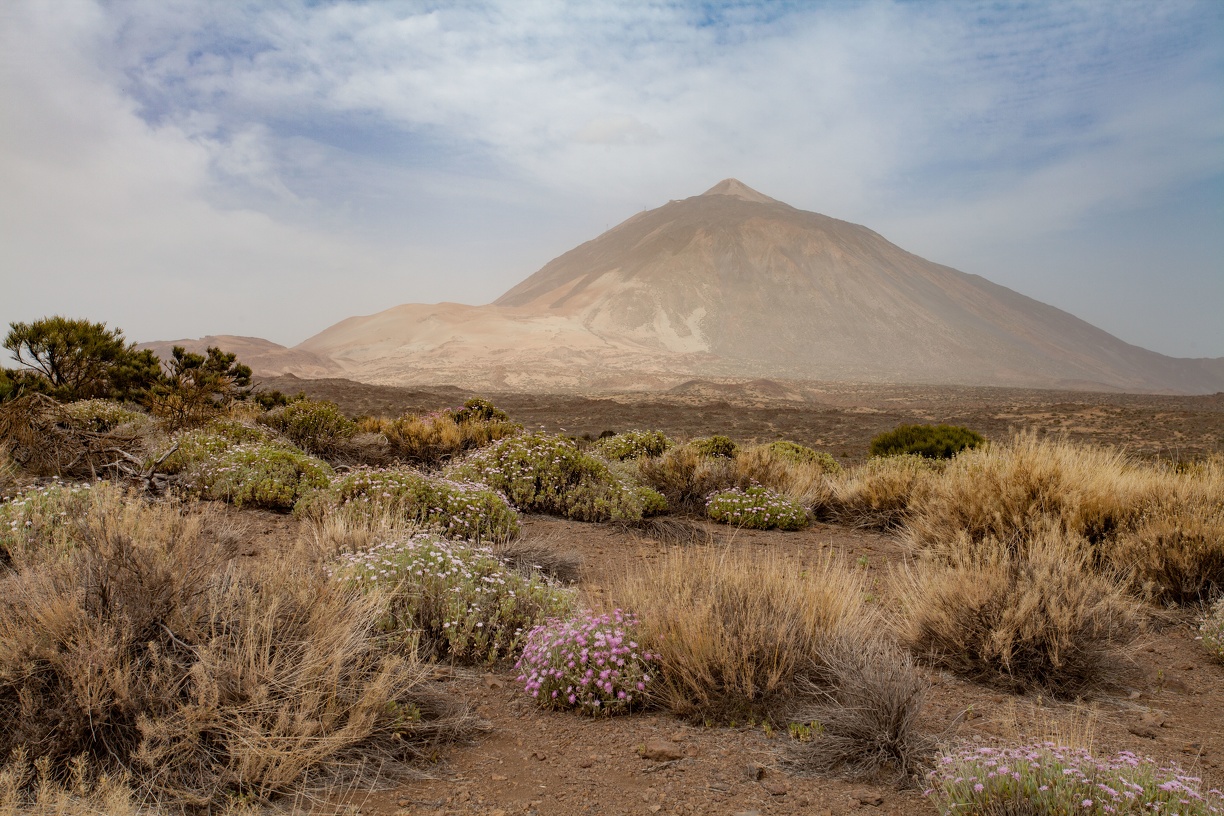 There are hundreds of volcanoes on Tenerife but El Teide is clearly the largest one and is still active (the most recent eruption occurred in 1909). The Canary Islands were formed by volcanic eruptions so this should not come as a surprise.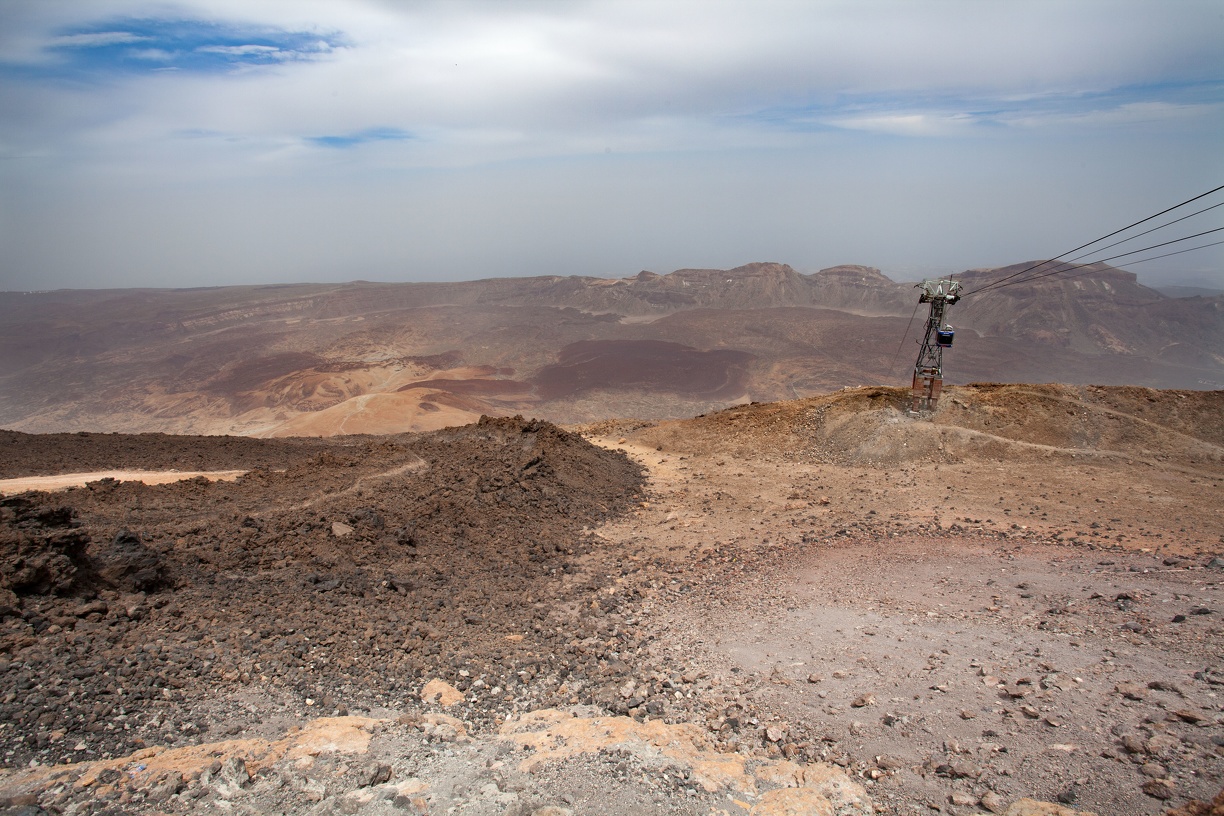 The summit of El Teide is accessible but you'll need to get a permit. You can go slightly below the summit without a permit by taking the cable car (2 hikes are available there) but at 27€ it's pretty expensive and the queues are long. On the other hand you'll get a panoramic view over the surrounding caldera so it's your choice but if you decide to go on the hikes remember that you'll need to take the cable car to leave (so get there in time).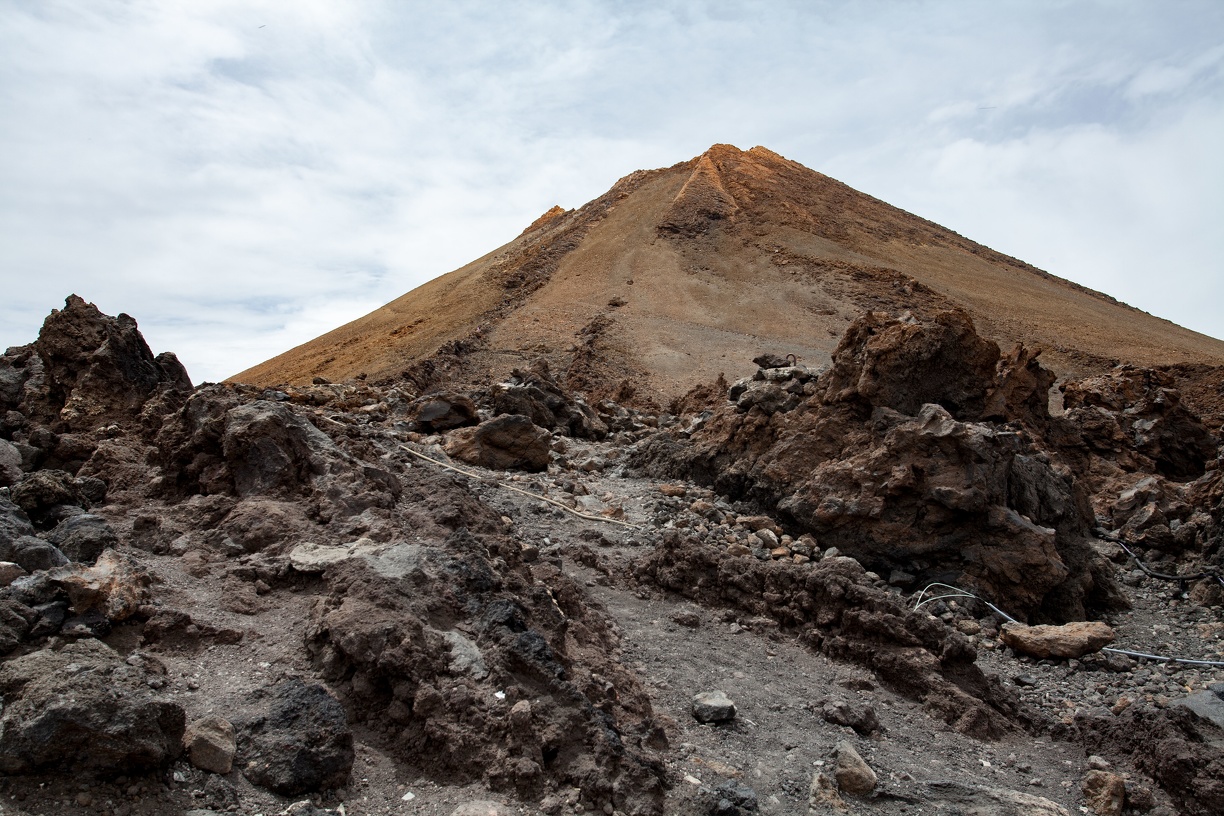 You should also keep in mind that the weather is noticeably colder up there (a jacket or sweatshirt might be useful, although if you're from a colder climate it might just be pleasantly refreshing after the heat down below). There is also less air due to the altitude so hiking will be more difficult as well.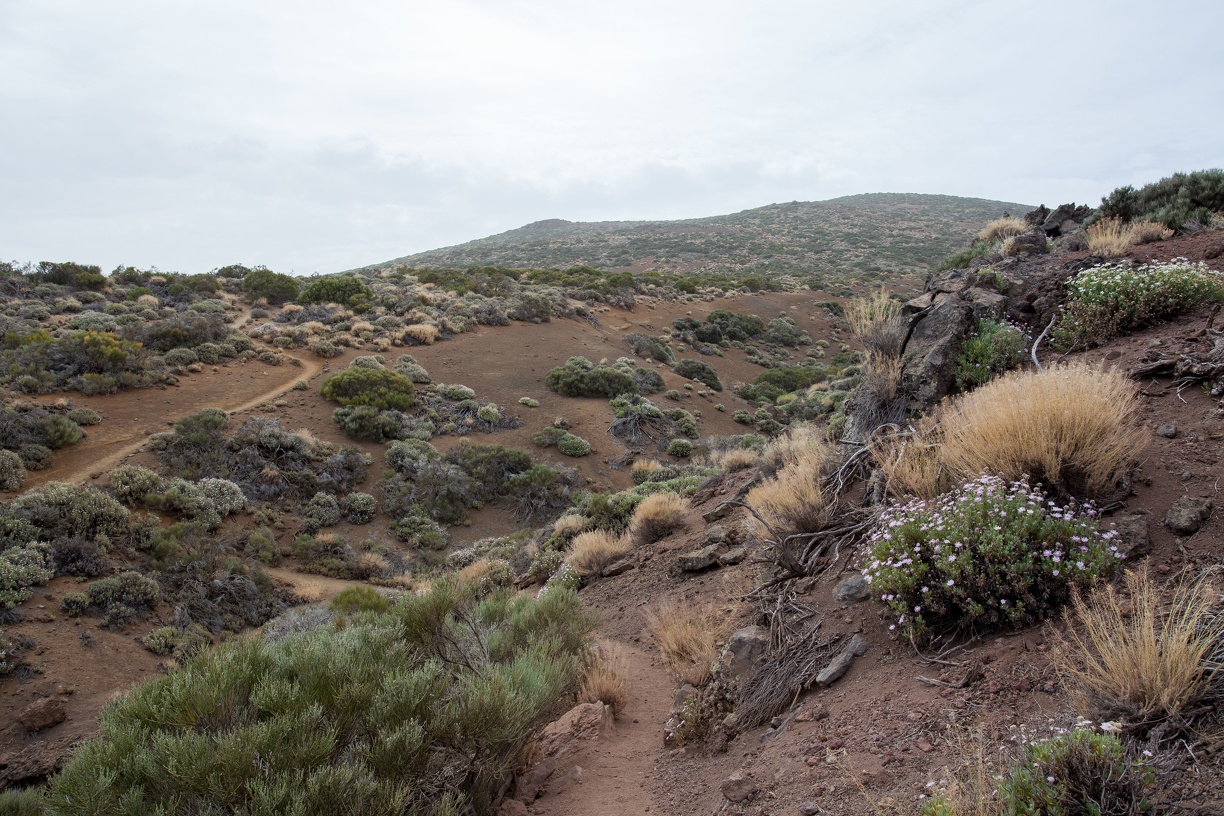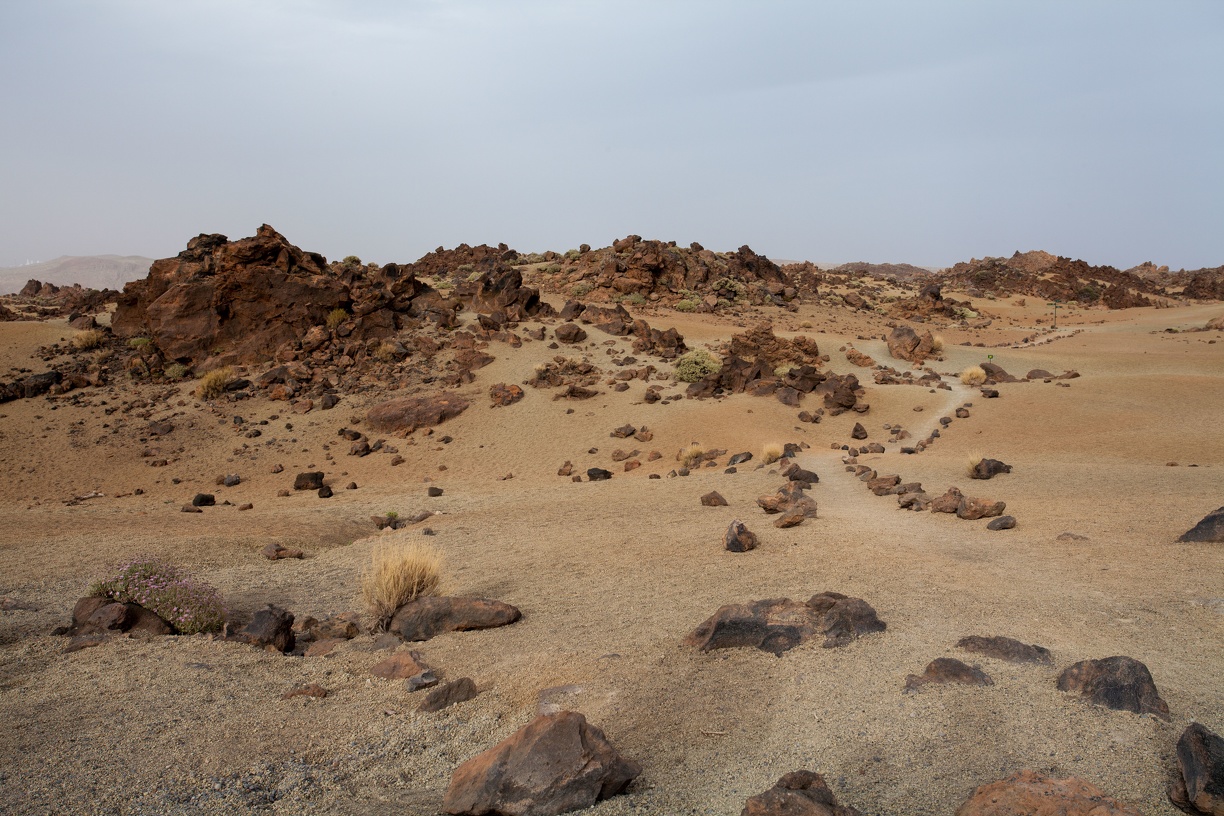 The landscape is surprisingly diverse in the park: there are of course deserts, as you would expect from a volcanic area, but you'll also find some areas full of shrubs and others covered in pine trees.
The contrast of the green trees against the black volcanic ash was particularly beautiful.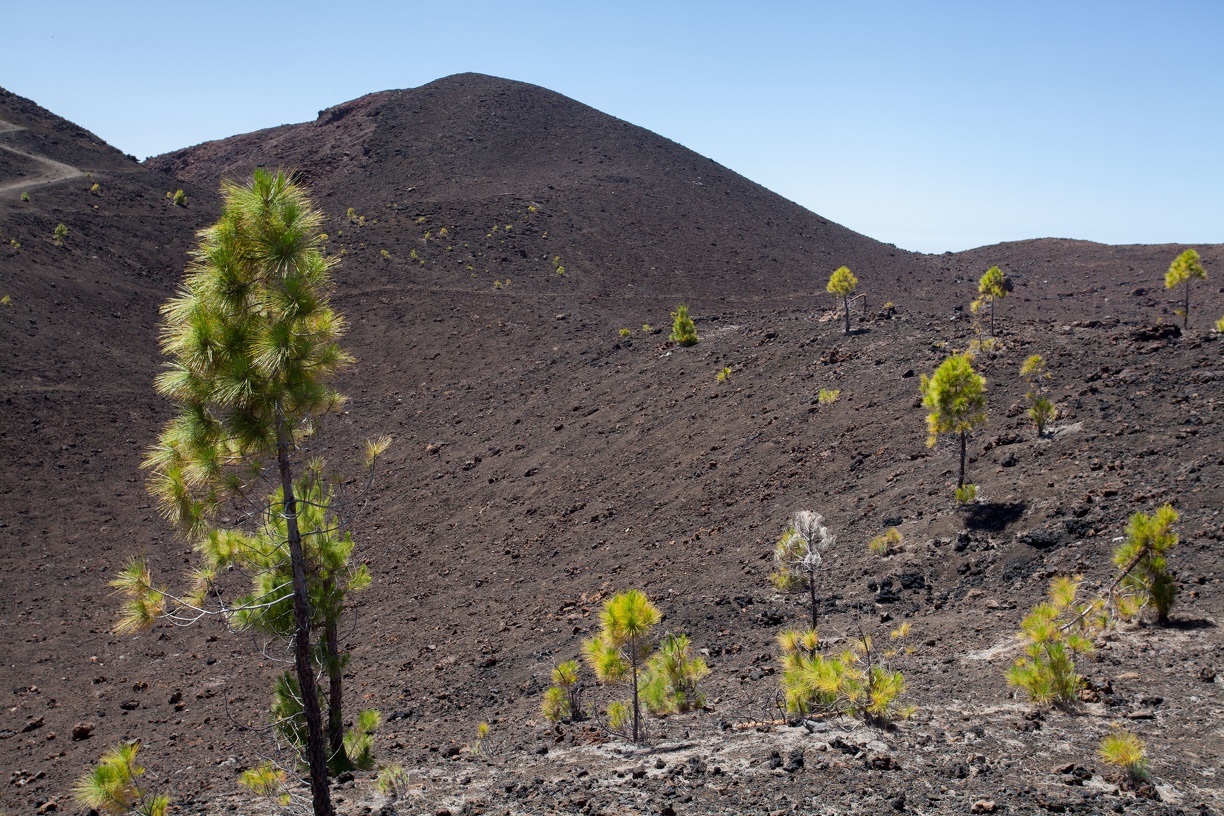 This was taken at Montana Samara, which also gives a nice view over El Teide and Pico Viejo.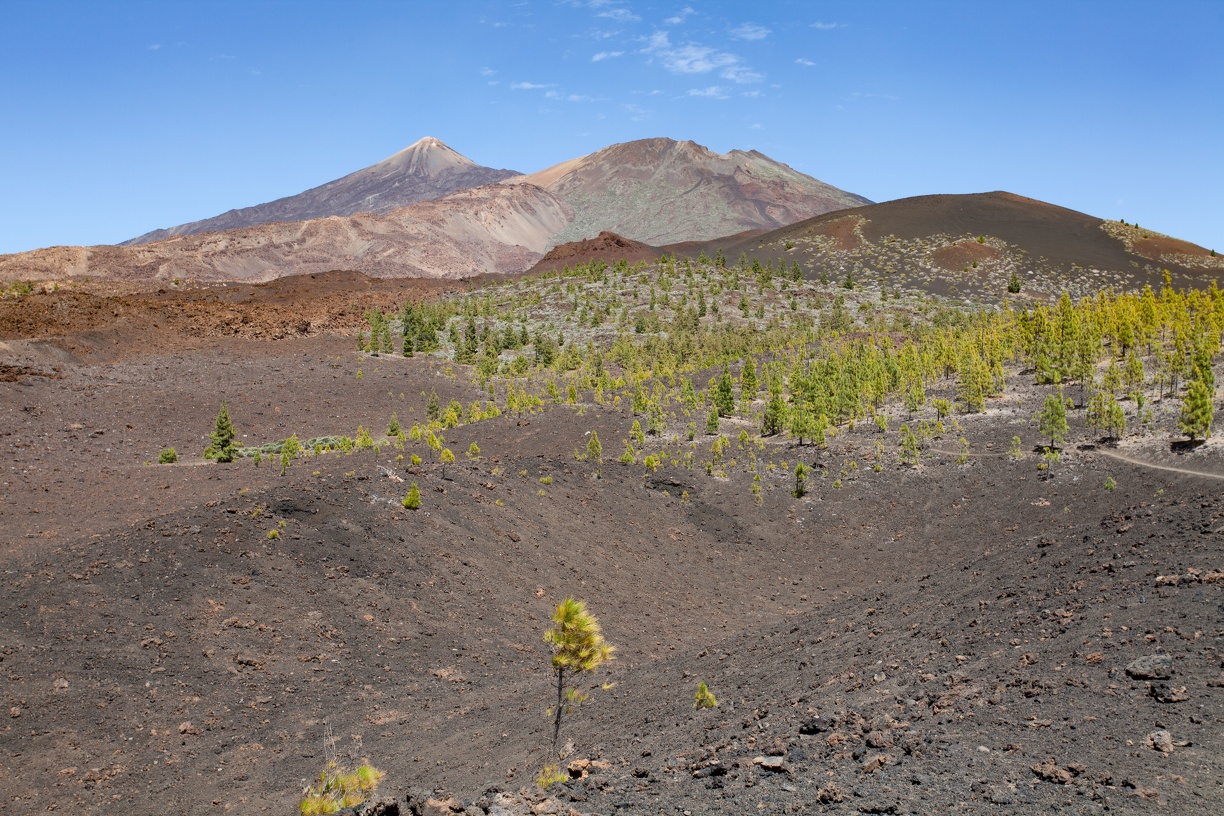 Of course you will also find some interesting rock formation: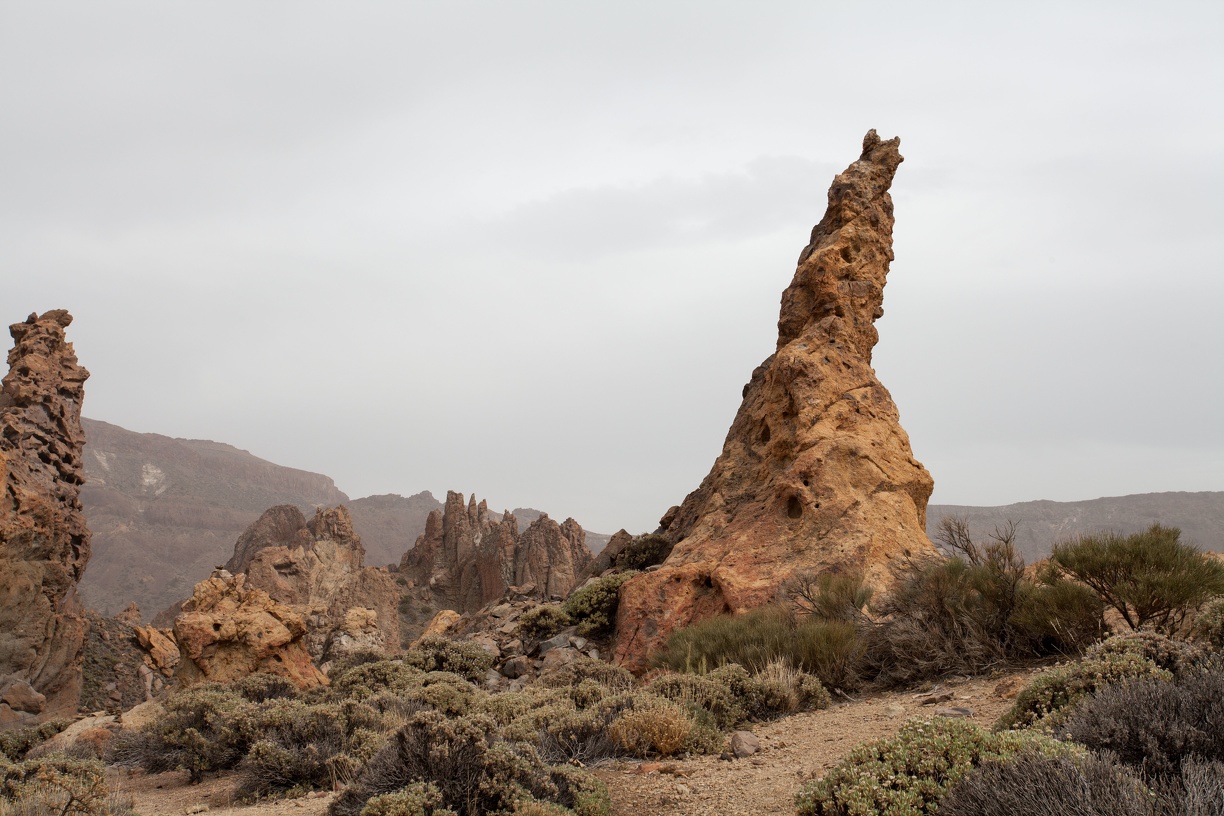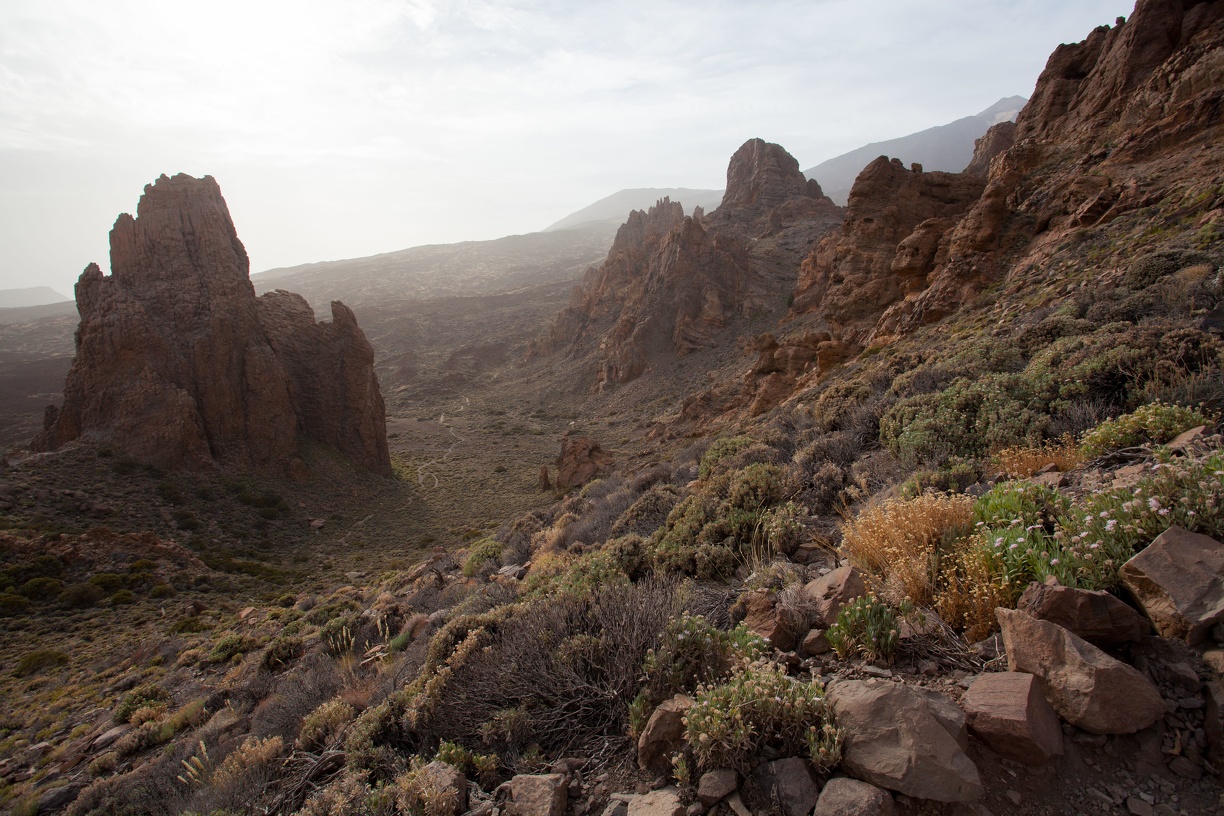 Due to the altitude you will sometimes see the "Sea of clouds" formed by the layer of clouds at a lower altitude.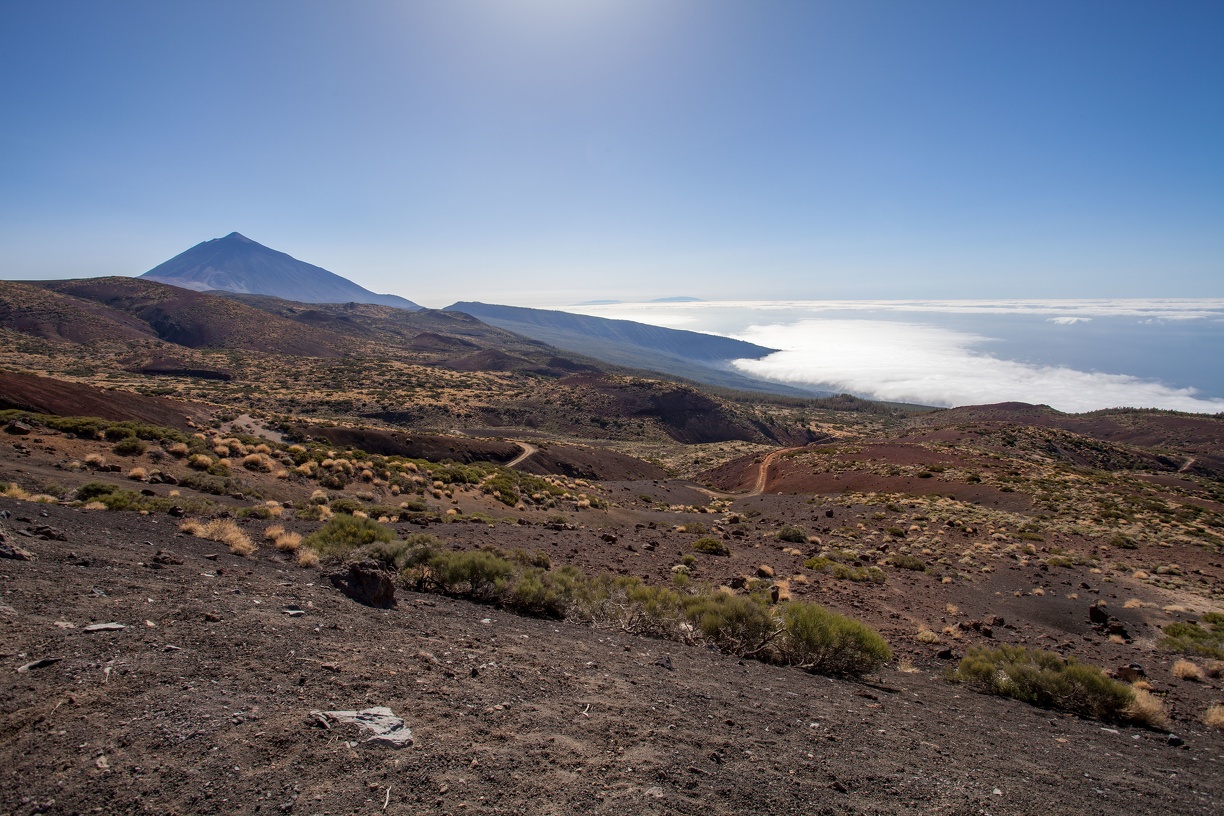 You can even do some paragliding from the park, all the way down to the coast, which seemed really fun but was a bit too expensive for my budget.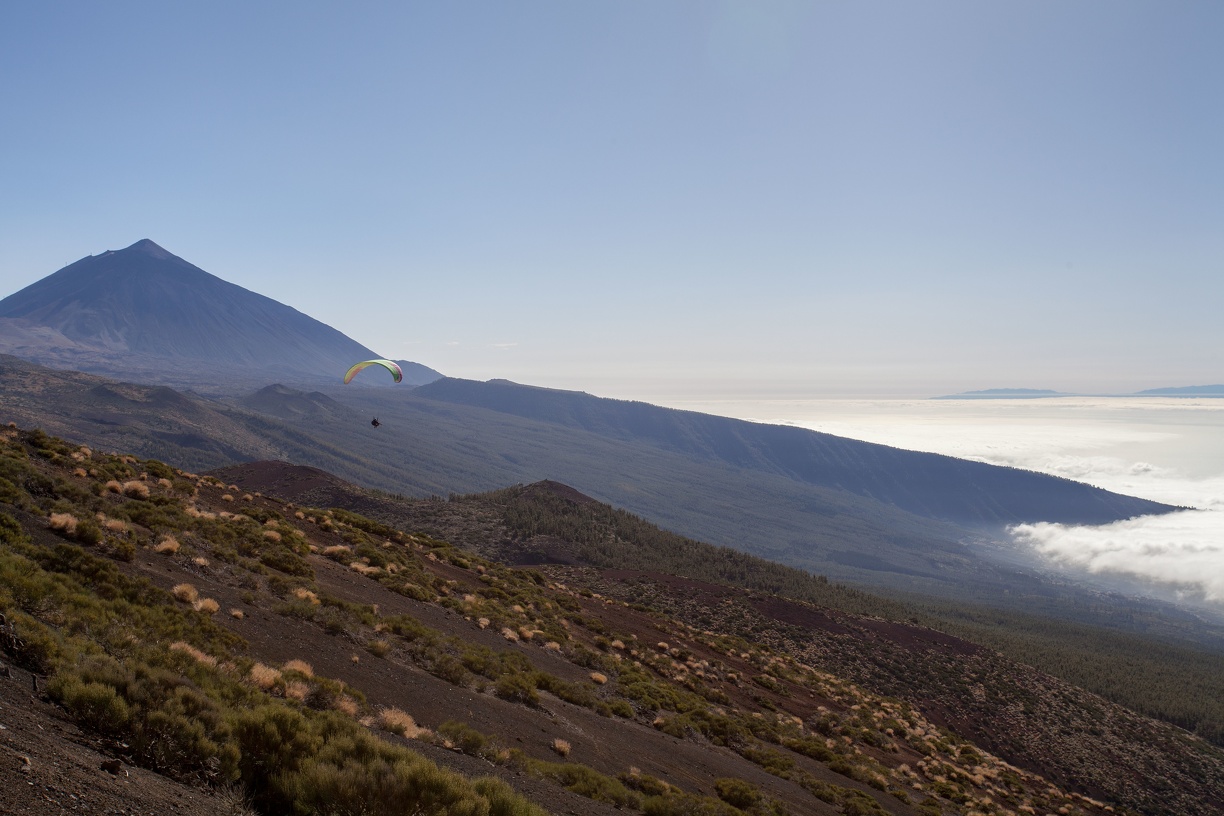 Of course there are plenty of free well-marked hikes all over the park. Just try not to be the first hiker of the day: I was first on one the trails and there were spider webs crossing the path from every. single. shrub. (and there were a lot of shrubs). As you can imagine that gets old real fast, especially when you're arachnophobic. Luckily after a while some other hikers caught up to me and I let them take over the spider web cleaning duty. The hike was much more enjoyable after that.
By the way, if you're looking for a place to eat the restaurant at the El Portillo visitor center offers good local food for cheap.
Teide Observatory
Due to its altitude (meaning less atmosphere to block the starlight) and isolated location (meaning less light pollution) Teide National Park is an excellent place to watch the stars so it's no surprise to find an observatory here.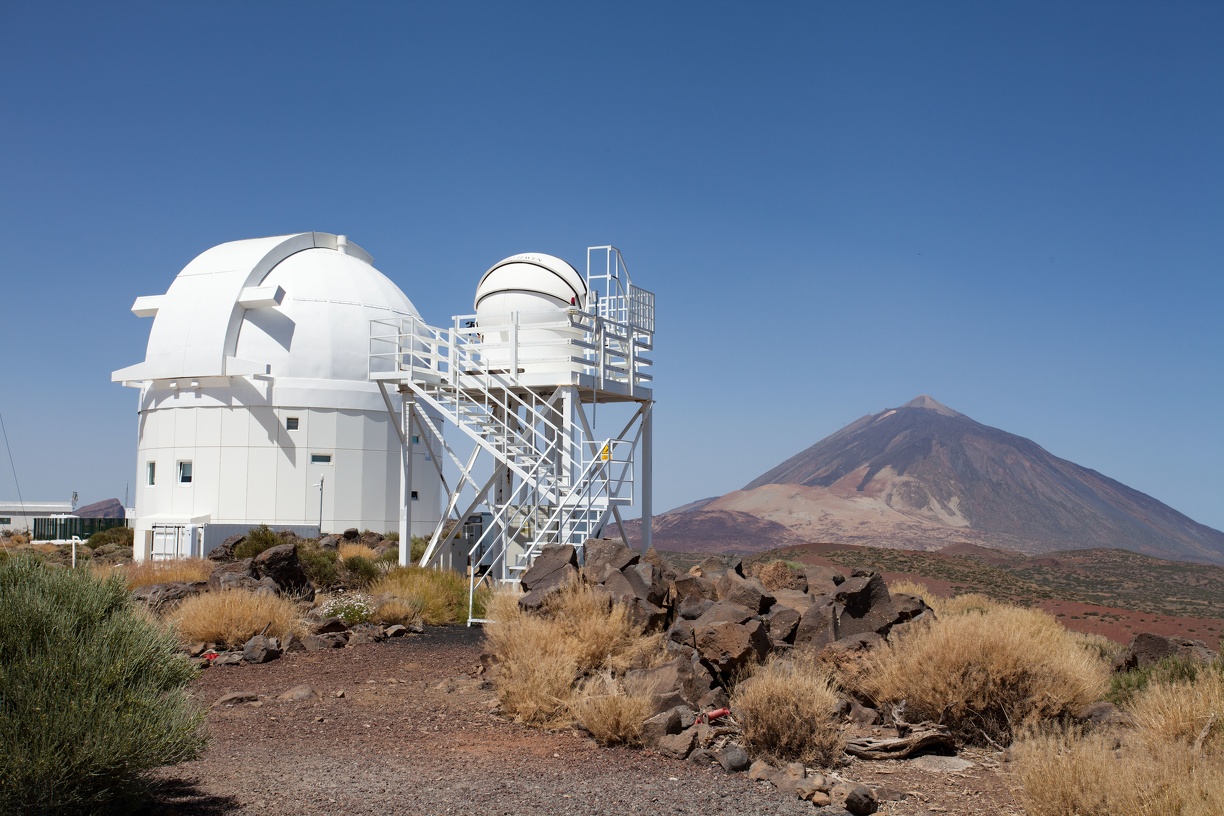 The observatory is home to telescopes from many different countries, they include night telescopes, solar telescopes and microwave telescopes.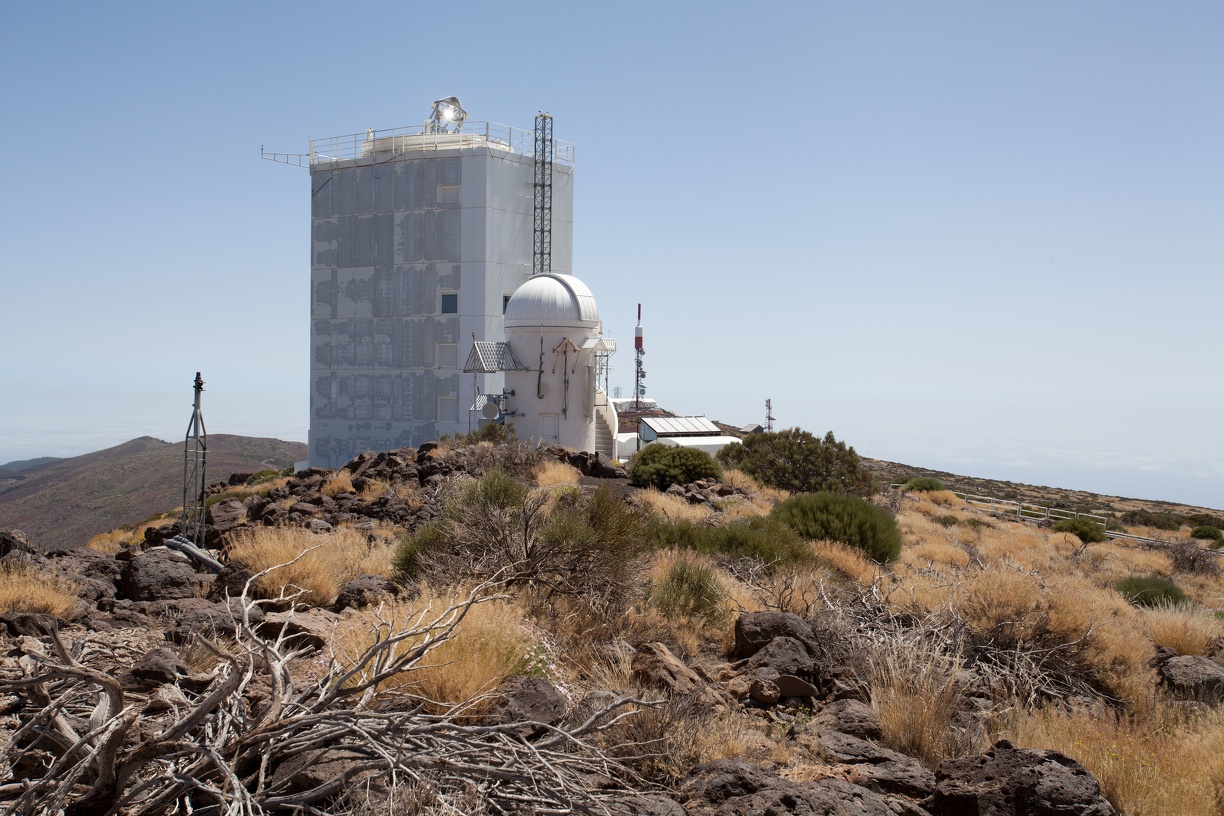 The observatory is not freely accessible to the public but you can book a guided tour that will show you around, including the interior of some of the telescopes.
You will also get to look at the sun for sun spots and eruptions through professional telescopes (the small portable kind, not the big ones, sorry).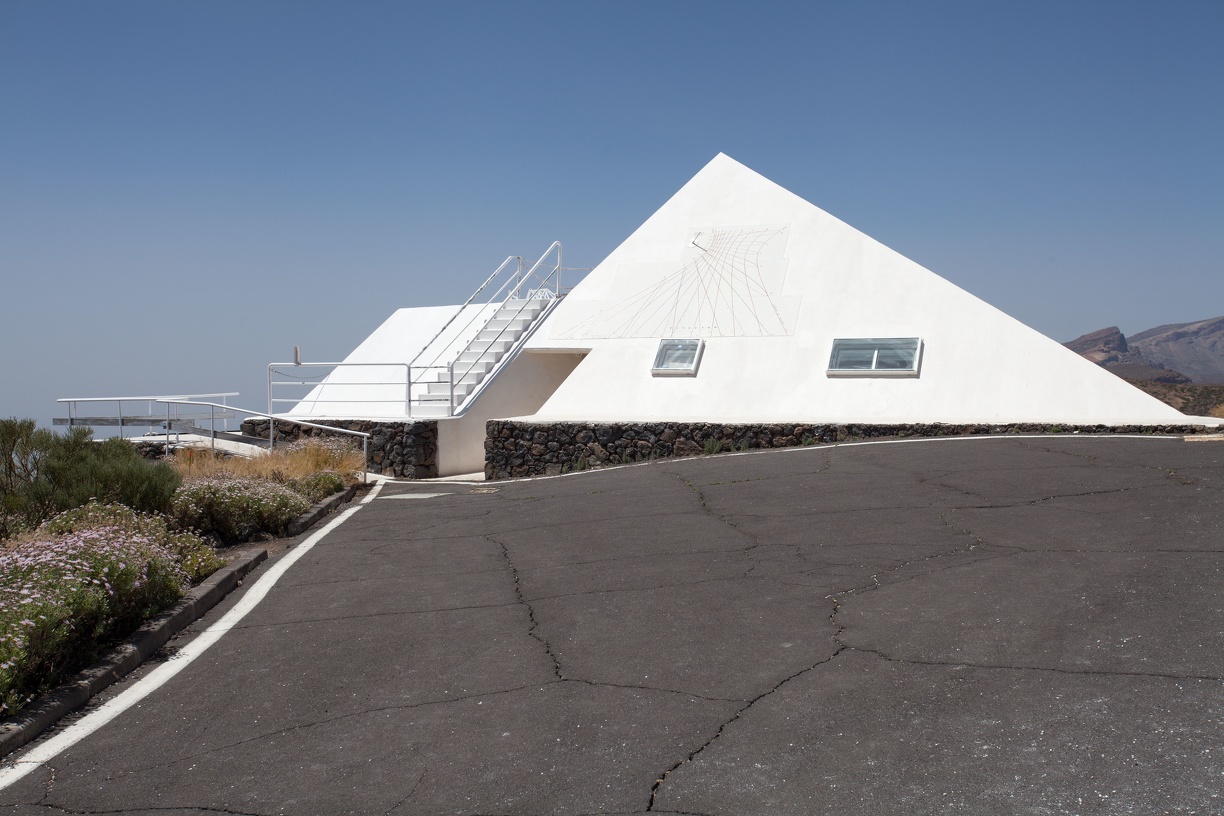 I also decided to go watch the stars so I came back at night to take some pictures. I actually went to the other side of the park, near Samara since there is supposedly less light pollution there.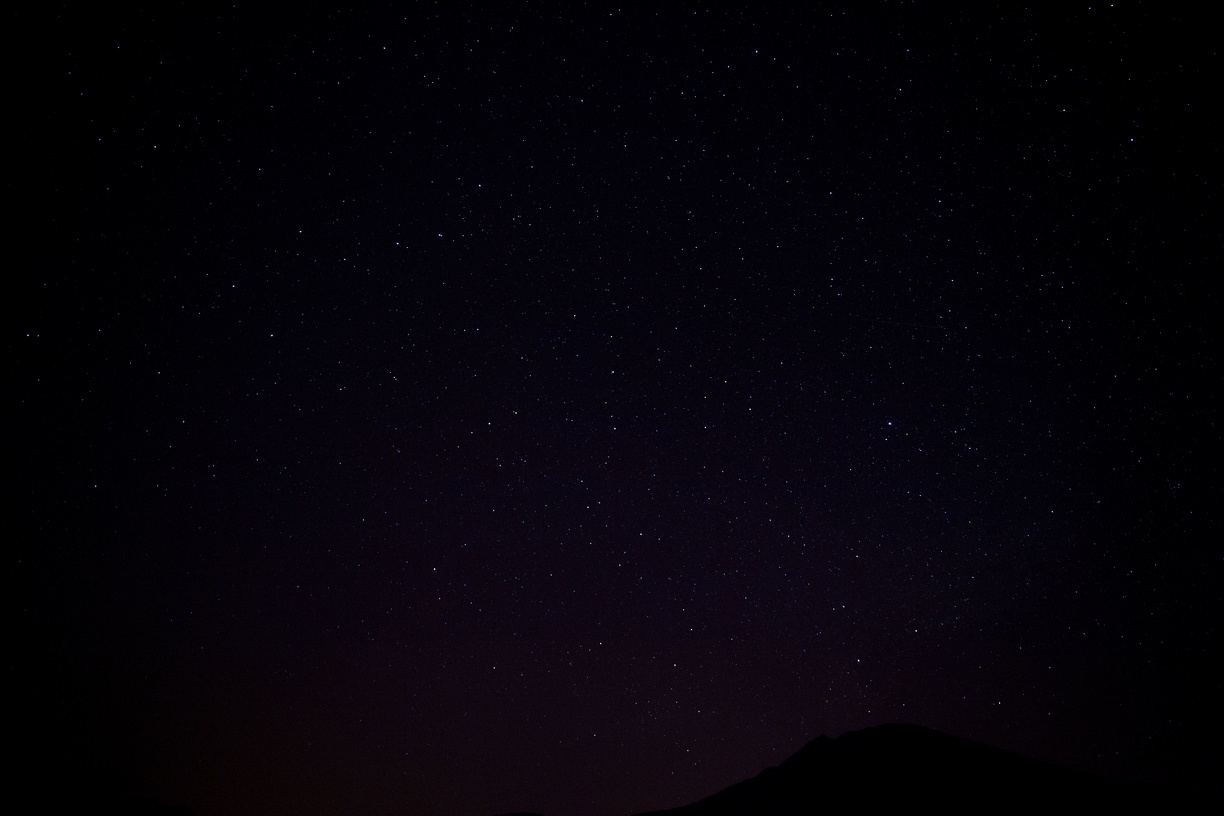 It takes between 10 and 30 minutes for our eyes to adjust to the dark so when you're doing astrophotography it's important to avoid using a flashlight or smartphone screen.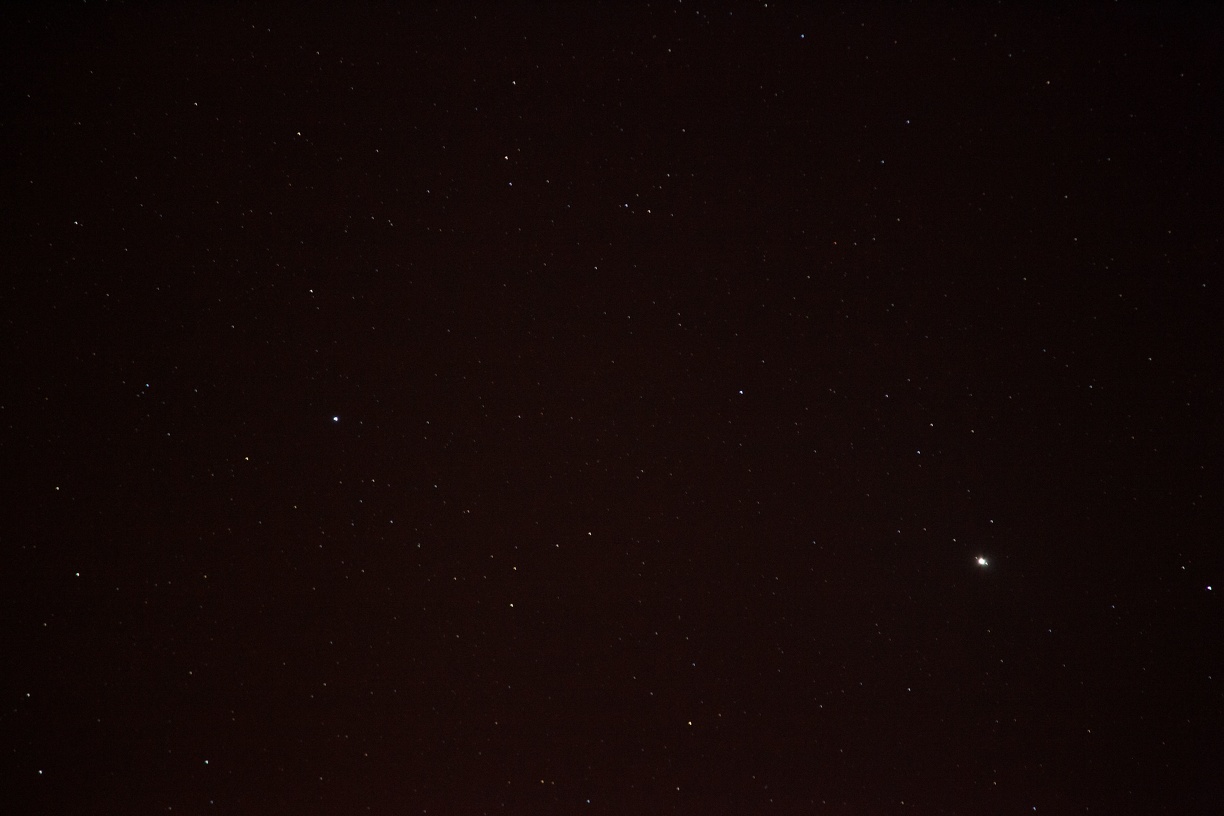 Why am I mentioning this? Well you're probably thinking "we're on a volcano in the middle night with nothing else to do so it's going to be pretty quiet" right?
Well, not so much…
At first it was only a group of photographers, not too annoying except the lights from their cars blinded me and ruined a couple of pictures. Then it was a bus full of tourists so you can imagine how bad that was.
After a while they shut down their lights so I thought I could take my pictures in (relative) peace but no: then the guides started using lasers to point out the stars during their explanations. It was almost impossible to take a picture without a laser in it! (remember we're doing long exposures here)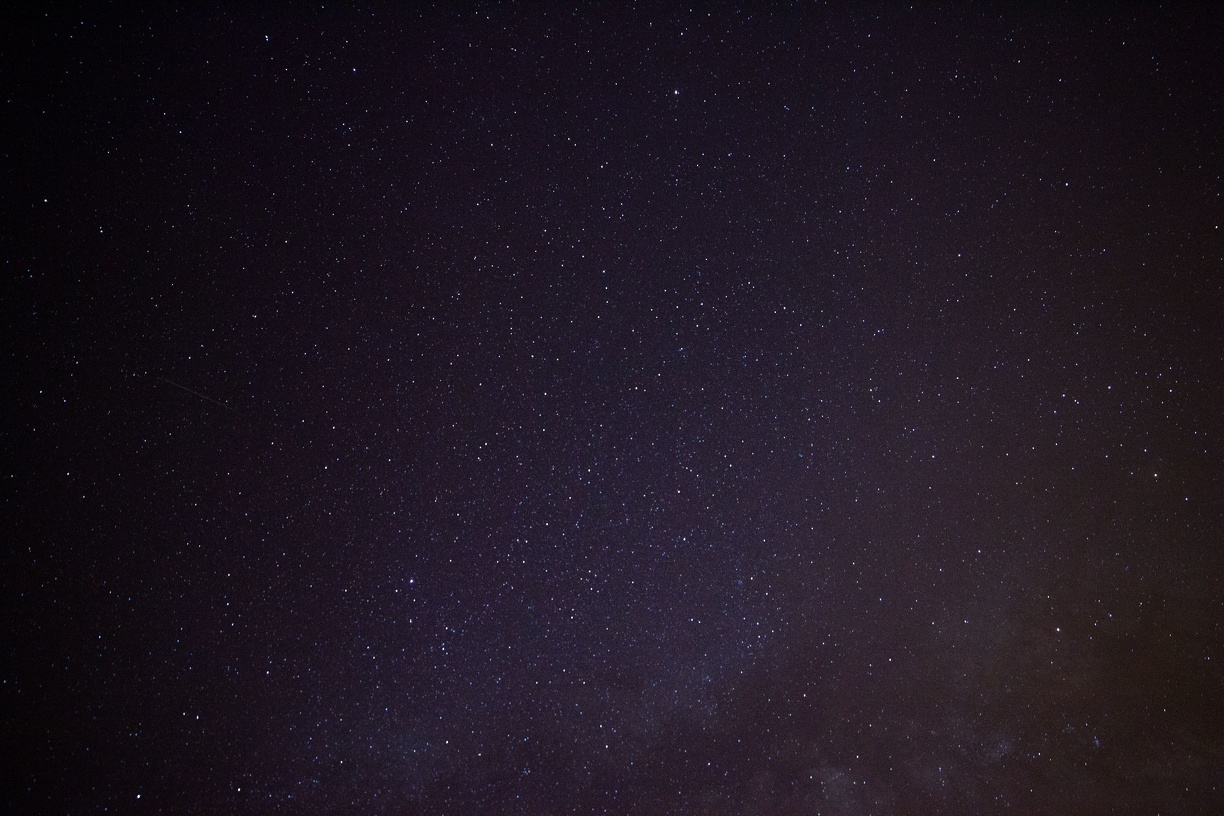 Of course on top of that you regularly get cars passing through with their high beams on. There was even a group riding ATVs. In a National Park. In complete darkness. I still don't know what they were doing there.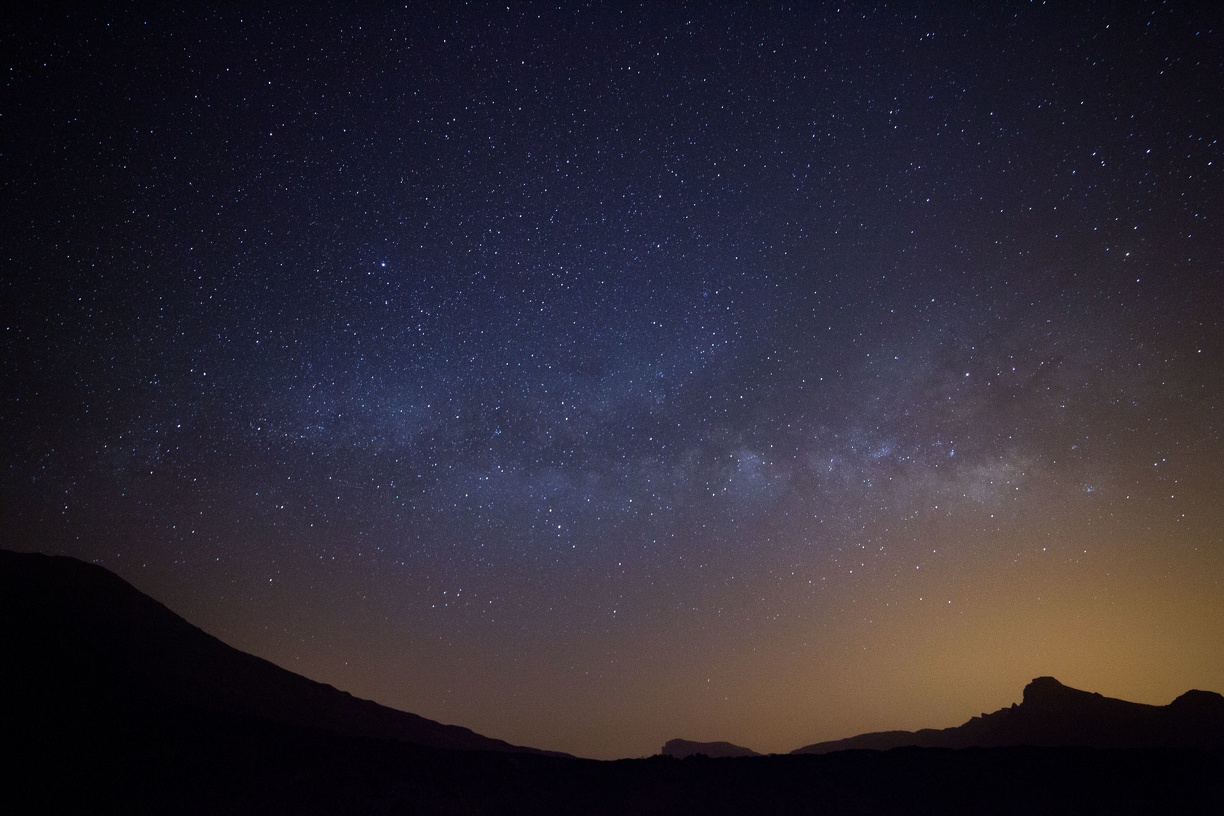 Anyway, I still managed to get a shot of the Milky Way even though it was very close to the light pollution (it was slowly moving away but I didn't want to spend the entire night there).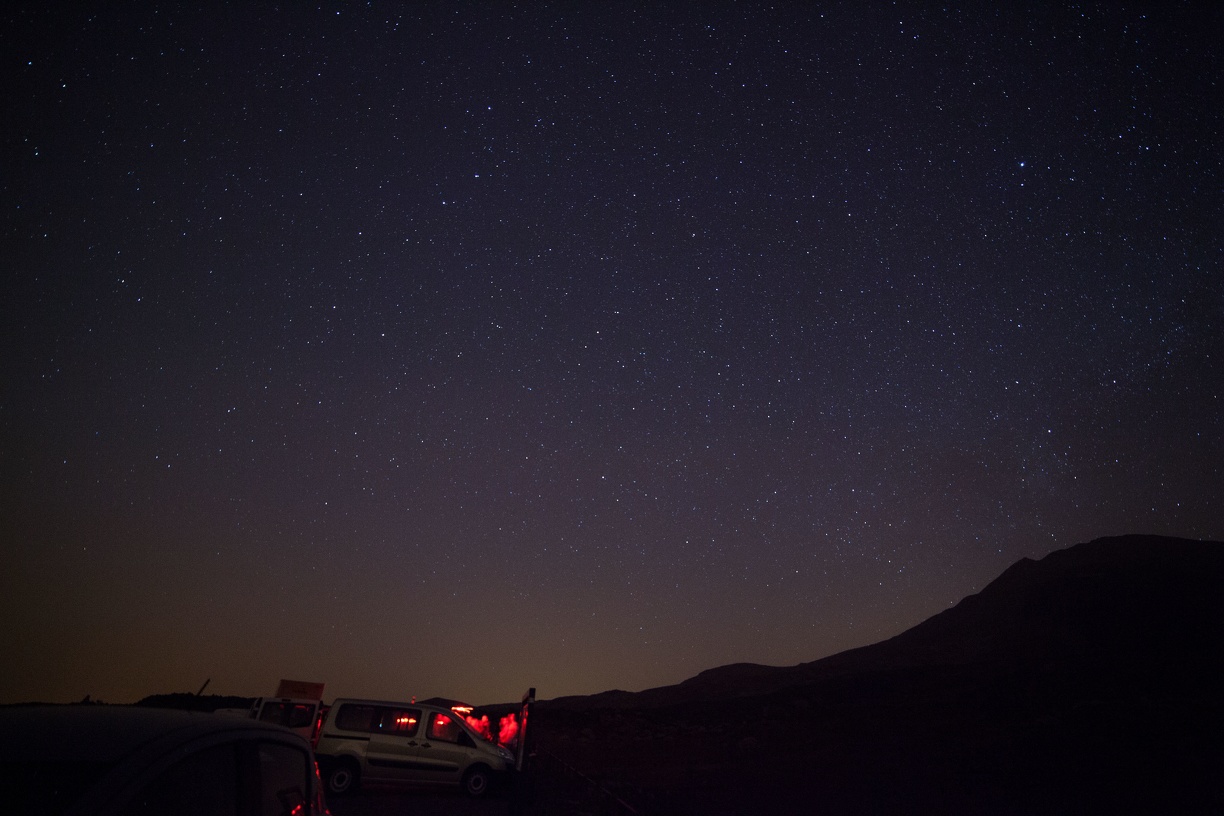 Speaking of which, the stars move faster than you'd think. Even on pictures taken a few minutes apart you'll notice that they've moved.
Except the North Star which is the only one that doesn't move. You can find it by looking at the Big Dipper (which is on the left on the picture above), as explained here.
Here you can see that the sky appears to rotate around the North Star: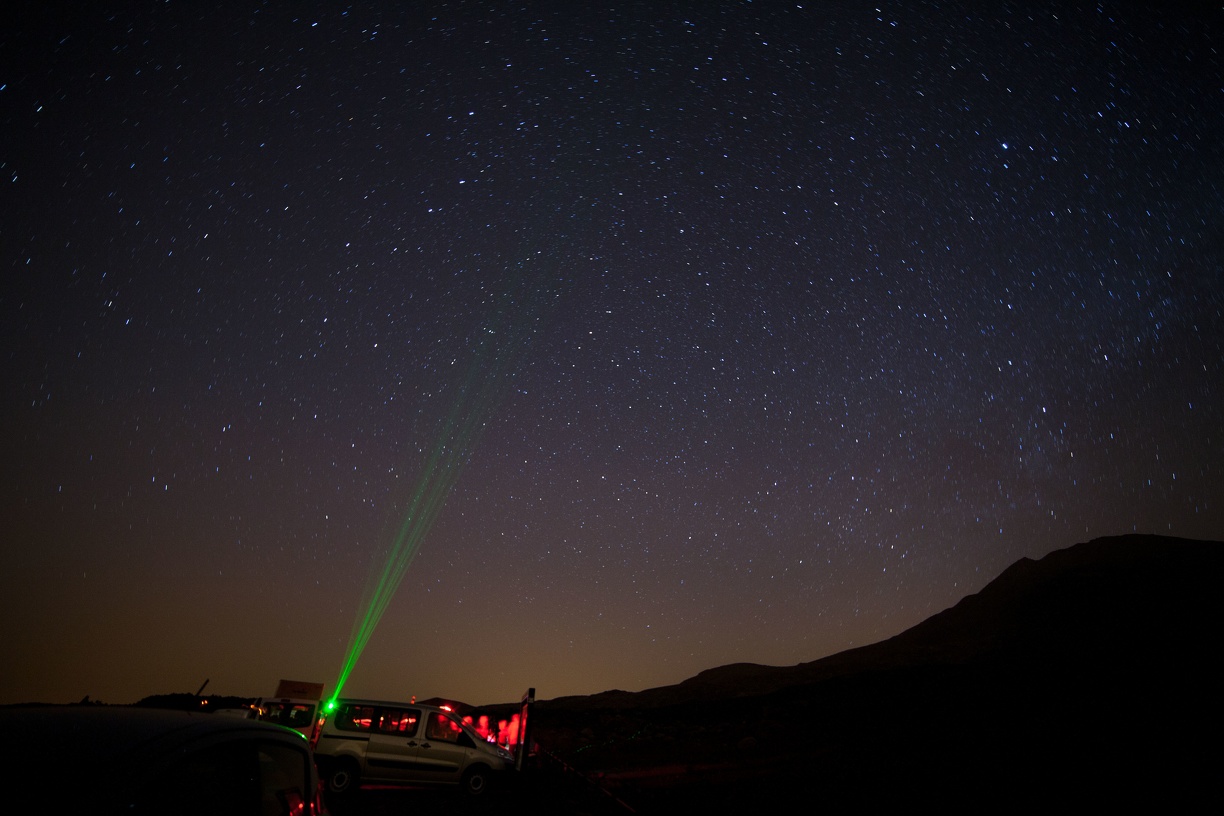 Anaga Rural Park
Located on the north-eastern side of Tenerife, the Anaga Rural Park offers a lot of hikes among beautiful forests and mountains. That being said some of them can be quite long and the heat and elevation can make them a bit hard if you're not used to it.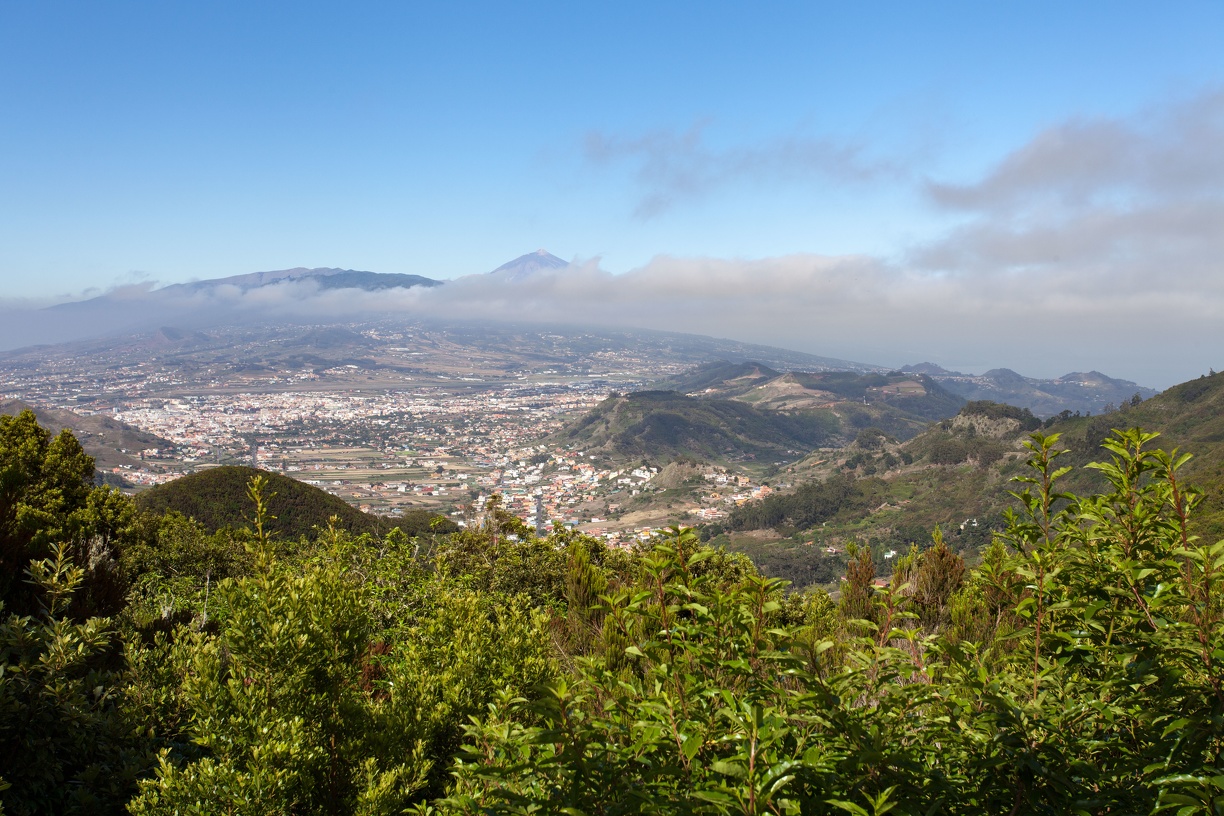 A good starting point would be the visitor center at Cruz del Carmen. You can enjoy the viewpoint above and several hikes start from this location. There's also a restaurant if you need to rest after a long walk.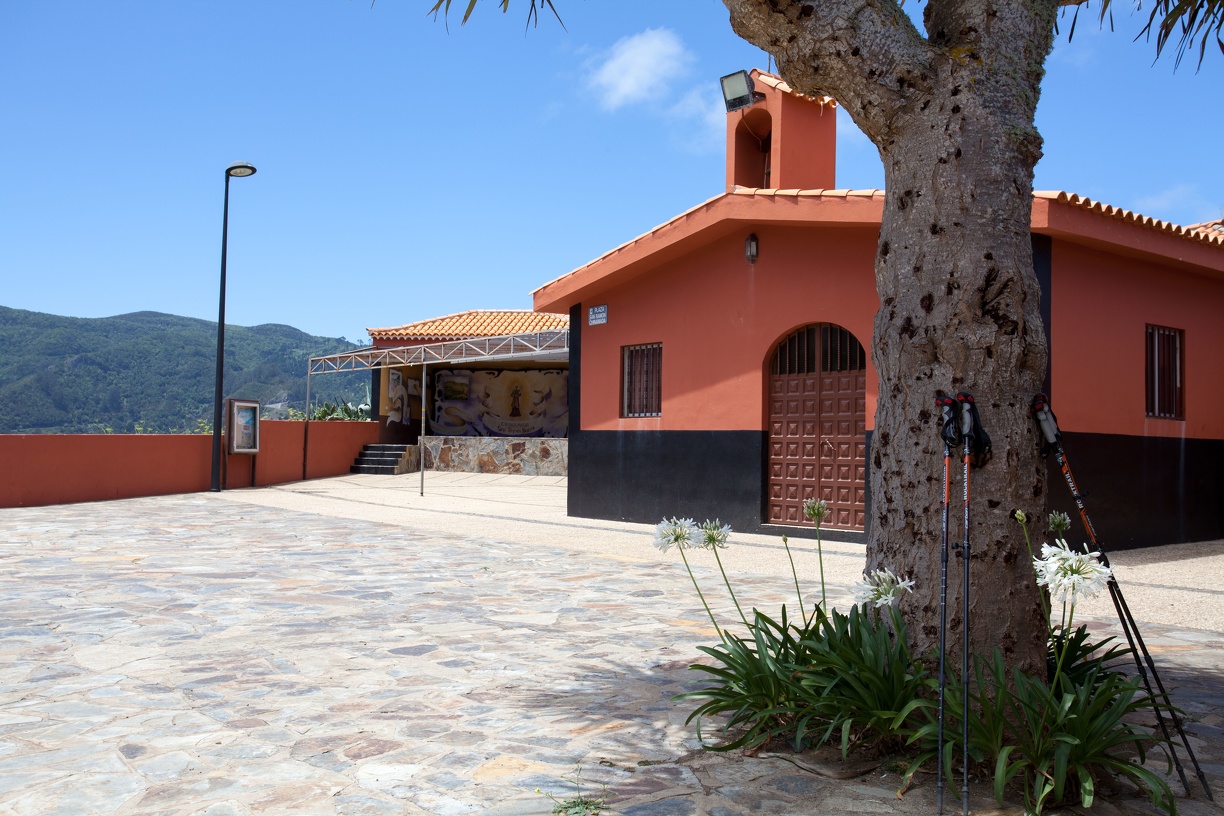 My first hike took me through the forests and along the mountains to the remote villages of Chinamada (where houses are built in caves on the mountain) and Las Carboneras.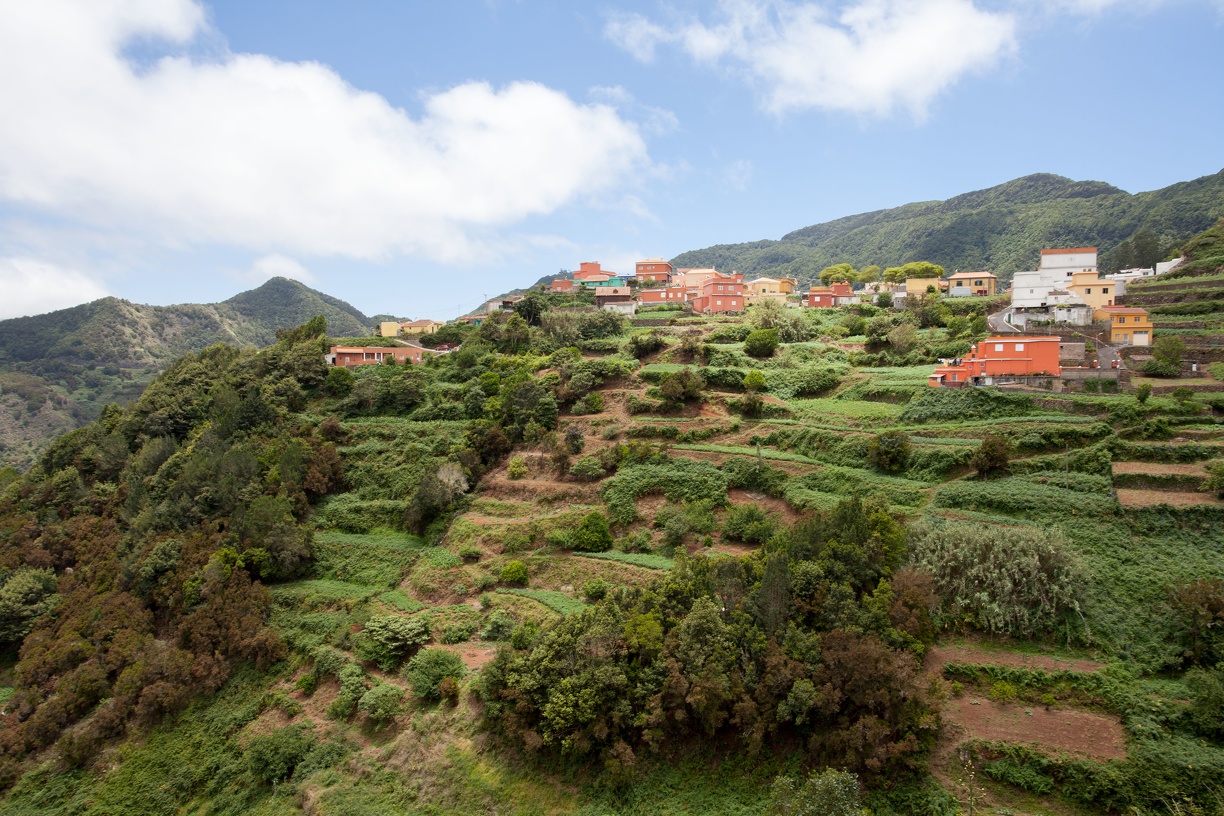 This 12km walk was a bit long but the scenery was well worth it.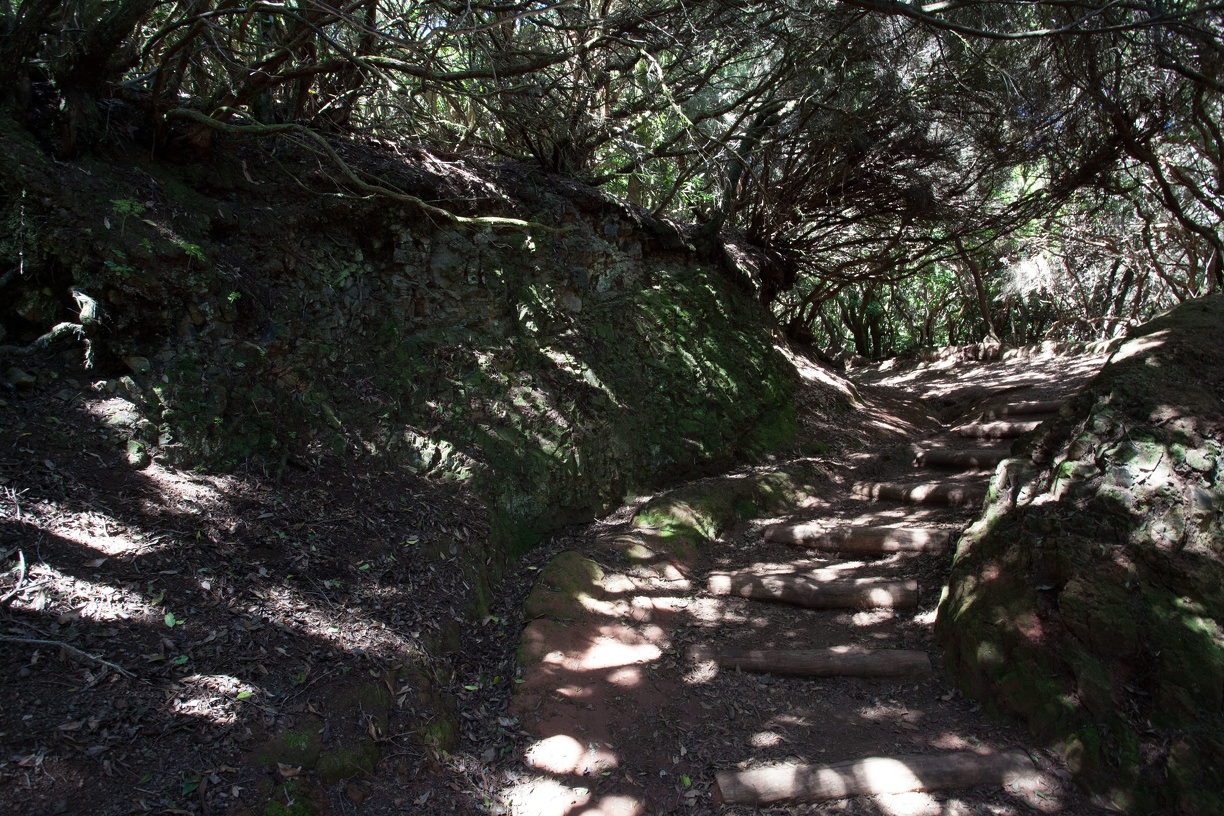 After a well-deserved rest I went on a shorter hike near the visitor center. This one took me through a dense old forest where you can enjoy the shade and the sounds of nature (or at least you could if the other tourists would stop shouting for five minutes).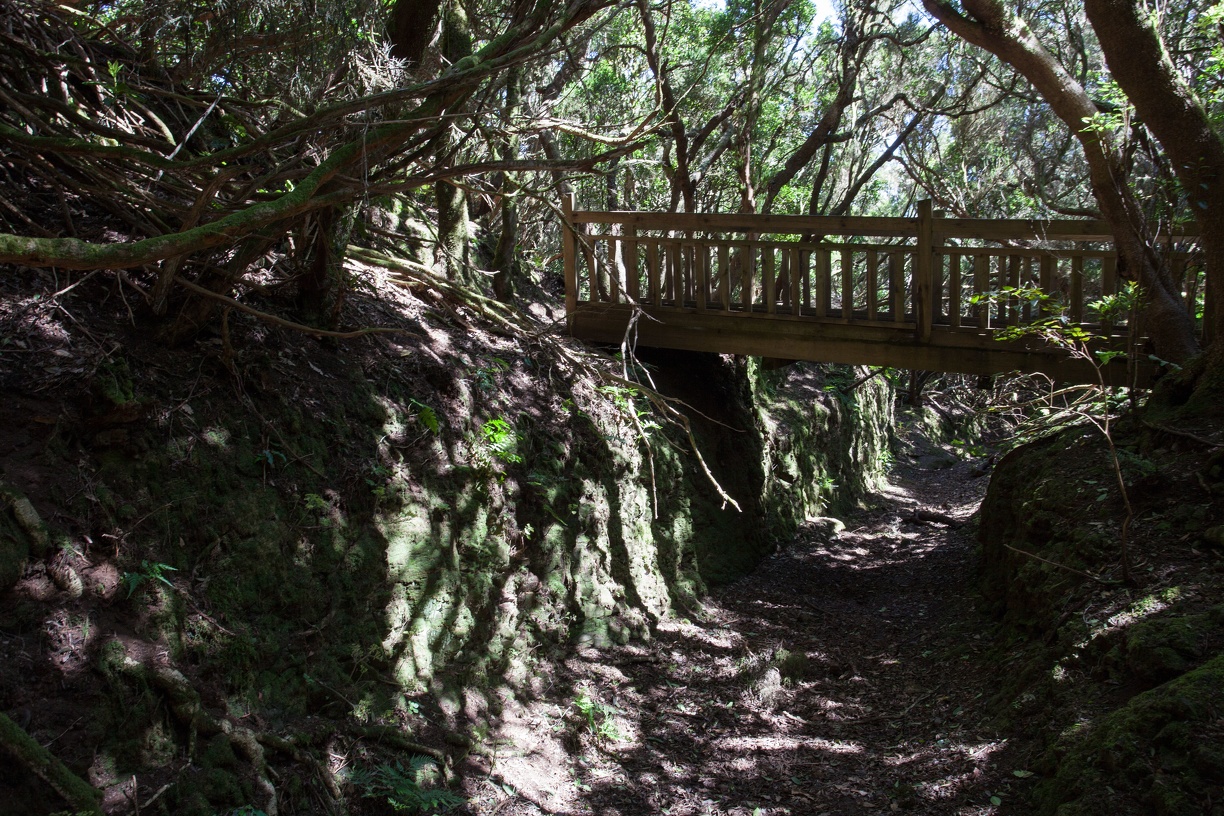 Masca
The hike connecting the town of Masca to the beach is one of the most famous of Tenerife but it's also considered one of the hardest.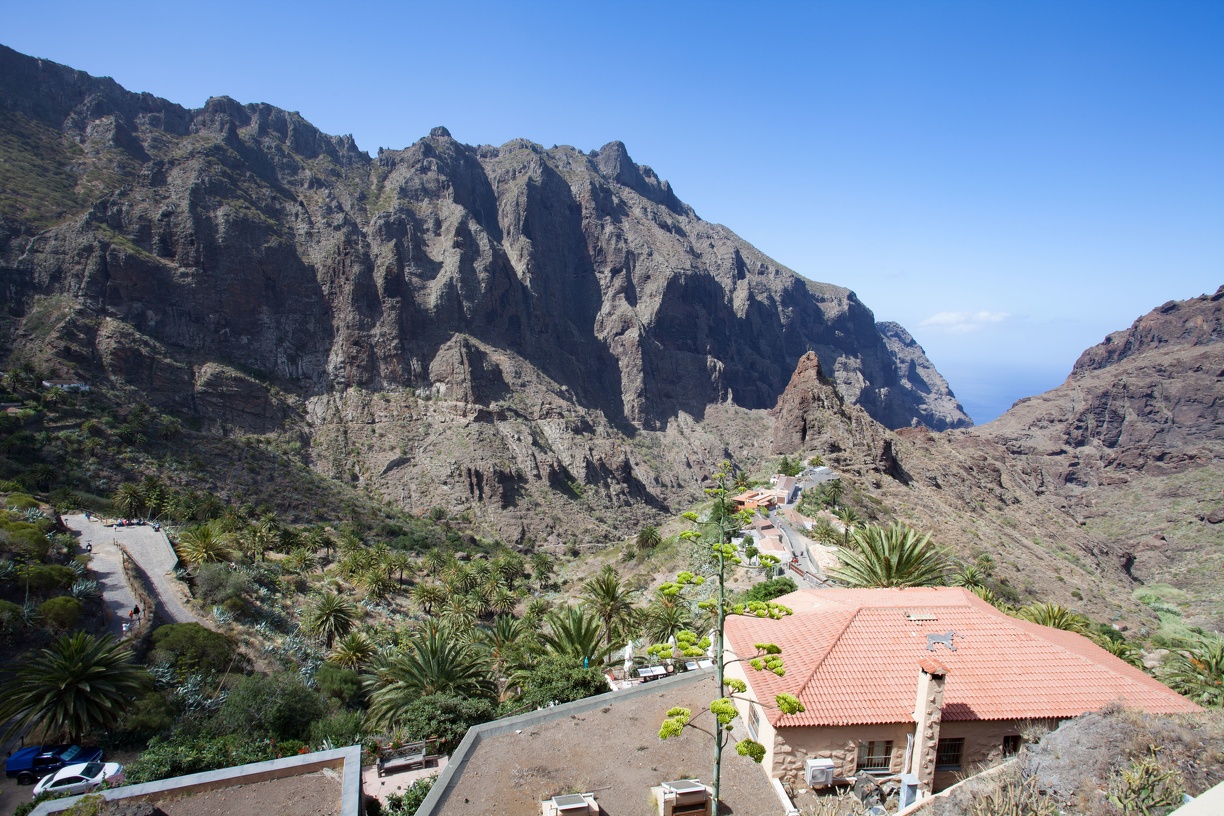 Masca is a small mountain town located above a ravine that goes all the way to the sea. The hike is not particularly long but the terrain can be difficult, especially if it rained recently, and the trail is sometimes hard to find.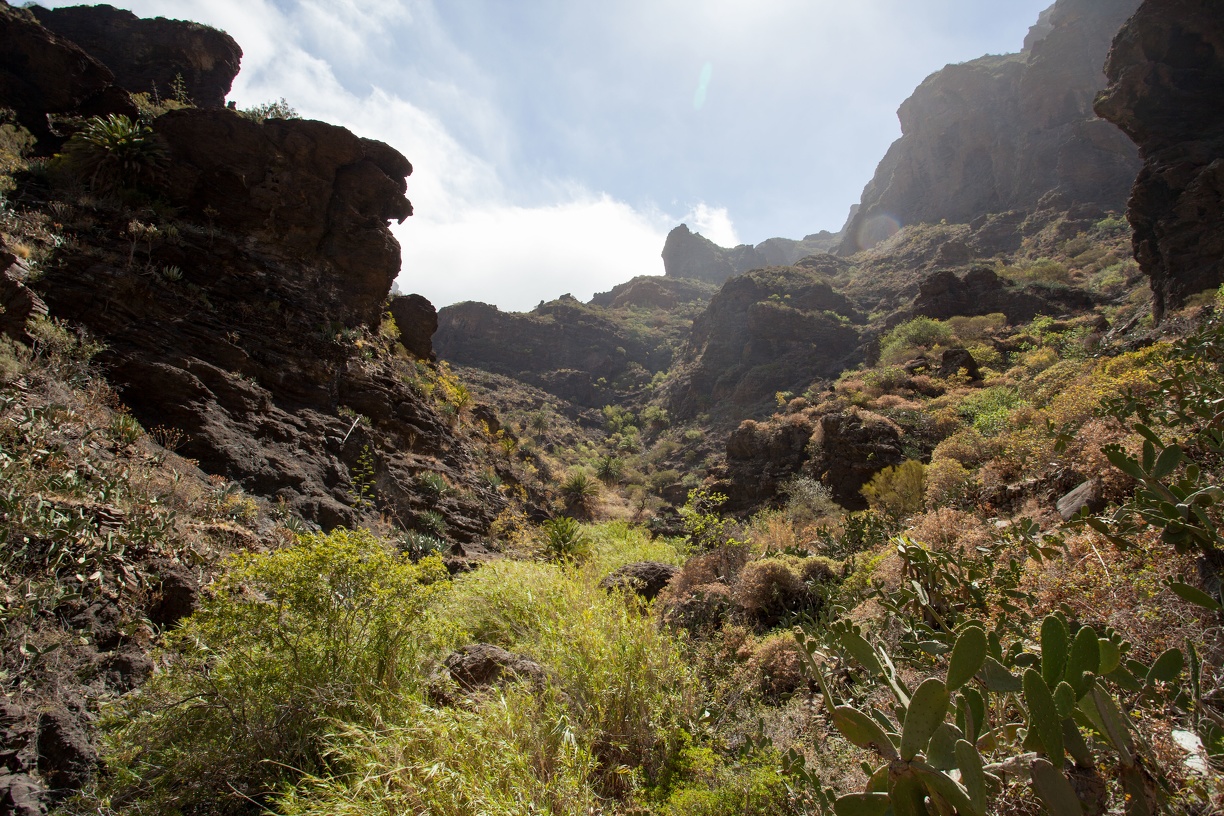 If you only do the hike one-way, which is what most people do, then you'll mostly be going downhill so that's not too bad. However that means you'll have to take a boat from the beach to Los Gigantes (you can buy a ticket either in Masca or at the beach) and if you left your car at Masca then you'll have to get back there somehow.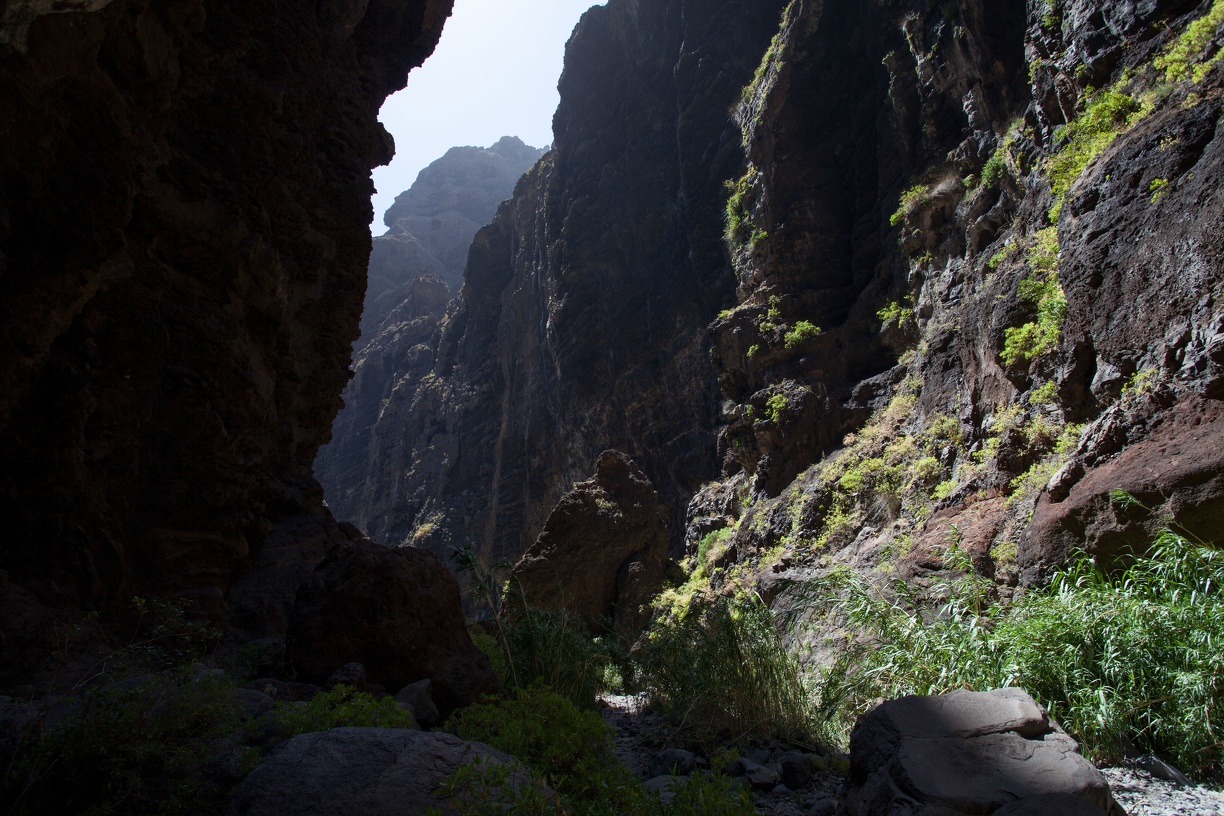 Or hike all the way back to Masca, which is what I did, but only a few masochists seem to take that option. As I said the terrain can be difficult and you'll have to walk uphill this time.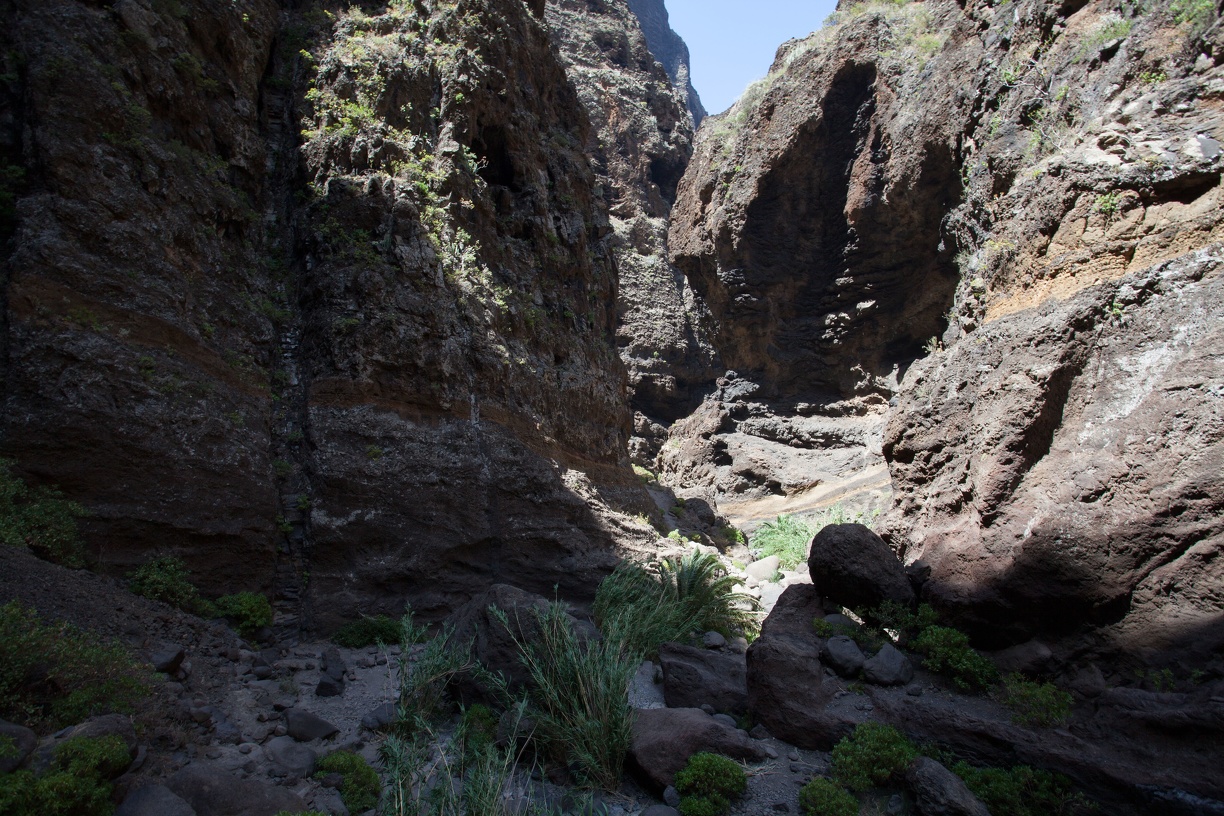 A lot of people do this hike, included guided tours (which often block the path and slow everyone down), but it doesn't mean you should come here unprepared or if you're in bad physical condition. An old lady had to be rescued by medics (on foot since no vehicle can get there) so be careful and bring plenty of water.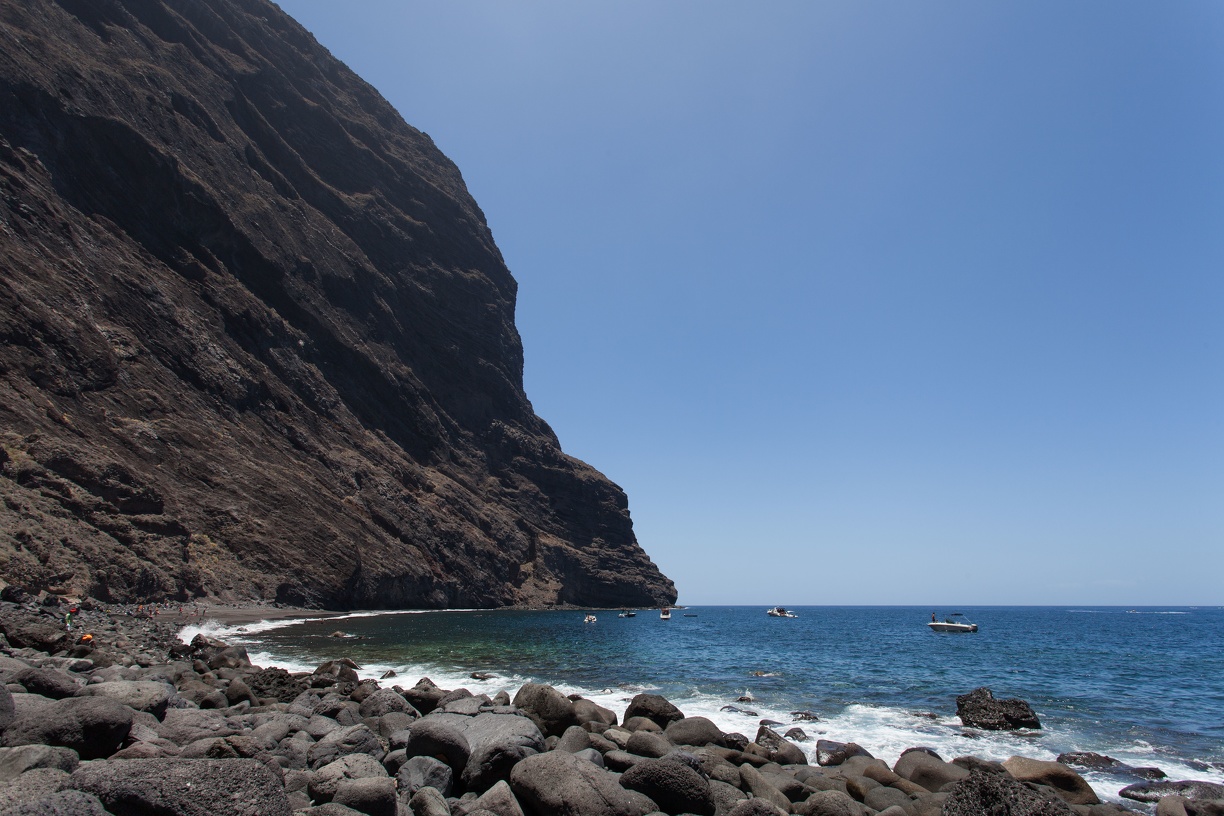 Barranco del Infierno
I find the name a bit misleading since this ravine is actually quite green. The bottom is full of vegetation with a little river and there's even a (small) waterfall at the end. The upper parts of the hike are exposed to the sun so the name might come from that but it's still not too bad even there.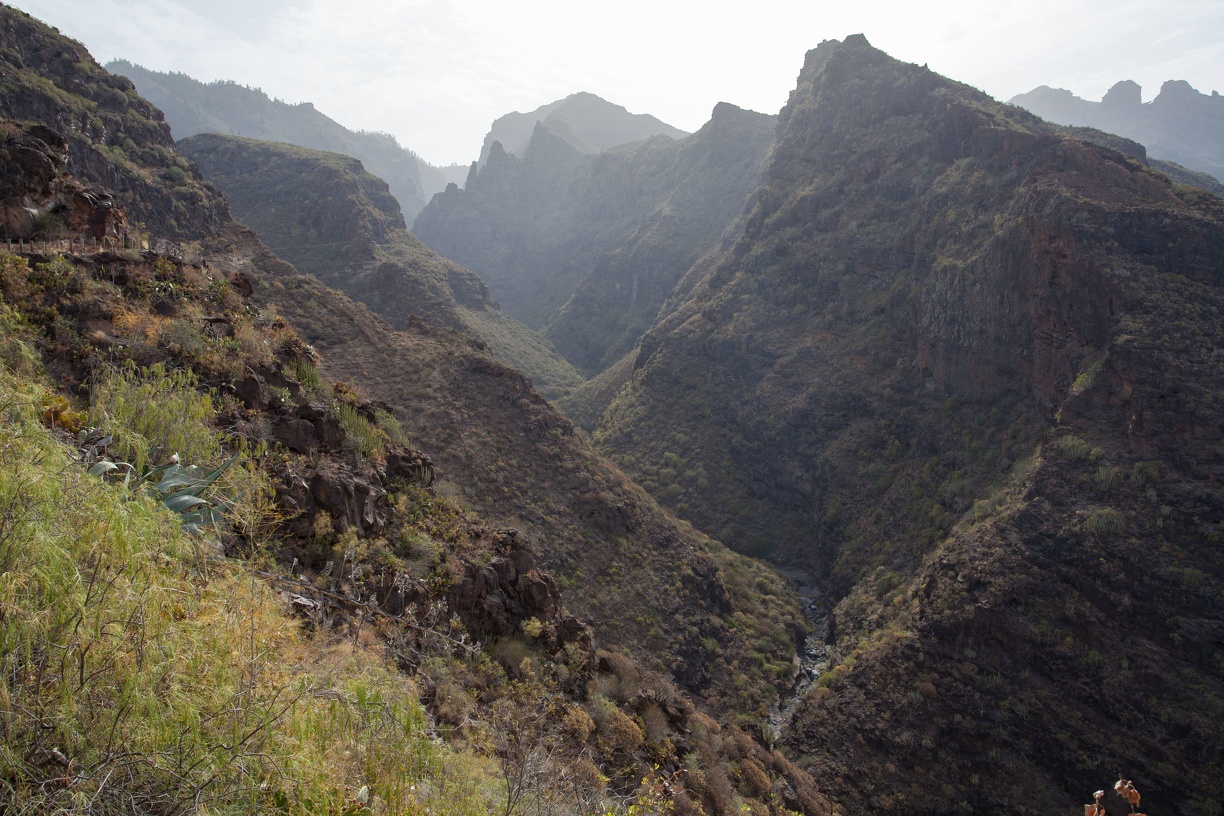 You'll need to pay a fee to access the Barranco but on the bright side the number of hikers is restricted (so get there early or make a reservation) and you'll get a nice helmet. Just try not to wonder why you need a helmet.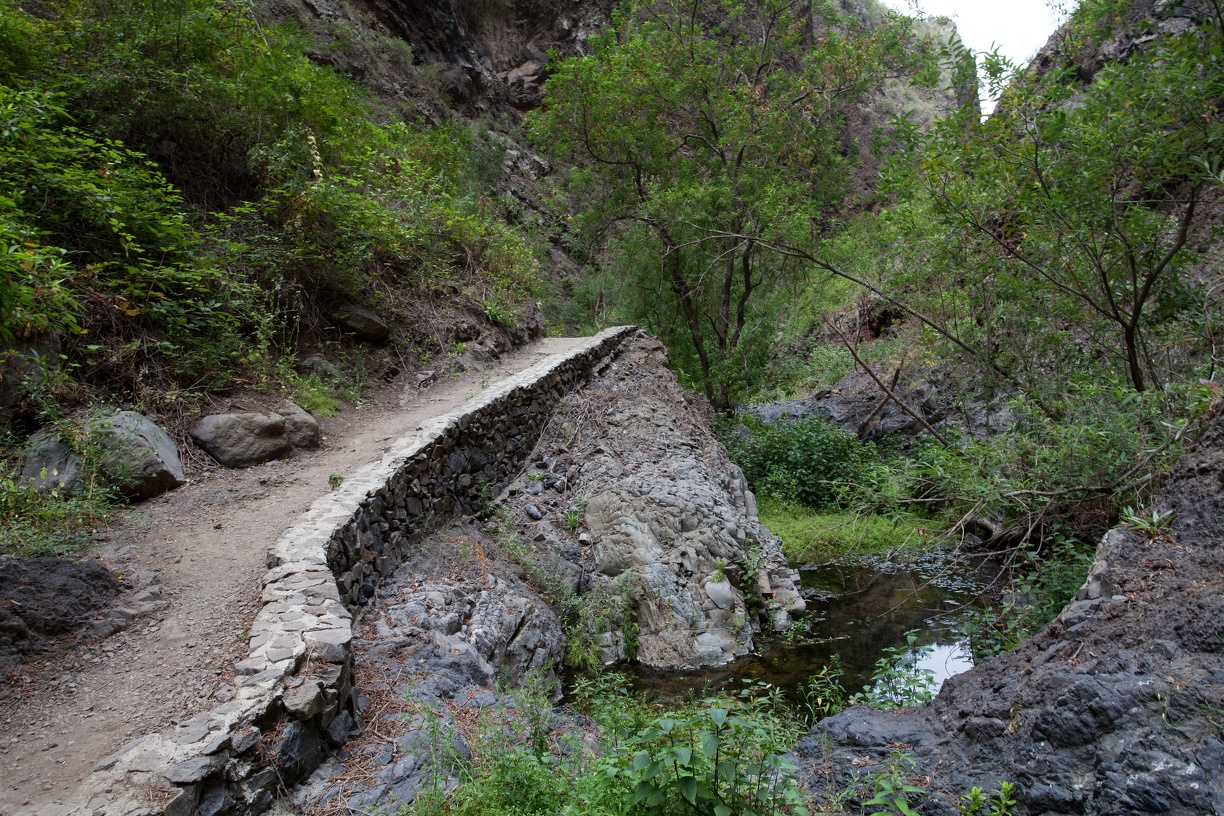 All joking aside, the hike is pretty easy and well marked so it was very enjoyable.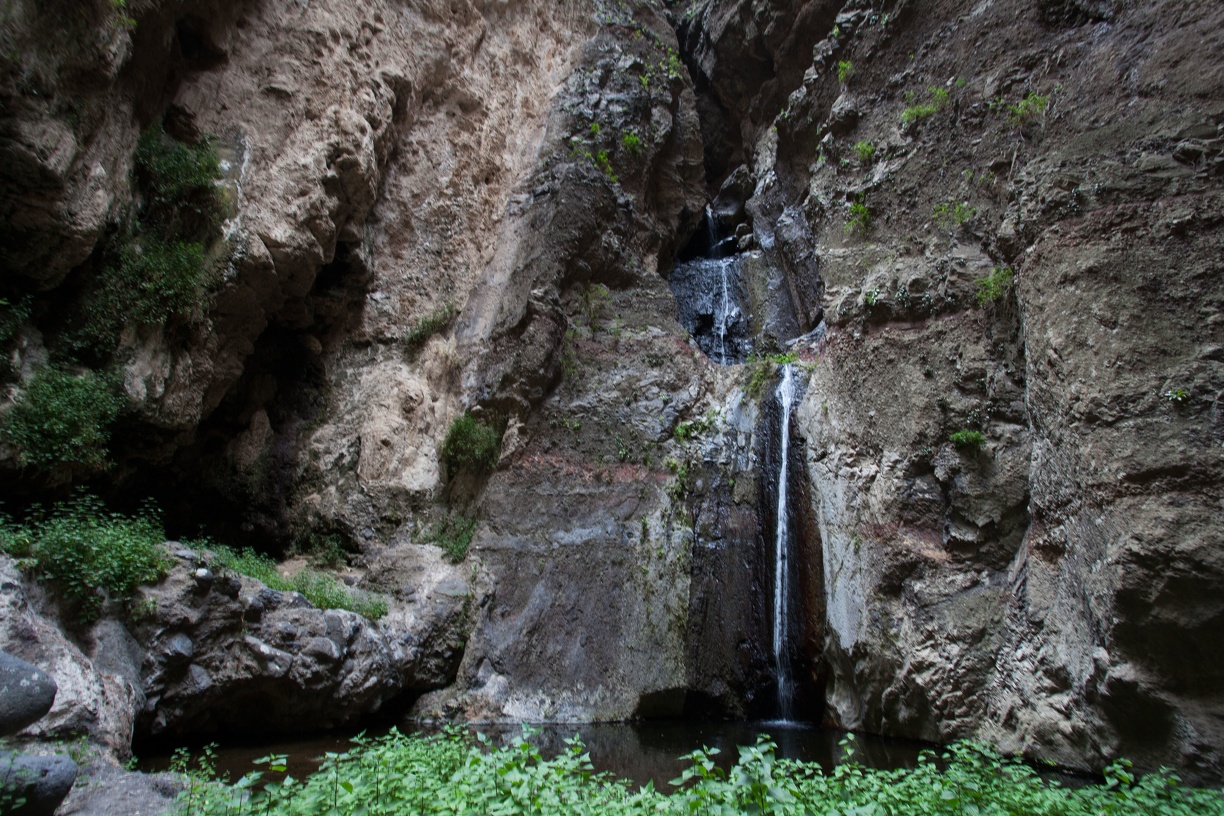 Cueva del Viento
The Cueva del Viento is an 17km long network of lava tunnels, one of the largest in the world, and was formed by an eruption of Pico Viejo. Most of it is only accessible to researchers in the interest of preserving the tunnels so you will only see about 200m of it, but for most people that should be enough to get a good idea.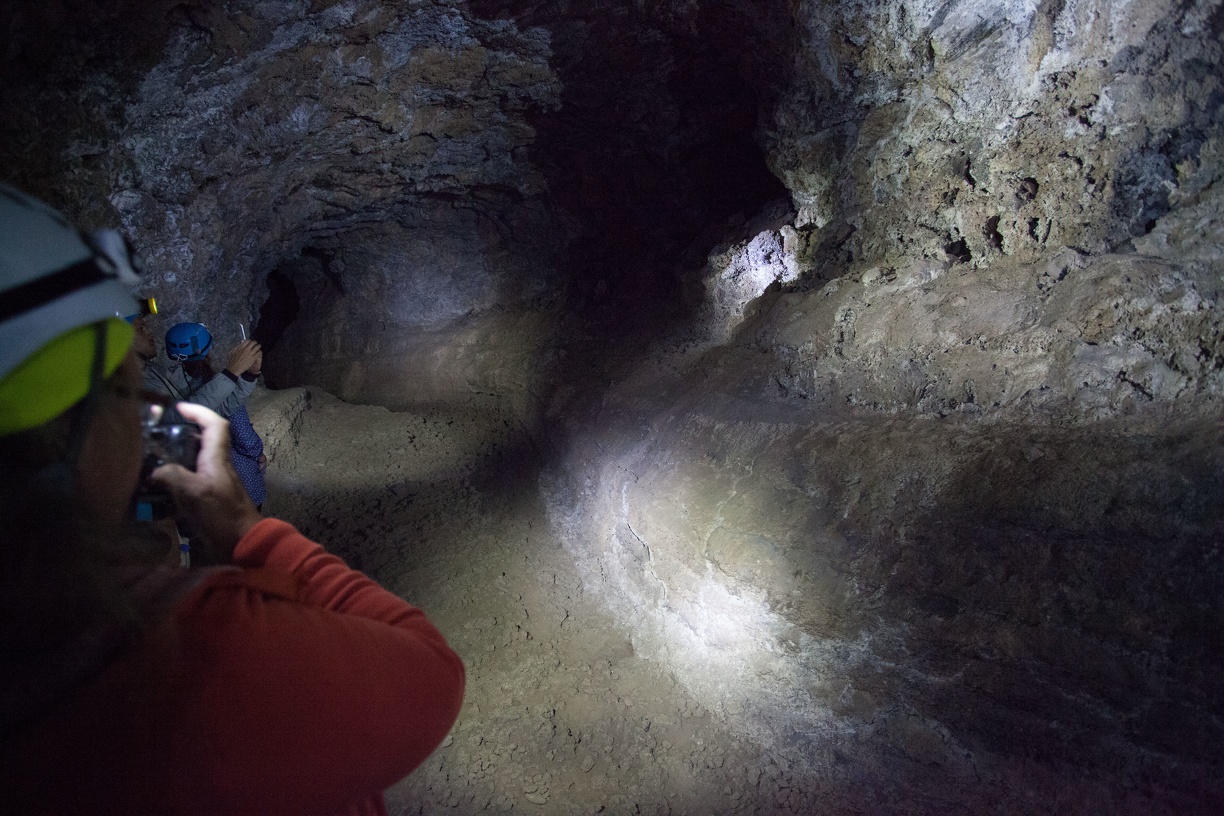 In the same spirit the tunnels are left as much as possible in their natural state, which means no lights (except those on your helmets), no sound system, no air conditioning and no concrete floor.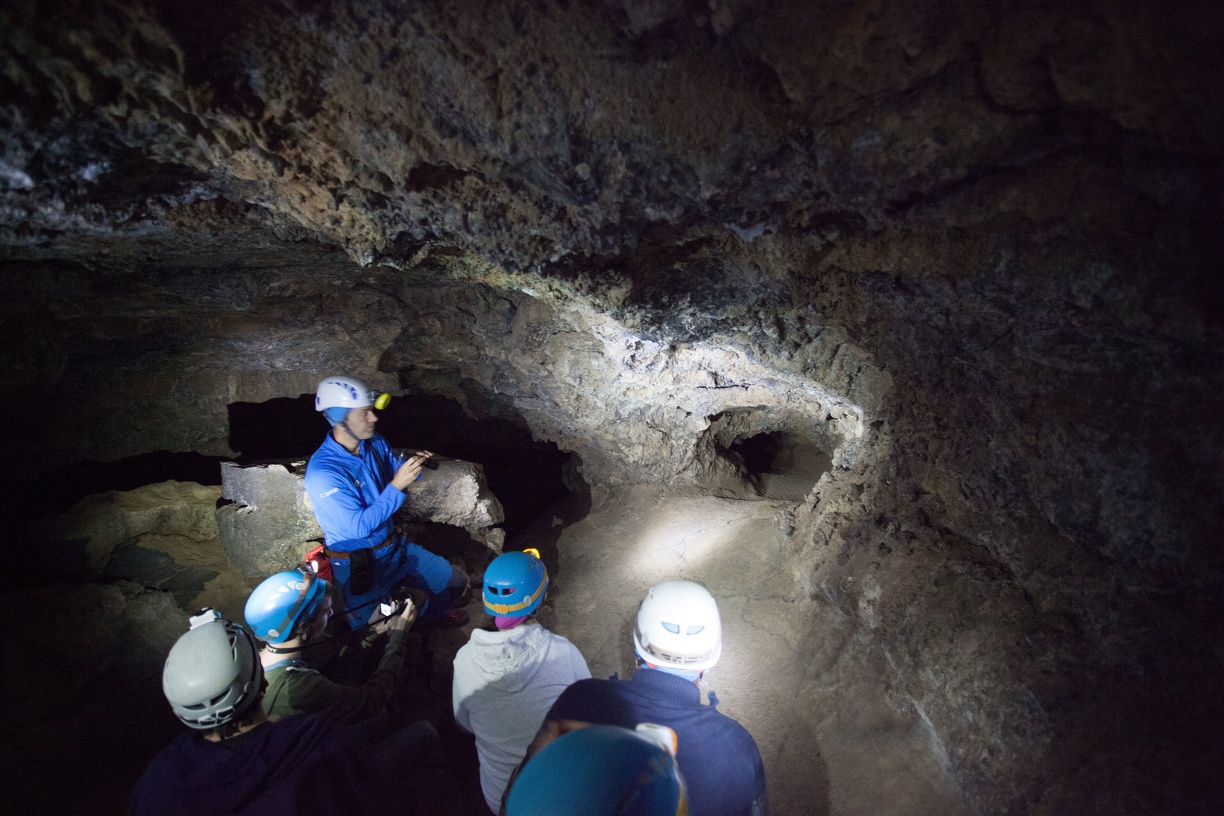 During the visit you'll learn about the different types of lava flows and how these tunnels are formed. The tour itself is pretty short but is interesting if you want to learn more about that.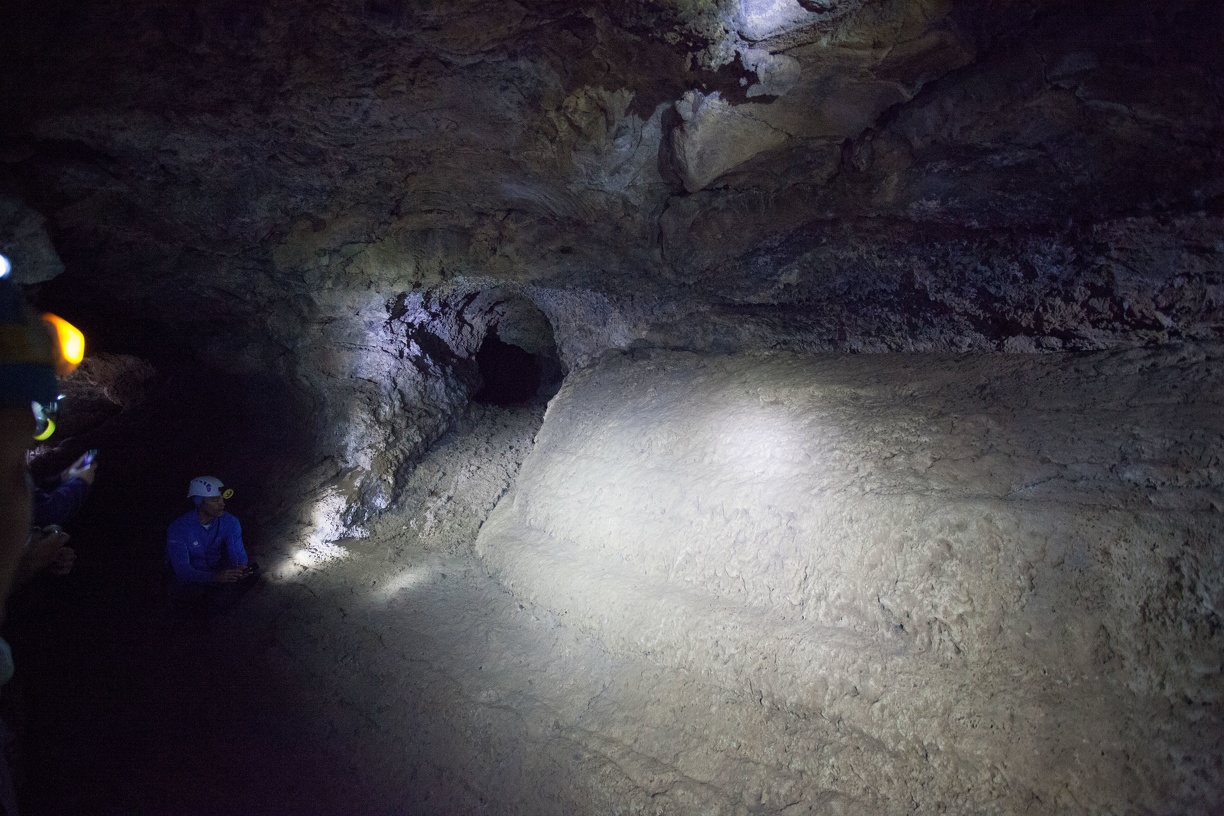 Playa de Las Teresitas
This beach is a bit out of the way since it's located in the north-east past Santa Cruz but that means it's also much less crowded than the beaches in the south.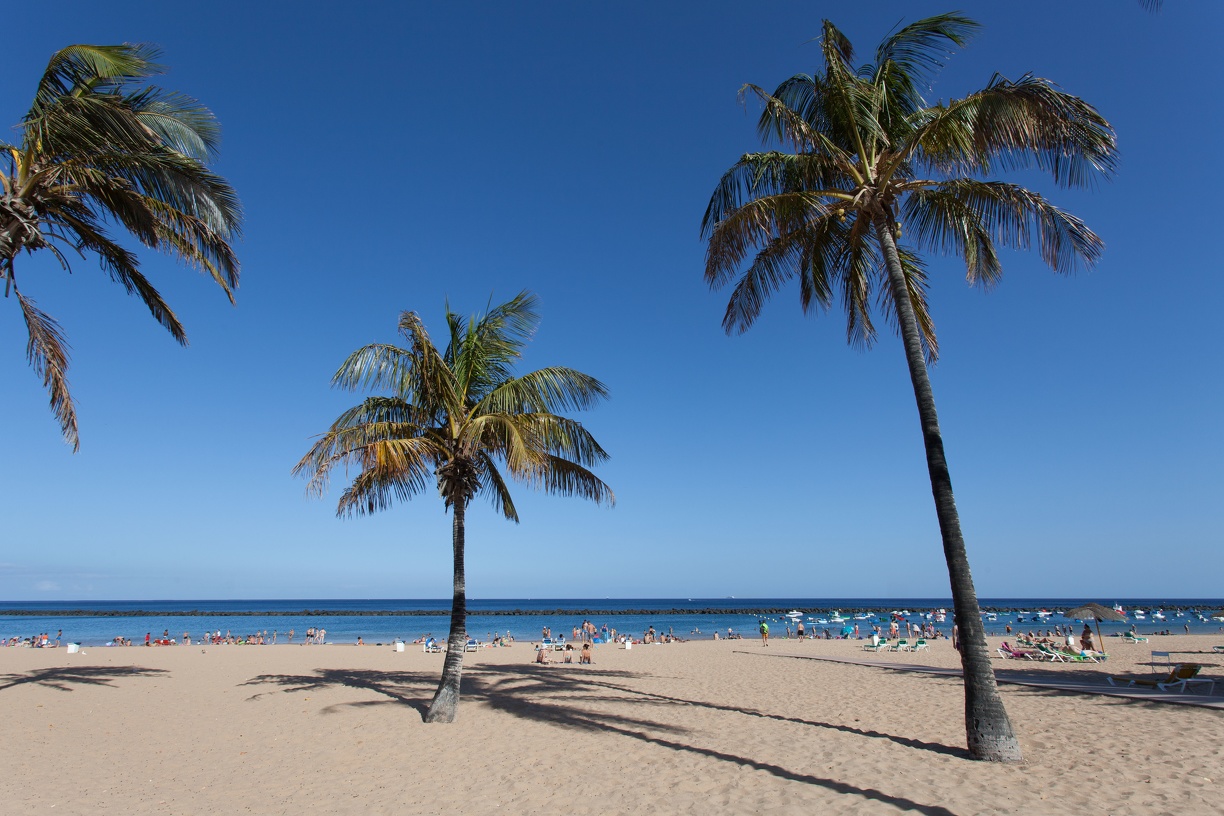 If you are in Santa Cruz or after a day of hiking in Anaga, this can be a good place to relax. The beach was made with white sand from the Sahara, unlike most other beaches in Tenerife which are composed of black volcanic sand.
The beach is especially beautiful around sunset: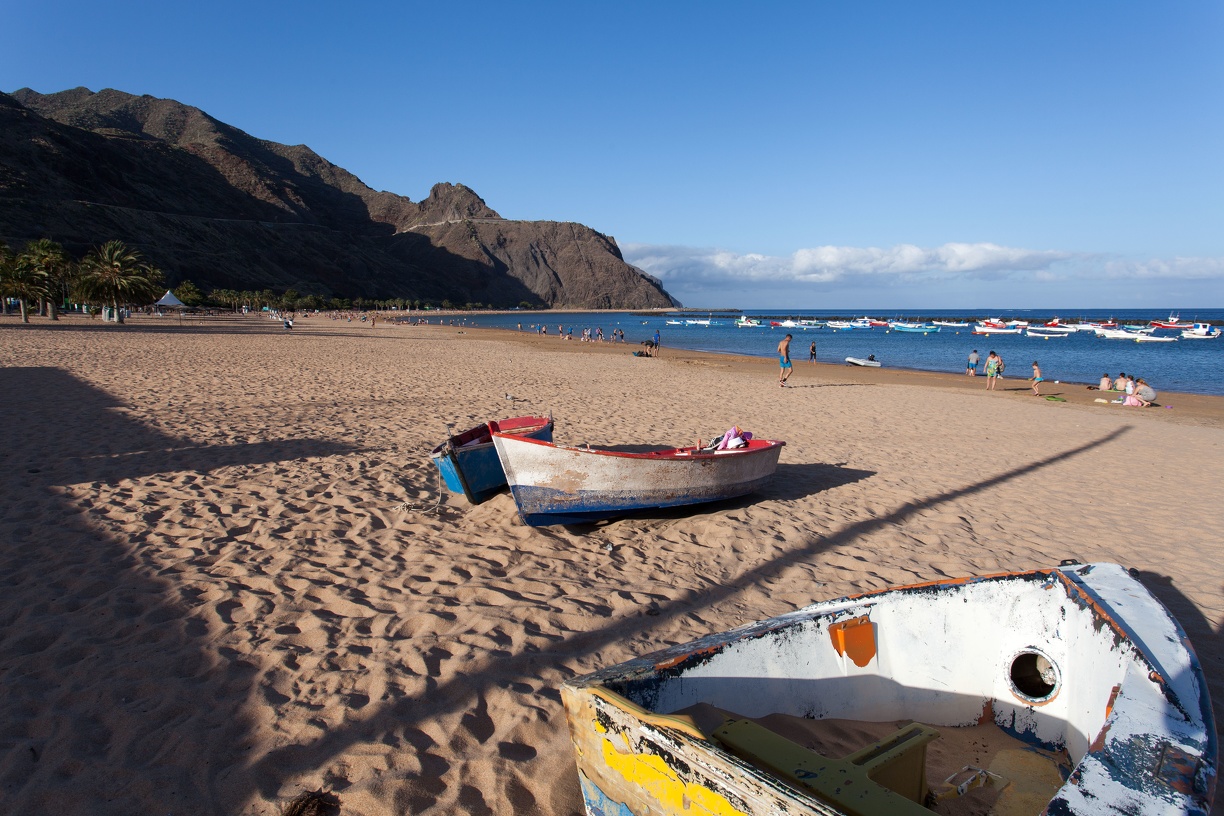 Siam Park
I'll keep this short since there's not much to say here but if you're looking for an aqua park I highly recommend Siam Park. The design of the park and the quality of the attractions is much better than the competition. But expect a large crowd and long queues.
Lighthouse of Punta del Hidalgo
You might have seen pictures of it on the Internet but it's honestly not worth the trip. It only looks good on a picture during sunset, the neighborhood is pretty run down and there's nothing else to do there.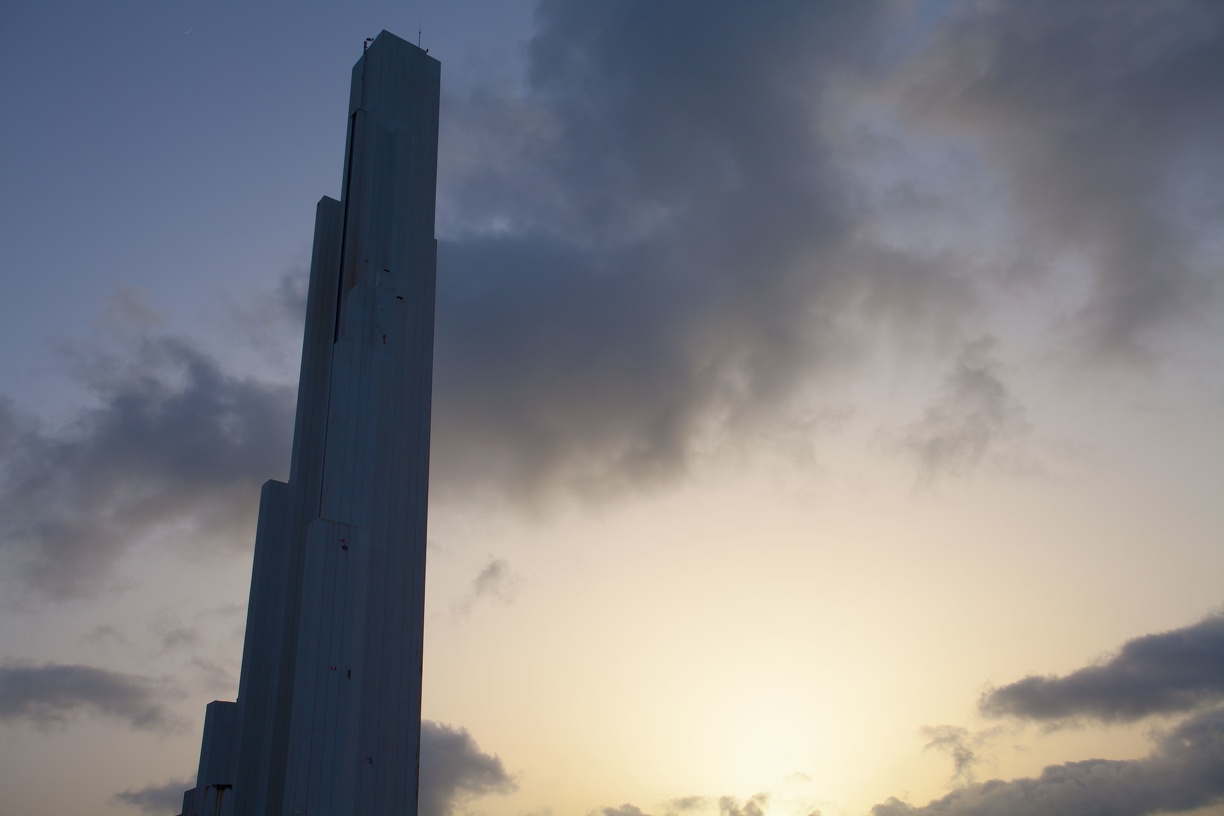 Whale Watching (with bonus dolphins)
Some parks have shows with dolphins and orcas but these animals are badly treated: kept starving so they'll do anything for food during the shows and kept in small tanks where they can't swim during the night; they also have a life expectancy that's only 1/10th of what they'd get in the wild (and we're talking about animals who live more 70 years so do the math…). Let's not even consider the fact that dolphins are intelligent animals…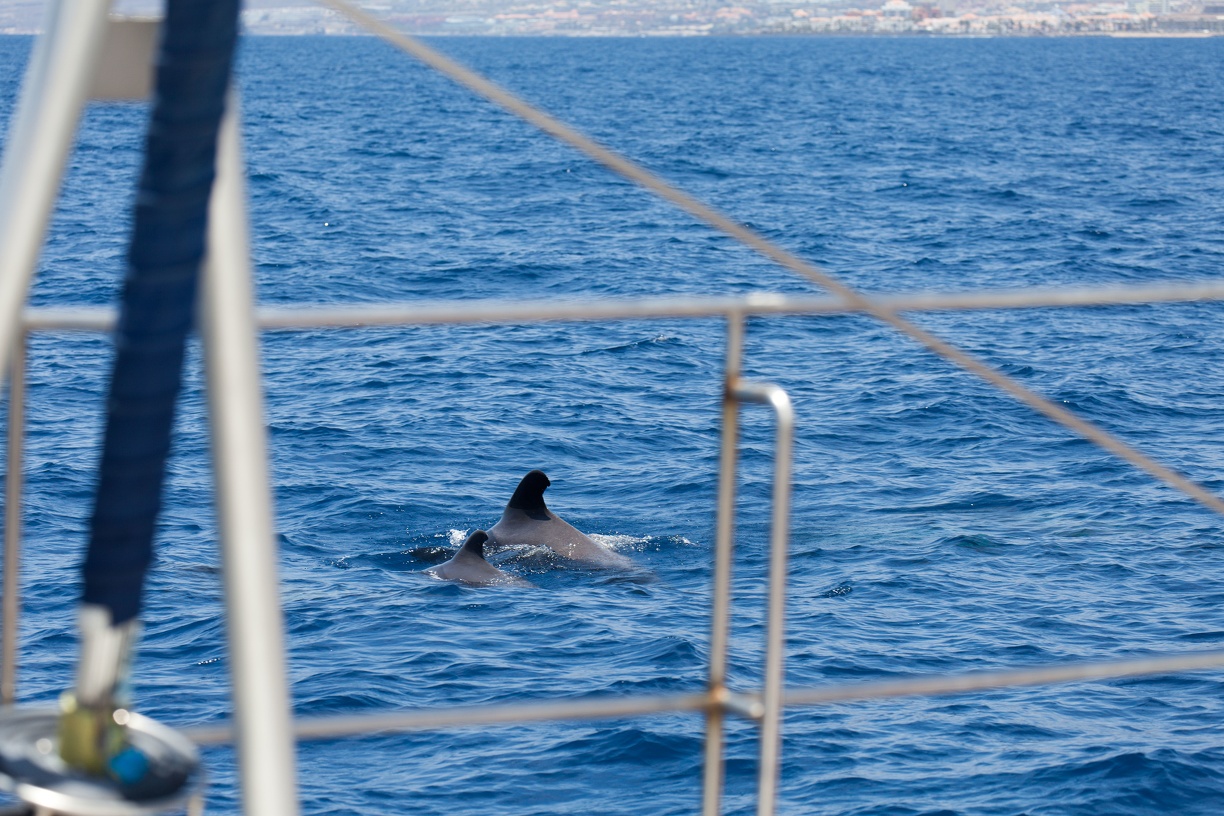 My point being: if you want to see dolphins and whales go on a boat tour with a reputable company. The animals will be free and the boats try not to annoy them too much.
So please don't support Loro Parque or Aqualand.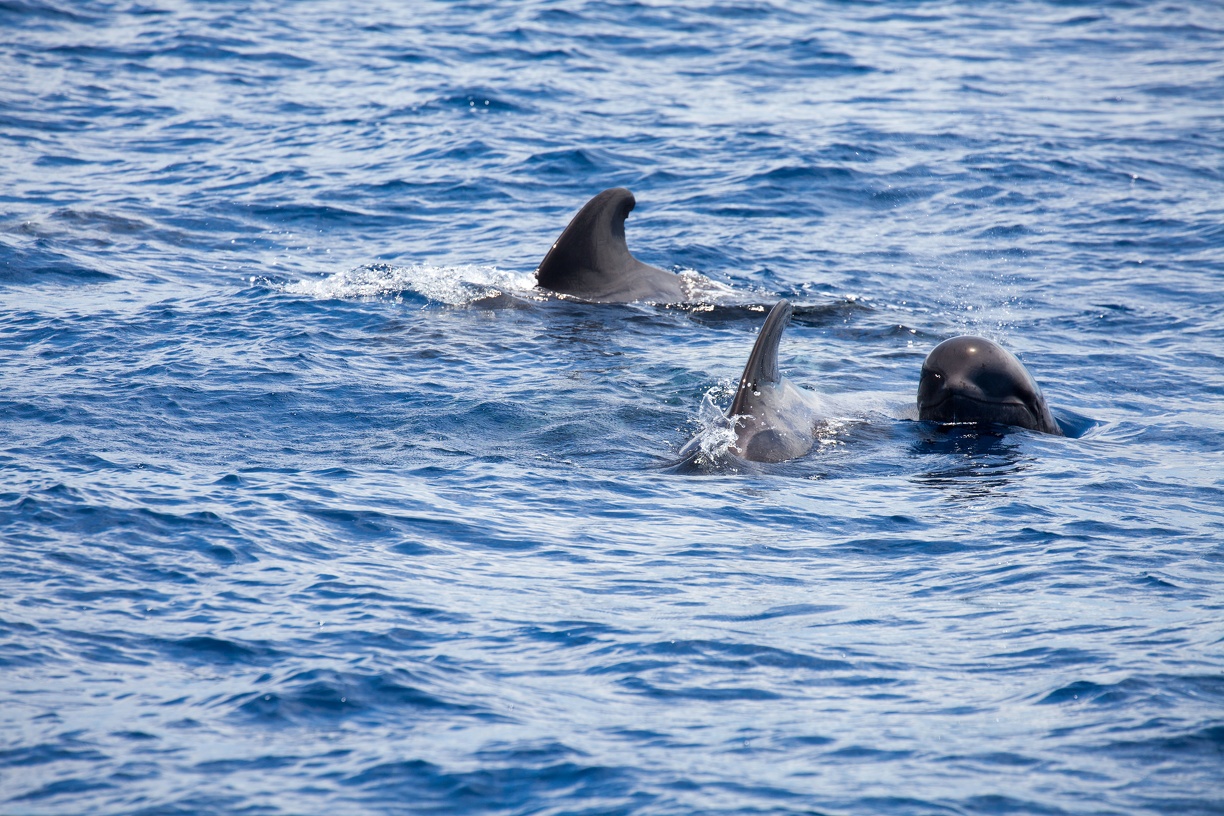 According to the guide these were short-finned pilot whales, one of the smaller species of whales. They moved pretty slowly because they were actually resting. Only one half of their brain is sleeping while the other half stays active to watch for dangers, navigate, control their buoyancy and breathing.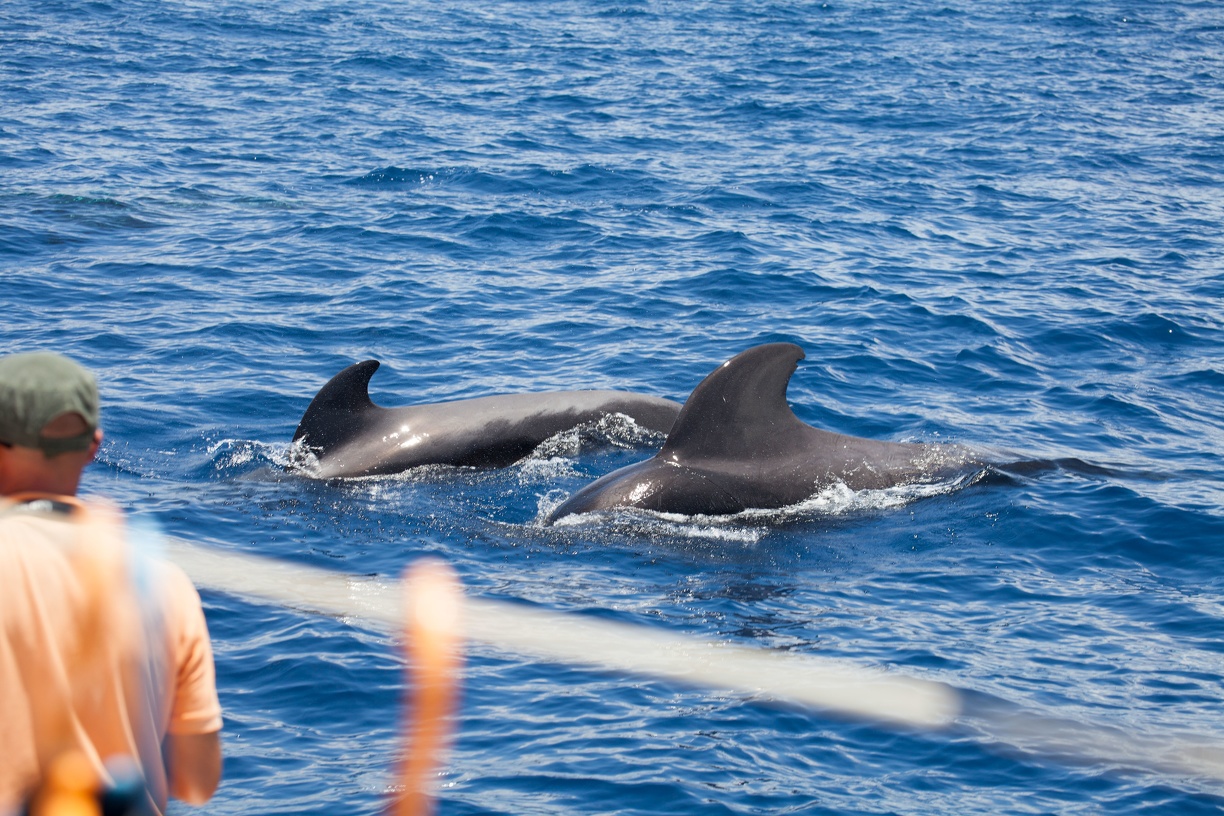 The reason whales are found here is because the sea off the coast of Tenerife is 2.000m deep which is where giant squids live and the whales come here to hunt the squids (by dragging to the surface where they die due to the decompression).
We got lucky enough to see a group of dolphins! The guide said these were atlantic spotted dolphins (although I don't see spots on the pictures) which are apparently pretty rare around there, they appeared to be migrating between the islands. The bottlenose dolphins are more common and are attracted to fish farms near the coast (one divemaster told me he had seen several of them during dives but I wasn't so lucky).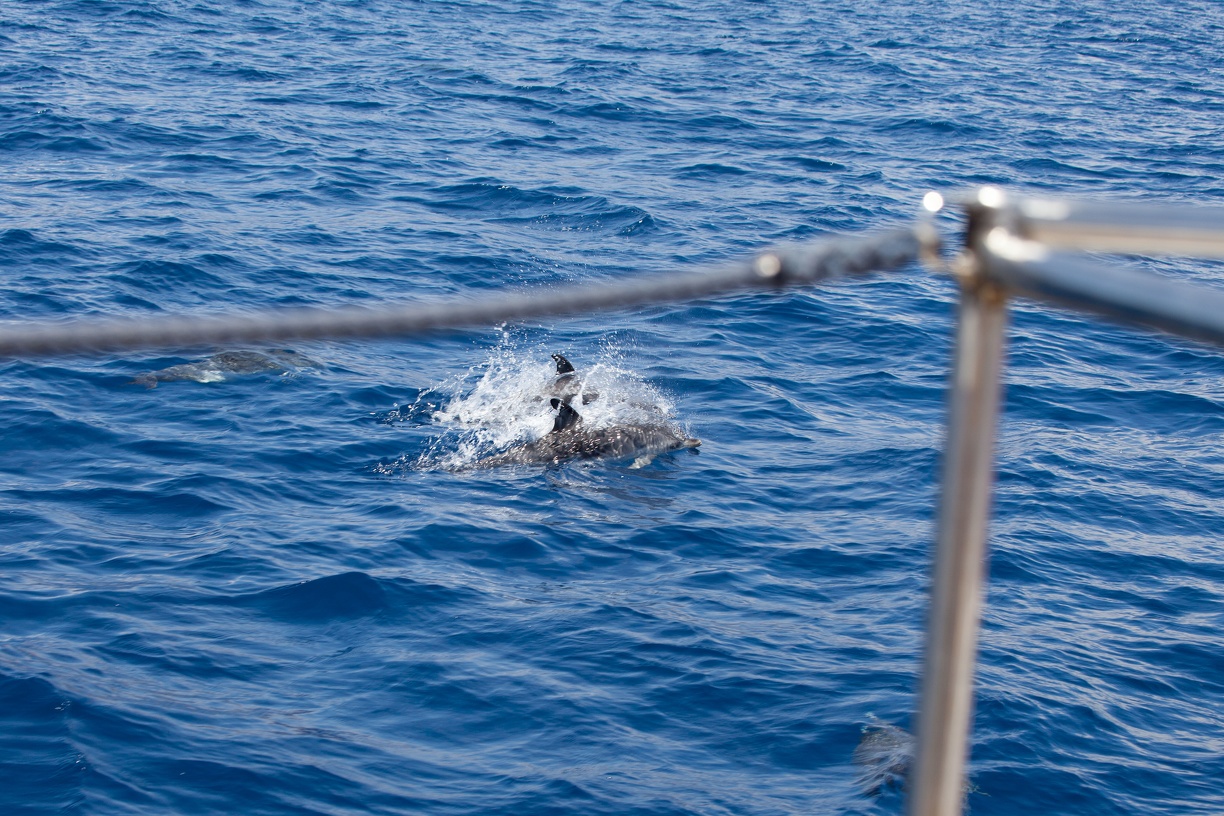 The dolphins weren't resting and moved much faster than the whales. They were even swimming under the boat, apparently the water being displaced by the boat feels like a massage for them.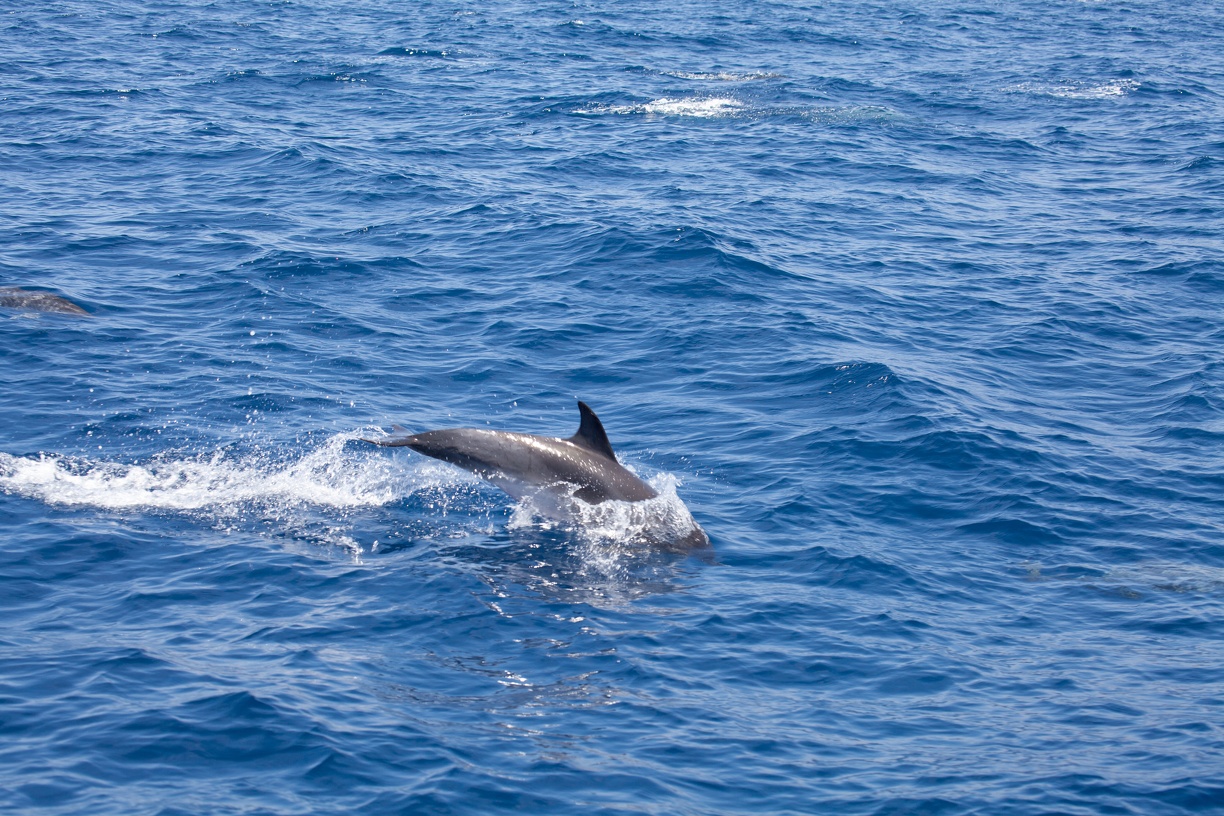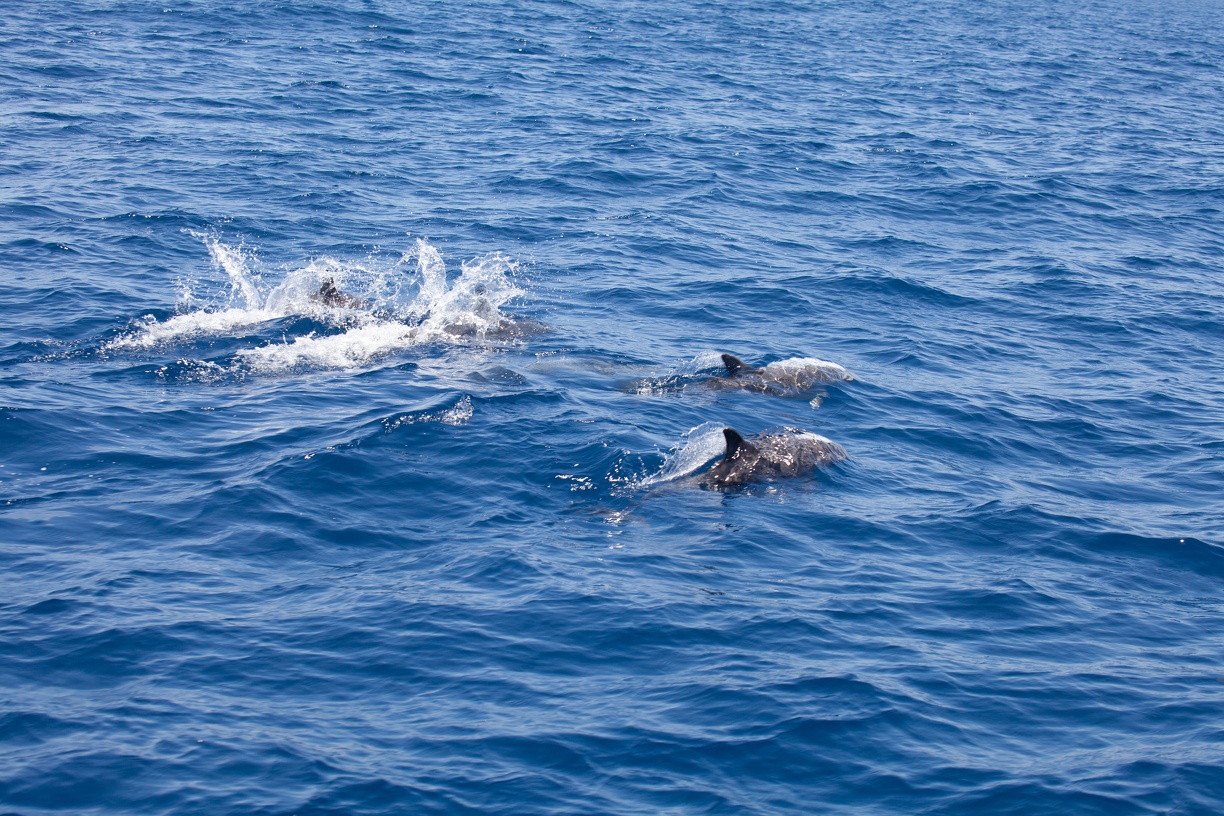 Scuba diving
I'm putting this at the end since most people aren't scuba divers but for me it was one of the best parts of this trip.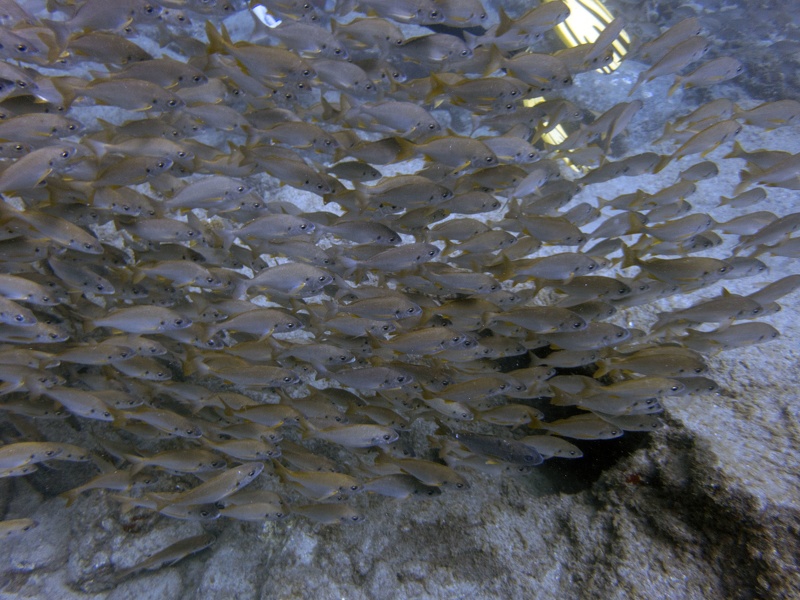 There's a lot of fishes around Tenerife, including rays and eels, but also some wrecks, lava rock formations and even a few turtles. If you're really lucky you might see some dolphins too.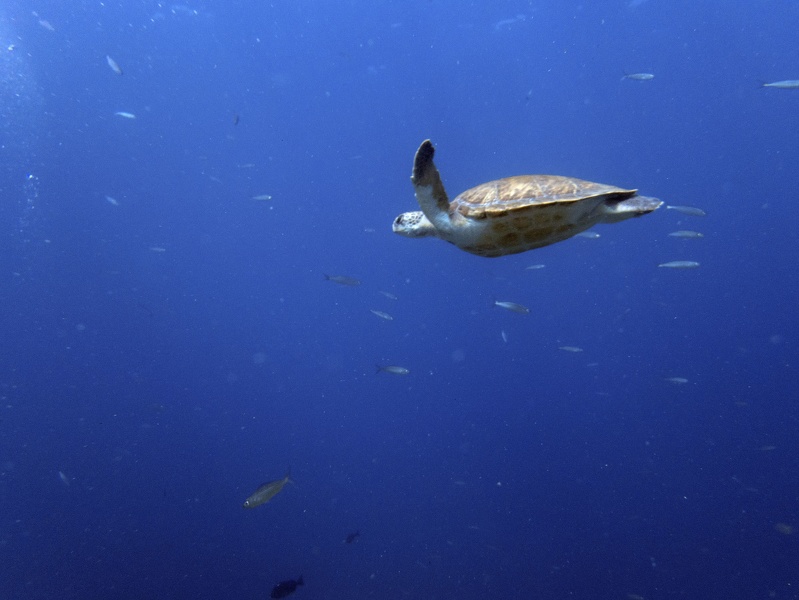 We didn't see any dolphins but we did see a turtle, however it was only passing through and I only had time to take a few pictures before it was gone.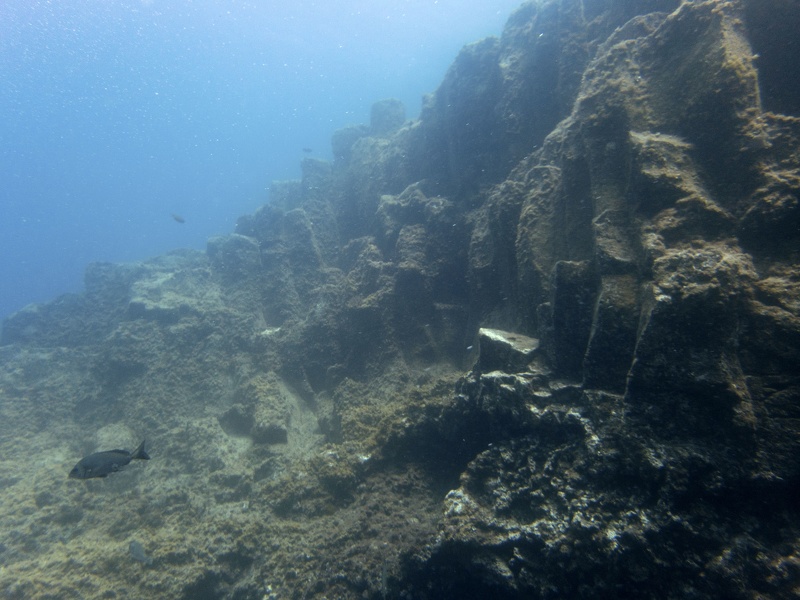 The fish here don't seem afraid of humans and will swim very close to you, even the rays.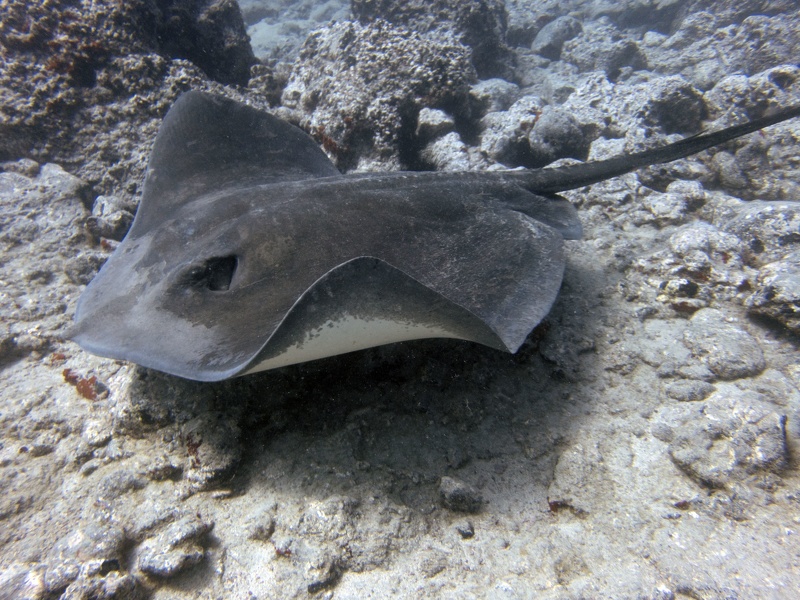 There's plenty of rays from different species here and they will come really close to you but please don't touch them (or any other animal for that matter) even if you see other divers (including divemasters, sadly) do it.
What NOT to do: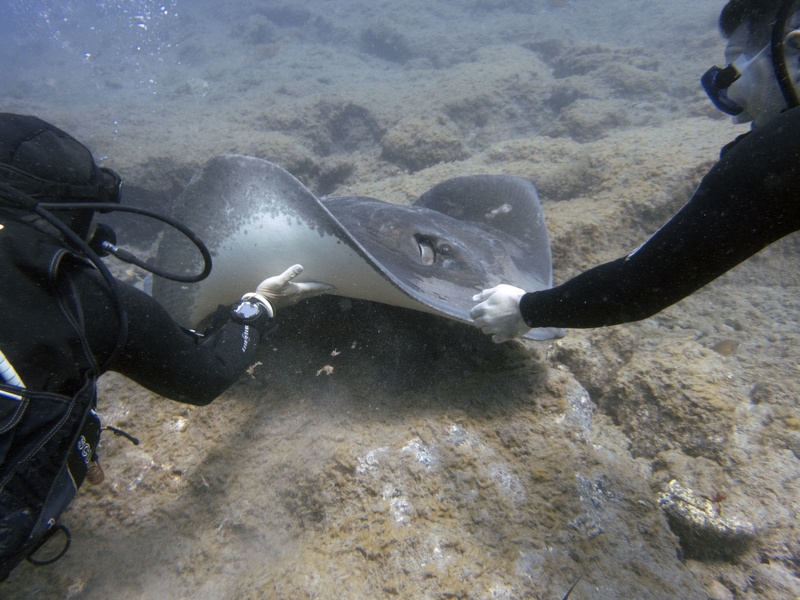 The water was much warmer (21°C) and with much better visibility than I'm used to so diving here was very enjoyable.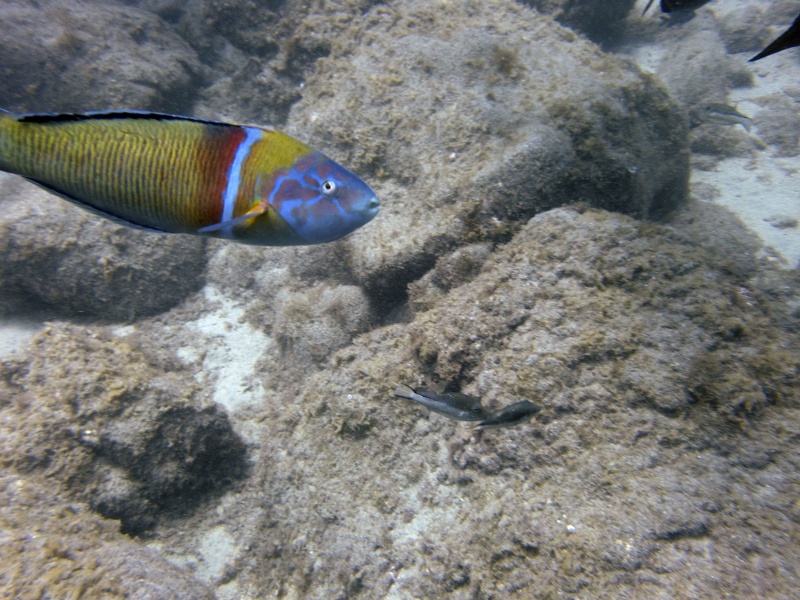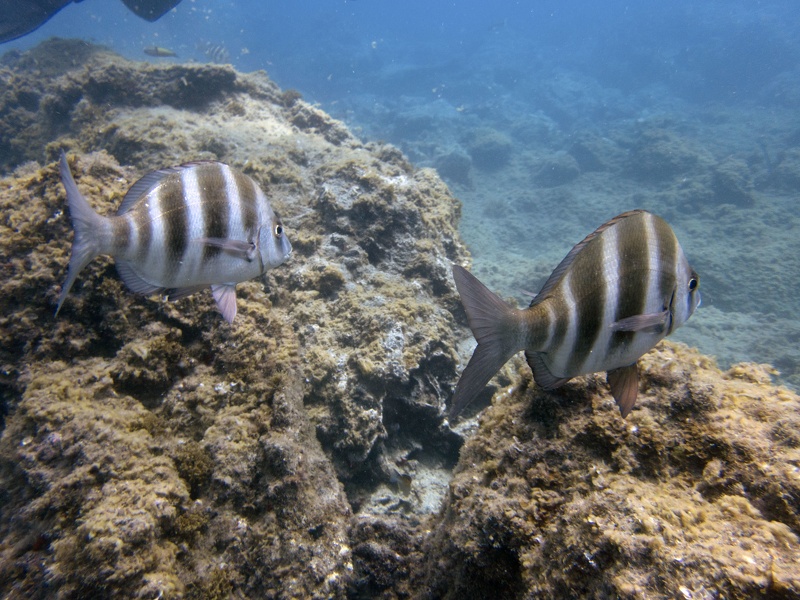 There's plenty of diving schools on Tenerife so you can certainly get your certification here, however you might not want to have to study during your holidays so it's always more fun if you're already certified.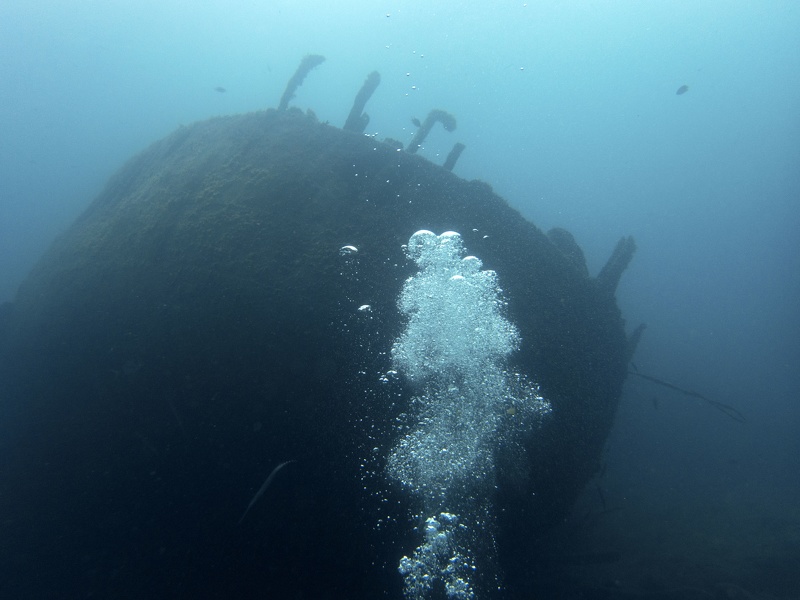 The best dive sites are on the southern coast so if you're going to be diving a lot it might be better to get a hotel over there.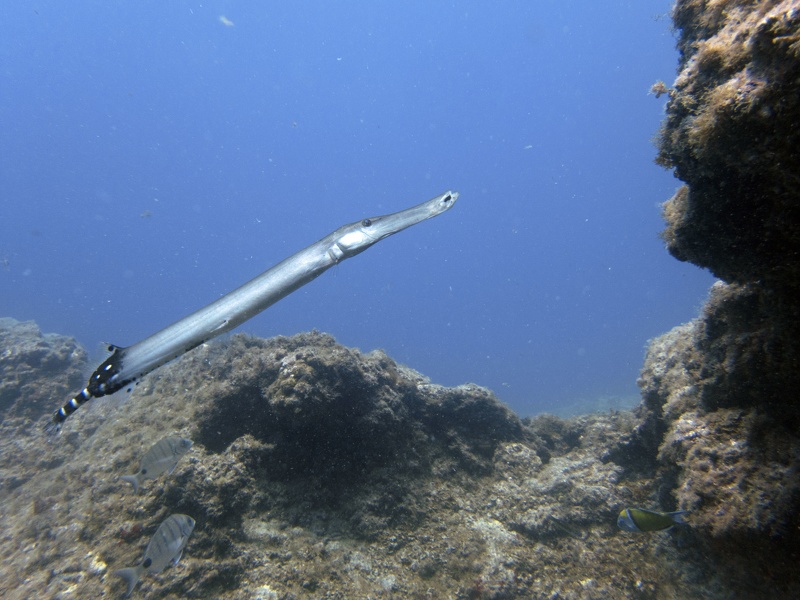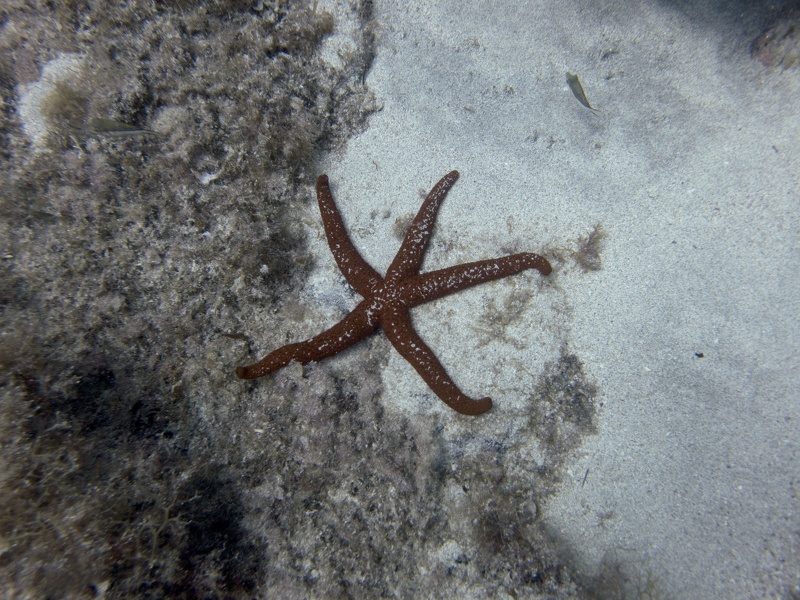 And don't go up El Teide after a dive, for obvious reasons.