This was my first time in Asia, obviously the language barrier complicates things a bit but luckily it's pretty easy to get around in Japan so don't let that frighten you.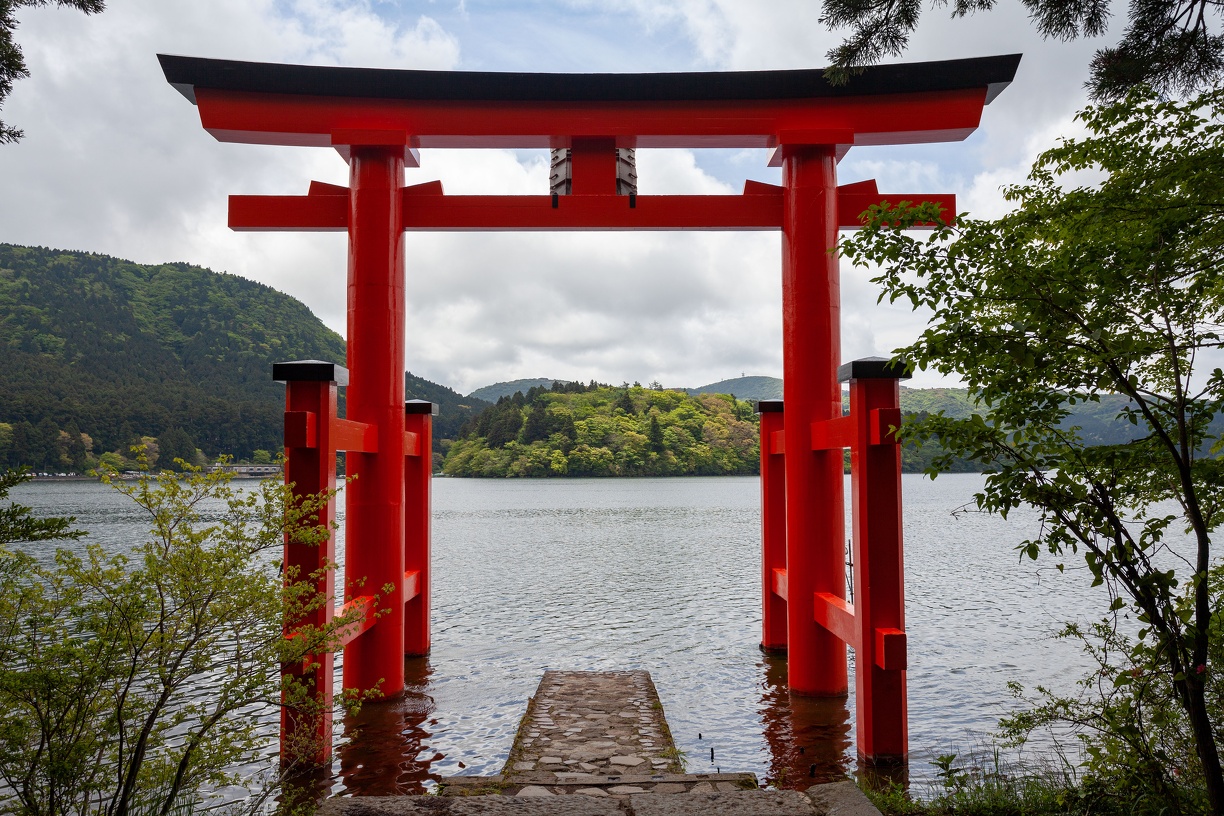 That being said, a few things need to be arranged in advance: for example the JR Pass can only be ordered from outside Japan, you can't get one once you're in the country if you didn't order it before. The JR Pass is a train pass that allows unlimited travel during a specific period (7, 14 or 21 days). Since intercity trains are rather expensive a JR Pass can be interesting but it depends on how much train travels you intend to do so I suggest you use one of the calculators to check if it's a good idea in your situation.
Another thing that will make your life much easier is mobile internet, here you get two choices: a pocket Wi-Fi or a Japanese SIM card. The pocket Wi-Fi allows to connect multiple devices so it's useful if you're in a group but it's yet another device that you'll have to carry around and keep charged. You'll also need to pick it up at the airport and bring it back before leaving. The SIM card is limited to one phone but you don't have to bring it back. I bought a SIM card from Mobal because they do free shipping worldwide so I got my card before leaving. That's one less thing to worry about at the airport.
Once you have internet access you can use Google Maps or Hyperdia to get around with public transports. The trains and subways are always on time so no need to worry about that. On the other hand the stations can be enormous so it might take a while to find what you're looking for (even if it's just the correct exit). Also keep in mind that sometimes there are two different stations with the same name run by different companies so make sure you're in the right one.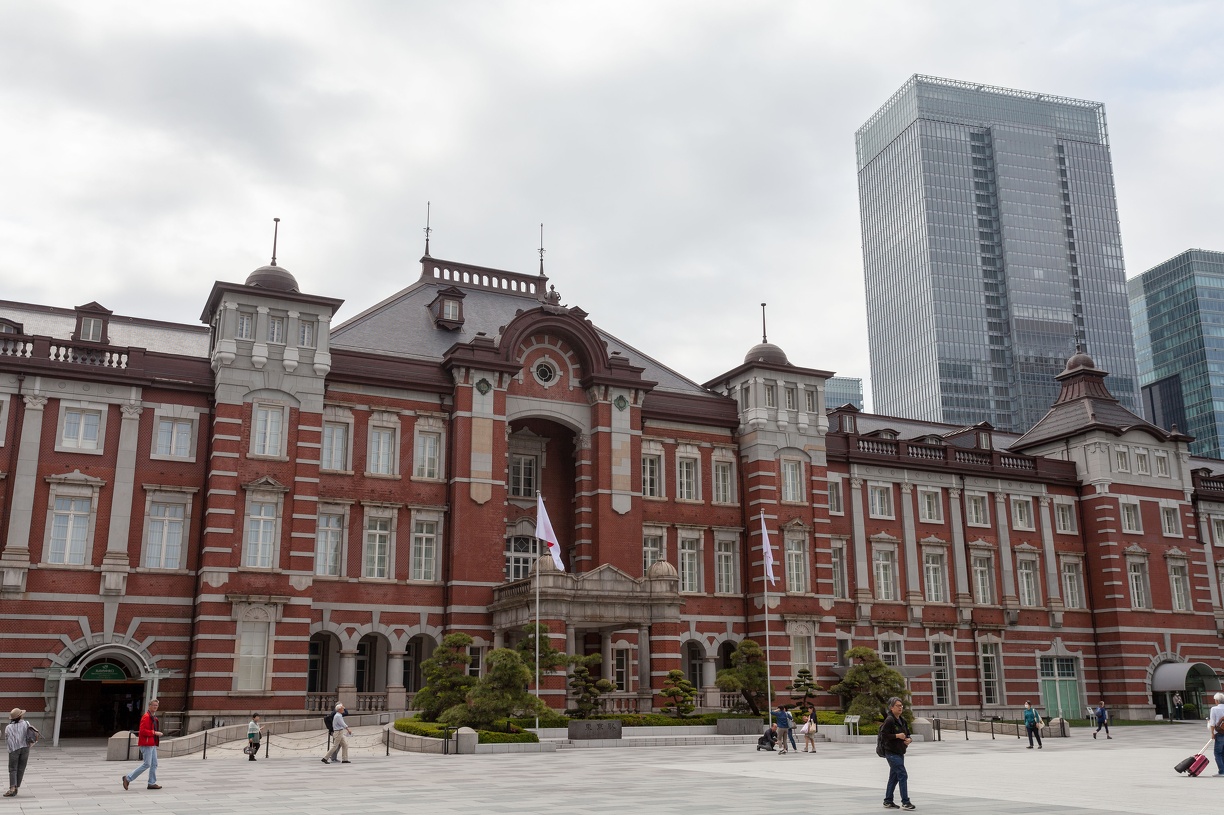 I also suggest you get an IC Card, there's a different one for each region (Suica and Pasmo for Tokyo) but they're all compatible so don't worry about that. You can get and charge them from ticket machines in train stations (almost all of these can be switched to English). You just charge it with a certain amount of Yen and then you can simply use it to pay for trains, buses and subways instead of buying a ticket every time (which is actually rather complicated and time-consuming in Japanese subways). You can even use IC Cards to pay at vending machines and convenience stores (called "conbini" in Japan).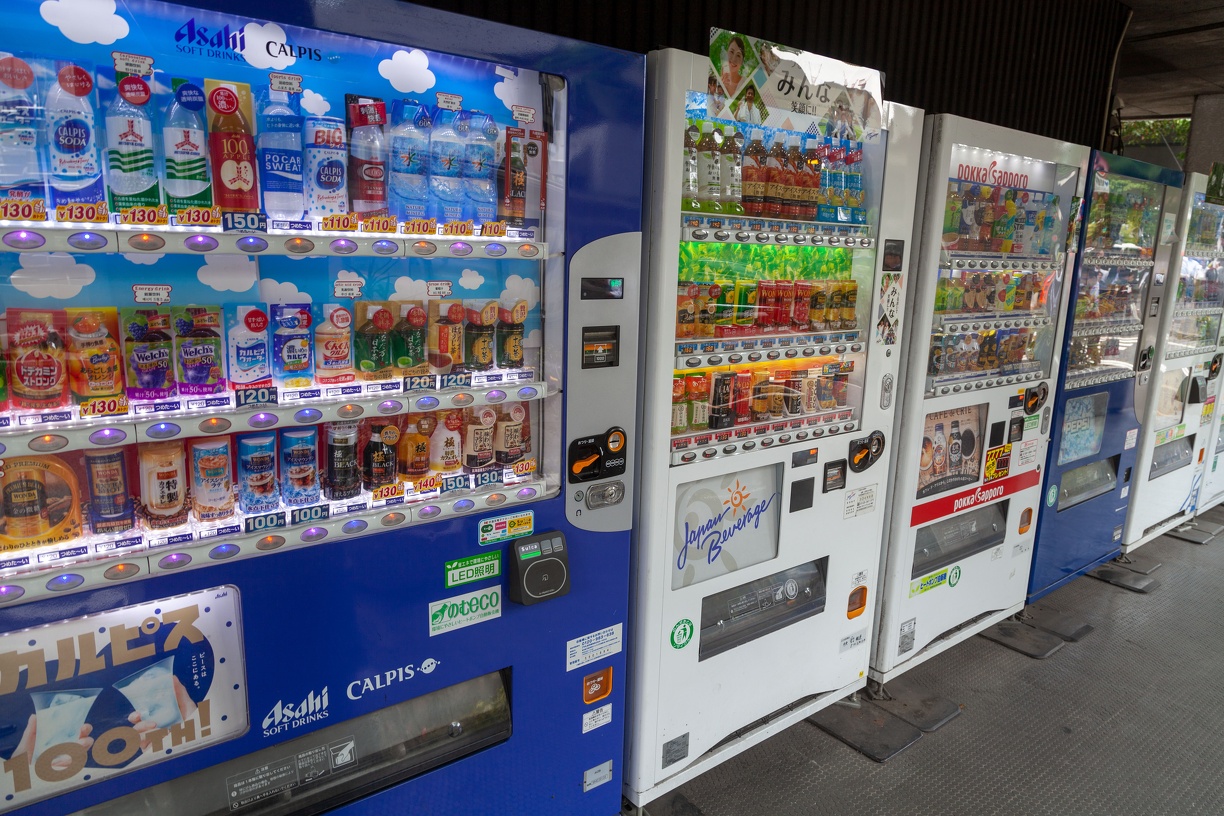 Speaking of which, you'll find those in every street which is really convenient, especially since conbini food is really cheap and actually quite good so try it if you're in a rush. Otherwise restaurants are also everywhere and they usually specialize in a specific type of dish (ramen, sushi, okonomiyaki, … ).
IC Cards are useful but you'll still need to carry cash because most places won't accept credit cards. Luckily you can find ATMs that accept foreign cards in every 7-eleven and there are plenty of those in Japan.
Some last thoughts before we get started with the trip: trash cans are quite rare in Japan so be prepared to carry your trash for a while (despite that the streets are quite clean). Smoking in the streets is prohibited except in designated spots. Talking or listening to music in public transports is really frowned upon. Eating and drinking in the streets is not illegal or really rude but it is simply not something that Japanese people do so try to avoid it or just do it at the conbini where you bought your food.
Tokyo
I began my trip in Tokyo and to get there you can choose between two airports: Narita is the most commonly used for international flights but is considerably farther from the city center, Haneda will save you some time but the flights can be more expensive. On top of that Haneda is a really beautiful airport with plenty of shops, restaurants and a floor made to look like old Edo-period buildings.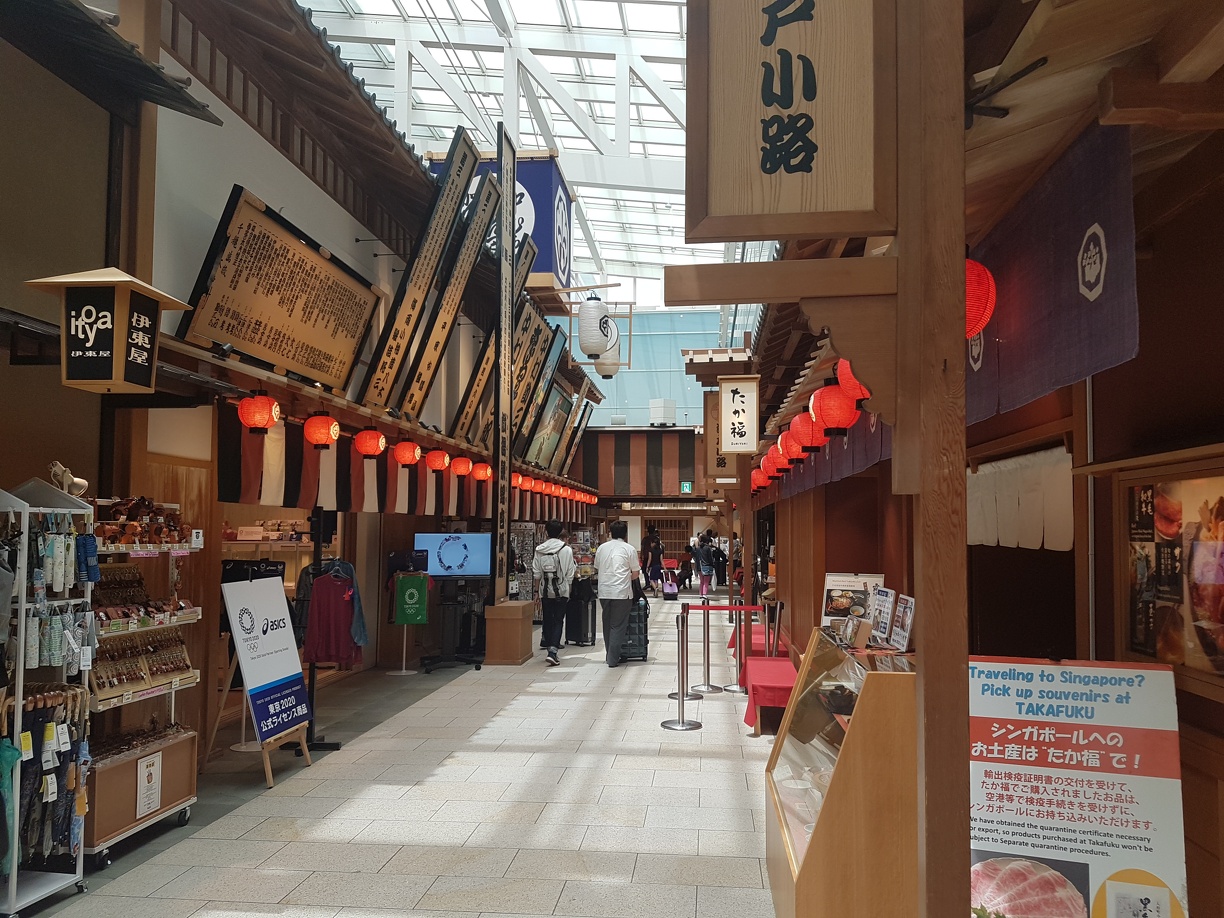 Tokyo is a huge city, the metropolis has 13 million people and the Greater Tokyo Area has more than 38 million, so don't expect to see all of it in one trip. You've probably heard horror stories about rush hour in Tokyo but those seem to be about some specific subway lines. I never had any real issues in the subway, there were a lot of people but nothing unusual for a large city. Of course it's best to avoid rush hour if you have a large suitcase.
The Imperial Palace is not open to the public but you can visit the inner grounds through guide tours that must be booked in advance. The rest of the gardens can be freely accessed and with their old buildings and trees they offer a nice contrast with the nearby skyscrapers.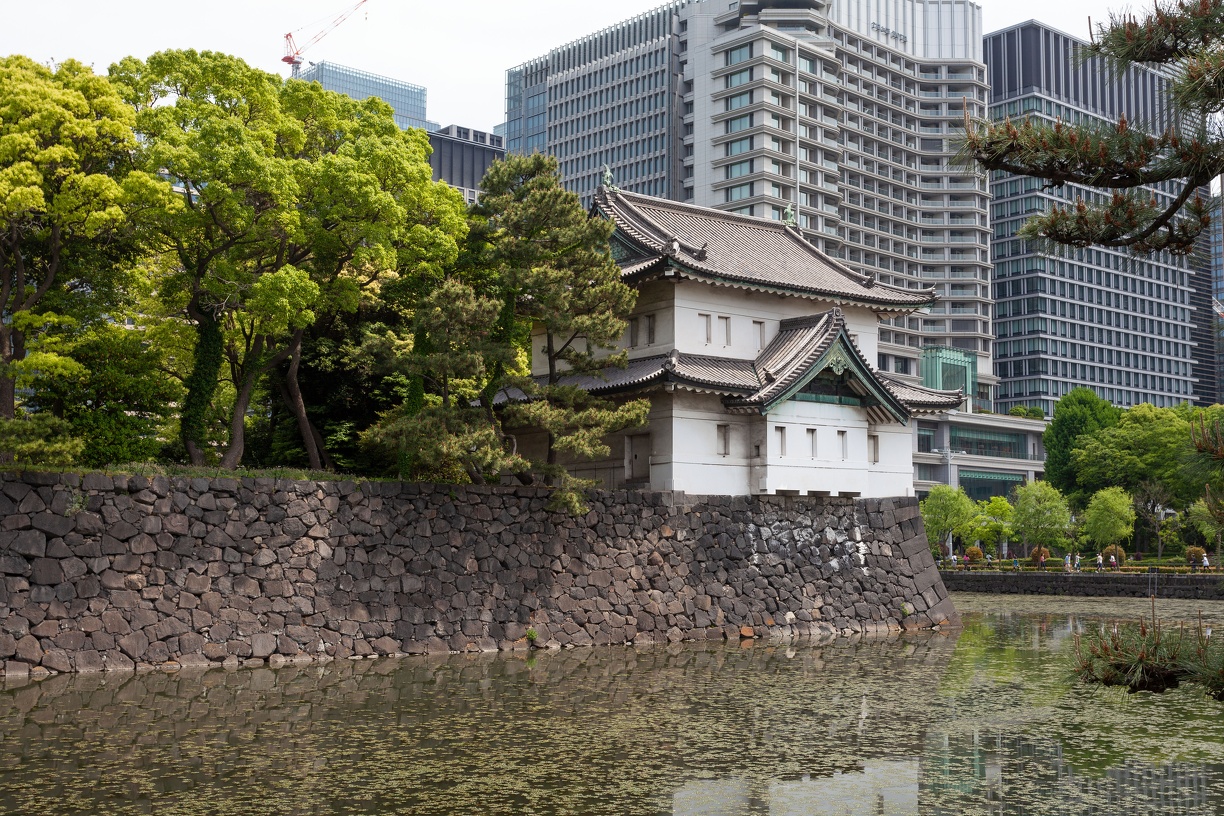 If you ever feel the need for fresh air after spending so much time in subways and between skyscrapers you can always visit one of the many parks that exists in the large cities. They often require a small entrance fee but they are very well maintained. Some of them even have a tea house where you can relax with a cup of tea or matcha and some Japanese sweets.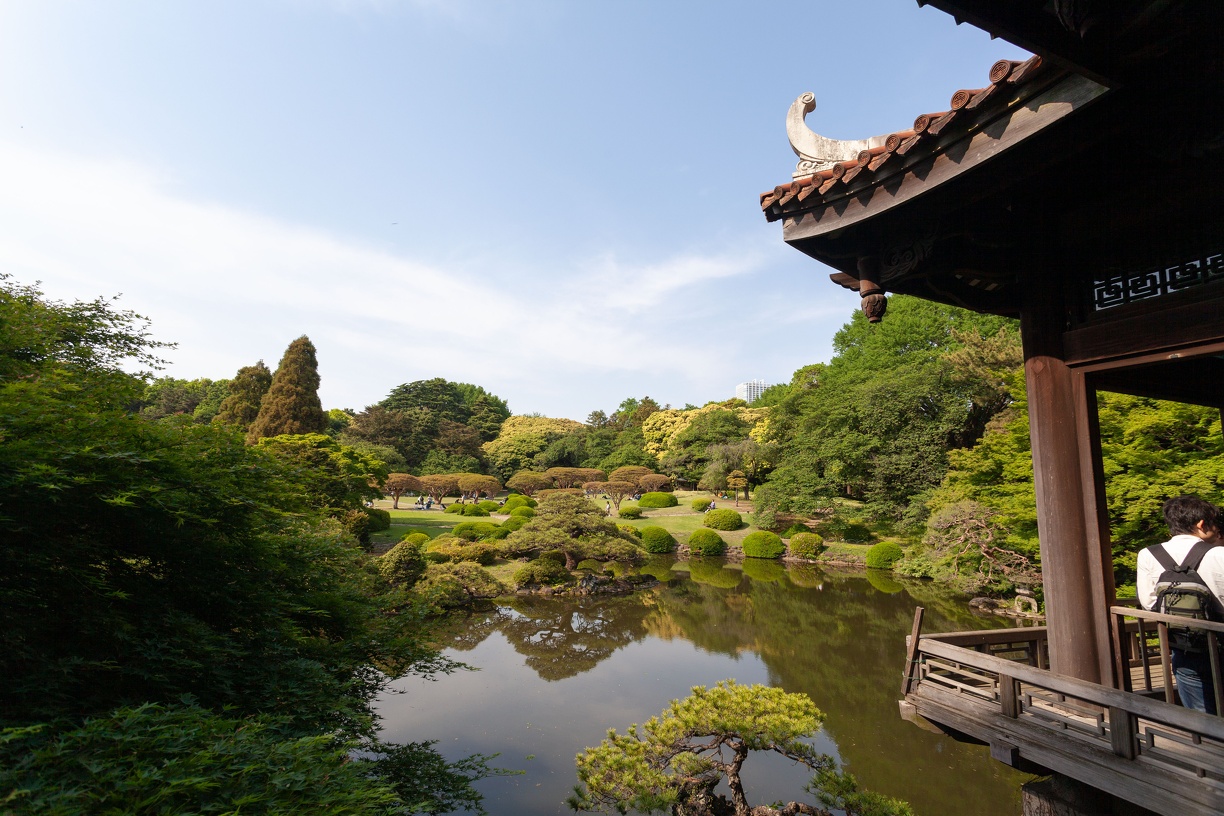 In the same area as the Imperial Palace you will also find a few museums such as the National Museum of Modern Arts and the Science Museum.
If you want to get a good idea of how big Tokyo really is you have several options for a panoramic view. The Tokyo Tower and Tokyo Skytree are both well-known but they are a bit expensive. The Tokyo Metropolitan Government Building, on the other hand, is accessible for free. You can probably expect a queue at each of those. If your goal is to see Mount Fuji then keep in mind that you'll need a really clear weather to see that far, which doesn't seem to happen very often.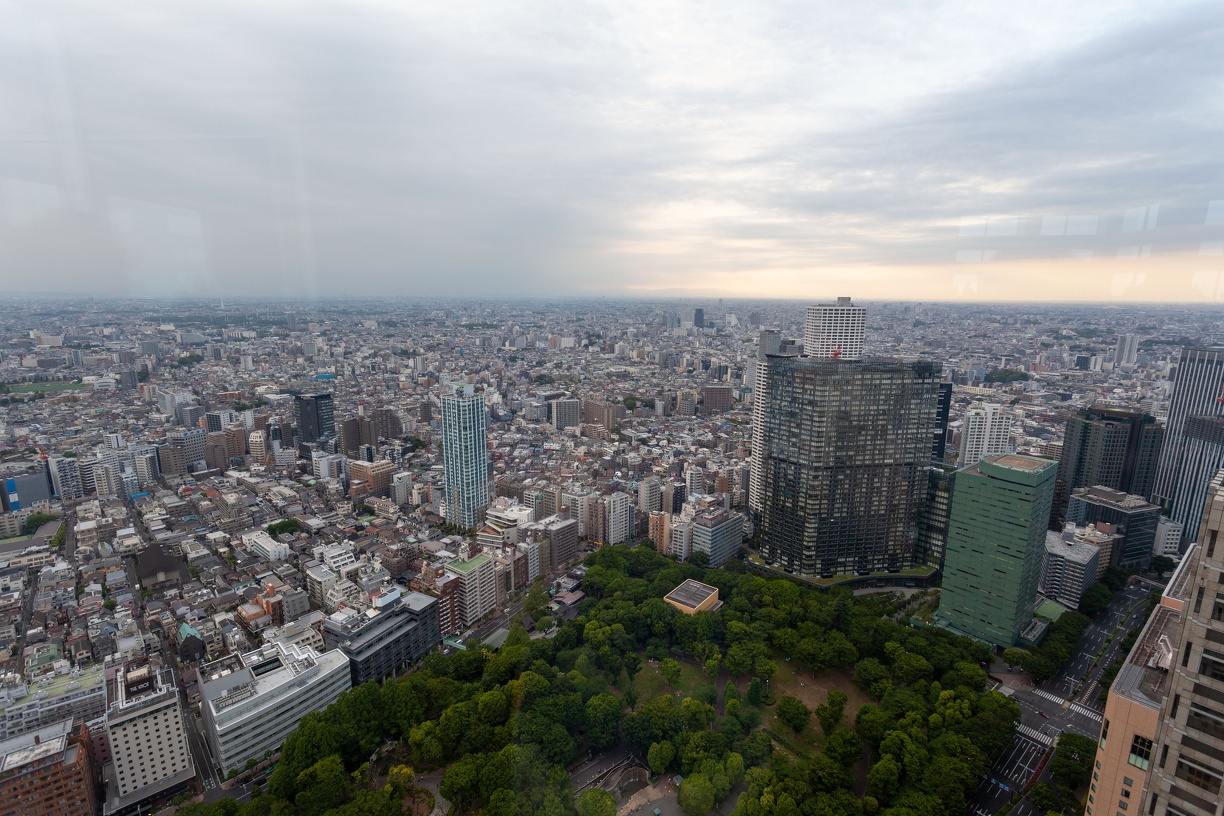 For those who like sea food the famous Tsukiji Fish Market is worth a visit. The tuna auctions (and some restaurants) have now been moved to the Toyosu Market but there are still plenty of shops and restaurants with fresh and varied sea food in Tsukiji. If you really want to see the auction you'll have to get up quite early because it happens between 5:30AM and 6:30AM. If you only want to eat then you have a lot more time but it would be a good idea to skip breakfast.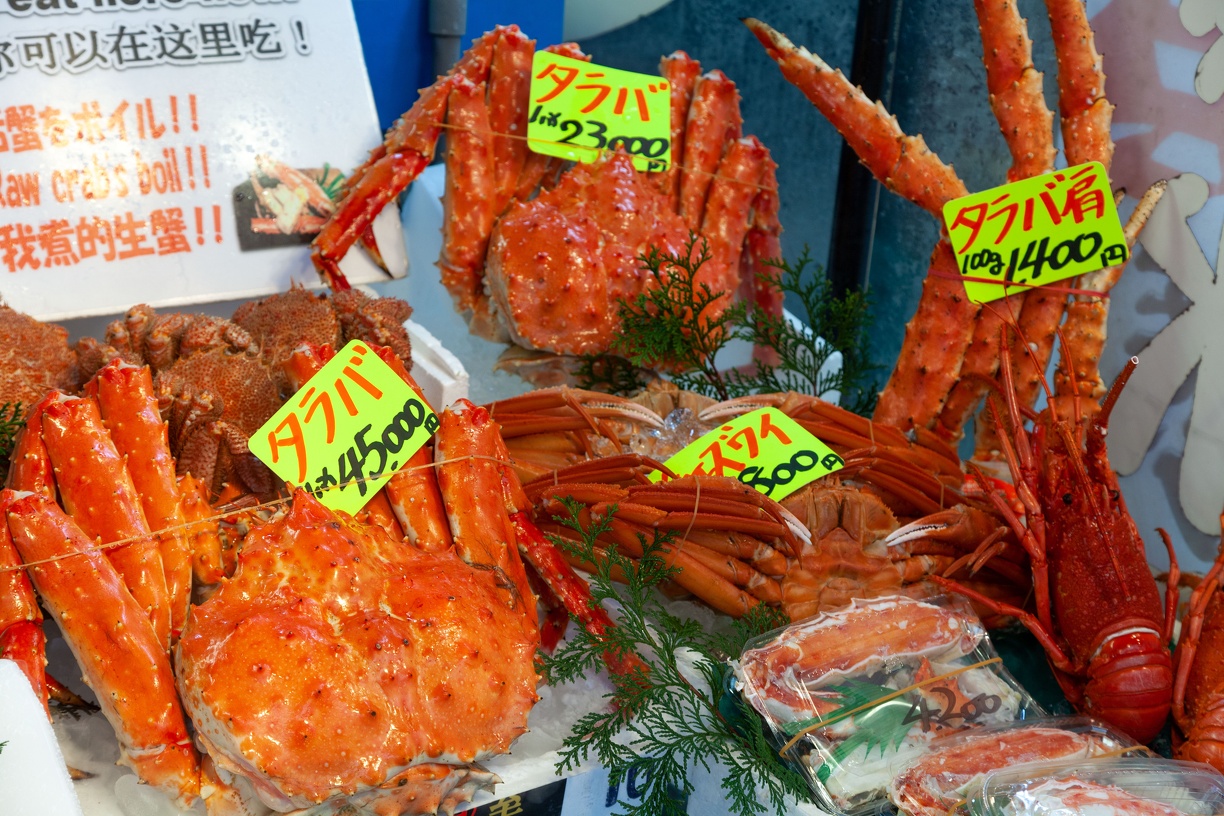 You will find many temples and shrines all over Japan and, while they each have their own style and design, there are simply so many of them that you will probably end up with an overdose even if it is something that you enjoy.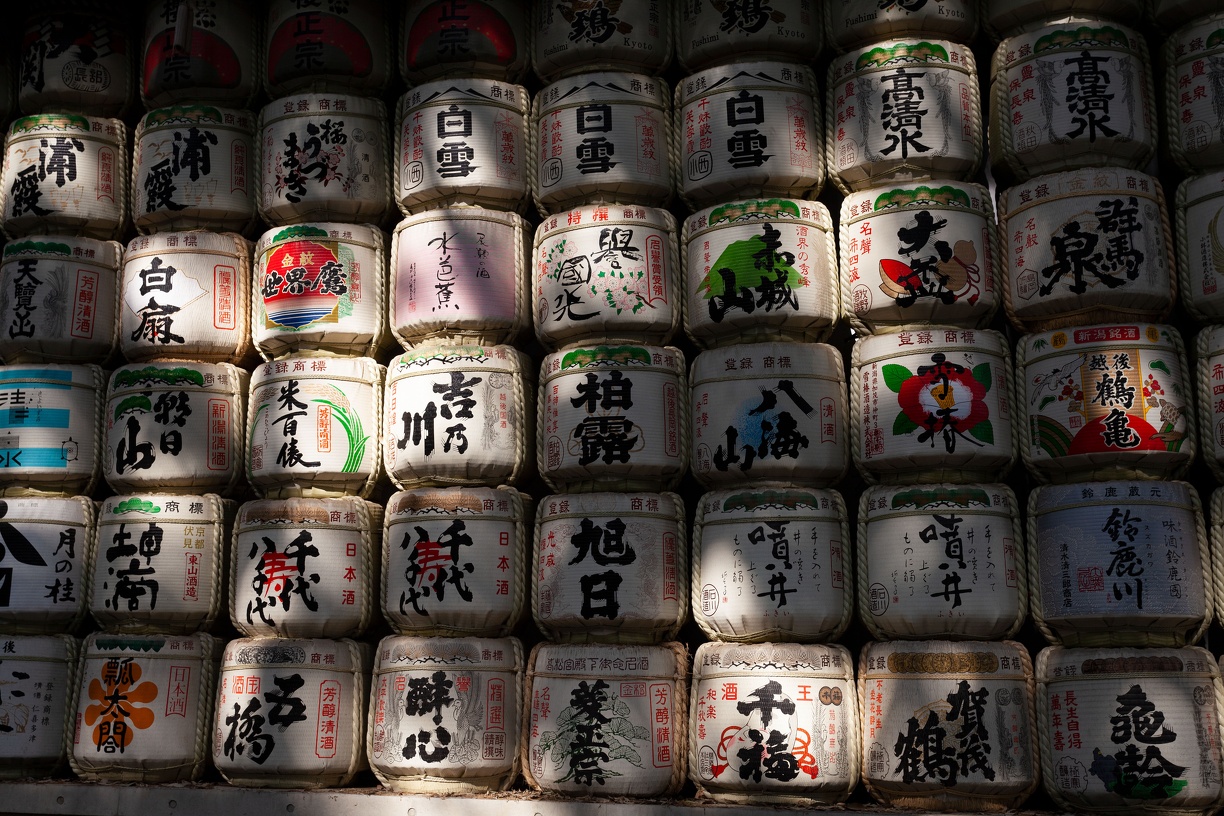 Remember that those temples and shrines are still active places of worship for Japanese people so behave accordingly. Most of them share a similar set of features like a fountain to wash your hands, a Torii gate, a spot for incense sticks, a place to hang prayer cards, Sake barrels that were given as offerings and of course the main building usually housing one or several Buddhist statues (where photos are usually prohibited).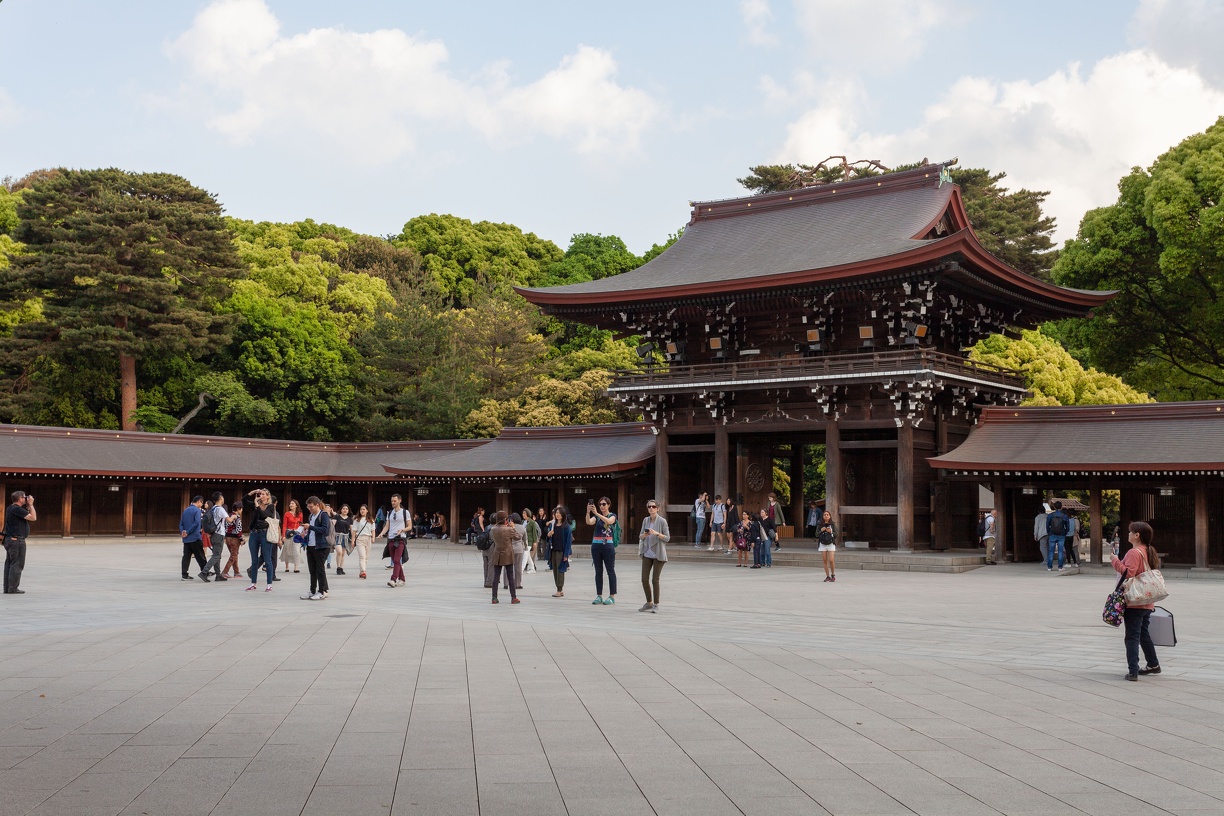 The design of the buildings however can vary wildly and the surrounding gardens too, which is why the temples still maintain a certain appeal even after you've seen a few of them.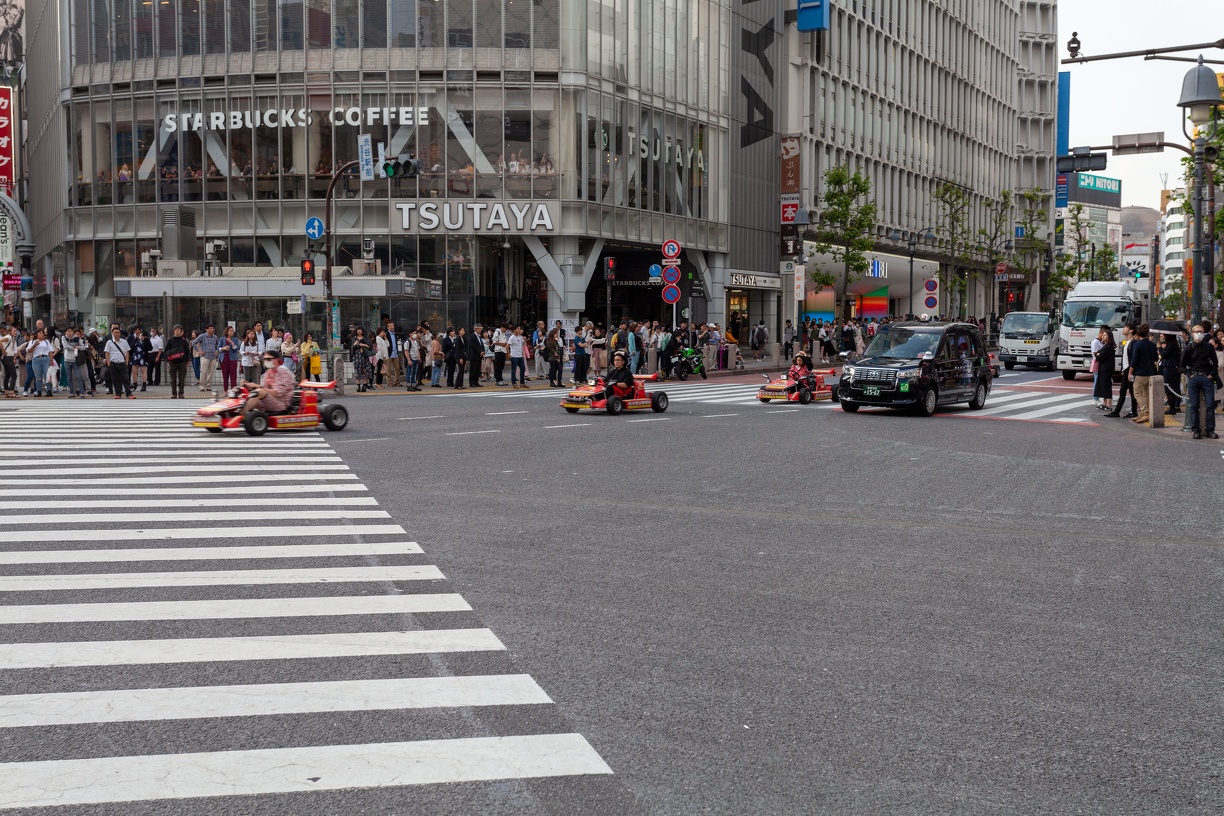 I also went to the famous Shibuya crossing, I don't really see the appeal but the large amount of people, the skyscrapers with gigantic advertising screens and the go-karts riding in the street certainly make it different from the cities I'm used to.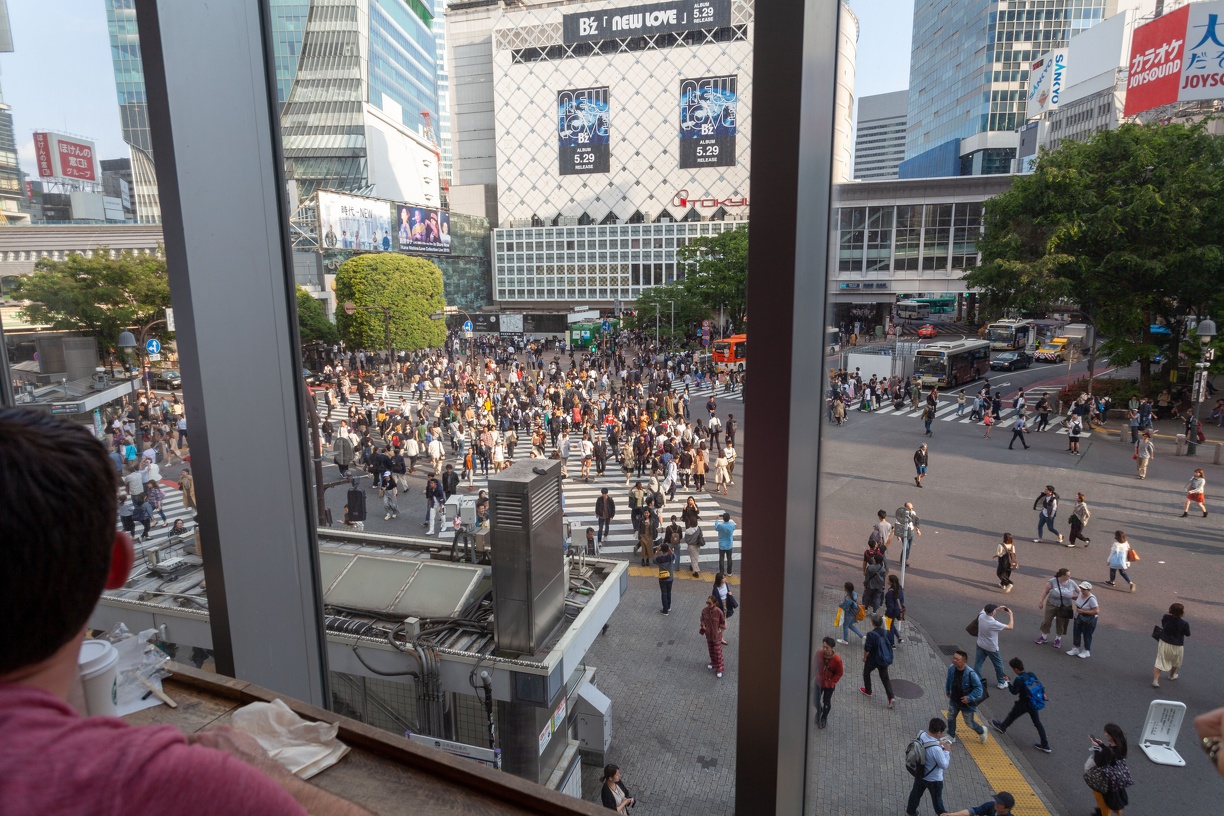 Akihabara is even more colourful: here the advertising screens also play loud music. The neighbourhood is specialized in shops selling products related to gaming, anime and electronics. There's a huge amount of stores, some of them extremely specialized (only selling power cables for example).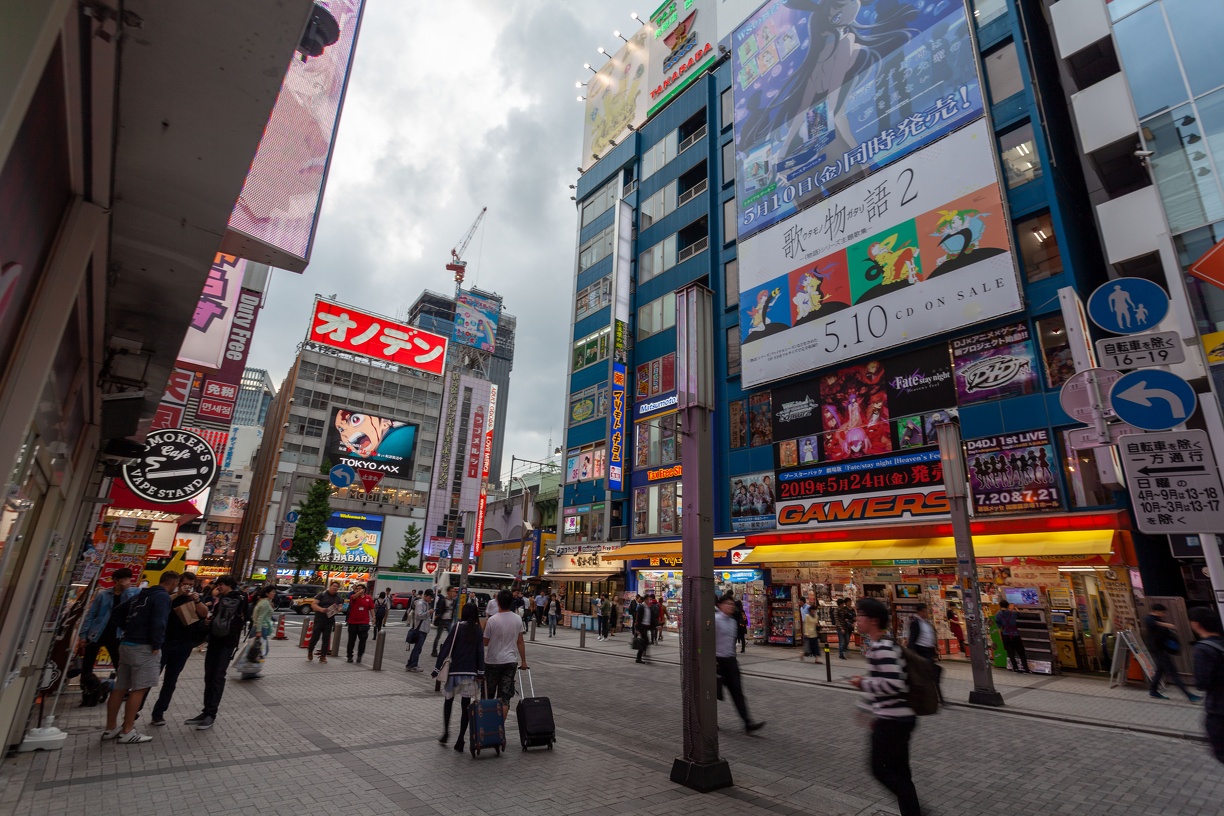 The Tokyo National Museums is one of the major Japanese museums and contains many pieces of art and archaeological artefacts from Japan and Asia. Certainly a good place to visit if you want to learn more about the country and its culture.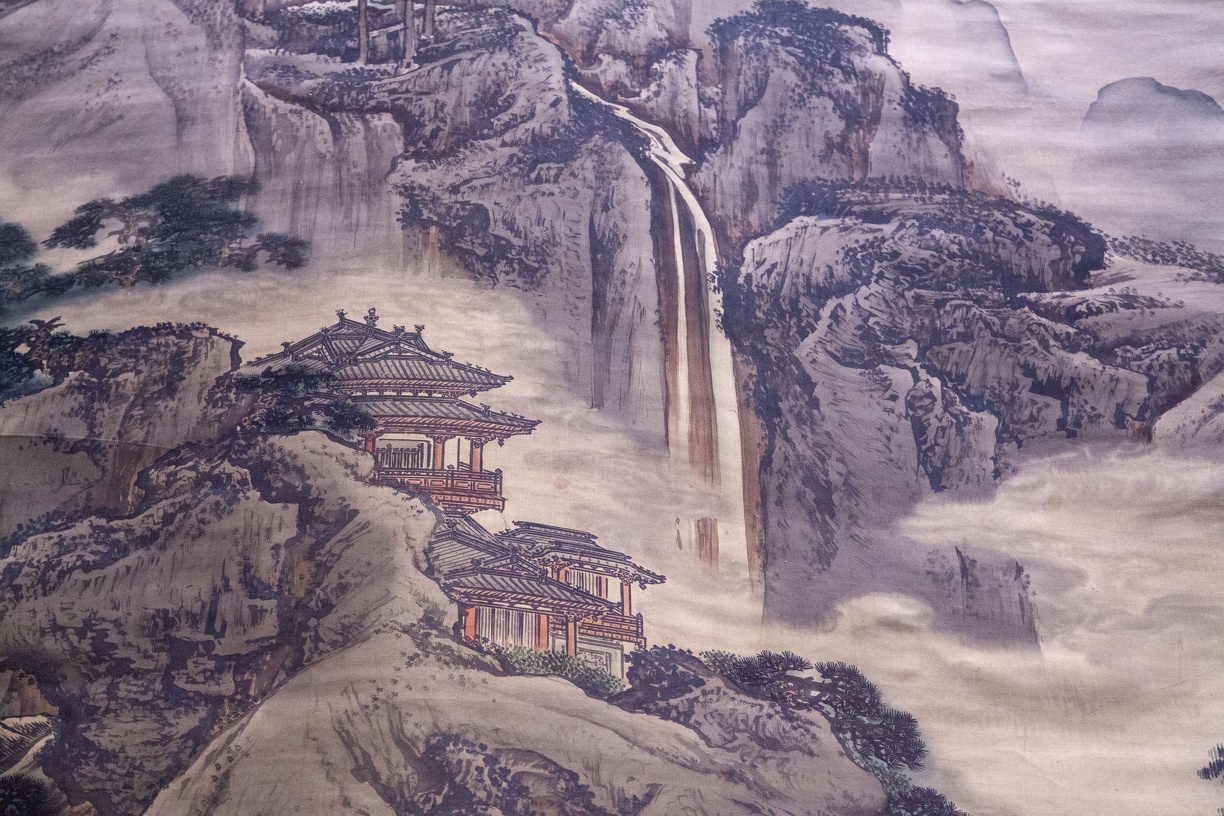 The Edo Tokyo Museum is much smaller, it shows how life was in Tokyo during the Edo period. Besides the usual historical pieces there are also models and life-size buildings reconstitutions but sadly most of the explanations are not translated, which is a problem common to many Japanese museums.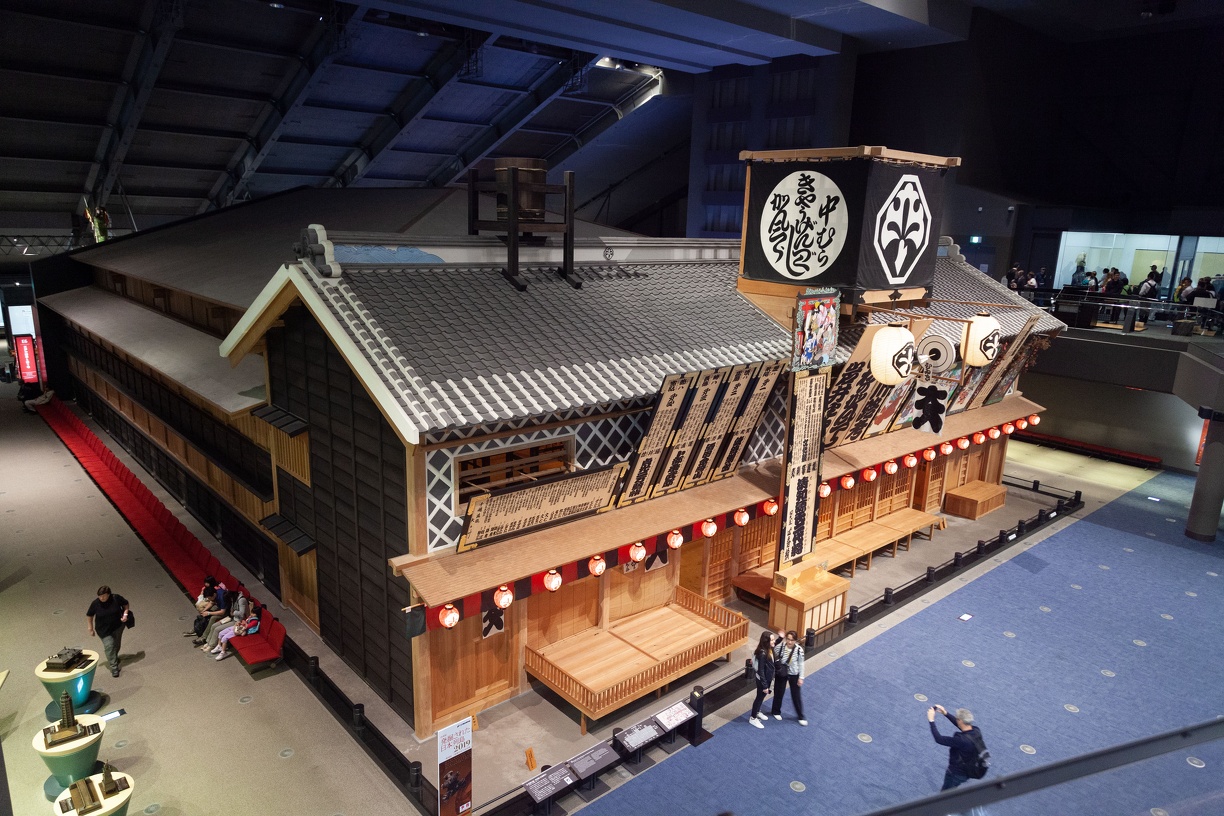 In the Asakusa neighborhood you'll see the famous Kaminarimon Gate and the Sensoji Temple. There's also a lot of food and tourist shops, the whole area is packed with people.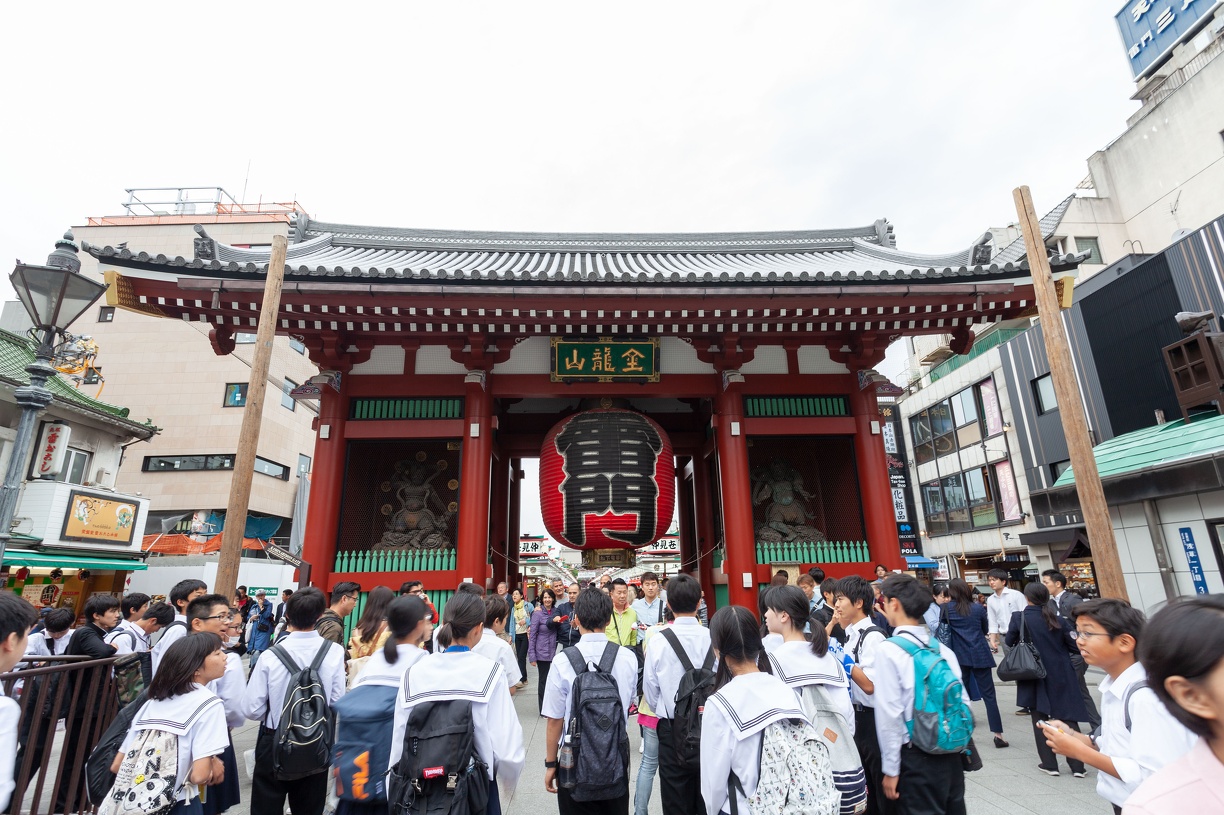 The temple is quite beautiful and also has an impressive pagoda.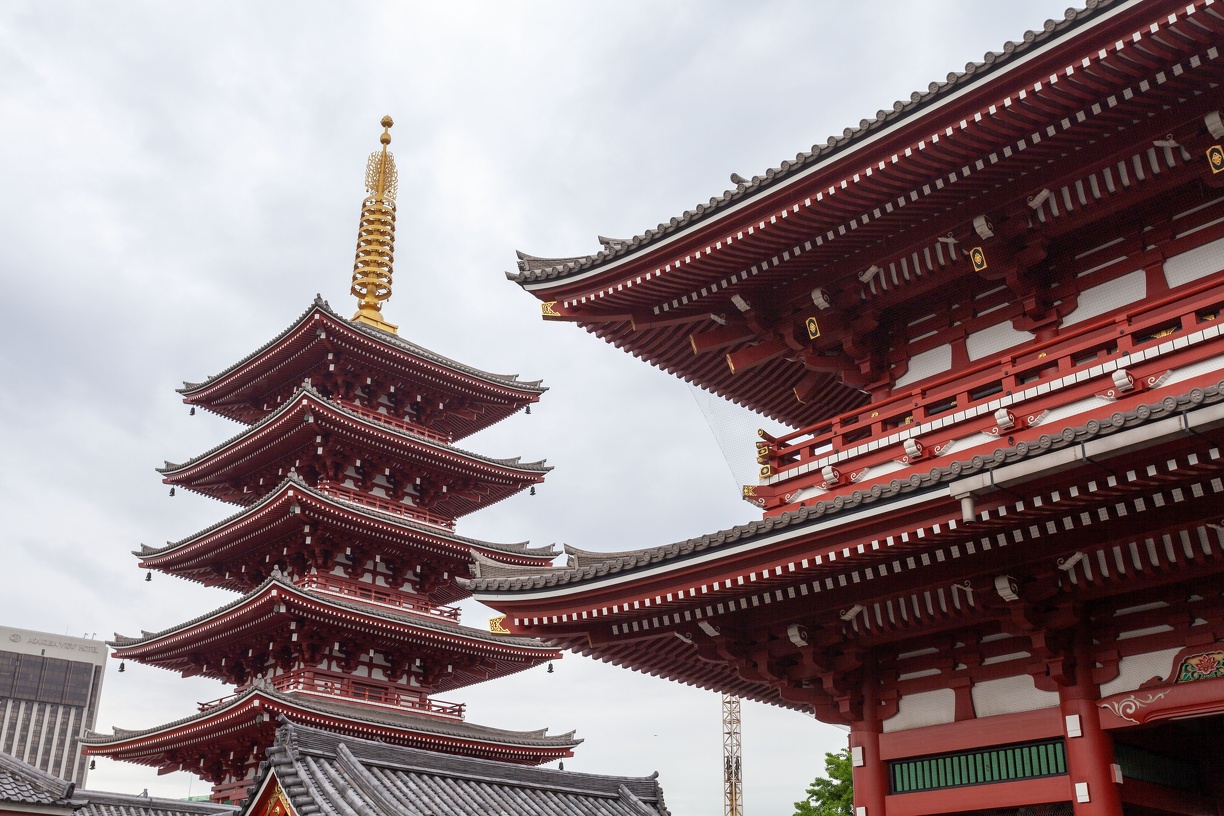 Hakone
Hakone is a geothermal area a little outside of Tokyo that is famous for its hotsprings (onsen). There's quite a bit of nature to enjoy there and if you're lucky you might even see Mount Fuji. If you choose to go there, consider buying the Hakone Freepass. It covers the cost of all public transport, as well as some attractions, in the Hakone Area for 2-3 days, depending on the version you buy it can also cover the cost of transportation from Tokyo.
On the shores of Lake Ashi you will find the beautiful little Hakone Jinja shrine located in the forest and a Torii Gate juste on the edge of the water.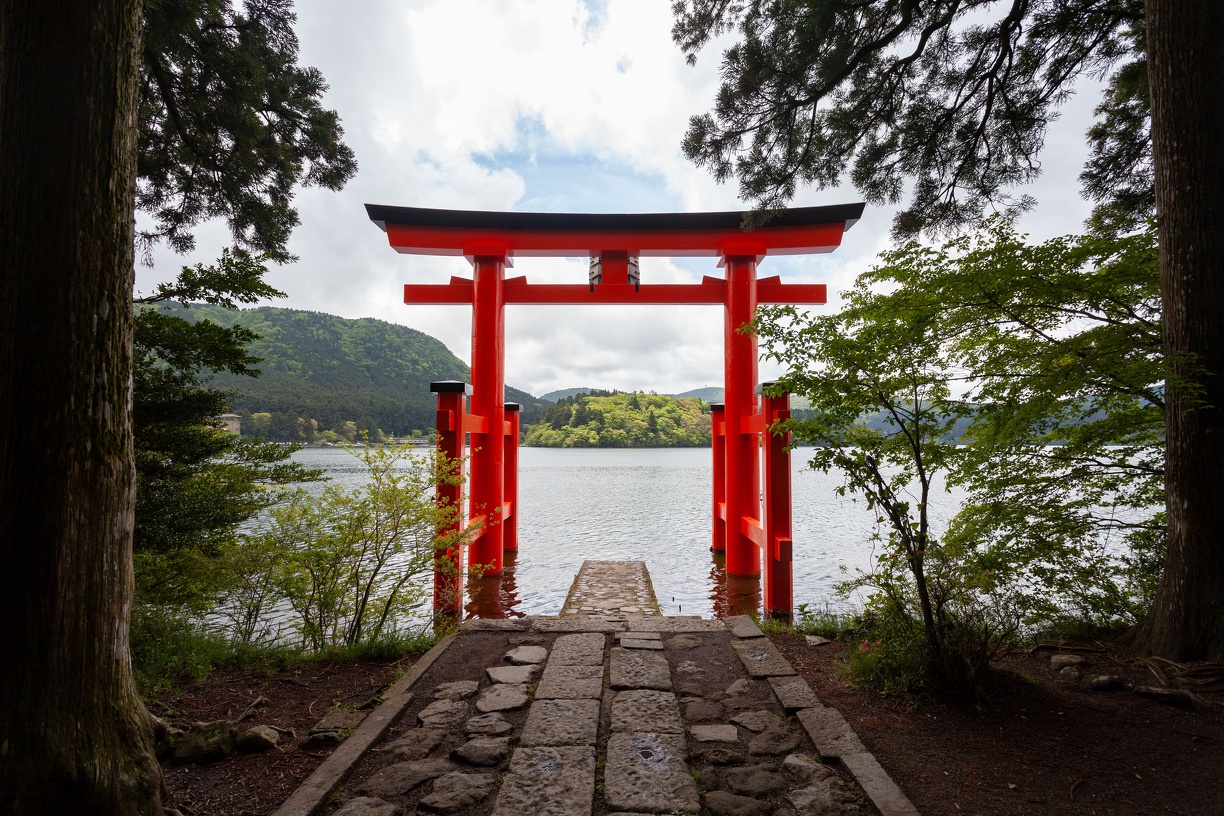 From there you can get to the north part of the lake using a tour boat, those are quite kitsch but they offer a nice view over the lake area and the cruise doesn't take too long.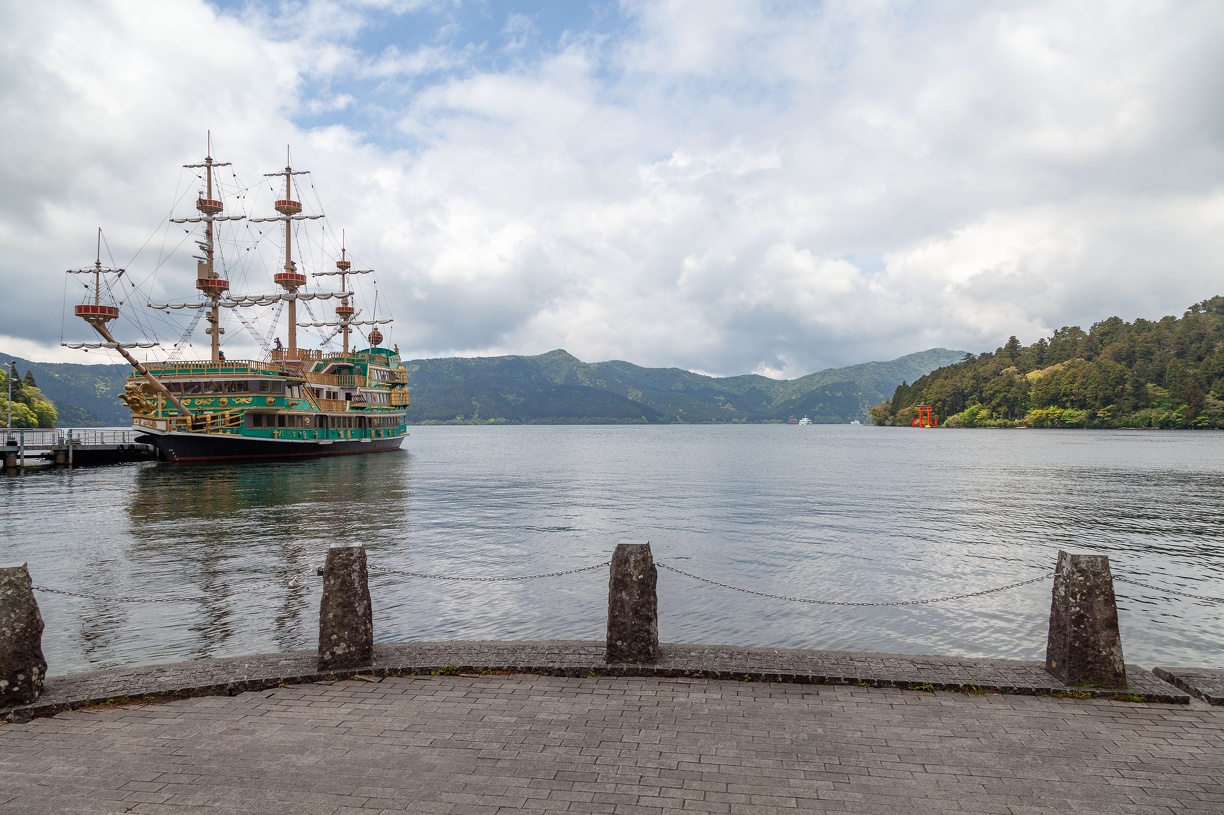 From there you can then take a cable car up the mountain to get to the volcanic area of Owakudani. Besides the obvious signs of volcanic activity you will also see a nice panoramic view over the whole valley.
The Hakone Open Air Museum is an open air sculpture museum located on the side of the mountain so the setting is really beautiful and you can enjoy the sculptures away from the crowds.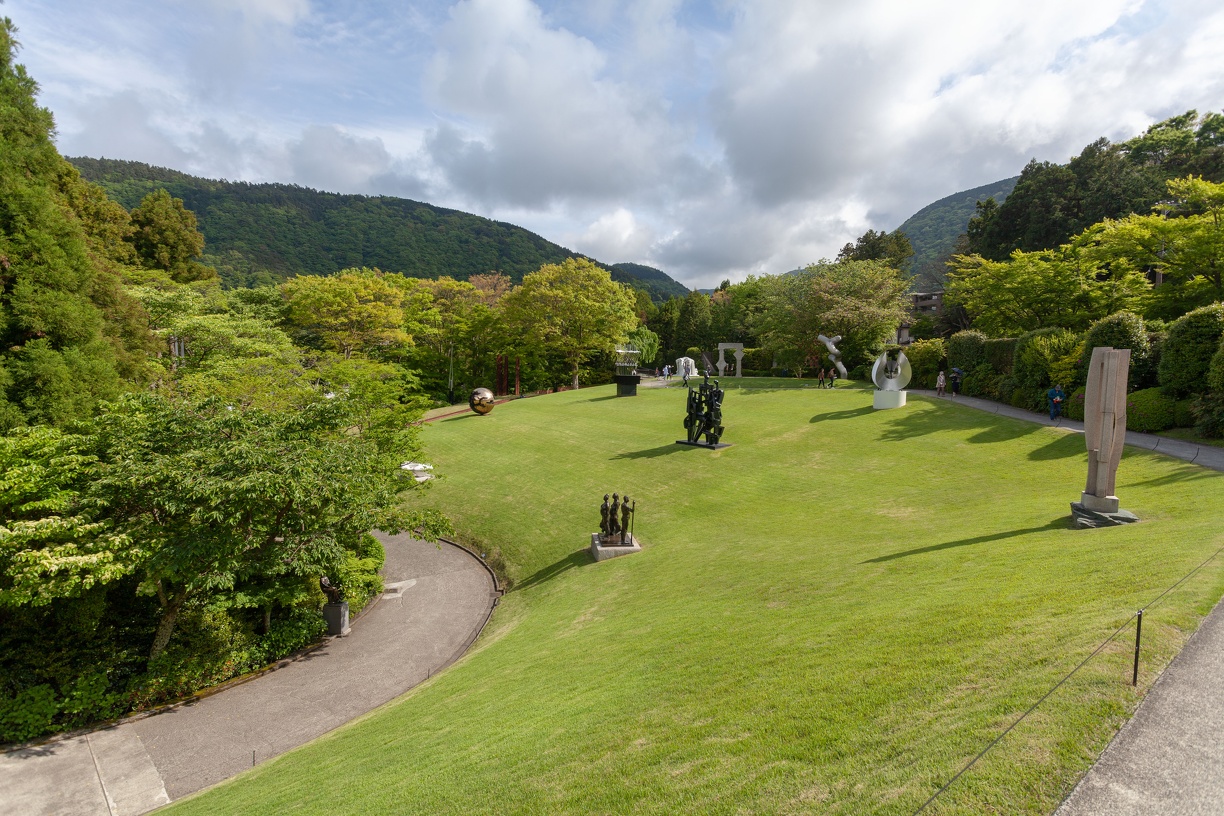 While I was in Hakone I figured it would be a good opportunity to stay in a Ryokan (a traditional Japanese inn). The one I chose was high end but it was certainly worth the cost.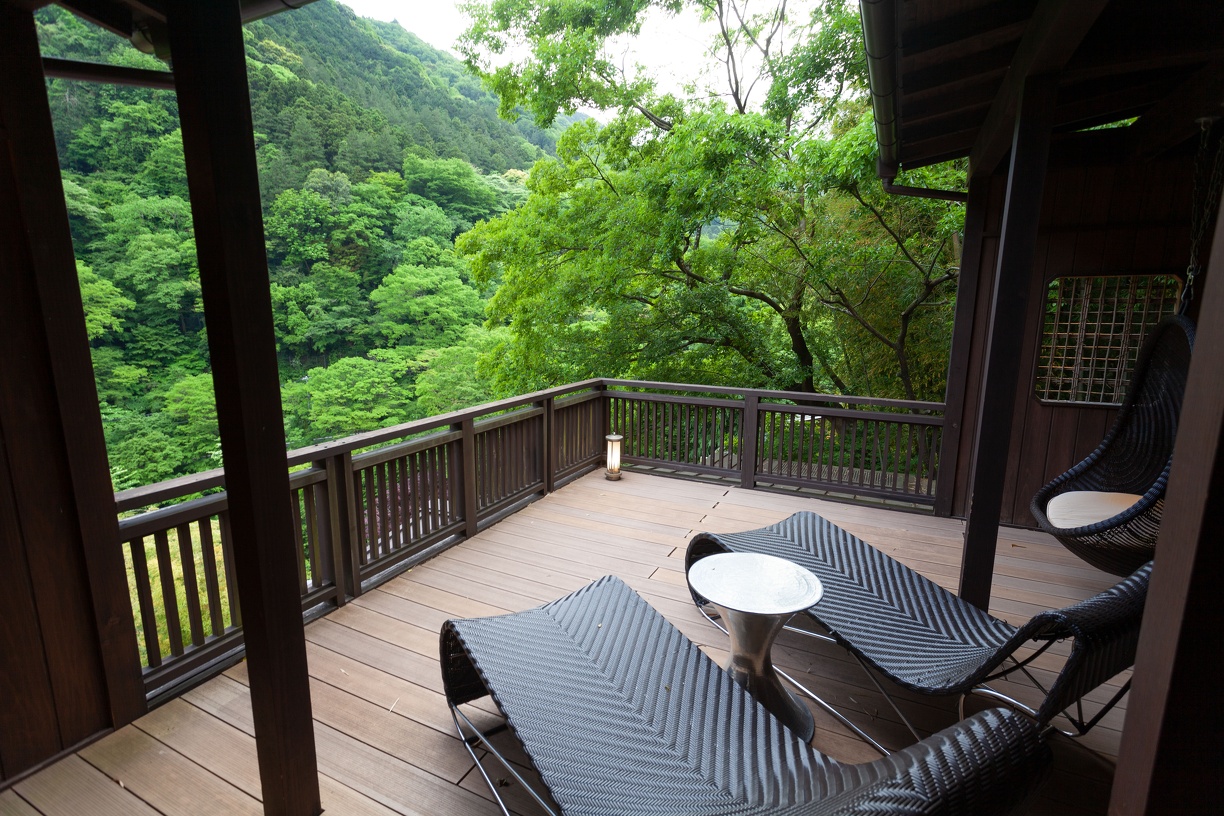 In a Ryokan you will get a much higher level of attention and service from the staff than you would in a regular hotel. For example the multi-course supper prepared by the local chef, as well was the breakfast, were served in my room by the staff person that was appointed to me.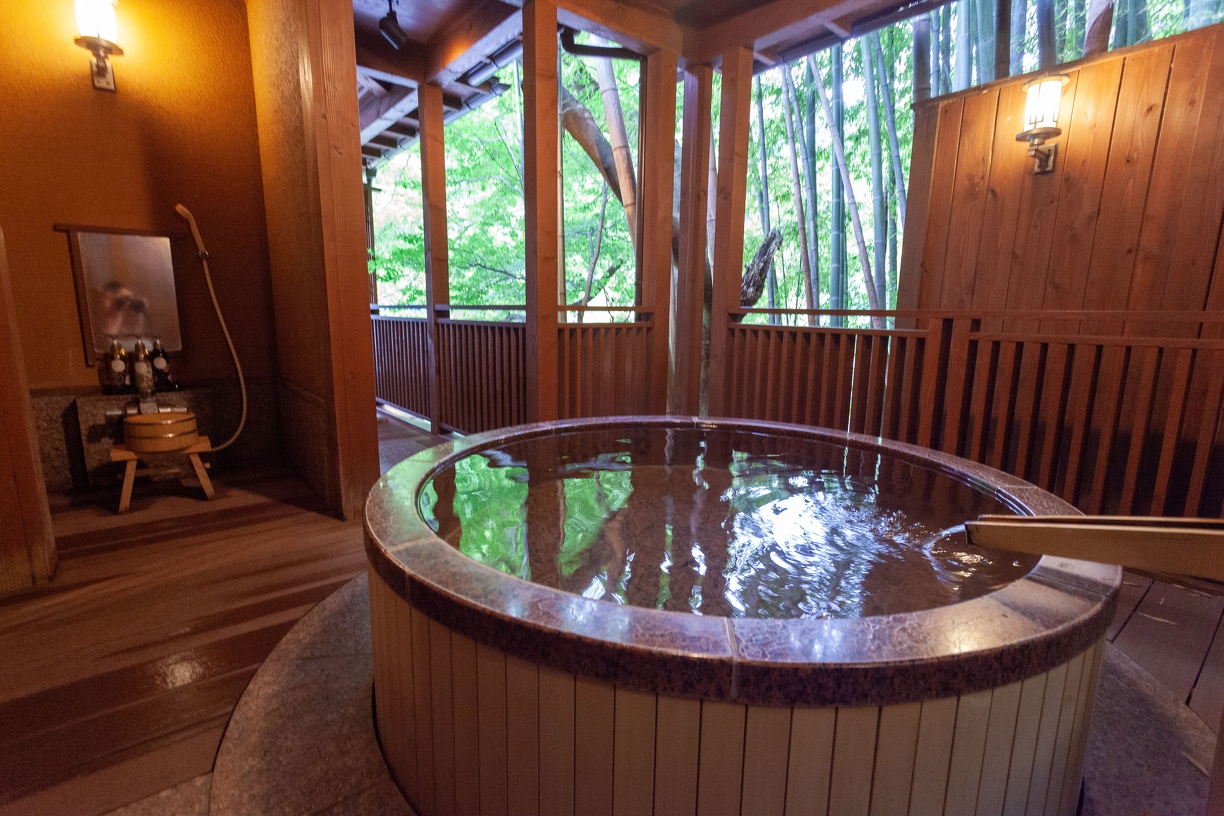 In my case I had a private Onsen with my room but there were also several larger public Onsen in the Ryokan. This was particularly relaxing after a long day of walking. Since the Ryokan was located on the edge of the forest, those Onsen were in a really beautiful and peaceful setting. The perfect opportunity to try out the traditional Onsen experience.
Kyoto
After Hakone I took the Shinkansen to Kyoto. The Shinkansen's speed is not particularly impressive if you have already taken the TGV or Thalys in Europe but the train itself is quite nice (for example the seats rotate so that you can have four seats facing each other when in a group). As usual they are quite clean and always on time so it is a really efficient way to get around Japan but it is not particularly cheap so if you're planning on a lot of Shinkansen trips then the JR Pass will become quite interesting.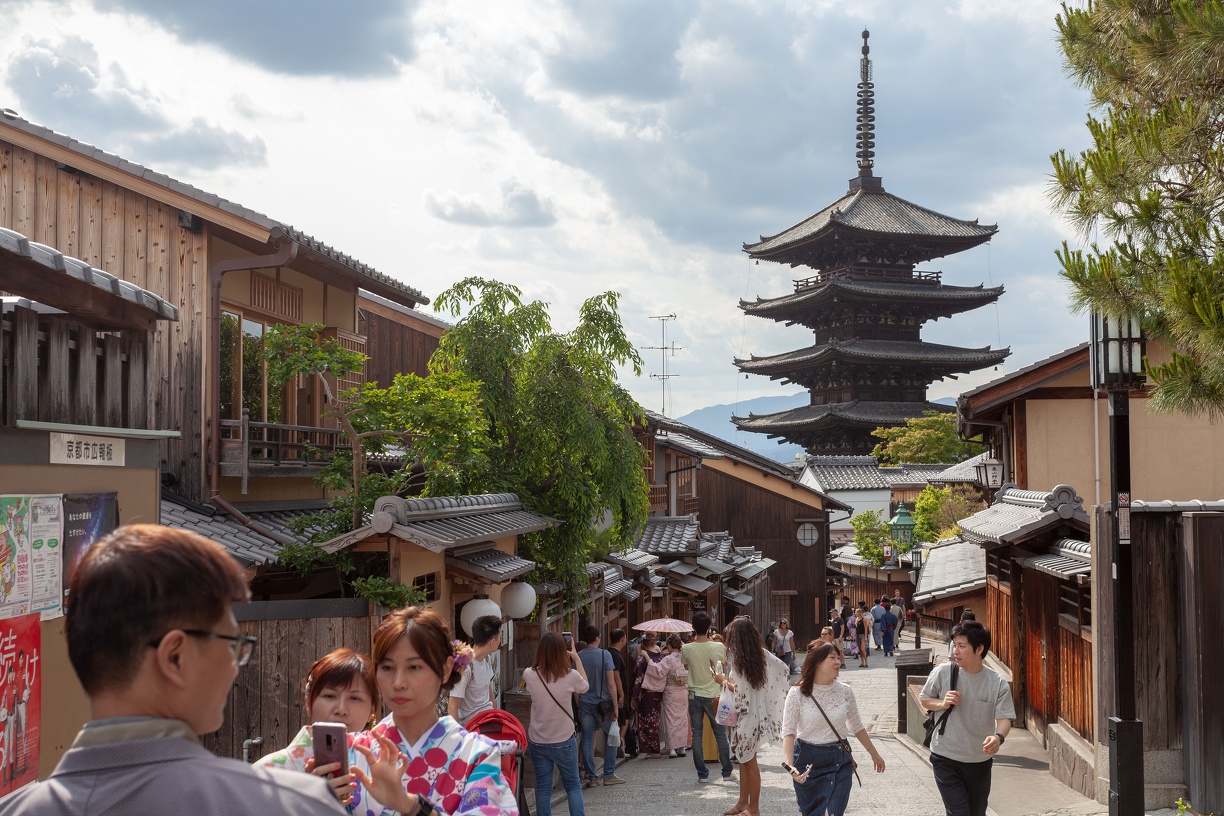 Tokyo and Kyoto are clearly quite different: while Tokyo is a very modern city with skyscrapers and a large subway network, Kyoto (the former capital) is a much more historical city where you can see a lot of traditional buildings. Kyoto is also full of temples and shrines but its subway network is quite small so you will have to use buses to get around, which is a little more complicated and time-consuming than the subway.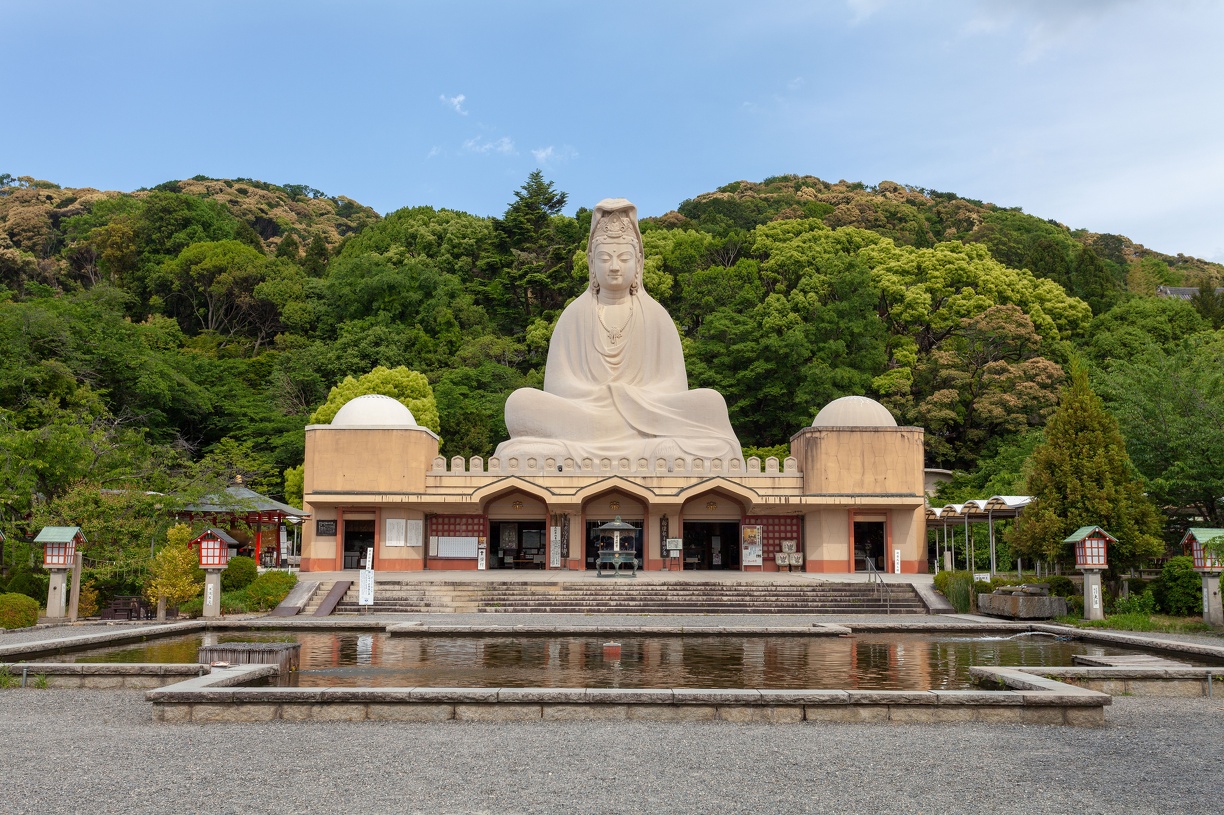 On the way to Kiyomizudera Temple you will see the streets of Ninenzaka and Sannenzaka with their traditional buildings full of restaurants and shops. There's a lot of crowds here but that is a common issue in Kyoto.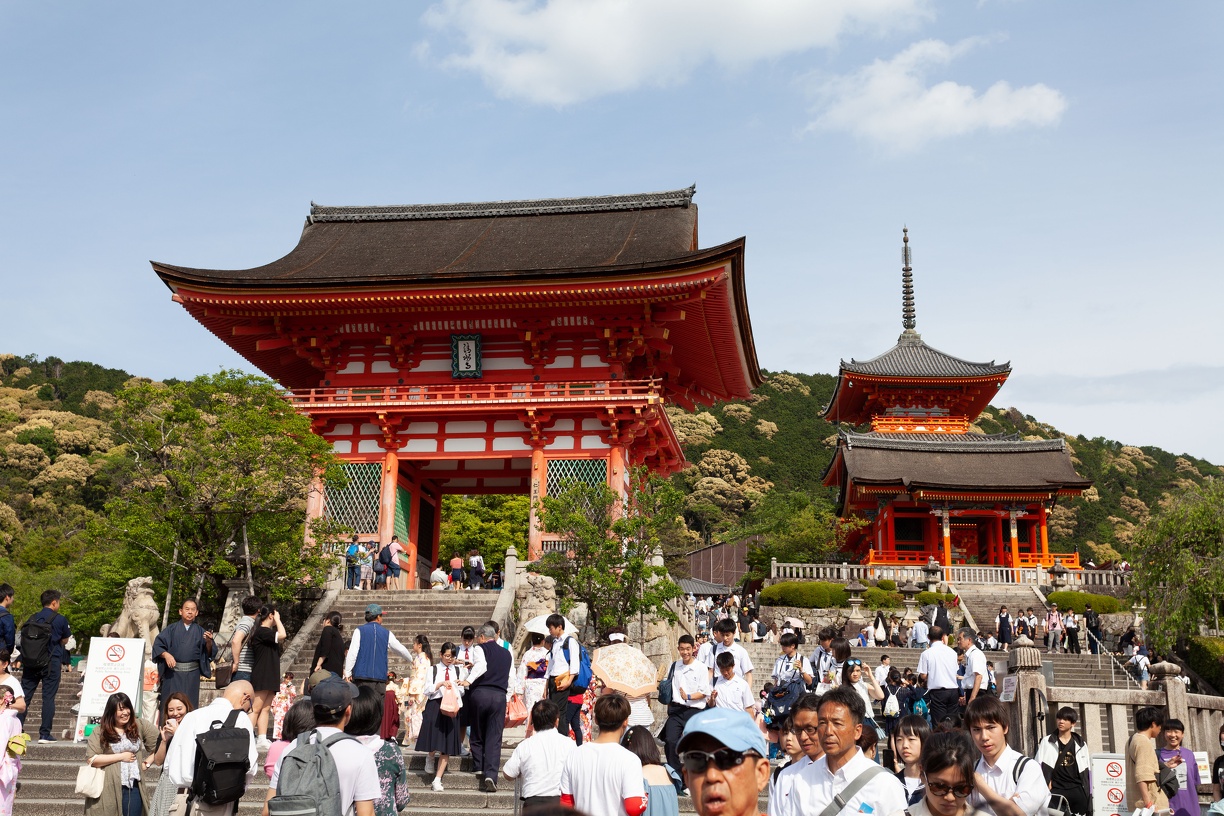 The Kiyomizudera Temple is located on the side of a mountain near the forest and offers a nice view over the city. Sadly the main building was undergoing renovations at this time so its exterior was hidden by scaffoldings, luckily the other buildings were also worth seeing.
While I was there I decided to try a Japenese Tea Ceremony since the Kyoto area apparently produces some good tea and matcha. Now keep in mind that the Tea Ceremonies that you will see offered to tourist are, at best, an introduction to the subject. They will explain the concept and the reasoning behind it but a full tea ceremony will last around four hours and will include a full meal as well as a walk in the garden. The whole point of the ceremony is to relax and enjoy the moment so it is not something that can be rushed.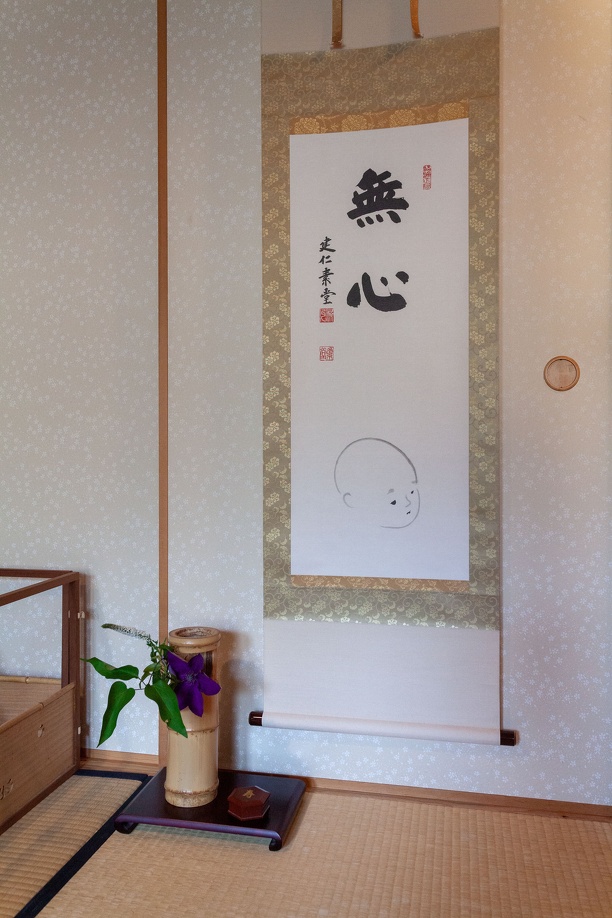 What you will get is only the tea (matcha actually) serving part of the ceremony.
In the Kyoto area you can also visit the Yamazaki whisky distillery. While not a traditional Japanese drink, Japan has quickly become quite famous for their whisky and those are sometimes hard to find abroad so it can be a good opportunity to do some tasting. Obviously you will also be able to visit distilleries for Sake, Shochu and Owamori if you prefer those.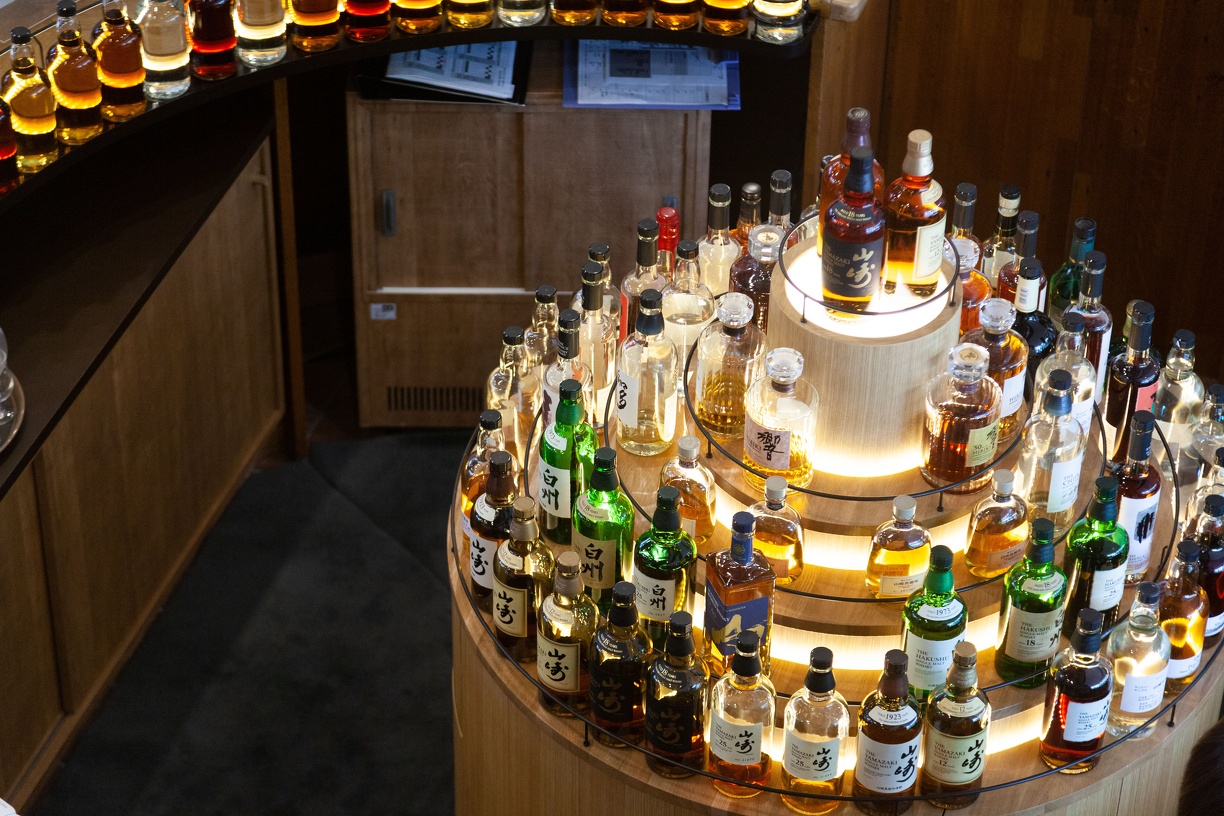 The castle of Fushimi-Momoyama is nice but not exceptional especially since you can't visit the inside and it's a bit far from everything else. There will be much nicer castles later so I'd say this one is very optional.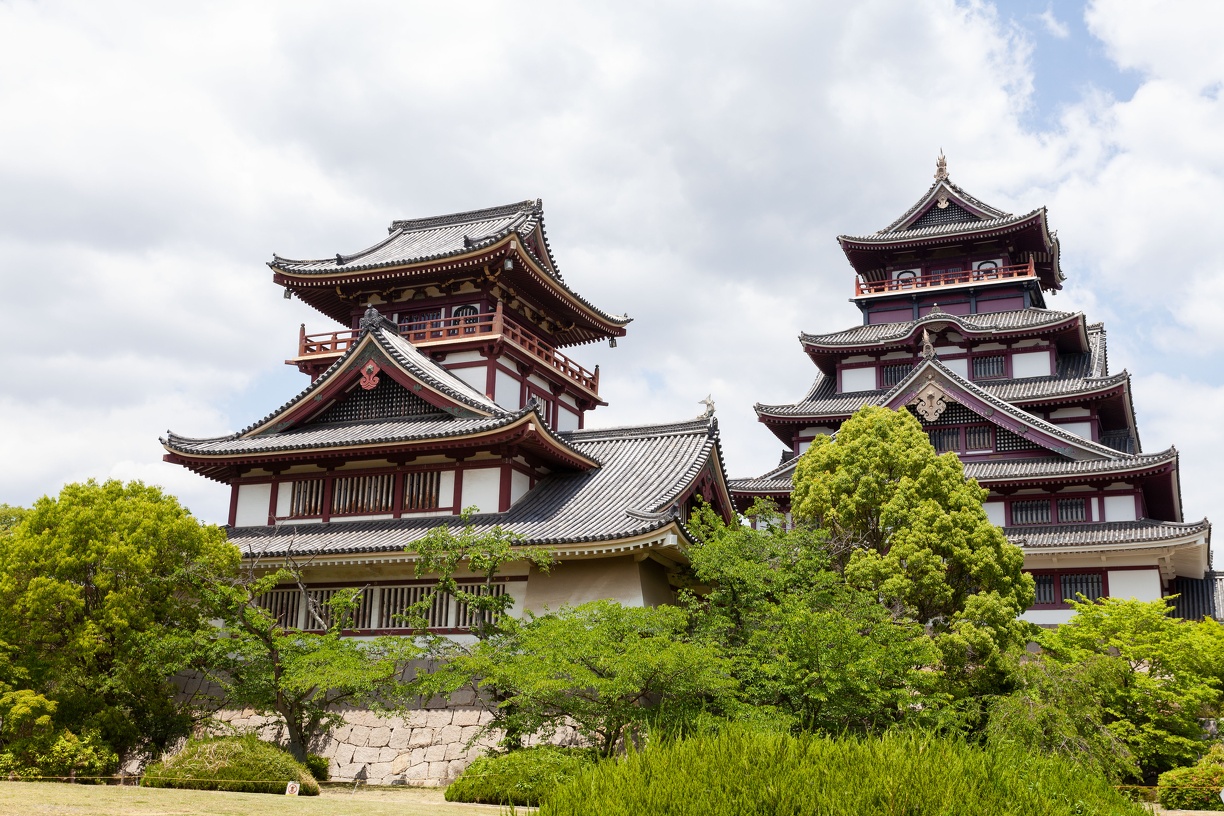 The Fushimi Inari Taisha Shrine is well-known for its path covered by Torii gates so you can expect huge crowds here. Luckily the path, going up the mountain through the woods, is quite long so after a while the crowds begin to thin out as people stop and go back. Even so it is difficult to get a photo without anyone in it.
I'd say that the Arashiyama Bamboo Forest is quite overrated, there's really not so much to see and once again there are large crowds in the area.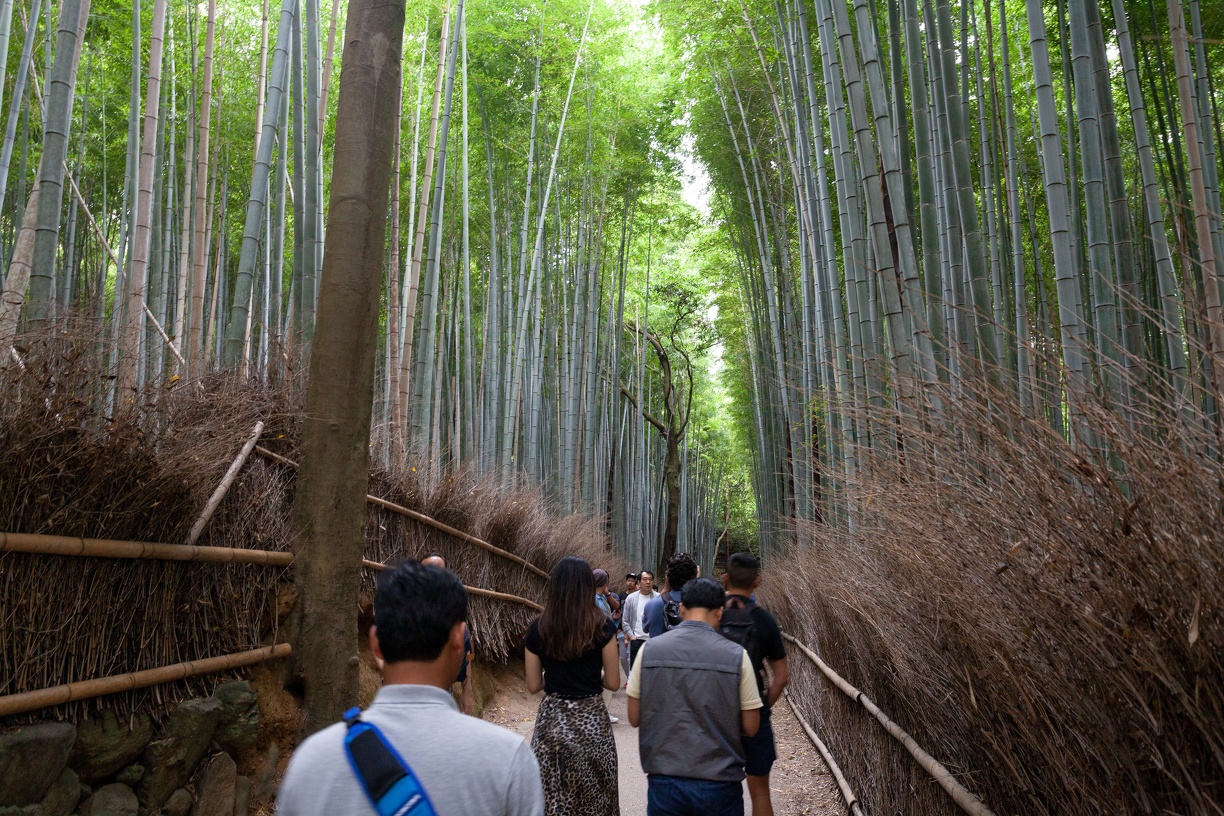 Even if you're starting to get bored of temples I'd make an exception for Kinkakuji and its beautiful golden building that really makes it stand out from the others.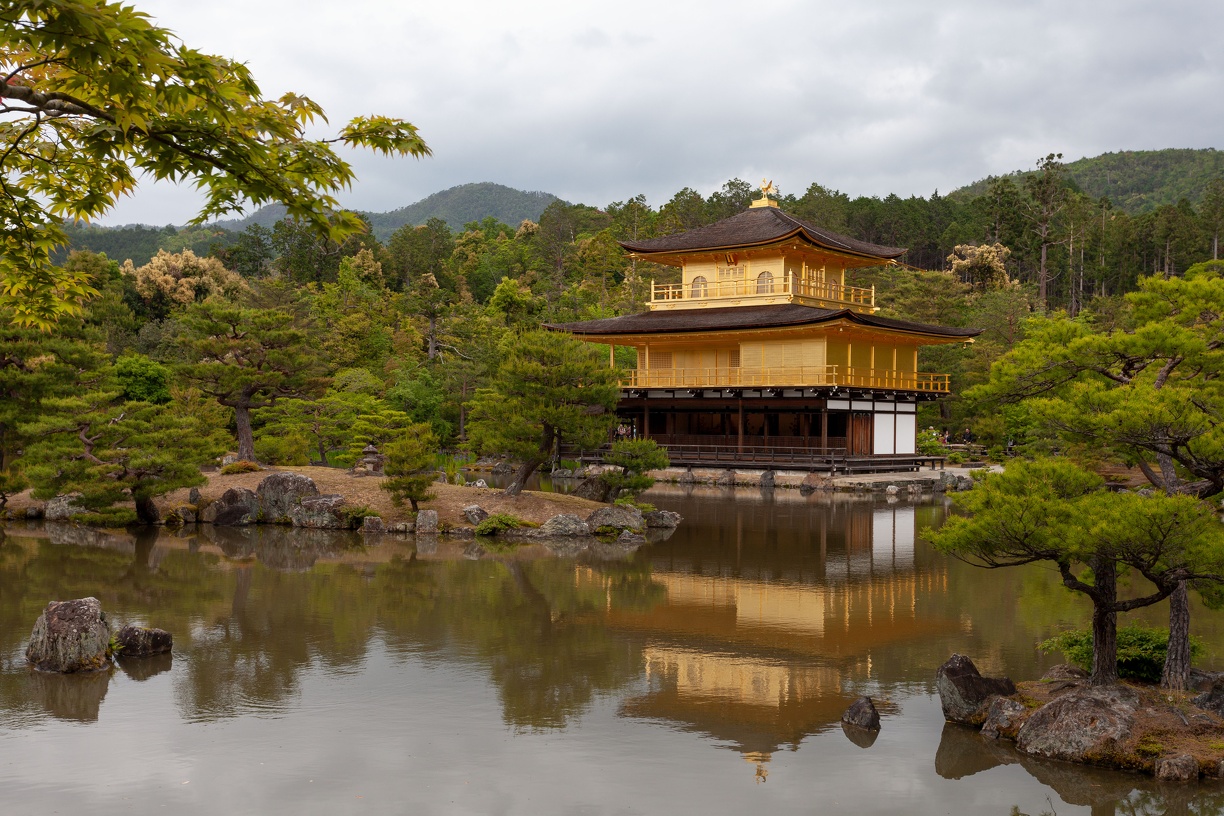 The Nijo Castle (former palace of the Shogun) is also worth seeing, although the exterior wasn't exceptional (partly because it was also undergoing renovations) the interior is accessible and is really worth a visit. The rooms are quite beautiful and you can see how the Shogun lived and ruled the country.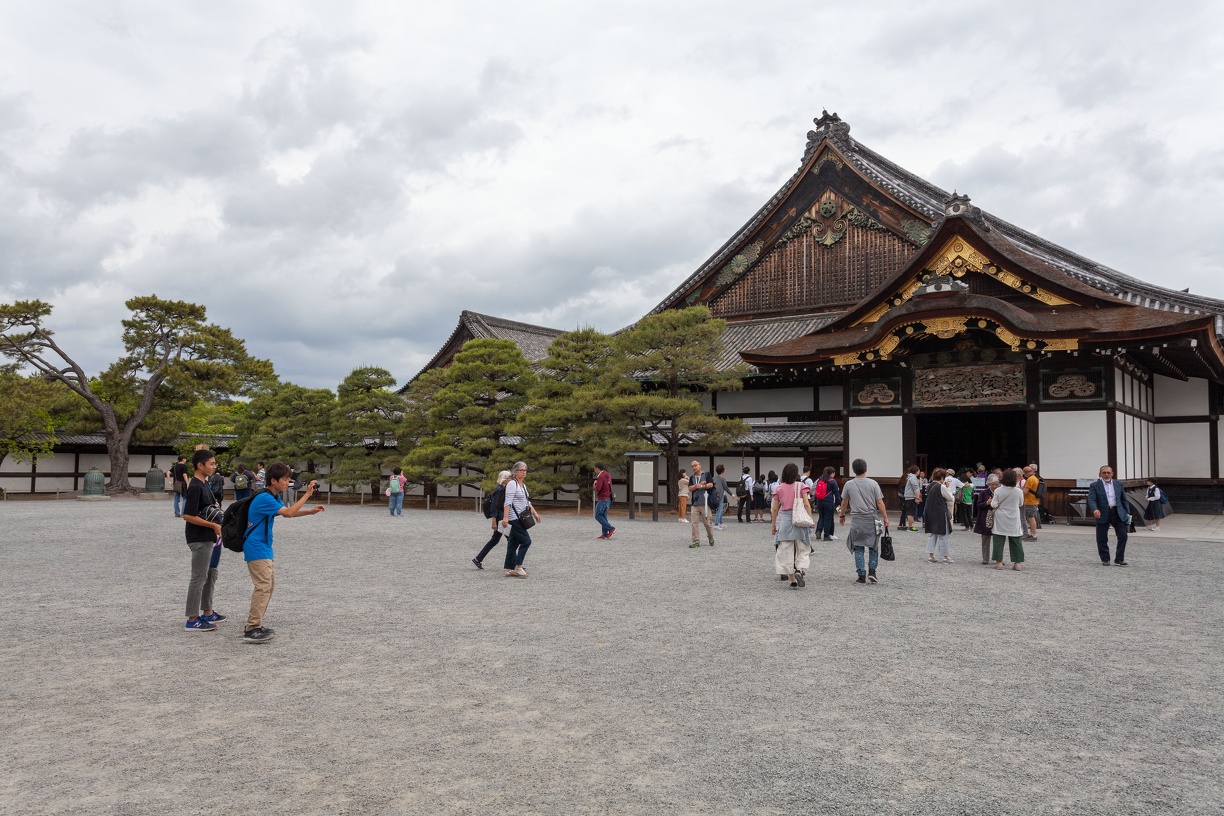 The Kamogawa river seems to be a popular place among the locals to relax or exercise, there are many restaurants along the river if you want a meal with a nice view.
If you're looking for a meal the small Pontocho alley also has a lot of restaurants in small traditional buildings. You might even see Geisha on their way to an appointment but keep in mind that they usually don't like to be photographed (and sadly some tourists can't seem to accept that).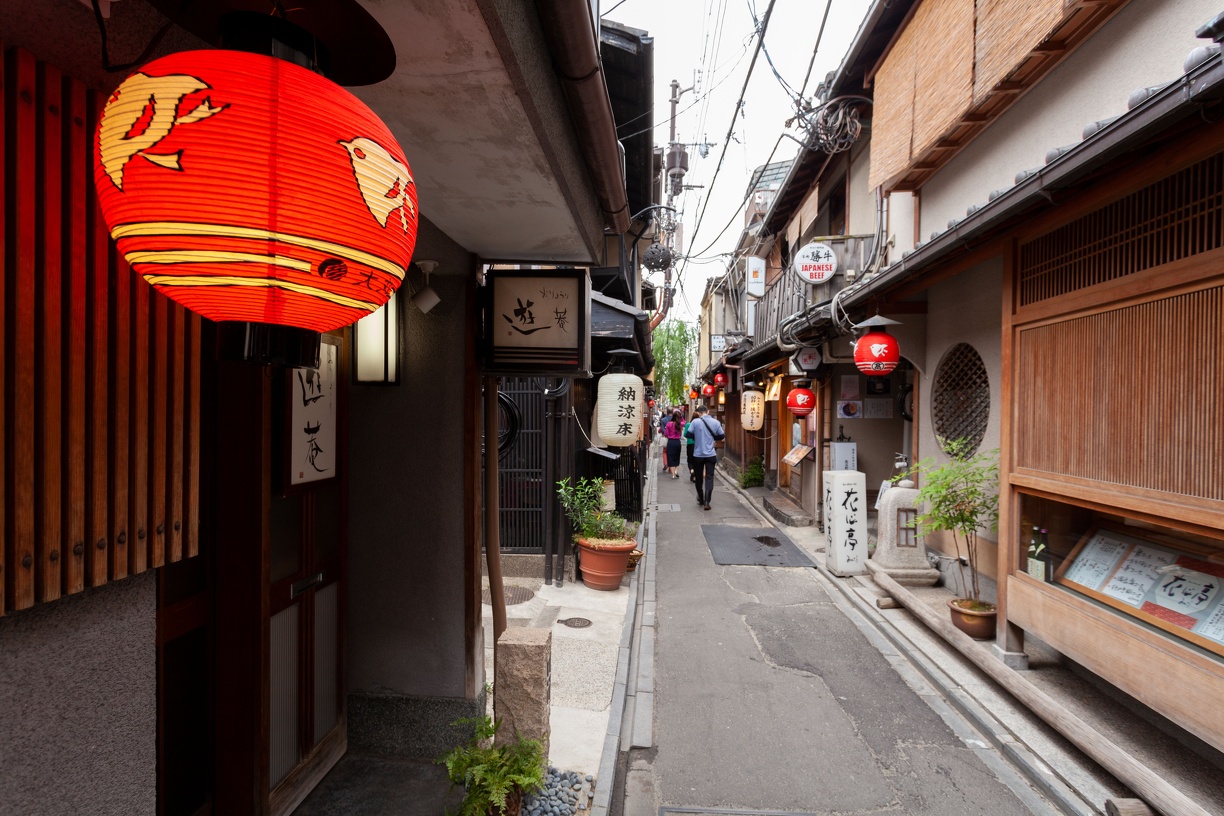 Osaka
Osaka was my next stop after Kyoto but they are quite close to each other so you could stay in either one and simply take the train to the other you if you wanted.
Osaka itself looks more similar to Tokyo than Kyoto and it is apparently well-known for its food so this is a good place to try some Okonomiyaki if you haven't already.
Osaka has an Open Air Museum of Old Farmhouses but it's a little outside the city so it's not particularly worth visiting unless you want to learn more about the lifestyle of the common people back then.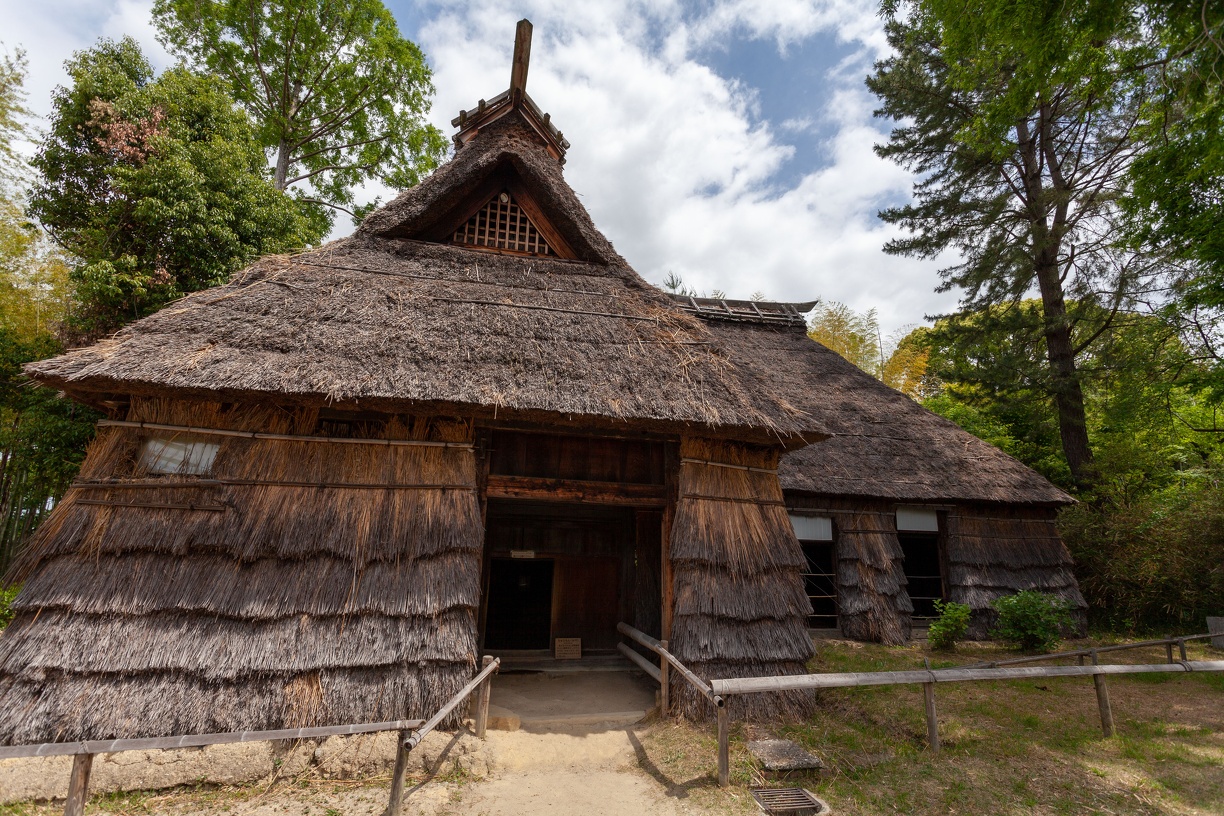 The Museum of Housing and Living is similar to Edo Tokyo except here they rebuilt a small neighbourhood where you can walk around (dressed in a kimono if you want to). Sadly not much is translated in English so you won't learn a whole lot.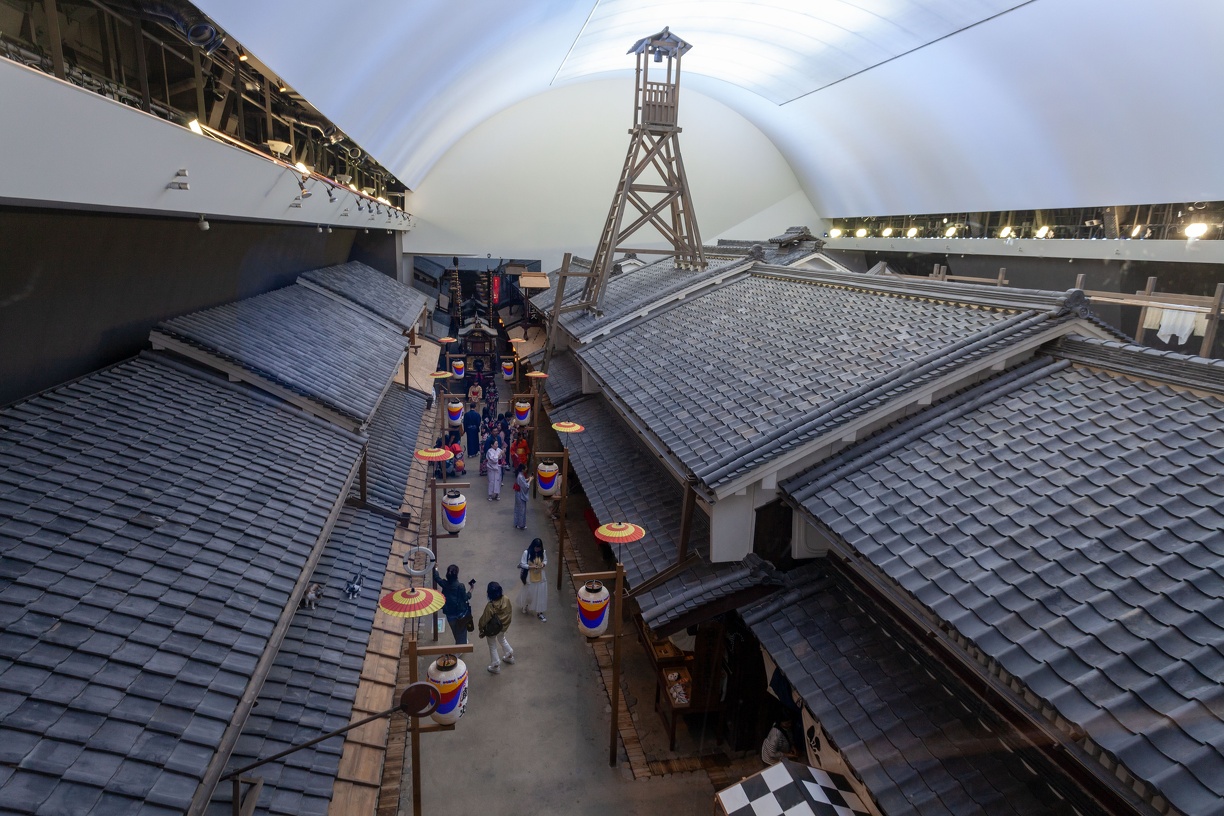 Osaka Castle is absolutely beautiful and you can even visit the interior and go to the top where you'll get a 360° view of the surrounding area.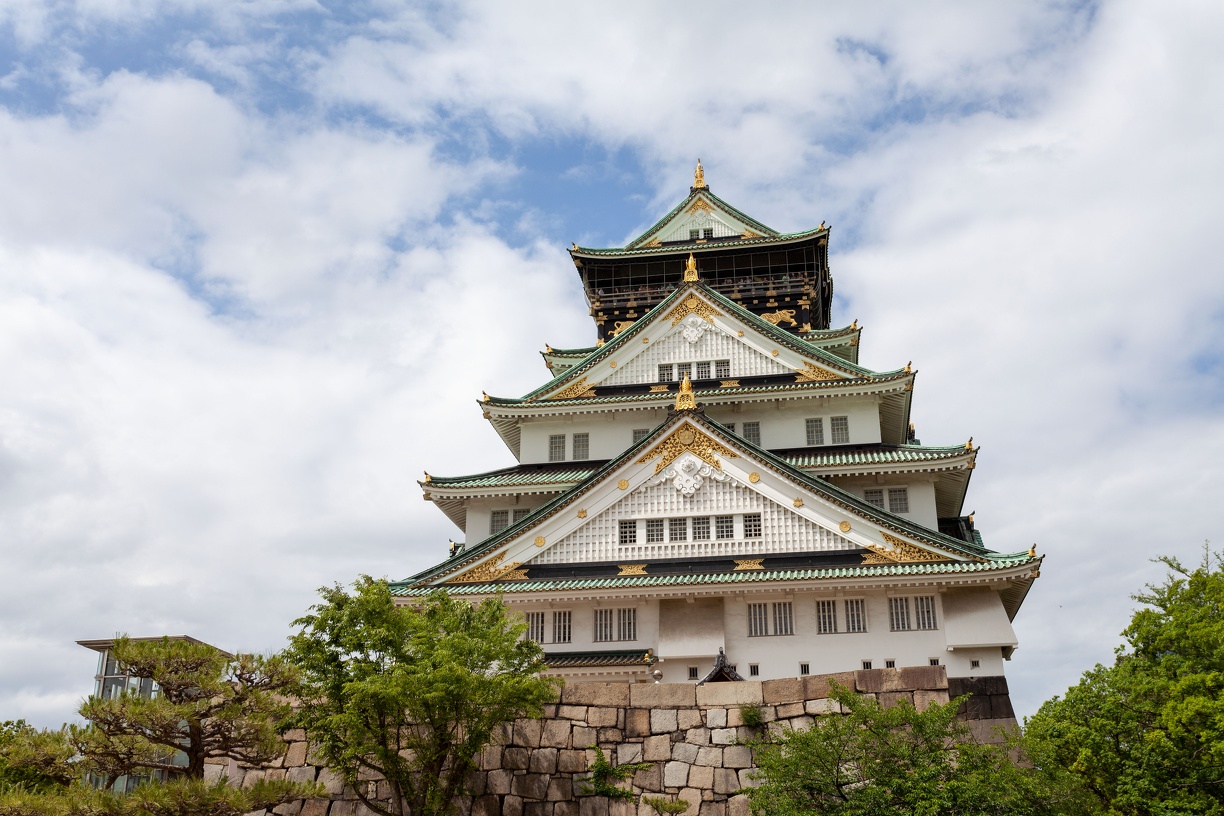 The interior, which holds a museum about the history of the castle, has unfortunately been entirely renovated and looks like any normal modern building. This seem to be a common issue with many historical buildings in Japan: they are extremely well maintained but they seem to have been renovated so much that not a single original piece is left. This is not necessarily a bad thing but it is a very different approach than what we do with European castles. On the other hand, Japanese castles were made of wood so most of them have burned down several times over the course of history anyway.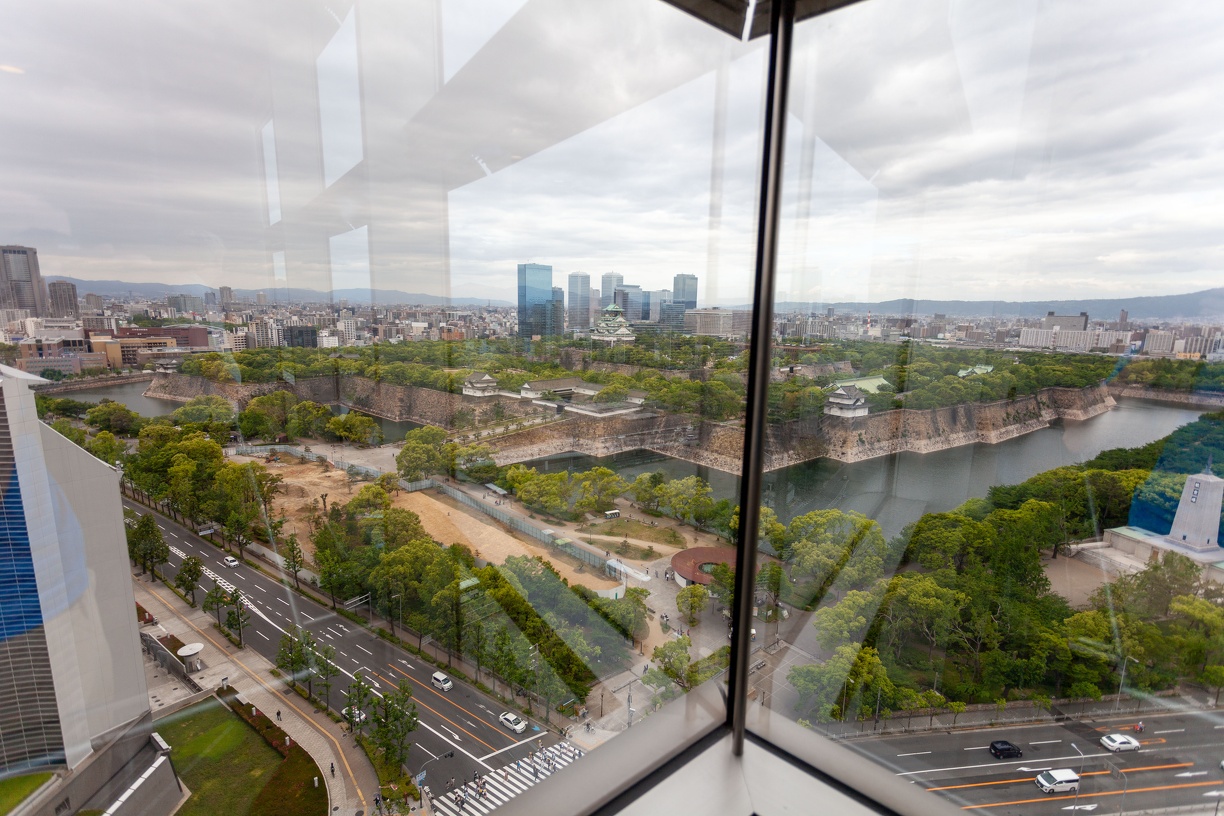 Next to the castle is the Museum of History which is nice without being exceptional (we feel once again the lack of translations) and offers a nice view over the castle and the surrounding area.
The Shitennoji Temple is one of the very few temples that are not full of tourists so it can be a good option if you want to get away from the crowds.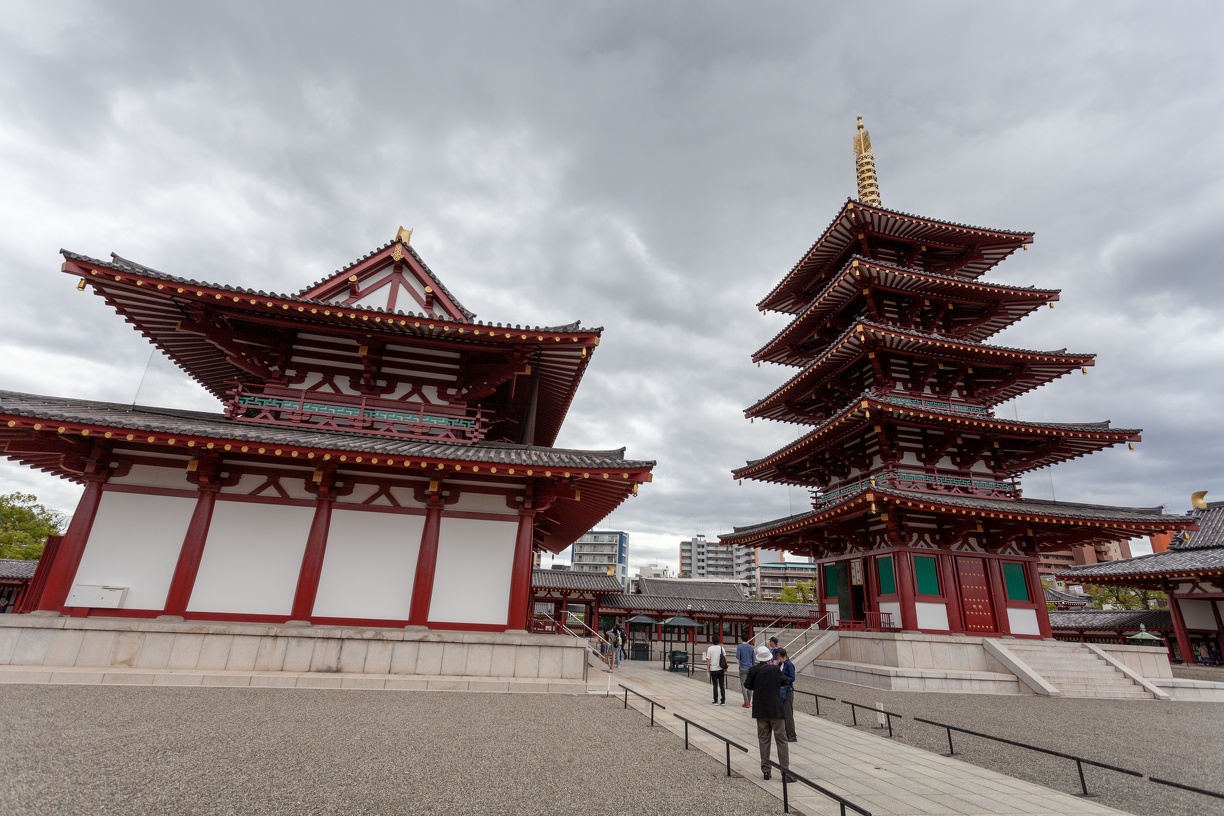 The Sumiyoshi Taisha Shrine is also quite peaceful and worth seeing, in particular its beautiful curved bridge.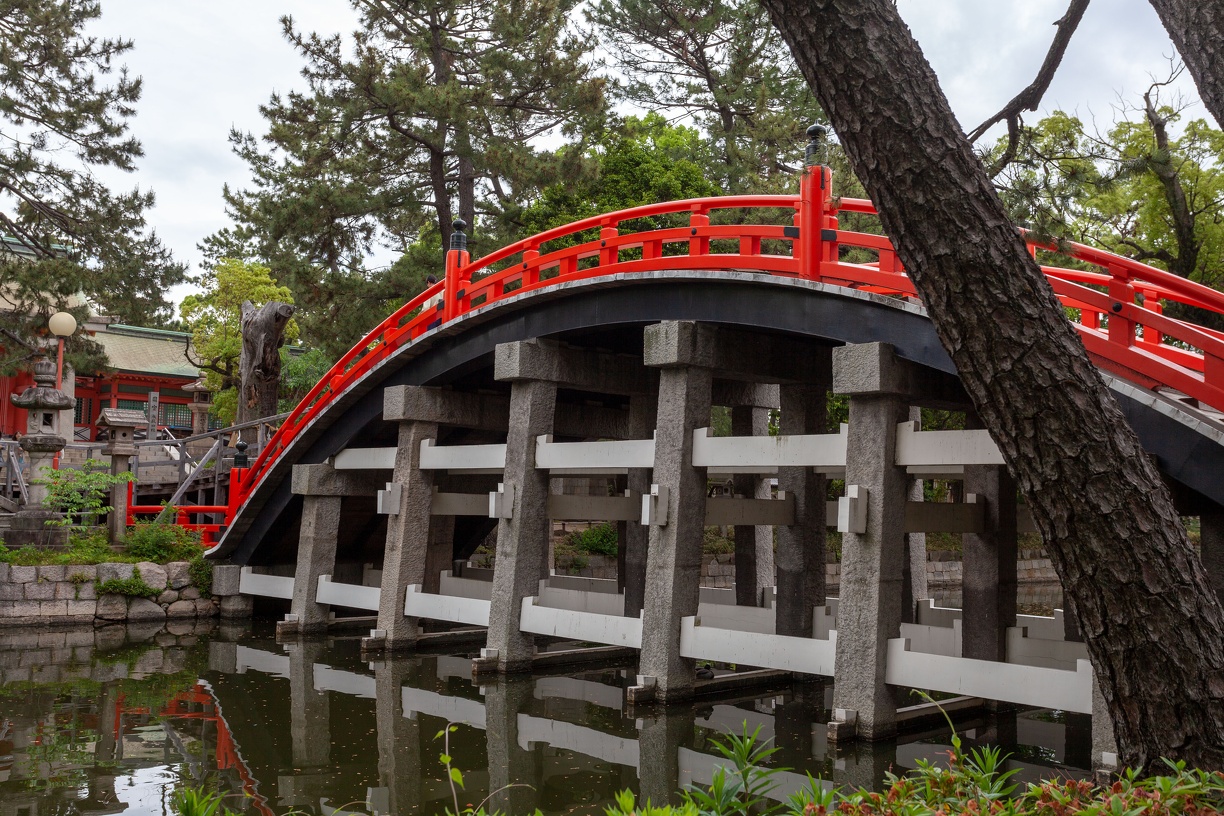 The neighbourhood of Dotombori is full of shops and restaurants, as well as buildings covered by huge advertising screens alongside the canal. It was raining while I was there so it looked like something straight out of Blade Runner.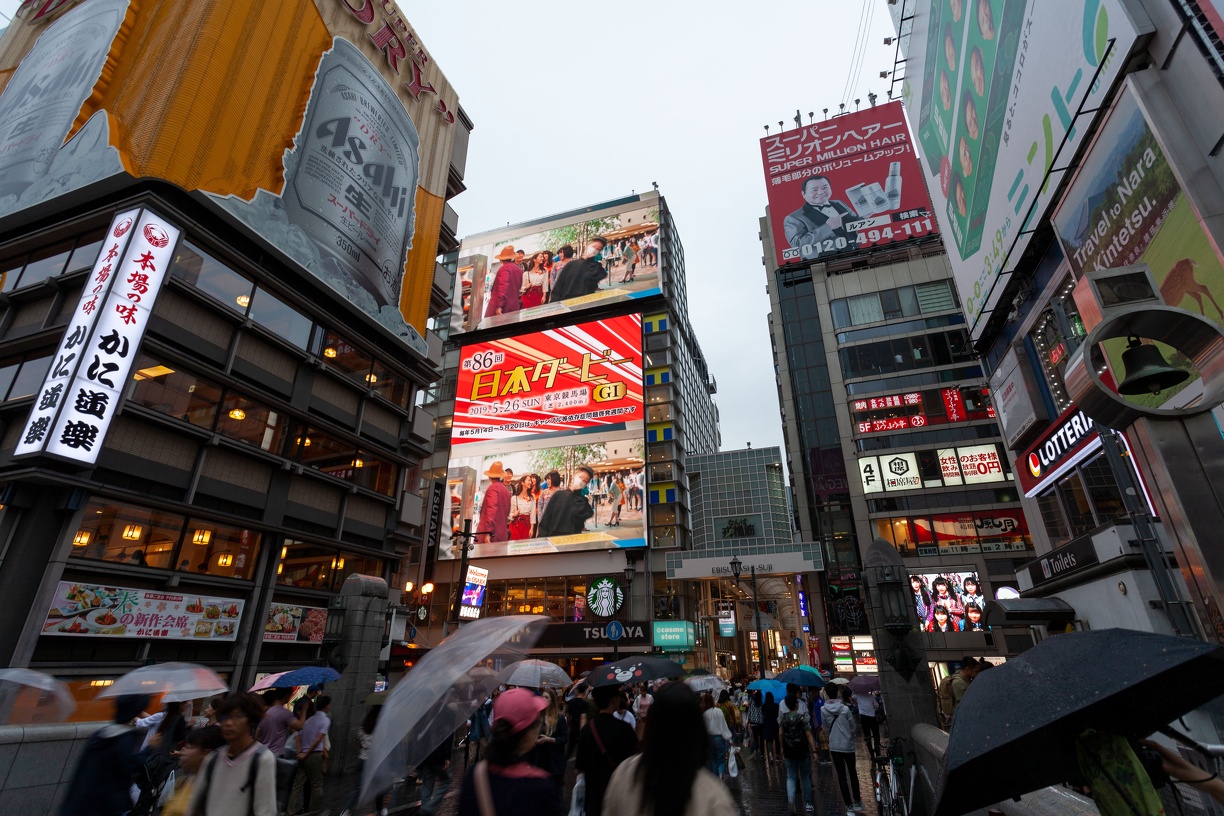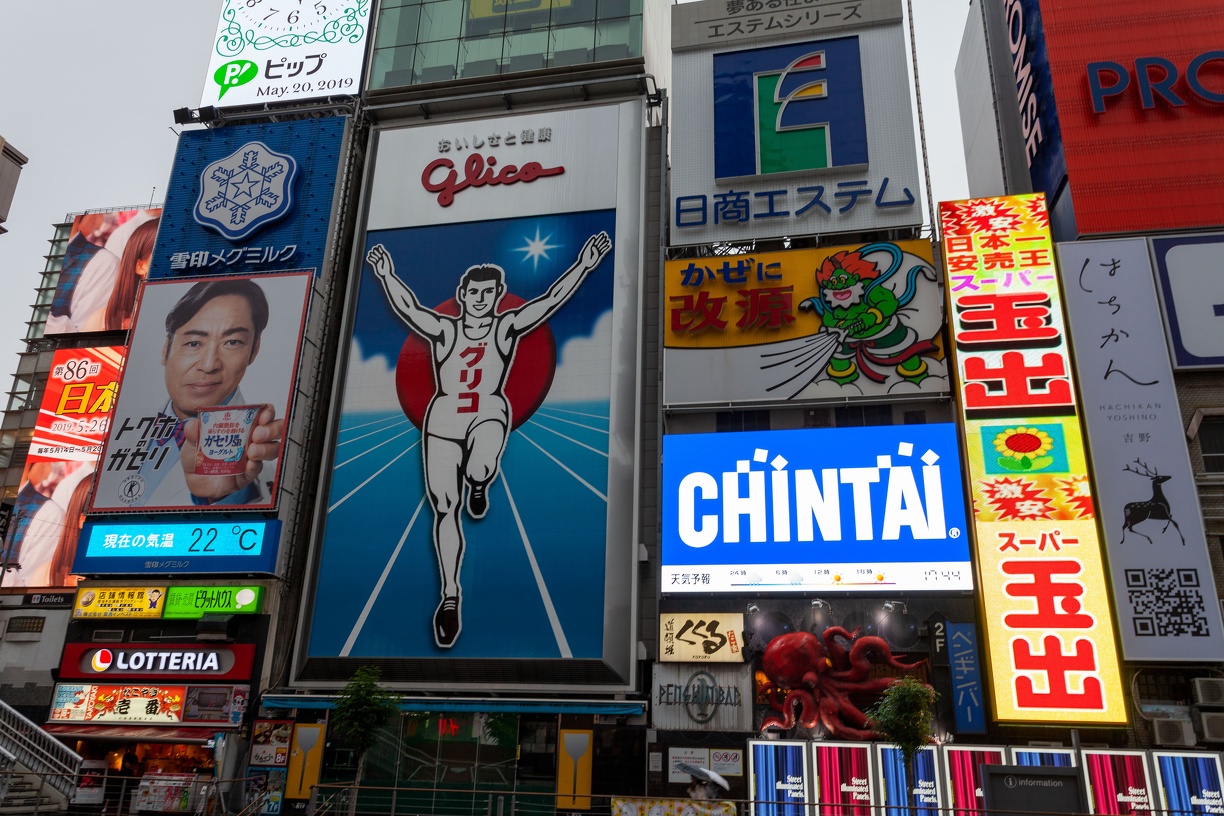 Himeji
Himeji is not far from Osaka so I went there as a daytrip. Himeji is famous for its castle. It is by far the largest and most impressive castle I've see during this trip and also one of the most beautiful.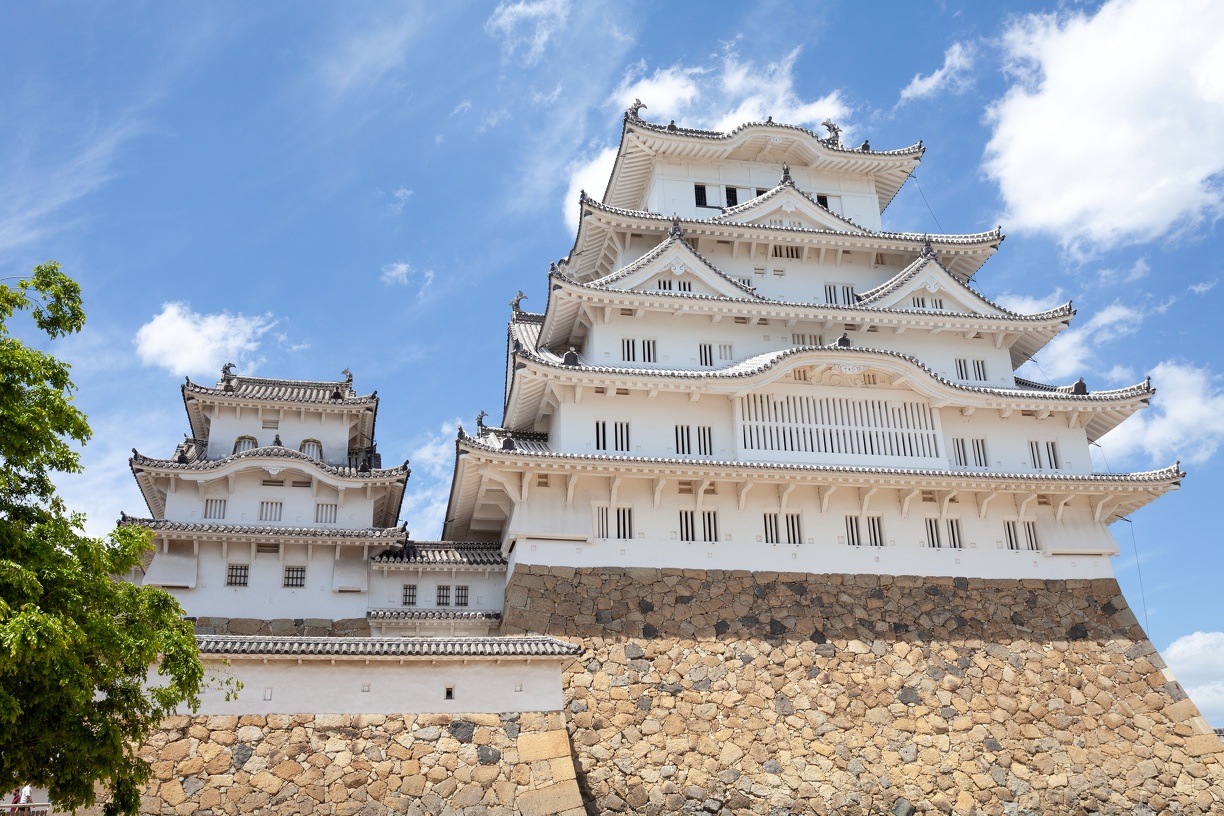 Here you can walk around the grounds of the castle, go through the battlements and visit the interior of the castle. This time the interior has been kept in its original layout so you can clearly see that this was above all a military structure (unlike Nijo Castle which was also a place of government).
There is a Museum of History nearby but there's not much to see in the permanent exhibition and while the temporary exhibition (Japanese paintings) was nice it was quite expensive considering that nothing was translated.
Still in the same area is the Kokoen Garden, a nice Japanese garden that is a good place to relax for a bit after your visit of the castle.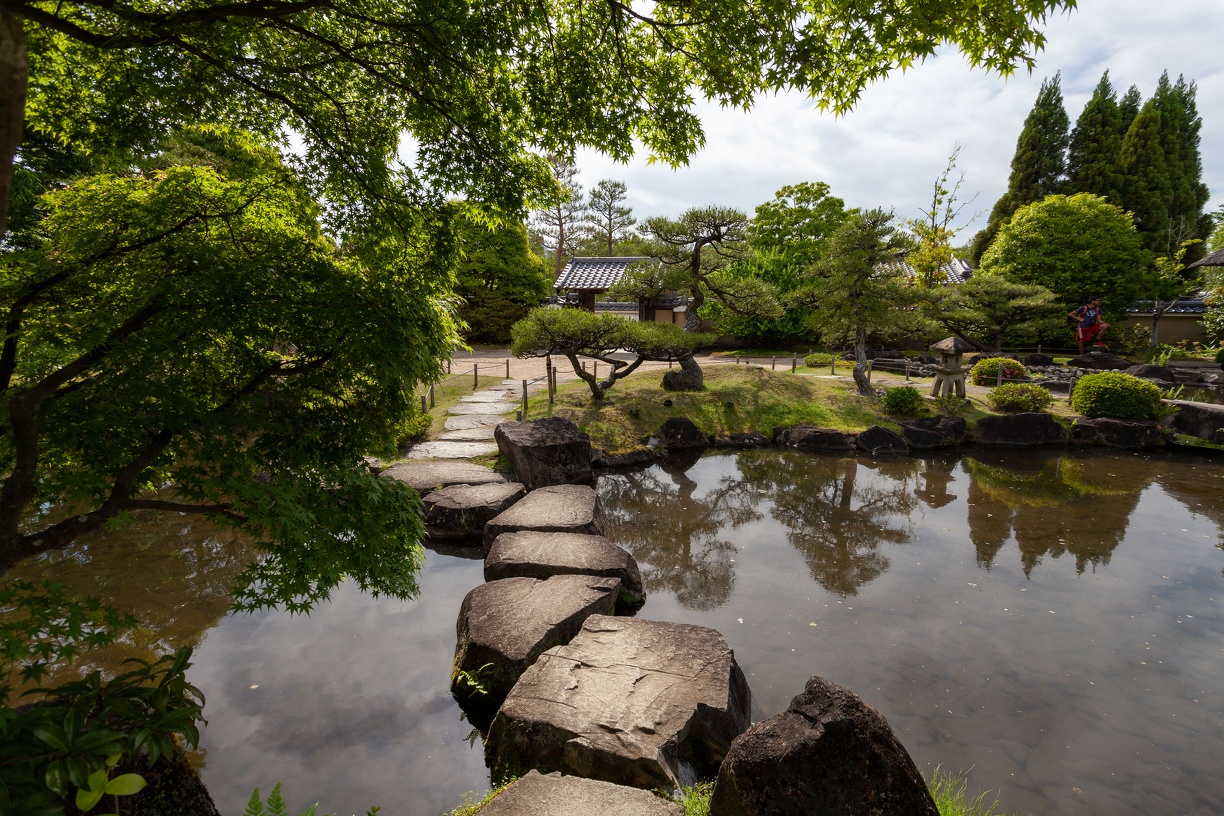 Nara
Nara is also close to Osaka so I did it as another daytrip from there. Nara is famous for its deer and you will indeed see them everywhere, be careful if you have food because they are not shy!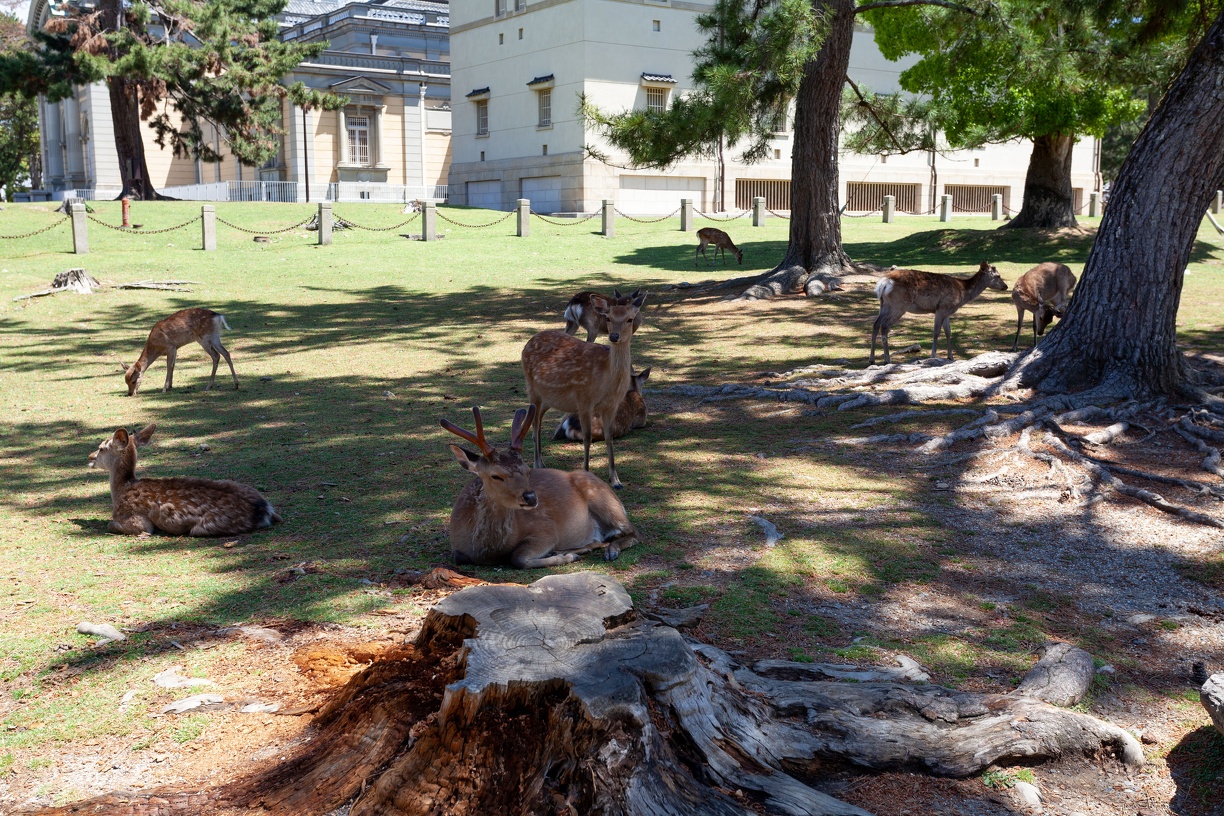 The Nara Park contains several temples as well as the National Museum which has an impressive collection of Buddhist statues. Sadly photos are forbidden but it was worth visiting, you can still see some painting on the statues which shows that they were certainly quite colourful when they were made.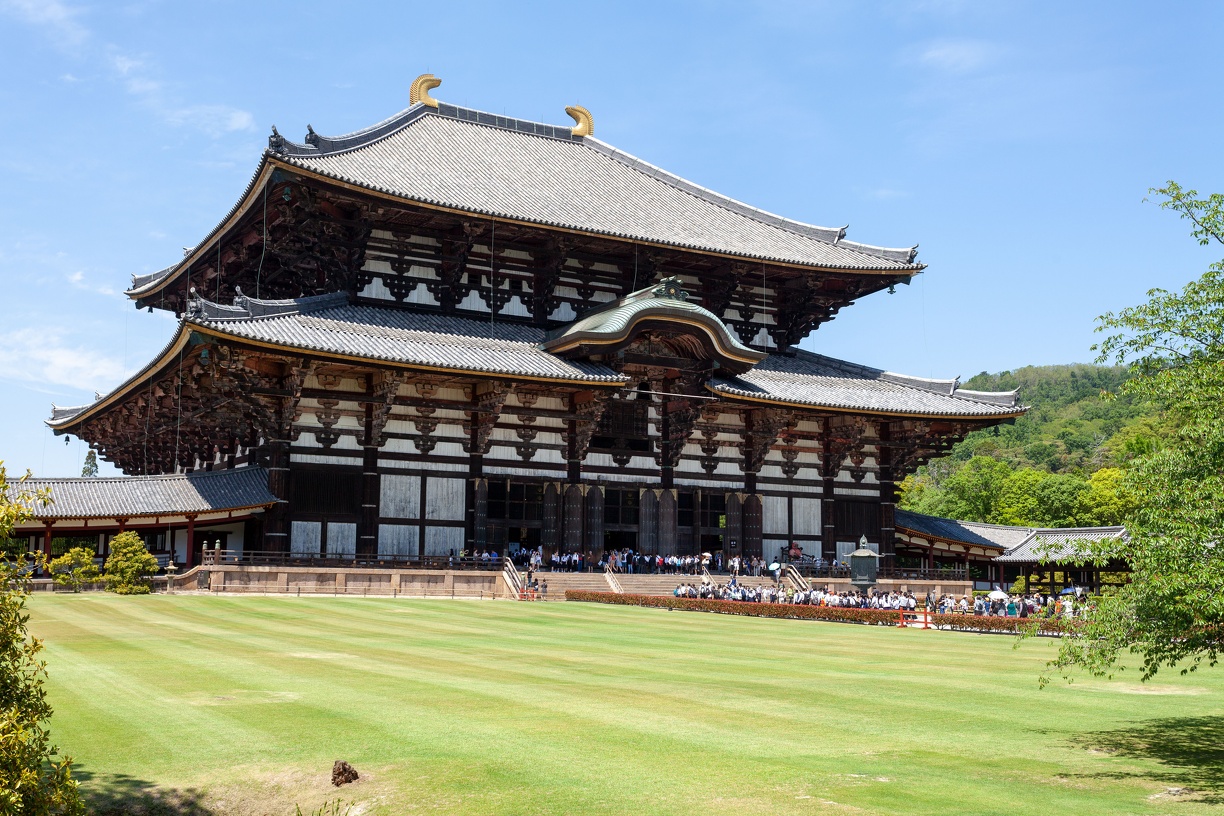 The Todaiji Temple is also a must-see, not only is the building itself magnificent but it contains several gigantic Buddhist statues (where, for once, photography was allowed).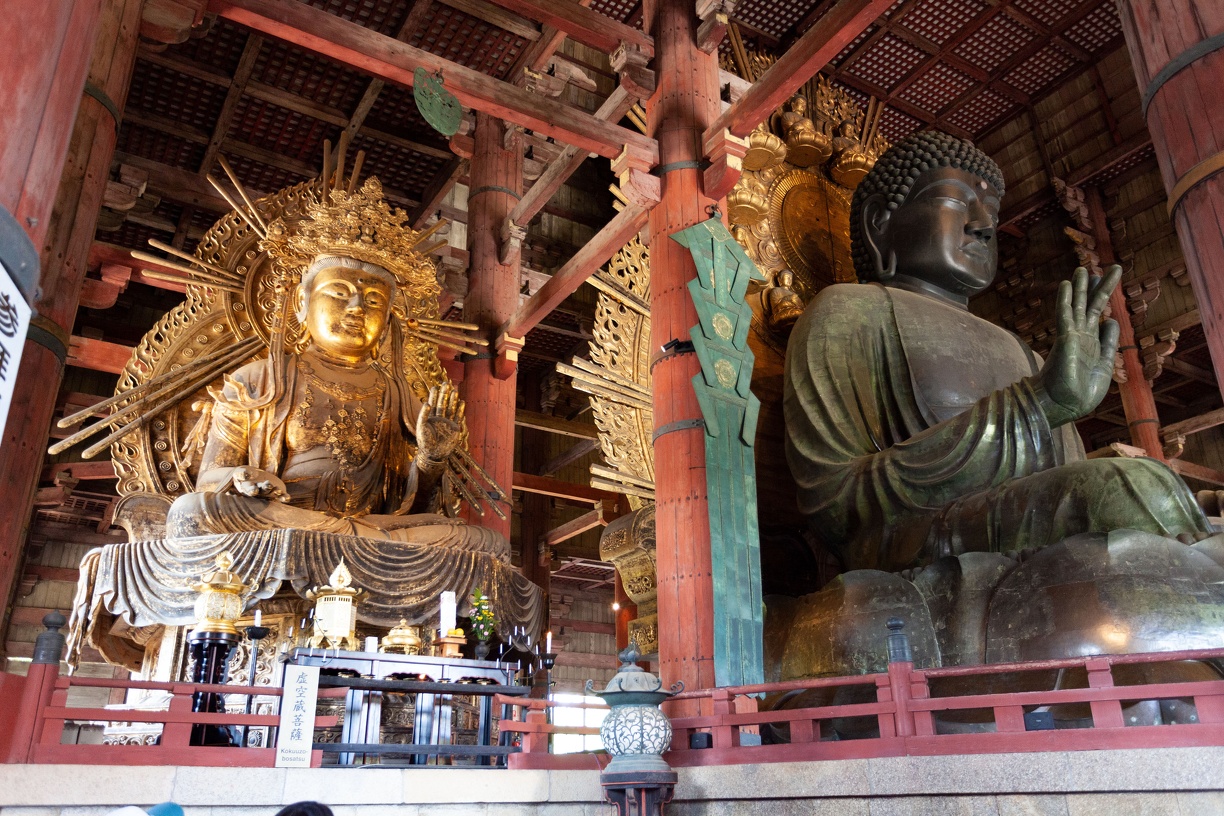 The Kasuga Taisha Shrine is quite colourful and since it's closer to the forest it offers a nice walk in the shade during a hot day.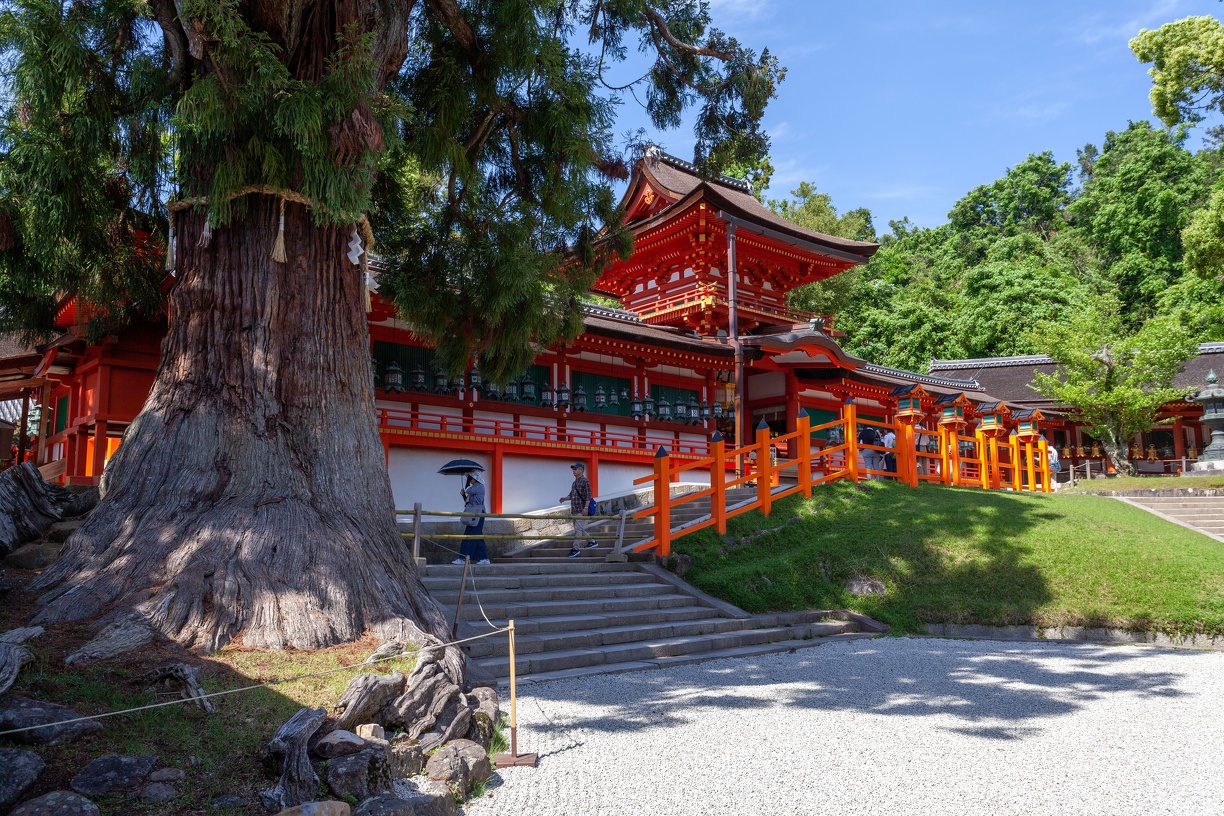 If you want to try some Sake the Harushika Brewery offers tastings for a reasonable price. I was actually impressed by how different each bottle tasted, even though they were all made by Harushika. If you intend to buy some Sake keep in mind that those sold here are non-pasteurized and must be kept cold.
Okinawa
Okinawa was the last part of my trip, I went there mostly for scuba diving (more on that later) but Okinawa itself is also worth a visit and not only for its beaches!
Okinawa was, for a long time, a culture distinct from mainland Japan: the Ryukyu Kingdom. You can even see the influence of the cultures of continental Asia in the architecture of historical buildings such as the Shurijo Castle (which was the castle of the Ryukyu kings).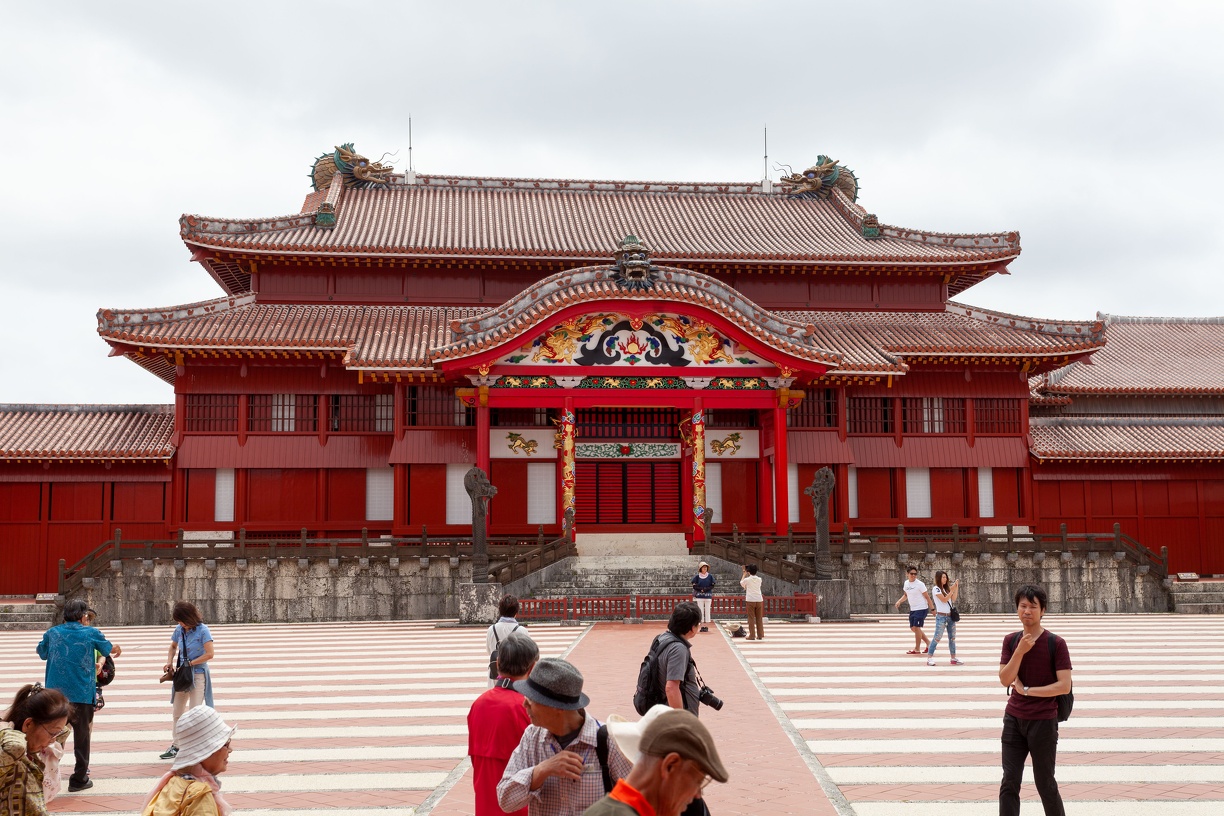 The Gyokusendo Cave is quite large and beautiful, with impressive lighting highlighting the various formations.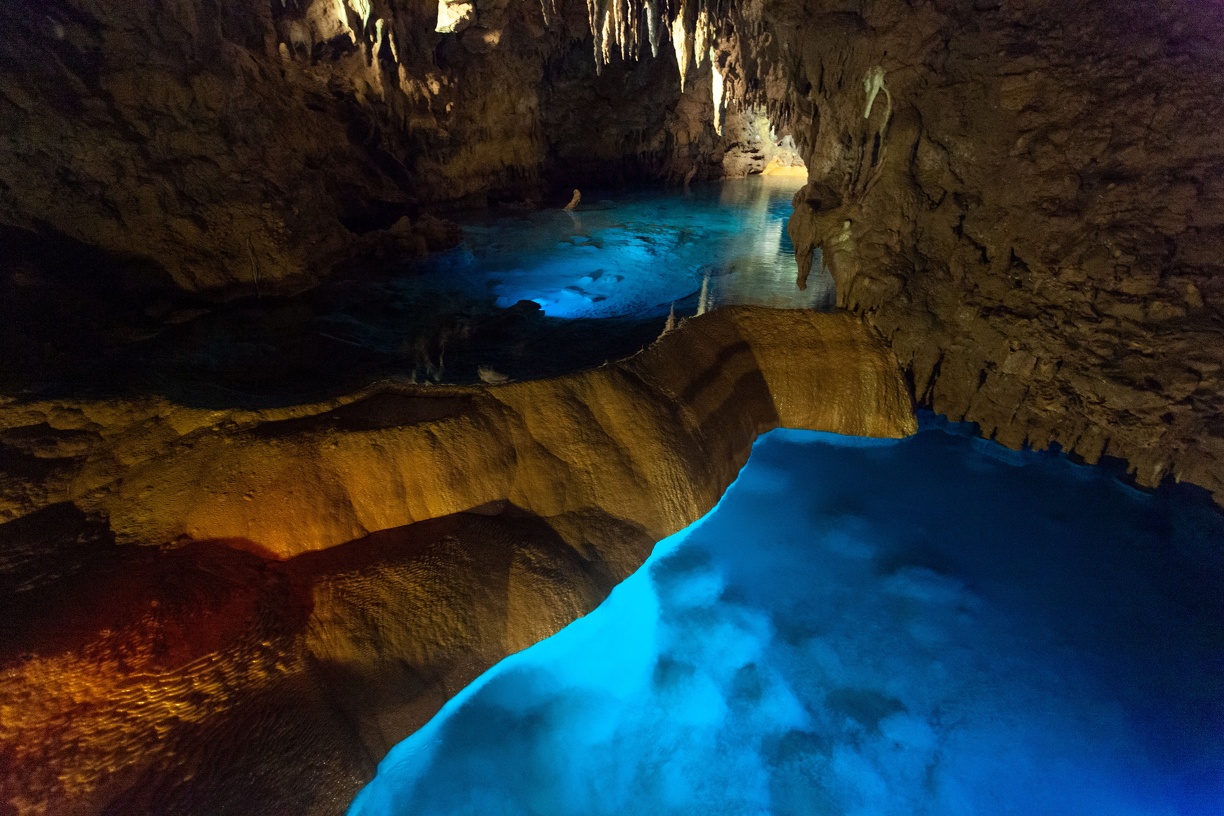 The cave is part of Okinawa World which also includes a glass blowing workshop (where you can watch them work as they go through the various steps of the process) as well as other local craftsmen.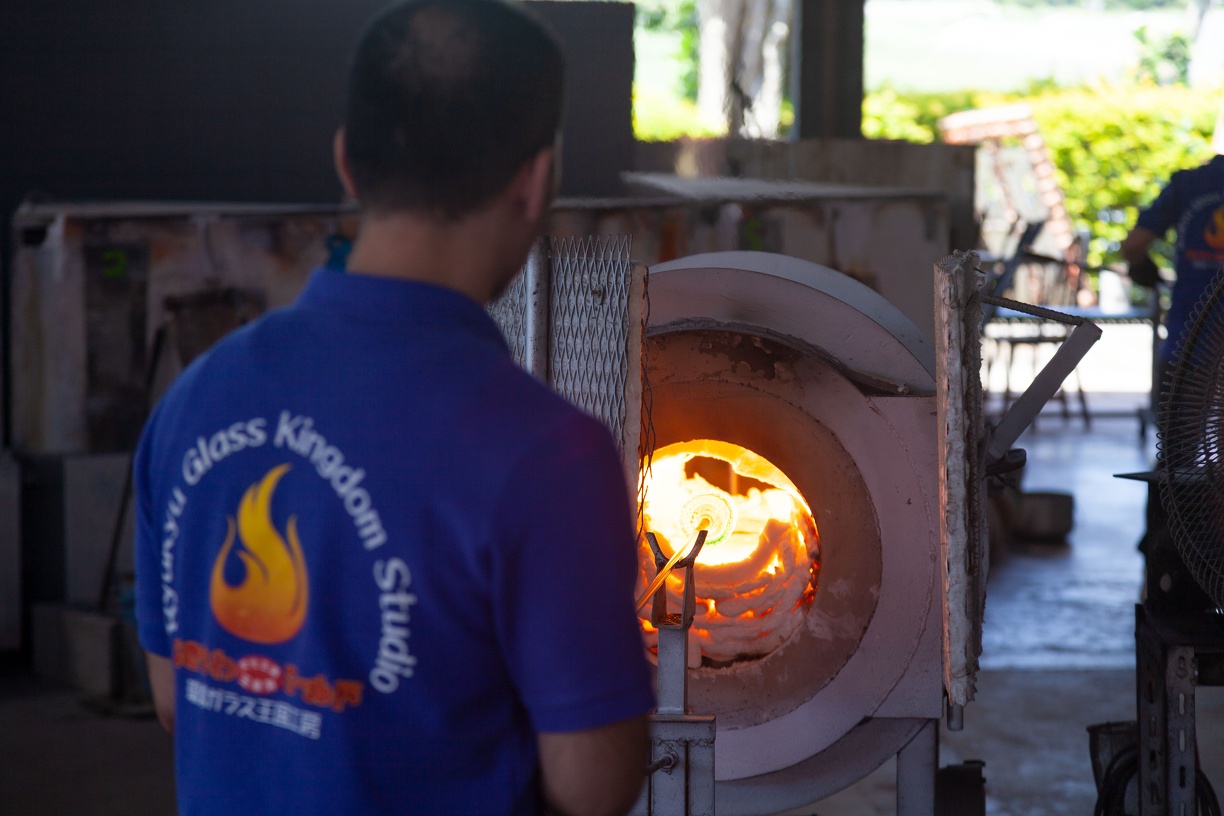 If you want to relax the Ocean Expo Park is a good place: there a several beaches, an aquarium, restaurants and the Native Okinawan Village showing traditional Okinawan buildings.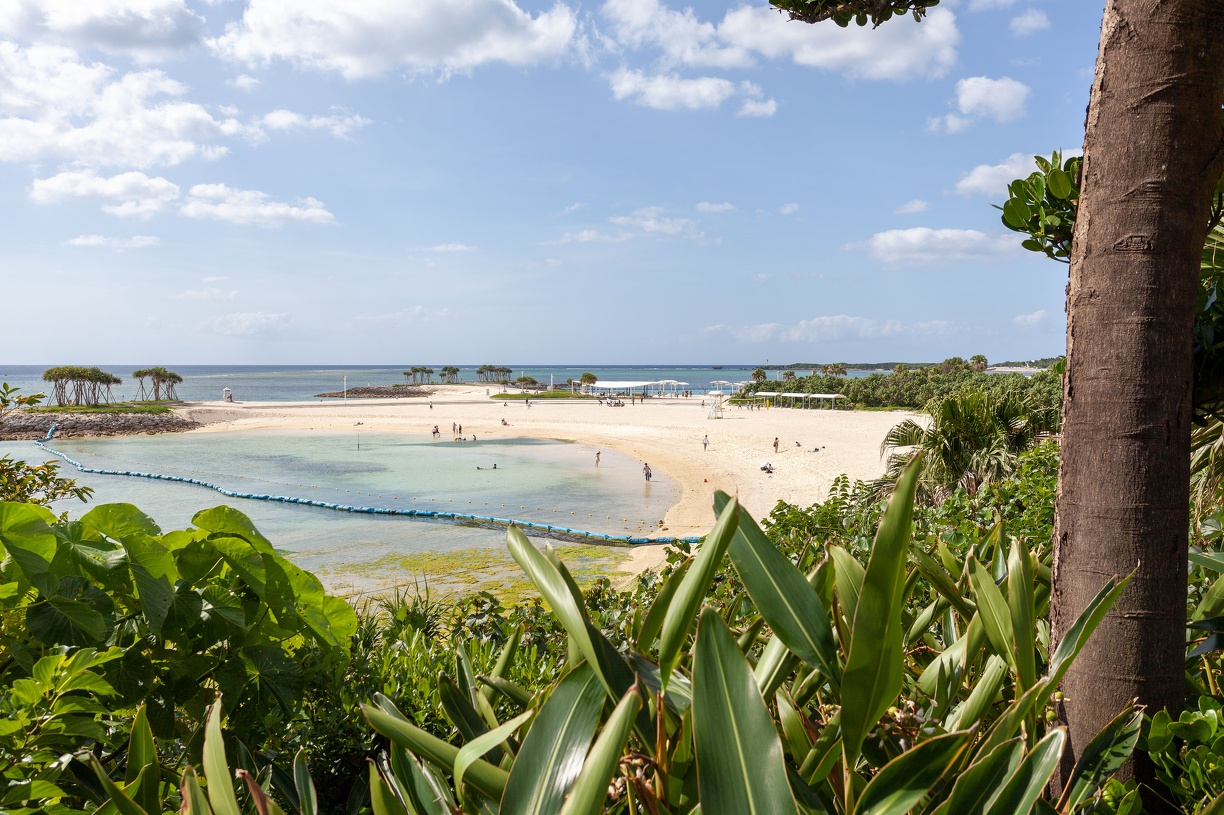 Scuba Diving
Now for the scuba diving part! There are plenty of places to dive here, including on the other islands, so choices had to be made (mostly for financial reasons).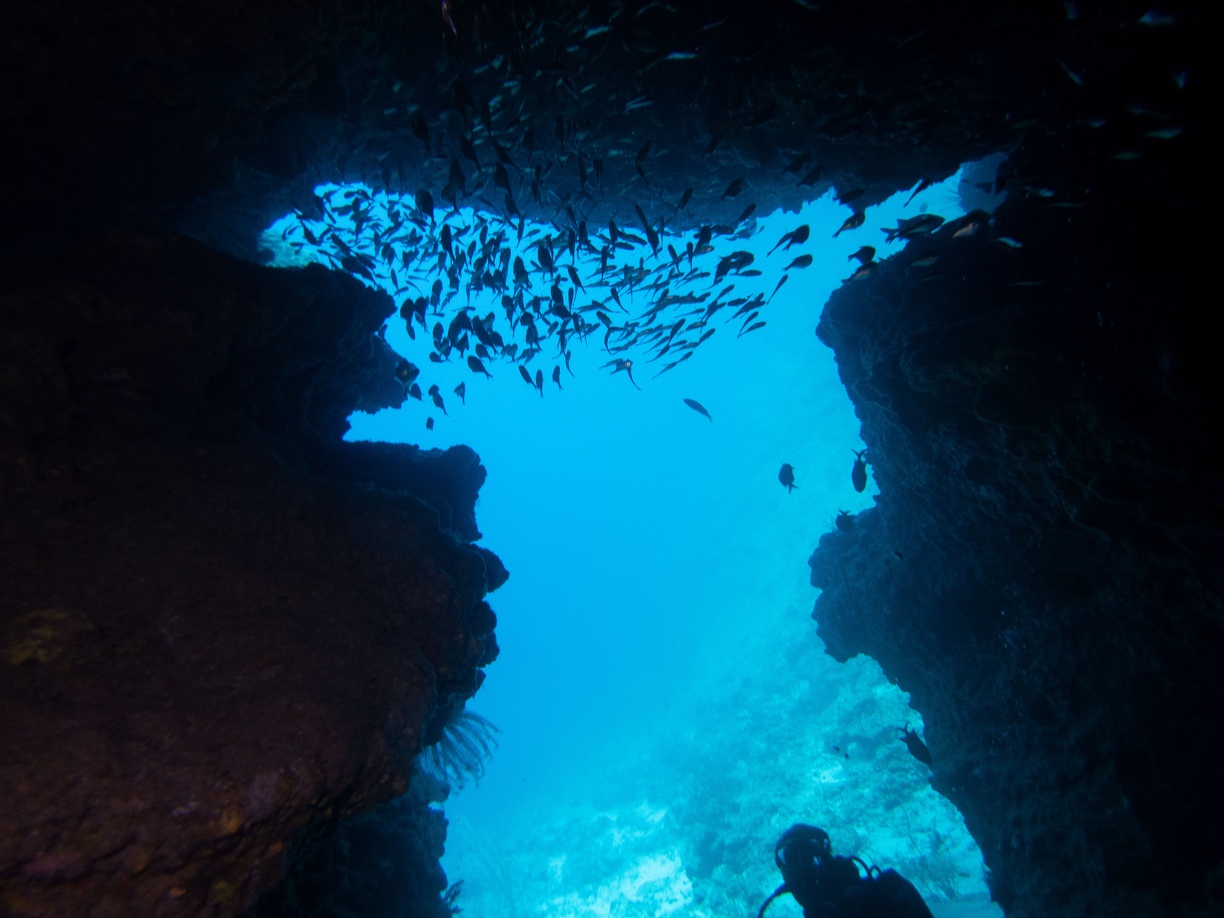 I went with Piranha Divers, they're a great shop with friendly people, excellent gear (they had BP/W and cylinders with DIN valves, not common in touristic areas) and good preparation. Sadly all boats are controlled by the fishermen here so they are dependant on them to get to the dive sites, which means you cannot always pick the specific spot you wanted (but it's the same for all dive shops here).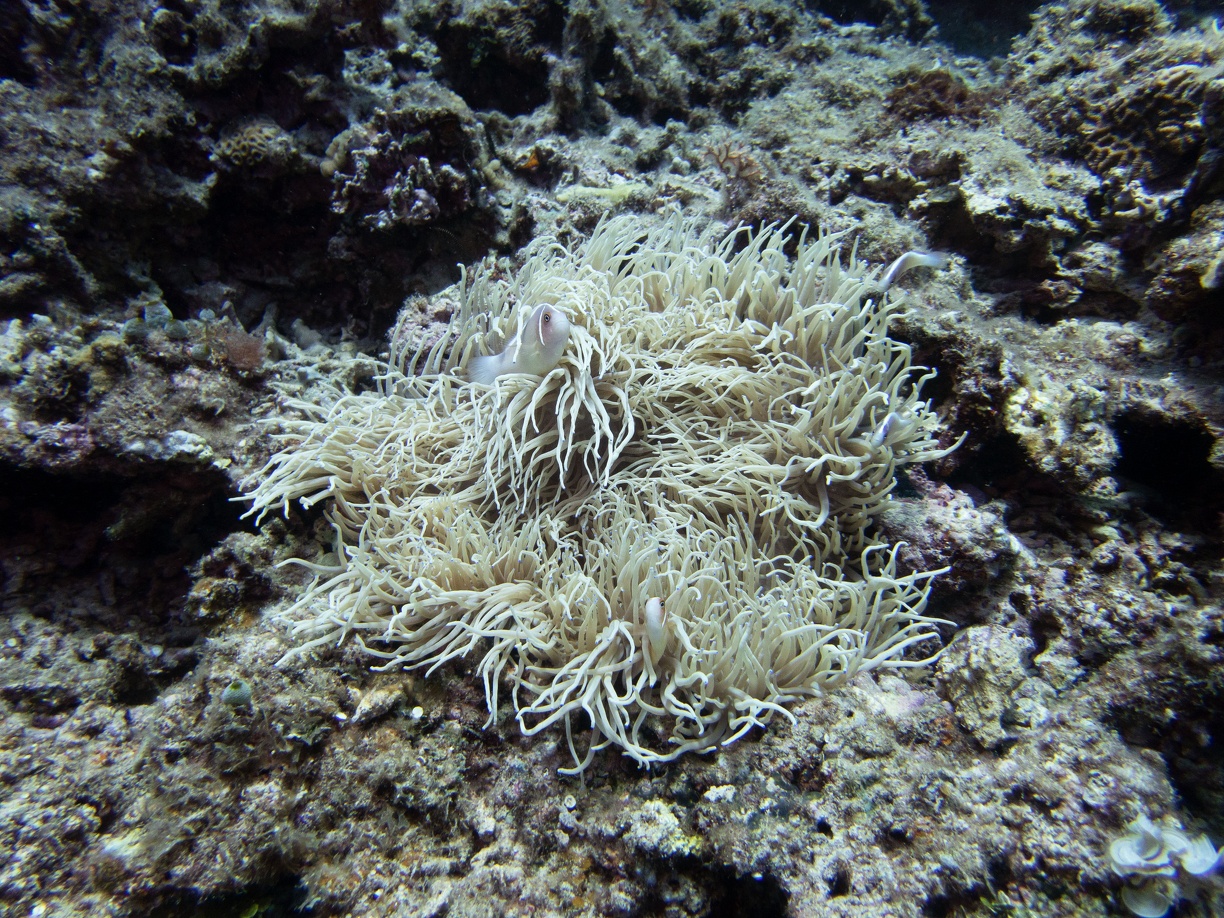 As for the areas I chose, I went to Manza for the first day and USS Emmons for the second. Cape Maeda is also quite famous, especially among snorkellers, but that also means it is much more crowded and more damaged than areas restricted to scuba divers like Manza.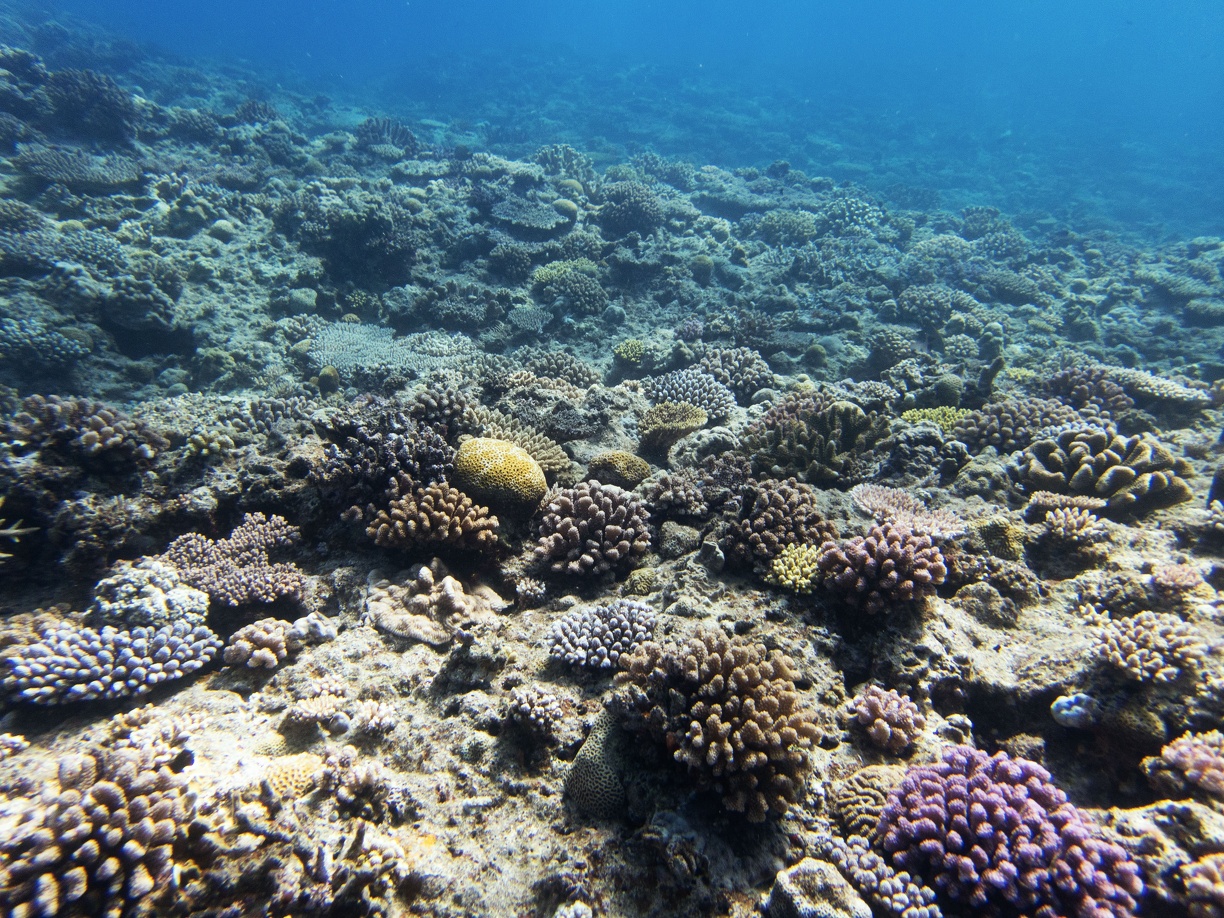 Manza has plenty of healthy coral and a lot of marine life. In a single day I got the chance to see a shark, a turtle, a mantis shrimp, a sea snake, eels, fish hiding in anemones, … Definitely worth diving there!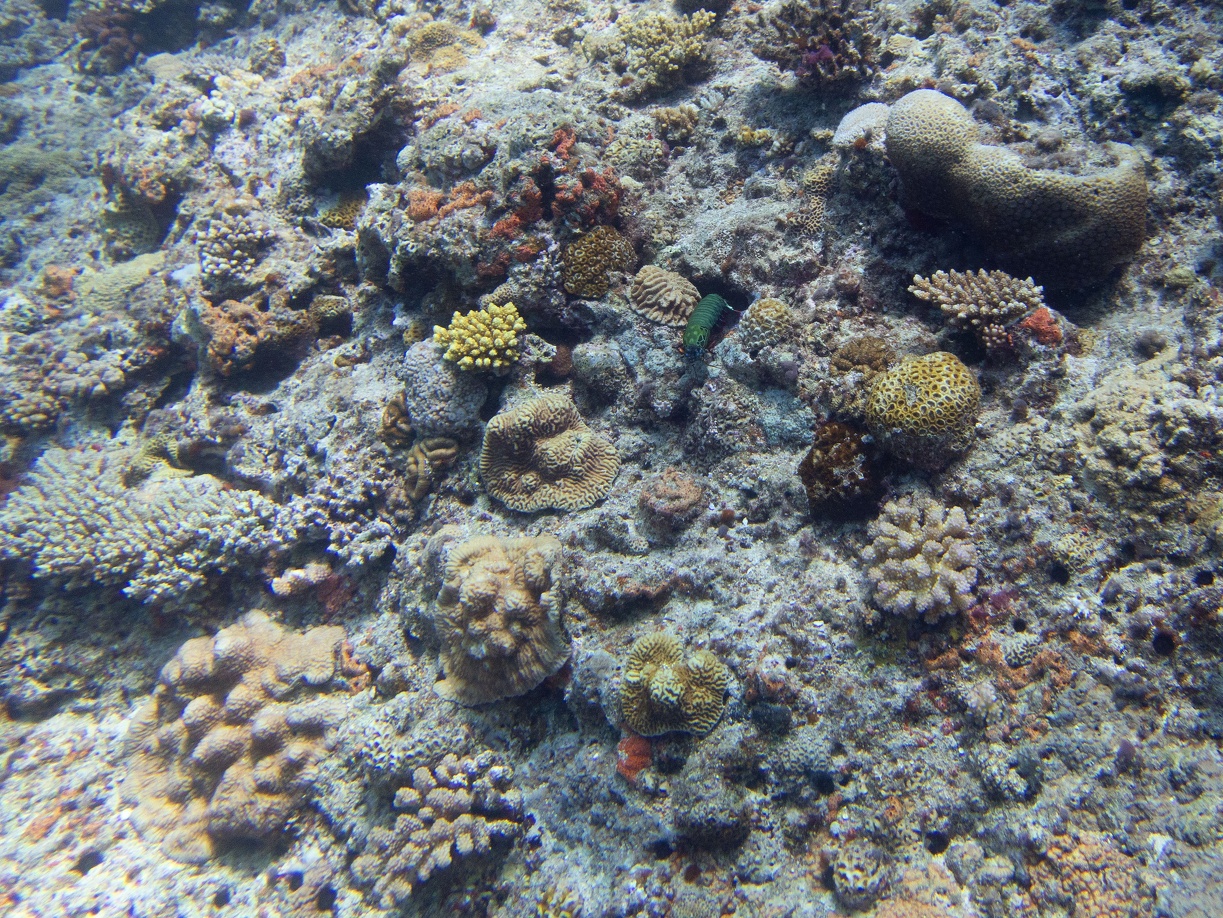 On the second day I went to the wreck of USS Emmons, a WW2 US Gleaves-class Destroyer that was sunk after being damaged during kamikaze attacks. The wreck itself lies at around 45m so a good control of your buoyancy is a must since we made several safety just to be on the safe side. The NDL is also quite short so you can't just wander around where you please. Because of this Piranha Divers wanted to do a first day of diving to gauge my level before going to USS Emmons, which seems like a good idea to me. A 40m dive with clear water at 24°C is not particularly challenging compared to some quarry dives in Belgium but it can be an issue for some divers.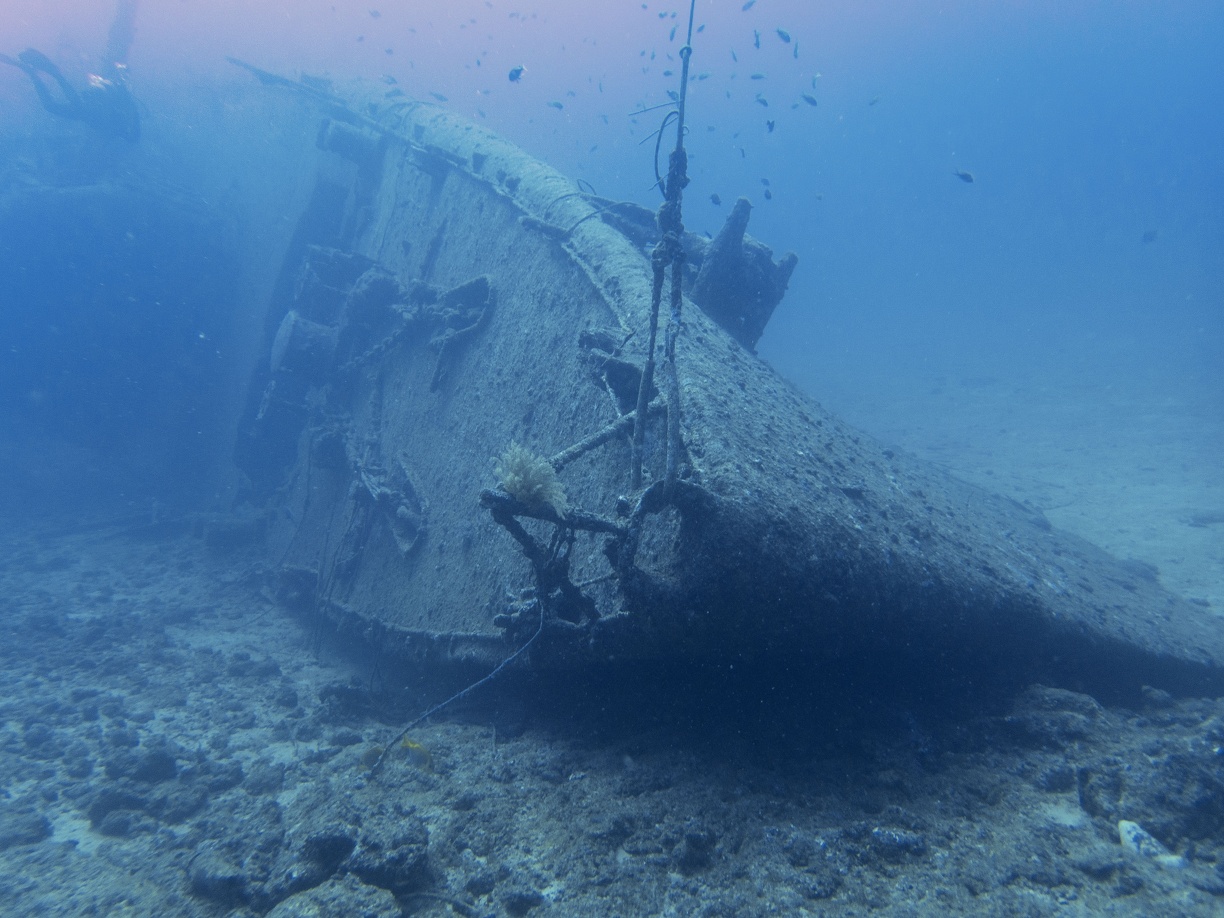 That being said the wreck is in great condition (we did two dives: one for each half of the ship), especially the bow where you can clearly see the two main guns.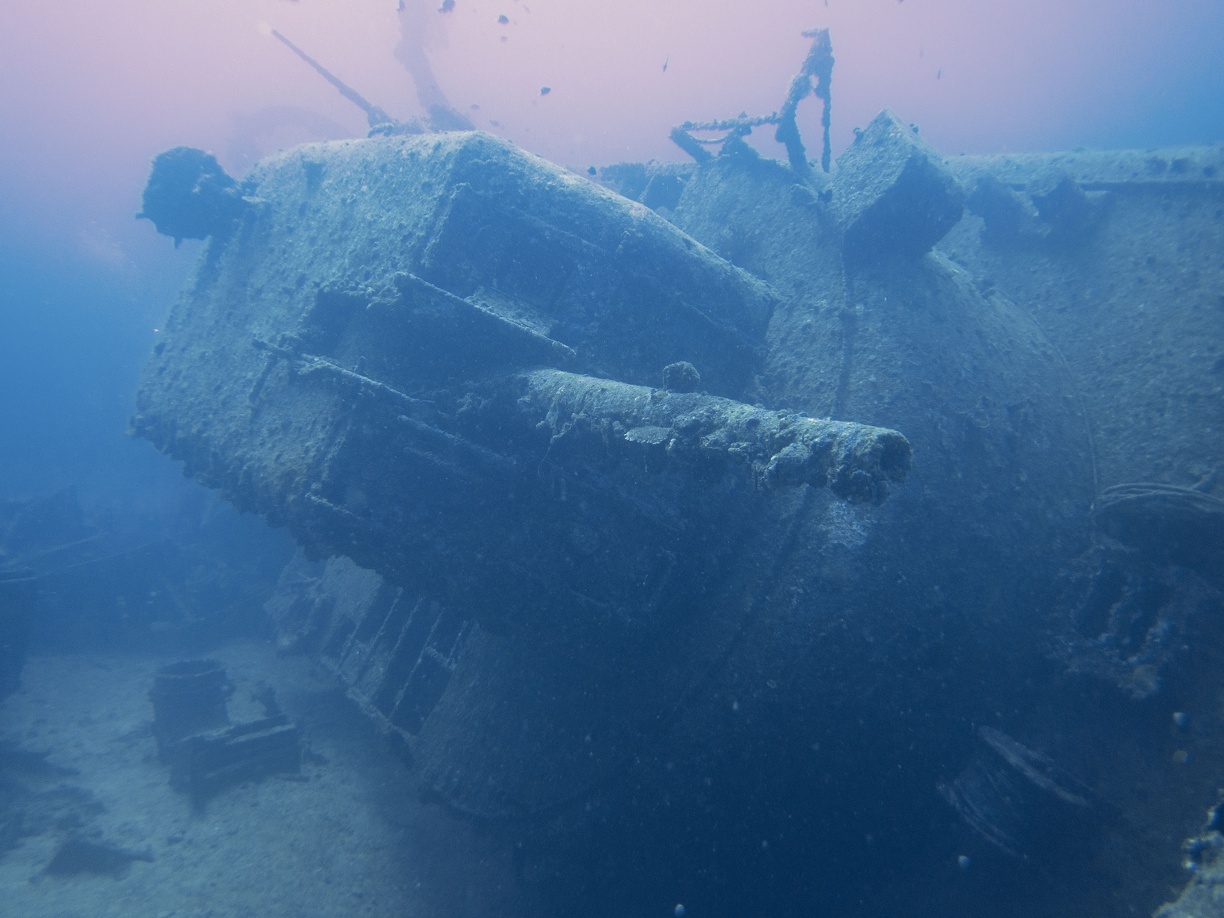 You can also see the commemorative plaque with the names of the sailors lost during the battle.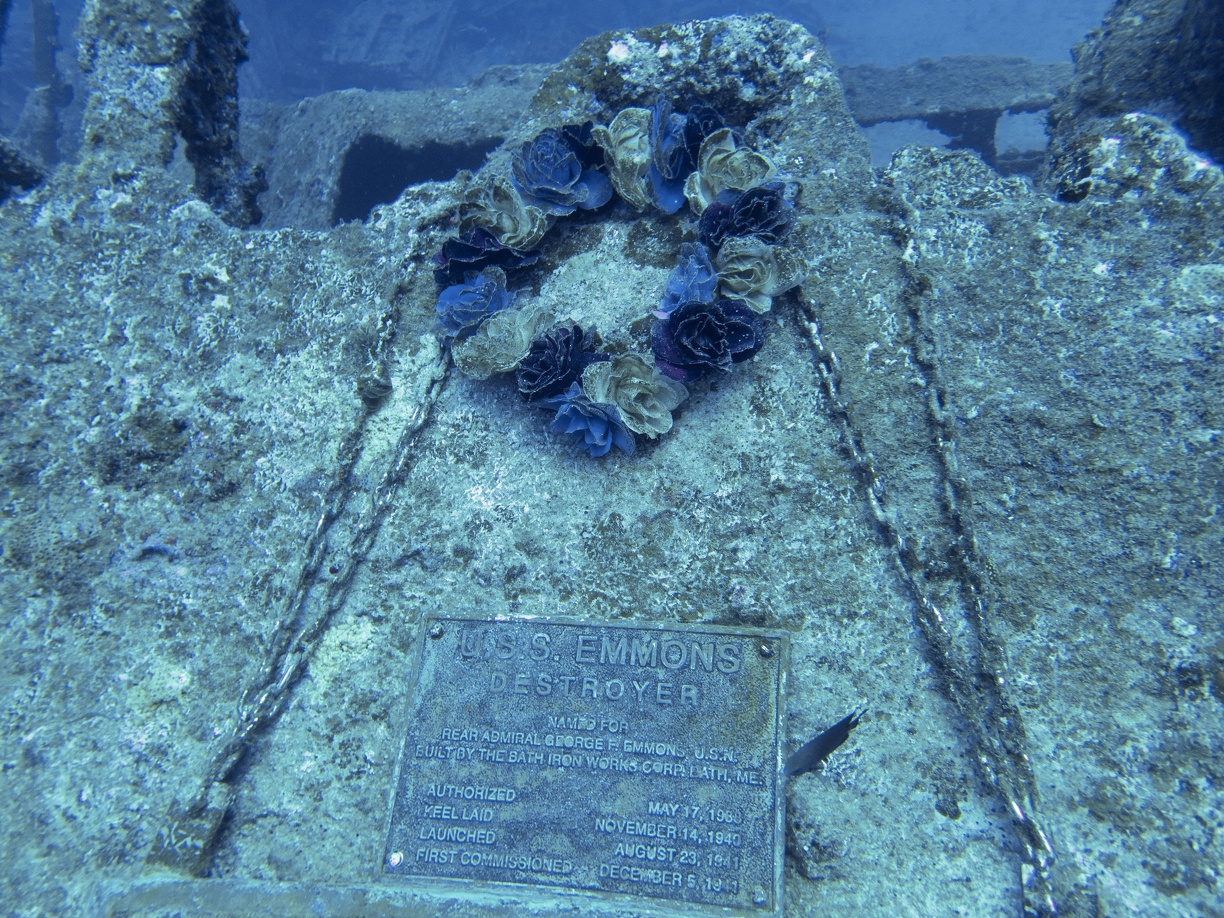 The stern, on the other hand, is much more heavily damaged with the rudder blown off the ship and lying a few meters away.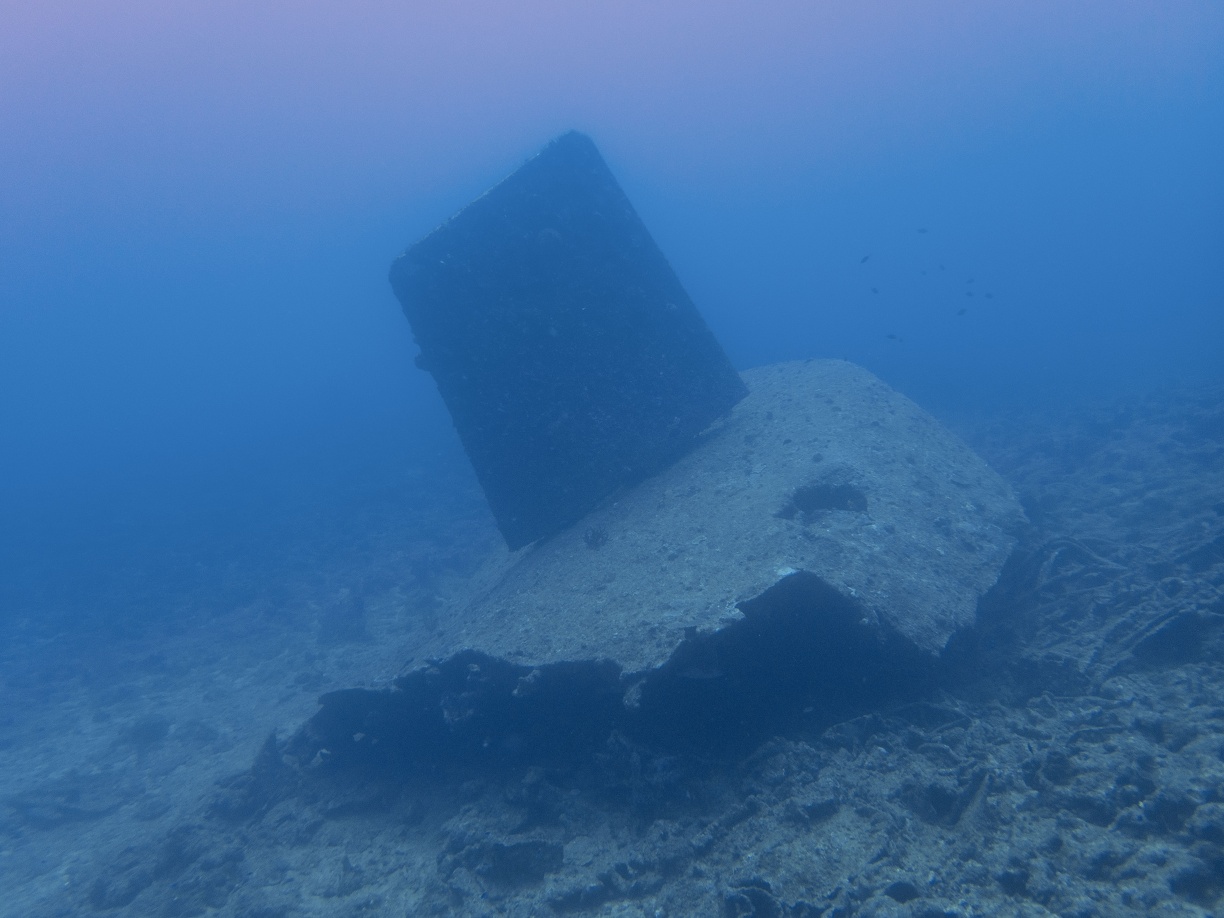 The propeller is still attached but you can see how much damage the ship took.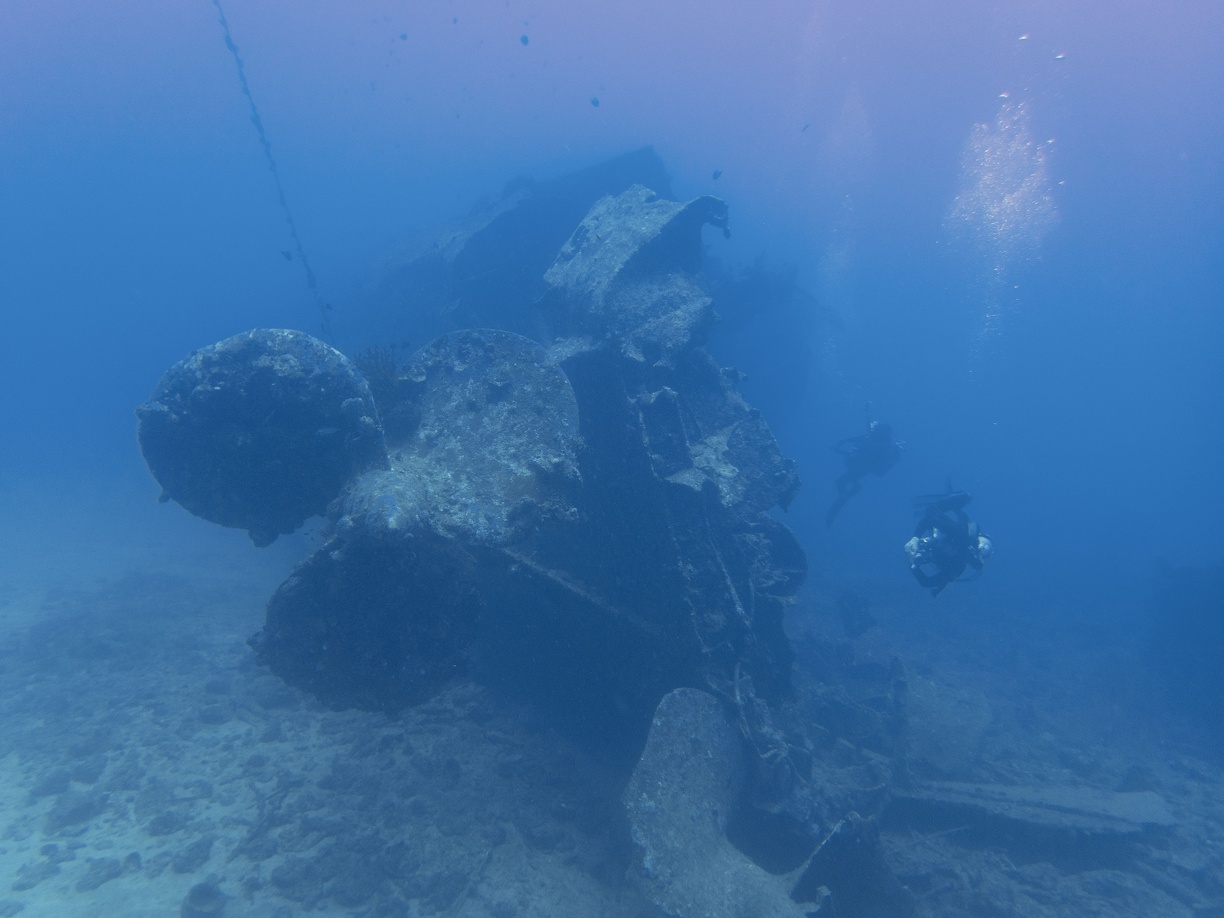 This was a great wreck and definitely worth seeing. It would have been even better as a deco dive so that we could spend more time on the bottom (but since Nitrox is not easily available in Japan I'm not sure if that's even an option).